10 Best Vitamins for African Grey Parrots - Reviews & Guide
First published:
October 22, 2023
Last updated:
October 25, 2023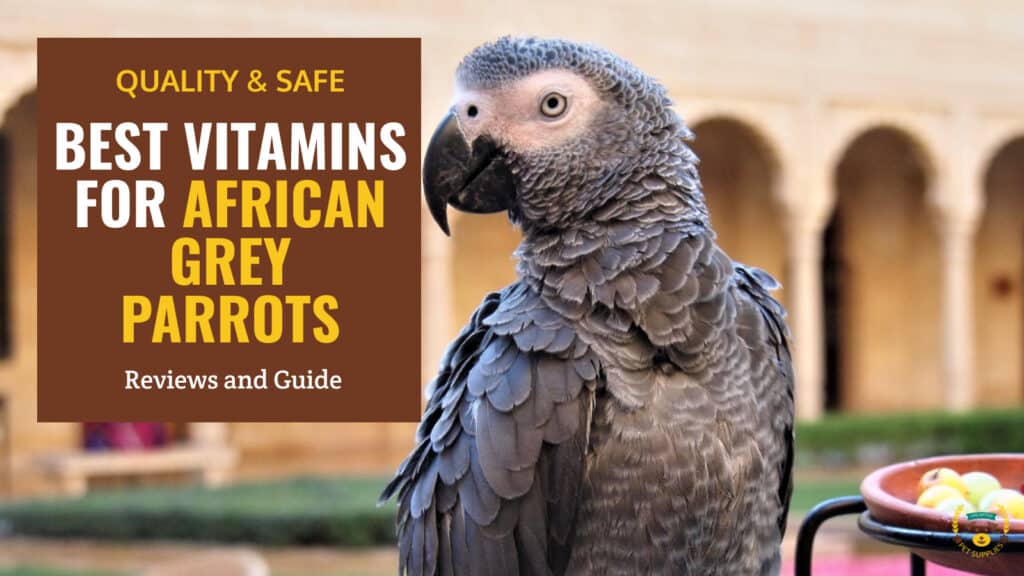 We are supported by our readers and we may earn a small commission when you click on some of the links at no additional cost to you. Our full disclaimer can be found
here
. Thank you.
Summary
The Nekton-S Multivitamin for Birds is our top pick for the Best Vitamin for African Grey Parrots for its complete vitamin, mineral and amino acid nutrition which prevents deficiencies, supports metabolism and nutrient absorption, and provides proven results backed by 40+ years of avian nutrition research and success.
Providing proper nutrition including ample vitamins is key to keeping African Grey parrots healthy and energized. Like humans, Greys need a variety of essential vitamins that serve different functions in their bodies and promote proper growth, metabolism, immunity, and much more. However, their requirements differ from ours given their specialized avian physiology.
This article will overview the top 10 vitamins Greys need most and explore quality supplements that safely deliver these key nutrients. We will also answer some important questions related to the topic at hand.
Read on for a complete guide to the ideal vitamins that enable African Greys to thrive and avoid deficiency-related issues like poor feather quality and low energy.
No Time To Read The Whole Article? No Worries. We've Done The Work For You And Compiled A List Of The Top Performers.
| Product | Features | Our Rating | |
| --- | --- | --- | --- |
Our Top Vitamins and Complements to Keep Your African Grey Healthy
Based on our experience and testing, the following are our top picks for the best supplements that your African Grey needs to be in good health. Please bear in mind that these are not substitutes for a healthy and balanced natural diet.
Which Vitamins Do You Need to Include in Your African Grey Parrot's Diet?
Here is a list of the vitamins that you must include in your pet's diet through a varied diet of natural foods. You can also use supplements in case of deficiency.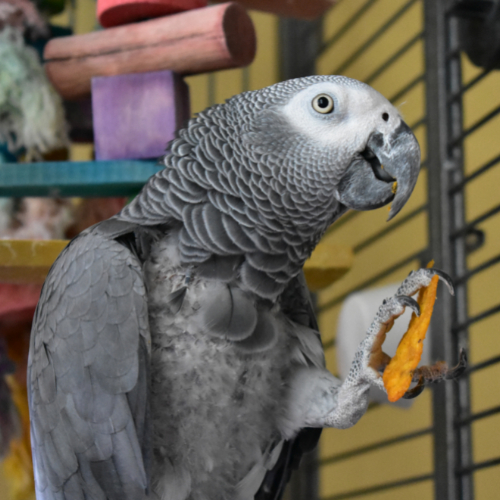 Fat-Soluble Vitamins
Fat-soluble vitamins, as the name suggests, dissolve in fat and are absorbed along with dietary fats in the intestines. The main fat-soluble vitamins are A, D, E, and K. These vitamins can be stored in fatty tissues and the liver, so excess amounts are not excreted and can build up to toxic levels over time. That's why overconsumption of fat-soluble vitamins can be dangerous.
Vitamin A
Vitamin A is found in produce like carrots, sweet potatoes and spinach. This vitamin is needed for growth, bone health and immunity. Any vitamin A deficiency can cause stunted growth, sinusitis, respiratory infections, and eye/nose discharge.
Vitamin D
Found in sun, UV light, fish oils, and egg yolk, vitamin D is Needed for calcium absorption and bone strength. Deficiency leads to soft, misshapen eggs, beak deformities, rickets, and poor bone calcification.
Vitamin E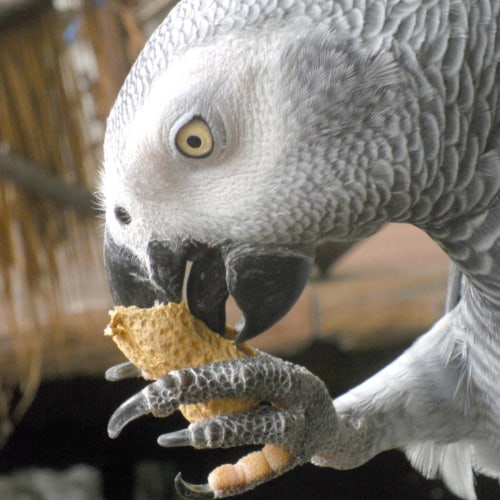 Vitamin E is found in seeds, nuts, leafy greens, and produce, and it functions as an antioxidant for healthy tissues. Vitamin E deficiency causes infertility, lack of coordination, muscle wasting, paralysis, and weakness.
Vitamin K
This vitamin can be found in leafy greens, fruits and veggies. It is essential for blood clotting, as deficiency increases bleeding risk.
Water-Soluble Vitamins
Water-soluble vitamins dissolve in water and are not stored in the body. They are absorbed directly into the bloodstream. Any excess amounts are excreted, so overdose is not a major concern. The water-soluble vitamins include vitamin C and the many B vitamins like B1, B2, B3, B5, B6, B7, B9 and B12.
B Vitamins (B1, B2, B3, B5, B6, B9, B12)
These are found in grains, yeast, produce, meat, eggs, etc. They are needed for metabolism, growth and nerves. Deficiency in B vitamins may cause anemia, diarrhea, convulsions, and reduced immunity.
Vitamin C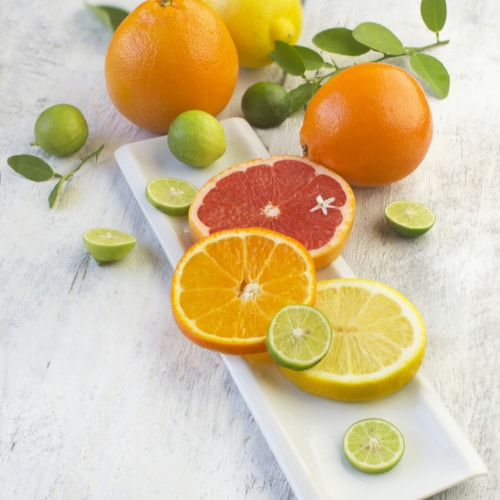 Vitamin C is found in citrus fruits and produce. It has antioxidant properties to boost immunity.
Deficiencies
Vitamin deficiencies lead to an array of serious health problems including stunted growth, skeletal issues, bleeding disorders, muscle wasting, diarrhea, feather damage, and increased infection risk. Providing a balanced diet with sufficient vitamins prevents these deficiencies in African greys.
Frequently Asked Questions
It's time to answer some commonly asked questions related to the vitamins that should be given to your feathered friend to ensure it stays in good health.
Final Thoughts
A nutritious diet and smart supplementation with the right vitamins promote good health in African Grey parrots.
Focus on providing natural sources of essential vitamins through quality whole foods whenever possible. Consult an avian vet before giving any supplements to ensure proper dosing and diet suitability.
With thoughtful nutrition centered around the key vitamins Greys require, you can keep your intelligent companion vibrant, active and strong while avoiding negative impacts from deficiencies. Use this guide as a reference to make sure your parrot's needs for all the major vitamins are met.
Thanks for reading!
You May Also Like