10 Best Cat Foods For Sensitive Stomach Comparison, Guide & Reviews
First published:
September 26, 2020
Last updated:
December 2, 2023
We are supported by our readers and we may earn a small commission when you click on some of the links at no additional cost to you. Our full disclaimer can be found
here
. Thank you.
Summary
Our top pick for the Best Cat Food For Sensitive Stomachs is the Purina ONE Sensitive Skin & Stomach Dry Cat Food. This easily digestible formula is made with real turkey and other high-quality ingredients, and it contains added prebiotic fiber to support digestive health. It also includes four antioxidant sources and omega fatty acids to support a healthy immune system and skin. Veterinarians recommend Purina ONE, making it a great choice for cats with sensitive stomachs.
Owning a cat might look fun, but it comes with an array of responsibilities. Being a long-time or new cat owner, you need to ensure that they keep healthy and devoid of any allergies.
One of the most common anxieties that many pet owners worry about is their cat or dog not eating right or being on the proper diet.
Do you happen to be one of those owners who always worry? Or is something wrong with your cat's moods when it comes to eating? Is your cat struggling to eat their food? Or is it not eating enough? The questions and doubts in your head can be endless.
This is precisely why we are here with all the information you need to ensure that your cat leads a healthy lifestyle. Almost every cat food in the market adheres to cats with allergic stomachs, but the term "sensitive stomach" varies from case to case.
While some foods might be effortless to digest for your little buddy, others contain nutrients or artificial additives that are difficult for your cat to digest at the same time.
If you are still not satisfied with your little mate's eating habits, please never skip asking for professional help; consider going to the vet directly as they will be able to help you out and guide you on how to go about it. This article will help you figure out some foods for cats with sensitive stomachs that you can opt for.
No Time To Read The Whole Article? No Worries. We've Done The Work For You And Compiled A List Of The Top Performers.
| Product | Features | Our Rating | |
| --- | --- | --- | --- |
Signs Your Cat Has A Sensitive Stomach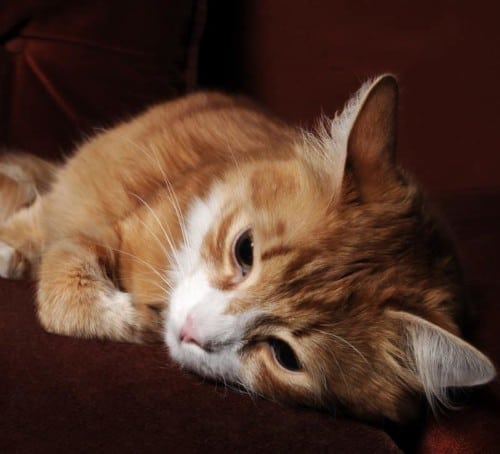 It is usual for your little feline friend to end up swallowing their hair during grooming accidentally and coughing up the hairball. But, if you notice them experiencing regular upsets, vomiting post meals, or having allergic skin, it is merely an indication that your cat is unwell.
Some of the most common signs of a sensitive stomach include constipation, diarrhea, vomiting, changes in stools, itching, skin issues, poor condition of coat, sudden weight loss, increase in thirst, etc.
In case your feline is experiencing any of these sudden changes, then you should immediately head to the vet, especially if you feel that these signs are chronic and can be a potential threat.
These issues are most likely the outcome of food allergies, so you should look for the best cat food with a less allergenic formulation suitable for the specific case and help your cat overcome the problem.
Now, let's explore, in more detail, some of the most common symptoms of sensitive stomachs in cats. Once you notice any of these symptoms, seek a vet's help, as there could be other more or less serious causes of the problems.
Vomiting
The fact that your cat vomits after eating could be a sign that there was something wrong with their meal. It might also indicate that they ate too much at once, which causes them to experience indigestion. In addition, it could even point toward a digestive disorder such as gastritisp [1].
If your cat has been vomiting frequently and consistently over several days or weeks, then it's time to take them in for a vet examination to rule out any underlying health issues before deciding on what kind of diet would be most suitable for your pet.
Not Eating/Off Food
A healthy cat requires proper nutrition. So, if they stop eating altogether, then this is definitely not normal behavior. You must make sure that you feed your cat properly every day. Also, ensure that you give him/her enough water throughout the day.
Cats with sensitive stomachs may refuse to eat anything at all; this could be because of one or more reasons:
Your cat may have an underlying medical condition that requires a special diet. For example, cats with kidney disease need special diets as they can develop urinary tract infections [2].
They may just want to avoid certain foods due to bad memories associated with those particular items.
Perhaps they simply don't enjoy the taste of the food anymore?
Diarrhea
Another sign of a sensitive stomach is frequent bouts of loose stool. Cats usually do not get diarrheal diseases unless they consume spoiled food or ingest toxic substances. However, sometimes, a change in dietary habits can cause diarrhea.
It is important to note that diarrhea does not necessarily imply that your cat suffers from gastrointestinal problems. Sometimes, it could simply be caused by stress or anxiety.
Excessive Gas
When your cat experiences excessive gas, excess air is trapped inside its intestines. He/She feels bloated and uncomfortable and won't be able to move around freely. This may indicate some kind of food allergy such as dairy food intolerance (or even spoiled food, too much red meat, etc.). Your vet will be the best to pinpoint the source of the problem and provide solutions to fix it.
Always remember that you should always seek the advice of your veterinarian or other qualified animal healthcare provider with any questions you may have regarding a medical or behavioral condition that your cat may suffer from.
What To Look For In Cat Food For Sensitive Stomachs?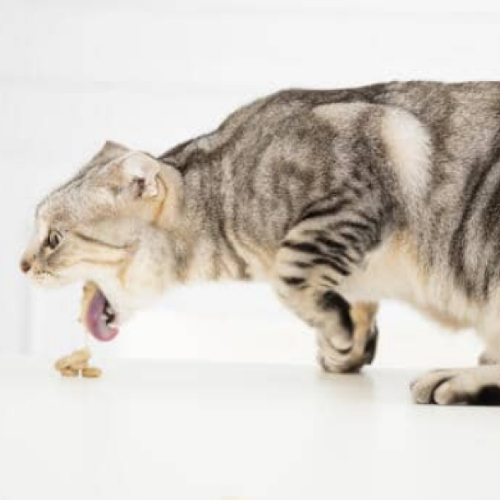 If you feed your cat healthy food but they still seem to suffer from indigestion, you should consider cat food for sensitive stomachs. Here are some tips on what to look for in that type of food:
1) Look for high-quality ingredients. Ingredients used in commercial diets may not always be safe for human consumption. Therefore, they shouldn't necessarily be fed to animals either. Some examples of low-quality ingredients include corn syrup solids, artificial colors, flavors, preservatives, fillers, and so forth. High-quality ingredients will contain only wholesome natural substances found in nature.
2) Avoid any ingredient that contains wheat flour. Wheat flour is known to trigger allergies in cats.
3) Make sure that the protein content is adequate. Ideally, it must be from a single animal source. Protein helps keep the body strong and healthy. Unfortunately, most commercially prepared cat foods to fall short when it comes to providing enough protein.
4) Check out the fat content. Fat provides energy to the body. However, too much fat can actually slow down metabolism. As a result, the animal tends to gain weight. On the flip side, too little fat means that the animal doesn't receive sufficient amounts of healthy fats like the Omega fatty acids needed for proper growth and development.
5) Be wary of additives. Many manufacturers add things like salt, sugar, artificial sweeteners, flavorings, colorants, antioxidants, vitamins, minerals, probiotics, enzymes, prebiotic fiber, omega 3 oils, and others into their products. Check to make sure the food contains more beneficial supplements like prebiotics, probiotics, etc., and no artificial additives or sweeteners.
6) The food must also contain carbohydrates that are easily digestible.
Types Of Hypoallergenic Diets For Cats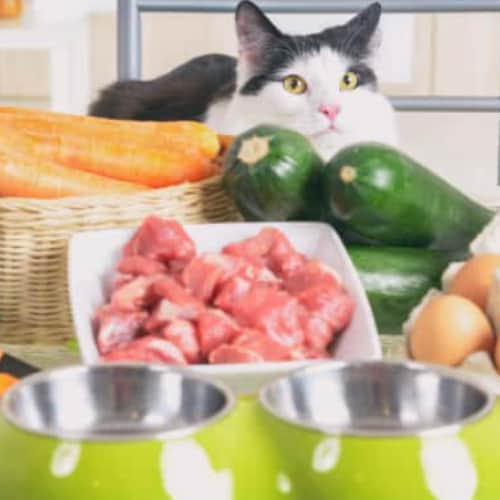 Hypoallergenic diets for cats don't contain any ingredients that are known to trigger cat food allergies. Not enough studies have been carried out on this topic, but it is known and proven that chicken, fish, beef, dairy products, wheat flour, etc., are ingredients that are most commonly linked to cat food allergies.
Hypoallergenic diets contain a single source of protein such as venison, duck, or lamb. They also avoid using any ingredients that could be potential allergens.
There are many types of hypoallergenic diets for cats available today. In terms of protein content, the diet can either include hydrolyzed proteins that have been broken so much that the body doesn't recognize the allergens inside or novel proteins based on duck or venison.
There is another category of limited ingredient food that contains fewer ingredients than regular diets which can help identify what food your cat is sensitive to and avoid.
These diets vary based on the specific needs of each individual cat. For example, one diet might work well for an adult male while another would suit a senior female better.
That's why it's very important to consult with your veterinarian before making changes to your cat's diet. He/She knows exactly how different breeds react differently to certain nutrients and other dietary components.
Here are just a few common hypoallergenic cat diets:
Chicken & Rice Diet - This is a basic hypoallergenic diet made primarily of ground chicken meat mixed with rice. It has fewer calories than some other options so it may help reduce obesity in overweight cats.
Duck & Potato Diet - Made up mostly of ground duck meat combined with potatoes, this diet is low-calorie and high in protein. It's often recommended for older cats who need extra nutrition.
Venison & Potato Diet - A combination of ground venison and potato, this diet is similar to the previous option except that there's less poultry included.
Salmon & Potato Diet - Unlike the previous two diets mentioned above, this one includes salmon instead of chicken. It's lower in sodium than the first three diets listed here.
How Can A Sensitive Stomach Cat Food Help Your Pet?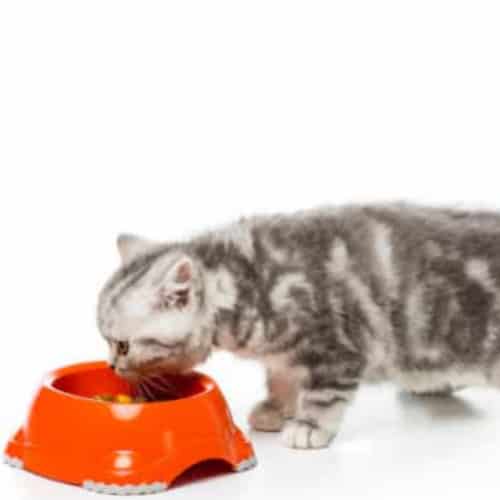 A sensitive stomach cat food will provide all the necessary nutritional requirements without triggering digestive problems. They will also keep the cat at an optimum weight and prevent any weight loss or weight-related health issues.
If you're looking for ways to improve your feline friend's health, consider adding these foods to his/her daily menu. They should not only satisfy him/her, but they'll also keep them healthier and happier longer!
Moreover, this type of cat food is specifically designed with added beneficial ingredients like probiotics, prebiotics, essential vitamins, minerals, etc.
That will ensure the cat's digestive system and overall body are healthy and working best. The digestion process is also easier and smoother since all the ingredients are easily digestible.
Sensitive stomach food contains fiber-rich foods and ingredients such as fruits, vegetables, beans, peas, lentils, oats, etc. These are great for easy and healthy digestion.
Too much sodium affects your pet's skin and causes the fur to start falling off; that's why most sensitive stomach foods are low in sodium. Usually, they are also grain-free cat foods that offer plenty of carbs from fruits and vegetables.
Last but not least, sensitive stomach cat food helps make the owners happier. Imagine following your sick cat and cleaning its vomit or loose stool all day long! Once the problem is fixed, everything will go back to normal.
Top 10 Best Sensitive Stomach Cat Foods Reviews
Now that you have quite an idea about what to do during certain situations let's discuss it in detail. Following are some of the top cat foods for the sensitive stomach that you might want to consider when it comes to your little buddy's diet.
Based on our research, testing, and experience, below is our final list:
Purina ONE Sensitive Skin & Stomach Dry Cat Food
Now you can nourish your little kitty's overall well-being by using the Purina ONE Dry Cat Food. It is one of the best dry cat foods for sensitive stomachs on the market, which is undoubtedly going to ensure that your fur baby develops a robust digestive system in no time. If your cat suffers from regular stomach upsets, then look no further.
This comes with the goodness of wholesome ingredient blends that are a rich protein source for your little baby. Made with real turkey, every cut of Purina ONE contains 36 grams of protein that help develop your little friend's muscles, making them strong over time.
It also helps to keep their heart healthy and is loaded with nutrients, vitamins, and minerals. It also contains a potent combination of beneficial antioxidants that helps to develop your cat's immunity system while the presence of omega fatty acids ensures that they have healthy skin in no time.
Pros
Every serving is packed with 34 % proteins that revive the cat's digestive system.
Contains real turkey that helps in building strong muscles.
Highly digestive as it is made for fur babies who suffer from sensitive skin and stomach.
Contains 100 % nutrients and 0 % fillers, thus contributing to a wholesome recipe.
Tastes yummy.
Every serving is power-packed with essential minerals, fats, proteins, and omega-fatty acids that contribute to your little friend's immunity system.
Has a deliciously crunchy texture that your cat will love from the very first bite.
Veterinarians recommend it – it is indefinitely one of the best foods for cats with IBS.
Cons
Does not have resealable packaging to keep the food fresh.
You needn't compromise on the taste because the Purine ONE is plenty flavourful that will become an instant hit with your cat from the very first bite!
For Constipation: Halo Holistic Chicken & Chicken Liver Recipe Adult Dry Cat Food
Conjuring up a holistic diet for your little friend can get overwhelming at times, but the Halo Holistic Adult Dry Cat Food offers all the goodness that you need in order to ensure that your kitty leads a healthy life.
Made with cage-free chickens that have been sustainably raised, Halo's product uses chicken as its main ingredient. It also comes with an array of wholesome non-GM nourishing oils and garden vegetables.
The meaty flavor will ensure that your little feline buddy falls in love with it from the very first bite! Besides, it is highly digestible and encourages a robust digestive system along with great skin.
Pros
Comprises sustainably raised chicken that is wholesome.
Consists of non-GMO wholesome blueberries, sweet potatoes, carrots, and cranberries that offer essential fibers, vitamins, and vital antioxidants.
Specially curated in the United States.
Does not contain meat meals, antibiotics, or hormones.
Does not contain artificial flavors, colors, or preservatives.
Offers a highly digestible and palatable formula that ensures that you do not have to clean their litter box often.
Maximum nutritional benefits are retained from the formula.
Cons
Some may find the product relatively more expensive compared to other dry cat food options.
It has an array of nutritional benefits and ensures that there are fewer wastes. The combination of trace nutrients, vitamins, minerals, and taurine ensures that this cat food keeps your feline friend healthy and robust, thus improving their eyesight and heart condition.
For Vomiting Problems: Hill's Science Diet Adult Sensitive Stomach & Skin Dry Cat Food
If you wish to ensure that your little feline friend gets all the beneficial nutrients they deserve without compromising on their taste buds, then you should definitely check out Hill's Science Diet Adult Dry Cat Food! Enriched with wholesome ingredients, this is the best cat food for older cats that vomit and suffer from sensitive stomachs:

The recipe has been formulated in such a way that it aims to nourish your fur baby's immunity system and keep them happy at all times.
It is easily digestible, while its nutrient contents are much above industry standards. It does not contain any harmful preservatives or preserved colors that make it all the safer to consume.
Pros
Contains an exclusive blend of omega-six fatty acids that help to keep your little feline friend's coat healthy and shiny.
The recipe has been formulated in a manner that it is easy to digest.
Contains the perfect mix of vitamins and antioxidants that encourages a healthy immune system.
It is made from high-quality and natural ingredients that are incredibly beneficial for your kitty's health.
Devoid of artificial colors, flavors, and preservatives.
Exclusively manufactured in the United States.
This diet is extensively formulated for adult felines who suffer from sensitive stomachs.
Cons
Relatively higher price point compared to some other brands.
Made with global ingredients, this product from the Hill's is perfect for a cat's upset stomach, and it is highly recommended that you introduce this slowly and steadily into your cats diet.
Royal Canin Digest Sensitive Thin Slices In Gravy Canned Cat Food
Meticulously designed to keep your cat's instinctive and nutritional preferences in place, the Royal Canin Digest Sensitive Canned Cat Food is one of the best cat foods for a sensitive stomach.
It has been specifically crafted to maintain an optimum balance between fats, carbohydrates, and proteins in your cat's diet. It is the ideal nutrition that your cat requires in order to lead a healthy life and adds a superb complement to their kibbles. It has been designed in a manner that your little friend instinctively prefers.
Pros
Designed to meet your cat's nutritional needs.
100% balanced and complete nutrition.
Reduces stool odor.
Helps in maintaining weight.
Provides the perfect balance between carbohydrates, proteins, and fats.
Perfect for cats suffering from an upset stomach and diarrhea.
A fantastic flavor that your cat will love instantly.
Cons
The formula has been specially crafted to reduce odors. Besides, it is fantastic to taste, and your little fur baby will fall in love with it with every bite. If your cat is someone who experiences stomach sensitivity often, then this cat food is definitely something you should consider. Try to introduce them slowly to their new diet and keep changing the ratio with time till they are comfortable.
Blue Buffalo Sensitive Stomach Chicken Recipe Adult Dry Cat Food
If you are looking for deliciousness power-packed with nutritional benefits, then the Blue Buffalo Sensitive Stomach Adult Dry Cat Food is definitely your bet! It has a delectable and flavourful recipe that is primarily made of chicken enhanced with the most adequate minerals, vitamins, and natural ingredients.
Specially designed for cats with allergic bellies, this cat food features FOS prebiotics that is highly beneficial and healthy for your cat. It comes power-packed with wholesome grains, fruits, and veggies along with the real chicken.
Pros
Enhanced with high-quality deboned chicken that offers the goodness of highly efficient proteins that your little kitty rightfully deserves.
Power-packed with veggies, fruits, and wholesome grains.
Specially designed to feed adult cats who suffer from sensitive stomachs.
Consists of FOS prebiotics that promote nutrient absorption and robust digestion.
The presence of omega-three and omega-six fatty acids ensures that your little kitty is going to have an exceptionally healthy and shiny coat.
Made with a blend of LifeSource Bits consisting of minerals, vitamins, and antioxidants that are exclusively chosen by nutritionists to encourage your pet's positive digestive health.
It is an all-natural cat kibble produced without poultry by-product meals, wheat, soy, preservatives, or artificial flavors.
Cons
Price may be higher compared to some other cat food brands
Blue has also included their exclusive LifeSource Bits, which happens to be an amalgamation of highly selective minerals, vitamins, and antioxidants. These are a favorite amongst animal nutritionists and veterinarians who are highly selective about your cat's health and fitness.
Besides, this is very tasty and is bound to become your little baby's favorite meal with every bite in no time!
Royal Canin Digest Sensitive Loaf In Sauce Canned Cat Food
The Royal Canin Digest Sensitive Canned Cat Food is undoubtedly one of the best foods for cats with sensitive stomachs and vomiting issues.
It has been meticulously developed to maintain the optimal balance between carbohydrates, proteins, and fats. It encompasses a cat's nutritional needs and preferences and ensures that they lead a healthy lifestyle.
If your cat is experiencing regular stomach upsets and throwing up at the drop of a hat, you should definitely consider using this cat food.
Although it is recommended that you talk to a vet before changing your cat's diet, given that this is an amalgamation of natural ingredients and does not contain any harmful preservatives, it is safe to say that you can give this a try without worry in the world.
Pros
Offers a hundred percent balanced and complete nutrition.
Specifically designed to control odor.
Offers ideal weight maintenance.
Provides a moderate calorie level.
Highly palatable.
Provides an optimum balance between carbohydrates, proteins, and fats.
Has a carbohydrate content of 23.14 percent dry matter and 4.05 % as fed.
Phosphorus content happens to be 1.11 % dry matter and 0.19 % as fed.
Cons
A bit expensive compared to other cat food options.
This canned cat food from Royal Canin has also explicitly been accumulated to control your cat's odor and restore their health at the same time.
CANIDAE Grain-Free With Salmon Limited Ingredient Diet Dry Cat Food
If your cat suffers from regular stomach sensitivity and skin issues, you should consider the Canidae Grain-Free Limited Ingredient Diet Dry Cat Food. It has a formula meant for allergic cats that is made from only seven ingredients. Also, the taste is irresistible.
This is one of the best cat foods for a sensitive stomach, and you will see the changes gradually after introducing it into your cat's diet. It uses salmon as the first ingredient and a combination of enriching whole foods that are brilliant for digestion.
These serve as a purpose to build a robust digestive system in your cat's body, thus giving them the joy to run around with ease.
Pros
Offers high-quality protein as it is made with salmon as the first ingredient.
Offers a simple seven ingredient recipe.
Specially formulated for allergic cats.
Curated with whole foods that are ideal for gentle digestion.
Contains a mix of probiotics, minerals, and vitamins.
Does not contain ingredients like grains, gluten, hormones, antibiotics, soy, wheat, or corn.
Cons
The availability of flavor options may vary based on stock levels.
In addition, it does not contain ingredients like wheat, soy, or corn that cats might be sensitive to. With Canidae, you can now feed your little feline friend all the richness they deserve to lead a healthy life.
FirstMate Pacific Ocean Fish Meal With Blueberries Formula Dry Cat Food
The First Mate Limited Ingredient Diet Grain-Free Dry Cat Food has been specially formulated for cats of all ages. It retains its single source of meat proteins from wild herring, sardines, and anchovies. It offers easy digestion [3] as it is made from limited ingredients. This also reduces the chances of getting allergic reactions.
It also offers gluten and grain-free diet that happens to be power-packed with blueberries. Blueberries happen to be a rich source of antioxidants. They are known to promote a healthy and robust urinary tract and immunity system.
They are also known to increase eyesight along with regulating memory functions. They also happen to be a rich source of dietary fiber.
Pros
Grain-free.
Gluten-free.
Perfect fit for cats of all ages.
Consists of blueberries that happen to be a rich source of antioxidants.
This feline food is a rich nutritional source of dietary fiber.
Promotes a healthy urinary tract, robust immunity system, regulates memory function, and increases eyesight.
Consists of wild herring, sardines, and anchovies.
Regulated with some of the top ingredients found in Canada.
Manufactured in the family-owned facility of First Mate.
Cons
Some cats may not enjoy the strong fish odor.
This feline food from the house of First Mate gets manufactured exclusively in Canada and their family-owned facility is situated in Chilliwack, B.C.
For cats with diarrhea: Ziwi Peak Mackerel & Lamb Recipe Canned Cat Food
With the Ziwi Peak Canned Cat Food, you can now feed your cat farm to bowl nutrition. This recipe has been formulated so that it brings the top of New Zealand to your doorstep. Designed to depict a densely nutrient, whole prey diet, this product from Ziwi is one of the most sensitive stomach cat foods, especially for diarrhea cases.
It uses fresh meat, organs, and bones combined with the green-lipped mussels from New Zealand. These mussels happen to be a natural source of Glucosamine and Chondroitin.
This product from Ziwi does not include BPA [4], Carrageenan [5], or TSPP [6] in the canning procedure. This keeps the nutrients that it offers complete and balanced.
Pros
Offers grass-fed lambs from New Zealand.
Contains whole and fresh blue mackerel that has been entirely sourced from ethical farms.
Offers natural sources of chondroitin and glucosamine that support your feline's joint health.
Contains all-natural moisture and proteins formulated in a chunky loaf style dry food that keeps even the most particular eaters entertained.
Does not include wheat, glycerine, preservatives, BPA, TSPP, corn, potatoes, rice, corn, grains, soy, fillers, gum, rendered meals, gu carrageenan, or agar-agar.
Cons
The food can be somewhat dry, requiring the addition of water or broth to enhance palatability.
If your cat happens to be a messy eater, you should consider this product as it is fantastic to taste, and your furry friend will fall in love with it from the first bite!
Instinct Limited Ingredient Diet Grain-Free Recipe
If you are looking for cat food with a simple recipe yet excellent taste, you should consider the Instinct Limited Ingredient Diet Raw Coated Dry Cat Food.
It is enriched with all the essential nutrients your little feline friend requires to lead a healthy lifestyle. If your cat suffers from sensitivity, then this cat food from Instinct is the perfect fit for their diet.
The recipe has been purposely formulated so that it has a very short ingredient list, yet it keeps your cat entirely healthy and fit! It only consists of one vegetable and one animal protein – can you believe it?
But, having said that, with the kind of energy and nutrition that it provides, you will see them become healthy and energetic in no time!
Pros
Limited ingredient recipe includes only one vegetable and animal protein.
Specially curated for cats with food sensitivity.
Made with easily digestible proteins – for example, farm-raised rabbits.
Offers all the essential amino acids required to have a healthy and shiny coat.
Guarantees an array of natural antioxidants and natural omegas that your kitty needs to maintain a healthy coat and flawless skin!
Exclusively manufactured in the States.
Uses ingredients fetched from all around the world.
Does not contain any type of eggs, dairy, grain, sweet potato, beef, fish, corn, chickpeas, potato, soy, wheat, preservatives, or artificial colors.
Cons
This product from Instinct has a composition of some of the finest ingredients from the United States and around the world. The simplicity and honesty entirely guide that raw ingredients offer.
Most Common Causes Of A Sensitive Stomach For Cats
There are many causes of sensitive stomachs in cats. It is important to have an idea about those causes to recognize the condition if your pet develops it.
This doesn't mean the condition can be treated at home because the veterinarian is the only qualified person that can diagnose the issue and suggest treatments.
Here is a short video (1 minute 47 seconds) video from Dr. Lauren Samet sharing actionable tips that may help Caring for a Cat with food allergies problems
Let's now explore some of the very common causes.
Food Intolerance
Usually, cats can have food allergies between the ages of 2 and 6. If your cat eats well but still gets sick, chances are they have developed a sensitivity to specific ingredients found in commercial dry kibble.
These include wheat gluten, corn syrup solids, soy protein concentrate, artificial flavors, preservatives, colors, fillers, antibiotics, hormones, growth promoters, and other additives.
In addition, some cats can be allergic to specific types of foods like dairy products, fish, meat, chicken, etc. The good news is that these sensitivities can often be reversed through careful elimination trials.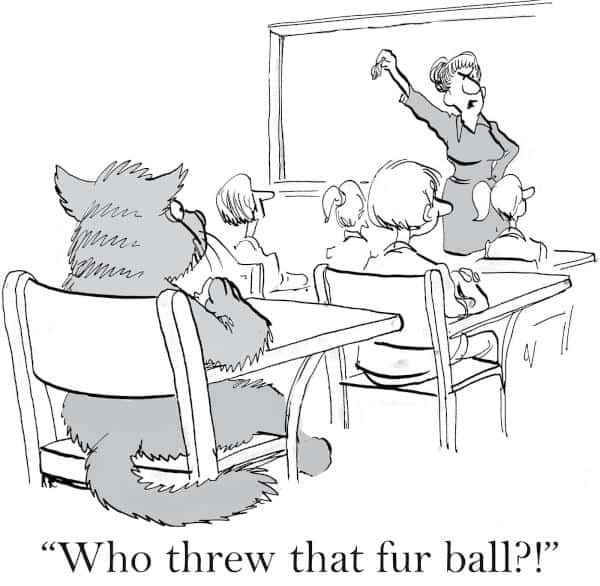 Hairballs
Cats love grooming and chewing on their fur. Unfortunately, when they chew on their coats, they swallow small pieces of hair which eventually end up in their digestive system.
Most of that hair goes through the digestive system without problems, but sometimes a hairball is formed in the stomach and most commonly, the cat is able to vomit the hairball. Sometimes, however, the cat cannot regurgitate the hairball and will need a veterinarian's assistance.
When you notice your cat having trouble breathing while lying down, vomiting repeatedly, or experiencing abdominal pain, then maybe something is wrong with their digestion.
This problem is more common with long-haired cat breeds such as Maine coons and Persians or cats that excessively groom themselves as they are more likely to swallow a lot of hair.
Apart from the risks associated with hairballs, grooming habits can also shed light on a cat's skin condition. Over-grooming or compulsive grooming, in particular, can be a sign of skin discomfort and might lead to issues like dandruff. If you notice your cat's coat looking lackluster with visible white flakes, it might be time to investigate further. Learn how you can relieve your furry friend's skin troubles by learning about why your cat has dandruff and how to get rid of It.
Eating Rubbish
Cats eat everything! They don't discriminate against what they put into their mouths. That includes garbage, dirt, grass clippings, leaves, sticks, paper, plastic bags, wrappers, toys, shoes, socks, clothing, bedding, furniture, carpeting, etc.
All this stuff ends up in their digestive tract; In fact, studies show that even healthy adult cats consume more than 10 pounds of waste per year. This could cause infections in the digestive system and lead to a sensitive stomach.
Some Types Of Food
The types of food that most commonly cause cats to have a sensitive stomach and allergies include fish, meat, chicken, and dairy products.
Also, foods rich in fiber or containing yeast are likely to cause digestive problems such as excessive gas.
Moreover, red meat and cow liver are good for cats only if consumed moderately; these contain a lot of protein and vitamins, but a serious condition of vitamin A toxicity can be caused which affects the cat's bones.
In a nutshell, there are plenty of human foods that cats can eat [6] without problems, but some should be avoided because they can affect their digestive system or even be toxic or fatal - such as alcohol and coffee.
Eating too Fast
Cats do not digest food very quickly. It takes them about 30 minutes to an hour to finish eating. Therefore, feeding your cat at mealtime may result in them consuming large amounts of air during each bite.
As a consequence, they may experience indigestion from swallowing too much air. To avoid this problem, feed your cat slowly so that they do not inhale any air before finishing their meals.
Eating too fast could lead to simple problems like vomiting, but in the long term, it can also lead to more severe issues such as feline diabetes [7] (also known as diabetes mellitus) or arthritis [8].
Related: How Much Should Cats Eat?
Overeating on Portion Size
Cats usually require a minimum of two full-sized meals daily. However, many owners mistakenly believe that giving one big meal instead of two smaller ones makes better nutrition available to their pets.
This is a common mistake that could lead to the cat having a sensitive stomach because of the amount of food that the stomach has to digest at once.
To avoid this problem, make sure that your cat has many smaller portions of food instead of a larger one every day. In addition, the average daily nutritional value should be limited to between 24 and 35 calories per pound.
Infection, Disease, & Illness
Sensitive stomachs for cats can also be a symptom of some underlying health problems and infections. These include Gastritis [9], kidney diseases, inflammatory bowel disease [10] (IBD), Pancreatitis [11] (Pancreas inflammation), etc. These need to be treated as fast as possible by a veterinarian.
Age-related changes
As we age, our bodies change over time. For example, older people tend to lose muscle mass and become less active. Consequently, it becomes harder for us to chew and swallow properly.
Cats are no different. They get old just like humans do. Therefore, when you see your pet getting slower and losing weight, it's probably due to aging.
If your cat starts showing signs of being sickly, lethargic, or experiencing other symptoms related to poor digestion, then it might be wise to take them to the vet right away.
Swapping Dry and Wet Foods on a Daily Basis
Cats don't like change at all, especially with something important to them, such as food. If a pet owner needs to change their cat's diet (be it dry or wet food), it should be done gradually over the span of 7 to 10 days.
It is preferable to introduce the new food with a 25% portion the first time and increase the percentage by 10% a day until the food is totally switched.
If the food type is swapped too fast or too often, this can cause the cat to have a sensitive stomach because the cat's sensitive digestive system won't be able to adapt to the swift or constant diet changes.
Parasites
Parasites are another major cause of sensitive stomachs in cats. Parasite infestation causes irritation and swelling around the mouth area, which leads to difficulty chewing and swallowing.
In addition, parasites can block up the intestines causing diarrhea or constipation. Therefore, a parasite treatment plan must be followed carefully if there is a possibility of infection.
Examples of these parasites include roundworms [12], heartworms [13], tapeworms [14], and hookworms [15]. Each of these categories includes many types of parasites, some of which can be life-threatening to the pet. They all cause digestive problems.
What Brand Of Cat Food Is Best For A Sensitive Stomach And Most Nutritious?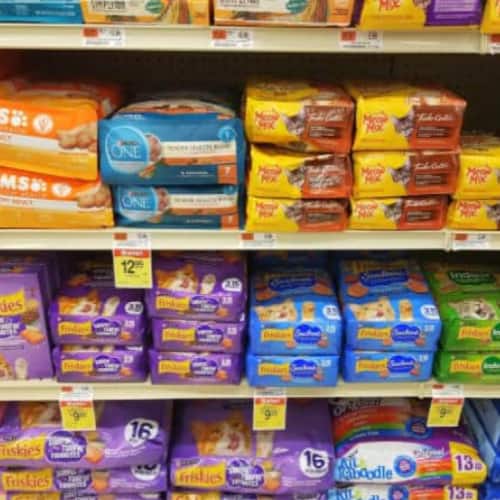 This is a tricky question to answer. It all depends on the individual cat and the owner. What works for one cat will not necessarily work for another. The problems, as well as the needs, vary from one cat to another.
As we have seen before, there are so many causes of sensitive stomachs and allergies in cats that it becomes almost impossible for us to choose a single brand or product and label it "best and most nutritious".
There are many companies out there that make a wide range of quality cat food, including wet cat foods, dry foods, anti-hair fall foods, hypoallergenic foods, etc. Choosing the best product and brand for your pet is no easy task; it takes a lot of thinking, homework and research to be able to choose rightly.
Your veterinarian is in the best position to pinpoint your cat's specific needs and issues and help you to choose the right category of food for your cat.
What we can do for you in this article is narrow the options in every category. We provide a crème de la crème in the world of sensitive stomach cat foods. Then, once the decision is made, and you precisely know what kind of food your cat needs, you can confidently pick one from our top ten list of products.
We guarantee that whichever product you choose from our list will make you and your pet happy. They are premium quality products designed by the best brands to help soothe your cat's sensitive stomach and provide well-balanced nutrition and good overall quality of life.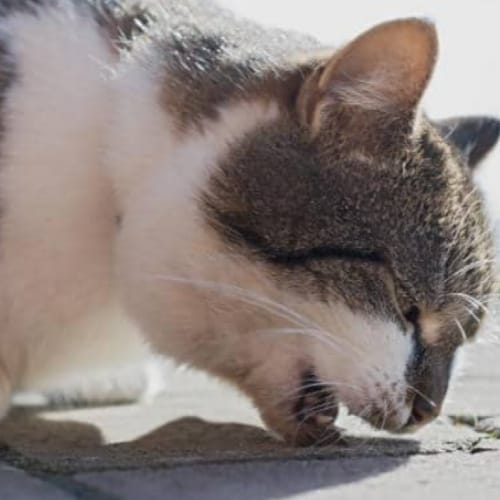 What To Avoid Feeding A Cat With A Sensitive Stomach?
If you own a cat that has a sensitive stomach, you have to avoid giving him/her the types of food that are known to trigger allergies or digestive problems in cats. These are the foods to avoid so as to keep your feline friend in good health.
Raw Fish
Fish contains high amounts of protein and fat, both of which are essential nutrients. However, it's important to note that fish contain mercury, especially large predatory species such as tuna, swordfish, shark, king mackerel, marlin, salmon, cod, halibut, barracuda, and tilefish.
Exposure to higher levels of mercury can cause serious neurological problems and walking difficulties for cats because of "mercury poisoning". Also, raw fish may contain more bacteria and cause food poisoning. It also includes an enzyme that destroys an essential B vitamin called "Thiamine".
Raw eggs
Eggs are an excellent source of protein and other vital nutrients. However, it's very risky to feed raw egg yolks to kittens due to the risk of salmonella infection.
This could lead to severe diarrhea, vomiting, dehydration, fever, lethargy, weakness, coma, or even death. If your kitten gets infected by Salmonella, there is no cure except antibiotics.
Moreover, raw eggs can contain e.coli and Avidin and can cause gastrointestinal problems. Luckily all those bacteria can be eliminated if the eggs are cooked.
Chives and Onions
In addition to leeks and garlic, chives and onions are very toxic to cats (and dogs too). This is because they contain substances similar to histamines that irritate the lining of the intestines, causing inflammation and ulcers.
In some cases, this leads to bleeding inside the body. Also, onion skins contain sulfur compounds that can damage liver and brain cells. The same thing applies to garlic cloves.
Bones
Cats love bones, but unfortunately, most people don't realize how dangerous they can be. Even if they may contain many nutrients that help improve the pet's teeth, bones and gum, bones must be avoided altogether for a cat with a sensitive stomach.
Cooked bones can break and cause choking or fatal internal injuries while eating too many raw bones can cause constipation or even blockage.
Fatty Foods
It's not recommended to give fatty foods to any animal, including cats. Both cooked and raw fat are likely to cause intestinal problems and lead to diarrhea and vomiting for a normal healthy cat. The consequences can be more serious for a cat with a sensitive stomach.
Dairy
Dairy products are not toxic to cats, but they are still not recommended. If eaten in large amounts, dairy will cause an upset stomach accompanied by vomiting and diarrhea or even lead to obesity. Of course, the results can be much worse with a sensitive stomach.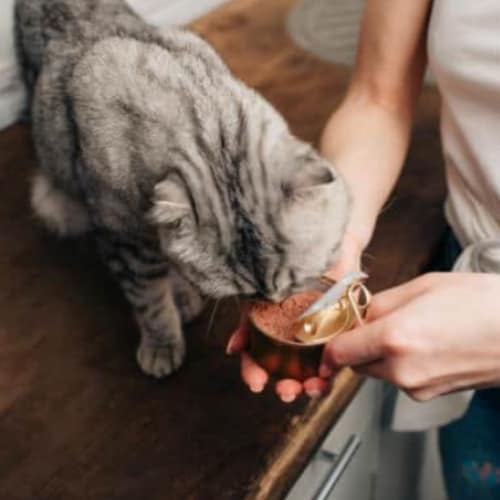 Tips On How To Introduce A Sensitive Cat Food Diet
With cats, any type of change must be gradual. They are creatures that don't like sudden surprises or change, and food is no exception. If the transition to the new sensitive stomach diet is too swift, the cat may have an upset stomach.
You need to be patient during the food transition period. It should take some time between 7 and 10 days. You'll need to monitor your cat closely during this period to make sure he/she doesn't get dehydrated, underweight, or experience digestive issues.
You might want to start out by slowly increasing the percentage of the new diet over several days rather than doing it overnight.
For example, instead of starting off with 100% of the new diet right away, try adding 10%, 20%, 30%, 40%, etc., until the transition is made. By doing so, you give your cat plenty of time to adjust to the new diet. In addition, you will be able to notice if it causes any problems. Of course, the whole process must be supervised by a vet.
Whenever you see the slightest problem during the transition period, contact him/her to make sure your pet doesn't have any issues or allergies related to the new diet.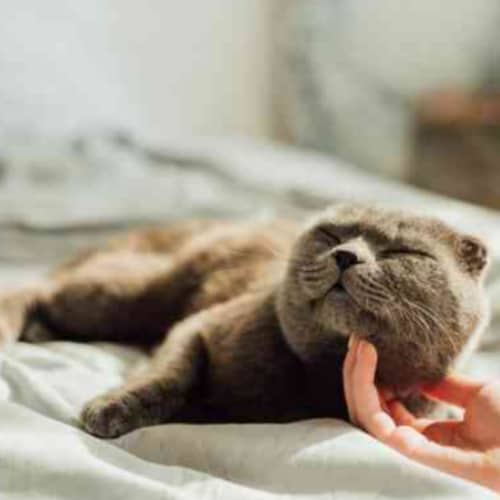 What Else Can I Do For A Cat With A Sensitive Stomach?
It may get overwhelming trying to deal with a cat with a highly sensitive stomach. Therefore, it is highly essential to get professional advice during times like these. The following are some of the things you can do while dealing with one:
Provide Proper Hydration
One of the most important aspects is ensuring that your little cat receives enough hydration and water. Ensure that you provide them with fresh water at every interval, especially if your little buddy is on a dry food diet.
Reduce the Treats
If you are someone who loves to spoil their pet with the occasional treats, you should immediately rule it out as the cause of problems. Remember that treats should only comprise ten percent of your cat's diet – anything more than that can prove to be bad for the cat's health.
Try Reducing Their Stress Levels
Although your cat might look happy, you must understand that various environmental factors define his/her eating habits. If your cat has been fighting unusually, it means that they feel stressed and threatened about their territories and boundaries.
Refrain from placing their foods in front of entrances and exits and place them in an area where your little buddy will not be disturbed frequently. This will help them to relax and calm down.
Try to Keep Track of What Your Cat Has Been Eating
When you see your cat devouring something unusual, such as bones, hairballs, or even other types of foreign objects, then you know there is a reason behind it.
Try to identify the items that your cat eats regularly and find ways to prevent them from consuming those particular items.
Make sure that all doors and windows are closed and locked. As much as possible, keep your cat inside whenever you're home. This way, you will be able to control and monitor what goes into their stomach and what may be causing the condition.
Don't Feed Your Cat Leftovers
Whenever you have a meal, try to avoid giving the leftovers to your pet. The cat will enjoy eating the food, but it may be triggering the digestive problem the cat is suffering from.
Cats love eating a plethora of human foods, some of which have been identified as allergens or toxic substances to cats. It would be better just to throw the leftover food away and save yourself the trouble of having to clean up after your cat later.
Mix the Cat Food With Rice
It is known that rice is one of the best foods to help and improve digestion. If you mix cooked rice with the cat food, it can help significantly to stop the vomiting and diarrhea by making the stool harder. Rice is also very easy to digest, which is great for a sensitive stomach. In addition, by preventing diarrhea, rice will also help avoid dehydration.
Frequently Asked Questions
Being a feline parent comes with a ton of responsibilities. It is okay to ask questions and be nervous about what to feed them. Below are some of the most frequently asked questions to help you understand your little buddy's diet better and help their stomach sensitivity.
My Cat Is Coughing Up Hairballs. Is This Related To Their Diet?
The answer is no! It is perfectly normal for a cat to occasionally cough up hairballs as they usually ingest hair through the grooming process; some hair will get stuck on their tongues and end up in their digestive system.

The amount of ingested hair depends on the breed of the cat; a long-haired breed like a Persian is likely to have more hairballs than a short-haired one.

Usually, the hair goes through the digestive system and ends up in the cat's stool or forms a ball that the cat coughs out. However, sometimes, the cat can't regurgitate the hairball and needs to be checked by a vet.

If your cat keeps coughing out the hairballs for too long, then maybe something is wrong with its fur. In this case, there are many things you can do to fix the problem.

You can start by giving your cat a regular brushing to remove as much hair as possible and prevent hairball formation.

You could also use a hairball ointment twice or thrice a week or even opt for an anti-hairball food designed to prevent hairballs and contain more fiber to push the contents of the cat's intestines out.
Can A Cat Suddenly Develop A Food Allergy?
Yes, it is possible for cats to develop food allergies at any time during their lives. Genes play a significant role here, as some cats are genetically predisposed to develop allergies. 

Other factors that could trigger allergies include environmental conditions, stress levels, and dietary changes.

Some common signs of a food allergy include itching around the mouth area, sneezing, runny nose, watery eyes, redness around the ears, scratching, hives, and skin rashes.

Your veterinarian should perform tests to determine if your cat really does suffer from a food allergy.
How Long Does It Take For A Cat To Digest Food?
A cat might take up to 10 to 24 hours to digest food. This is mostly higher than humans, as human beings take around 6 hours to digest food.

The most exciting part of this arrangement is that cats are usually not aware when their next meal will be served, especially if they are not domesticated. Though, on average, a cat takes 20 hours.
Should I Change My Cat's Diet As He Gets Older?
It is not necessary to change the cat's diet because of age unless the pet needs it. If the cat is in good health and good body shape and eats a balanced diet with necessary nutrients, then there is no need to switch to a different diet.

Senior pet diets are designed to address issues, diseases and deficiencies that the cat may encounter as he/she ages. On the contrary, in this case, changing the diet could be the trigger to many endless health problems.

No need to fix that which is not broken, right?
When Should I Be Concerned About My Cat Vomiting?
In all honesty, it is normal for cats to vomit every now and then. But if it becomes a usual thing, you should look out for other symptoms to decide your next course of action.

If you notice your cat vomiting regularly and sudden changes in their behavior, skin, moods, etc., rush to the nearest vet and consider making a change in their diet immediately.
What's Better For A Cat With A Sensitive Stomach, Dry Or Wet Food?
Both wet and dry food have their own set of advantages and disadvantages. It solely depends on one's individual preferences. Wet food provides moisture, while dry foods offer nutrients.

Dry foods ensure that your little pet's dental health gets better, and may be useful in some cases of diarrhea. On the other hand, wet foods help your cat to stay hydrated as it has a higher level of water intake.
Why Are Cats' Stomachs So Sensitive?
The possibilities of why cats could have an upset stomach can be endless. If your little pet is susceptive to sensitivity, even the slightest change in their diet can cause them to get sick. The causes can vary both internally and externally, revolving around the gastrointestinal system.

You need to remember that anything that inflames your cat's digestive system can be responsible for an upset stomach. If your cat showcases digestion problems after every meal, chances are they are suffering from a sensitive stomach. If it is continuously persistent, then you should definitely consider heading to the vet as soon as possible.
Conclusion
Being a cat parent is not easy – in fact, it is one of the most challenging jobs out there! In case you happen to be a feline parent, you have definitely embarked upon the right place.
Ensuring that your little feline buddy gets all the nutrition they deserve is one of the most crucial parts of being a cat parent. If you are a rookie, then the points mentioned earlier are definitely going to help you. Besides, there are endless choices available in the market, and chances are you will end up buying the wrong product if you don't do your homework correctly!
Don't worry! We have you covered. The products mentioned earlier will ensure that your fur baby gets to lead a healthy and safe feline life free from stomach sensitivity. These products will not only keep them from falling sick, but it is also going to ensure that your fur baby develops a robust immunity system along with unique skin!
Till then, happy feline parenting!
---
References:
Cat Gastritis | Symptoms | Treatment | East Paulding Vet. (n.d.). Pethospital.net. Retrieved July 21, 2022, from https://pethospital.net/pet-answers/21-cats/185-gastritis-in-cats
Remedies for Cat Urinary Tract Infection. (n.d.). WebMD. Retrieved July 21, 2022, from https://pets.webmd.com/cats/remedies-cat-urinary-tract-infection#1
7 Common GI Problems in Cats. (n.d.). Www.petmd.com. Retrieved July 21, 2022, from https://www.petmd.com/cat/slideshows/7-common-gi-problems-cats
Beynen, Anton. (2017). BPA in canned petfood. 10.13140/RG.2.2.34540.87681.
Thixton, S. (n.d.). Why Carrageenan Can Be Dangerous to your Pet. Retrieved July 21, 2022, from https://truthaboutpetfood.com/why-carrageenan-can-be-dangerous-to-your-pet/
5 Harmful Ingredients That Might be Hiding in Your Pet's Food. (2015, May 15). One Green Planet. https://www.onegreenplanet.org/animalsandnature/harmful-ingredients-that-might-be-hiding-in-your-pets-food/#:~:text=4.
Sandy Eckstein. (n.d.). Feline Diabetes: Symptoms, Treatments, Prevention, and Diet Tips. WebMD. https://pets.webmd.com/cats/guide/feline-diabetes-symptoms-treatments-prevention-diet#1
Cat Arthritis Symptoms, Pain Relief, Treatments, and Types. (n.d.). WebMD. https://pets.webmd.com/cats/cat-arthritis-symptoms-pain-relief#1
Gastritis in Cats | VCA Animal Hospital. (n.d.). Vca. Retrieved July 21, 2022, from https://vcahospitals.com/know-your-pet/gastritis-in-cats
Inflammatory Bowel Disease. (2017, October 11). Cornell University College of Veterinary Medicine. https://www.vet.cornell.edu/departments-centers-and-institutes/cornell-feline-health-center/health-information/feline-health-topics/inflammatory-bowel-disease
Pancreatitis in Cats. (n.d.). Vca_corporate. https://vcahospitals.com/know-your-pet/pancreatitis-in-cats
Roundworm Infection in Cats. (2018). Vca_corporate. https://vcahospitals.com/know-your-pet/roundworm-infection-in-cats
Heartworm in Cats - American Heartworm Society. (n.d.). Www.heartwormsociety.org. https://www.heartwormsociety.org/heartworms-in-cats
Tapeworm Infection in Cats. (n.d.). Vca_corporate. https://vcahospitals.com/know-your-pet/tapeworm-infection-in-cats
Hookworm Infection in Cats | VCA Animal Hospital. (n.d.). Vca. Retrieved July 21, 2022, from https://vcahospitals.com/know-your-pet/hookworm-infection-in-cats#:~:text=Hookworms%20are%20intestinal%20parasites%20of
You May Also Like