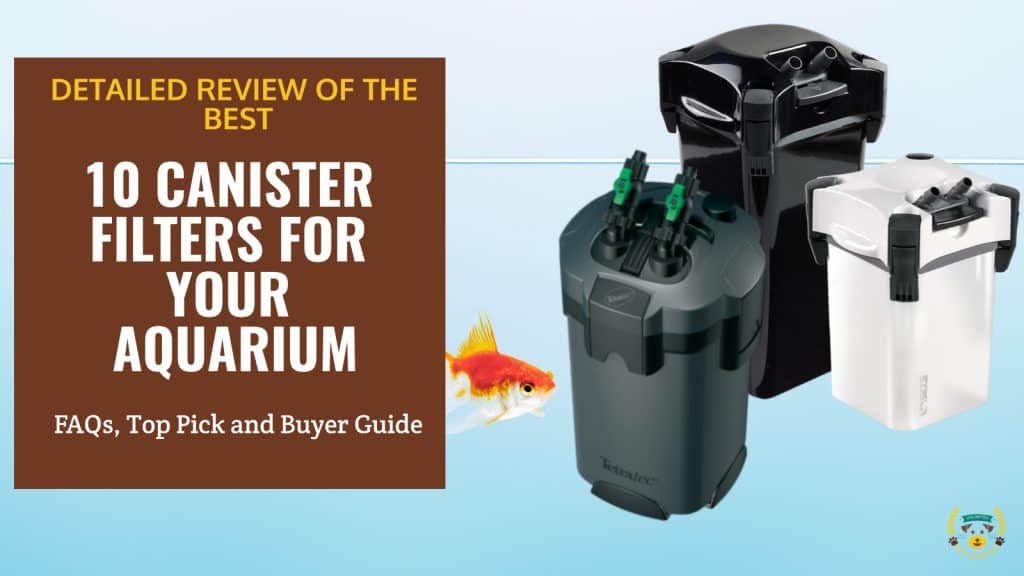 What is The Best Canister Filter For Your Aquarium? 10 Best Picks Reviewed
Last updated:
August 15, 2021
 Fish are some of the most difficult pets to keep because they are fragile creatures; any dysfunction or change in water quality or temperature could be a disaster for your beloved pets. Therefore, an excellent filtration system is a prerequisite for providing a clean environment for your aquatic buddies. It also helps to prevent the tank from getting dirty.
In addition, these filters are also required for maintaining the level of dissolved oxygen in the water. Therefore, investing in a high-quality canister filter is crucial to the health and well-being of your fish pets.
These filters have grown in popularity, and many people are choosing canister filters for their aquariums over any of the other types of filters. As a result, the market is usually inundated with options. With so many different brands and products, it may become challenging to select the best canister filter, especially if you are an aquarium fish beginner hobbyist.
The number of choices that you have can be overwhelming, and making your mind up can be a real challenge, But do not fret as we have got you covered! We are here to take you for a tour around different best quality filter manufacturers to help you with the task of choosing the most suitable filter for you and your pets' needs. 
We have reviewed the ten top-rated canister filters to help you narrow down your choices. We have included all the major products in our review and hope that you will be able to choose the best aquarium canister filter for your pets after reading this. The products we are reviewing here are the best of the best, and we tried to give a fair comparison so that you can choose the right one based on your personal preferences and/or the needs of the specific fish you are intending to keep.
How does a canister filter work?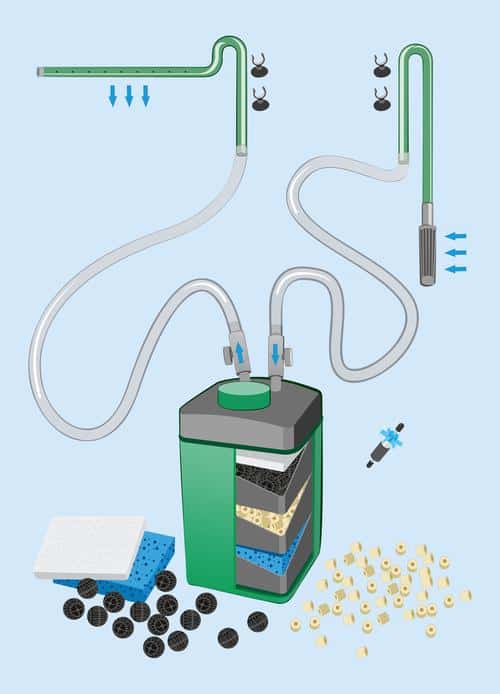 Much like a car, a fish tank needs regular maintenance to keep it running smoothly. Without it, the tank can quickly degrade—especially once fish and other animals are added to the mix. 
Aquarium canister filters are a great way to filter a fish tank. They are specifically designed to run continuously for long periods of time on a specific schedule. The fish canister filter uses a series of canister filters, usually within a single housing (though sometimes, each filter is in a different housing), and works by passing water through different parts to filter it.
First, the water is fed by the aquarium pump through a foam pad that absorbs chemicals; then water goes into a sponge that absorbs organic matter, then into a mechanical filter media that does the actual filtering. There are two types of canister filters: internal filters and external filters.
Related:  Best Aquarium Heater
What are the benefits of using The Best canister filter?

Canister filters provide many benefits over other types of filters; that's why many people choose them for their aquariums. Let's go through some of those advantages individually.
Easy Setup Process and Cleaner Setup
Installing a canister filter is a very easy process. It is installed next to the aquarium, plugged into an electrical source and immediately starts doing the job. The whole system is a loop: one hose sucks the dirty water into the different sections of the filter and the other one pumps the freshly filtered clean water back into the aquarium.
Cleaning is easy too; you just open the filter, take out the different filtering compartments and media and clean them with water (or replace them). The body of the filter may also be scrubbed with a toothbrush.
Flexible Filter Media Selection
Canister filters come with multiple compartments, each containing different filtering media such as foam, sponge, gravel, carbon, wool, etc. Each type of media can filter specific items: organic, chemical, or mechanical filtration.
The order through which the water is filtered inside the filter is flexible and can be controlled by the owner. In other words, the owner chooses the order and the type of media to use based on personal preference or the kind of fish living in the aquarium for optimal filtering results. Different media configurations can be tested to see which one works best.
High Water Flow Rate
This is one very important advantage that canister filters provide: A higher flow rate. This simply means how much water runs through the filter and goes back to the aquarium in the period of one hour. Usually, the flow rate of any given filter is calculated using the acronym GPH (gallons per hour), and every filter provides information about its technical details, including the GPH.
The higher the GPH, the more water is filtered, the cleaner the water, the healthier the fish. However, the GPH must not be exaggerated, as it can create strong currents in the aquarium, which is not ideal for some types of fish, such as the Betta fish. Ideally, the GPH of a filter needs to be at least five times the capacity of the tank.
Long-Lasting
Don't worry about replacing your canister filter as those can last for years. Many fish owners talk about filters they have had for up to 15 years or even more without the need to replace them. Most of the time regular cleaning will do the trick.
Sometimes, owners have to replace some media to solve clogging issues or just for the desire to always try the latest and greatest in filtering media. Rest assured, you will have to regularly clean your filter; you may need to replace the media, but the filter will stay with you for a very long time unless you choose otherwise.
Quiet Operation
There is no completely quiet aquarium filter; they all make some noise, be it to different degrees. However, no one can deny that canister filters are much quieter than any other type of filter. This is because canister filters are designed to operate for very long periods of time; they are usually made of high-quality materials. The quality of the pump is better too, which translates into quieter operation. The fact that all the filter components are enclosed inside also helps make canister filters a quieter option.
Here is a great video (7 minutes 44 seconds) from Prime Time Aquatics discussing the pros and cons of aquarium canister filters.
Things to Consider When Choosing a Canister Filter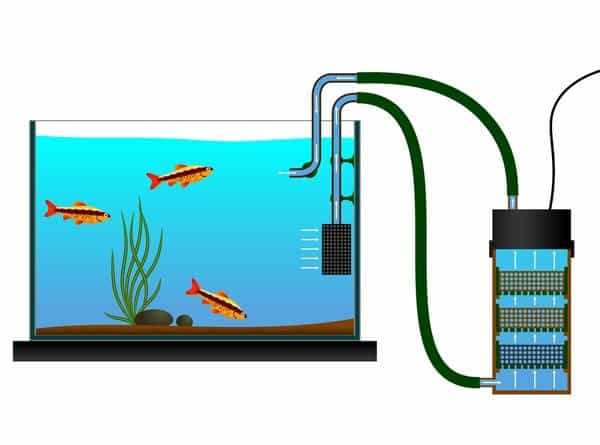 There are many important (technical) factors to consider when buying an aquarium filter, including efficient filtration, noise levels, and pump efficiency. But the most important thing you need to realize is that canister filters are not for everyone. They're a massive investment, and you'll need to devote some time to maintenance if you decide to buy one. You'll need to replace or clean the filter media regularly, but first and foremost, you need to think about the placement of the filter.
It would help if you considered how the aquarium canister filter would fit into or near your aquarium. Is it going to be internal or external? If you already have a filter, you should also look for canister filters that have at least the same flow rate as your existing filter (assuming that you don't want to use a canister filter all the time).
Now, let's cover the more technical stuff in detail.
Tank size
It is vital to know precisely the capacity of your aquarium and choose the filter accordingly. Canister filters are recommended for 40-gallon tanks or more. If you have a smaller tank, it would be better to opt for another type of filter or choose a smaller canister filter to use after some modification and tweaking.
In a nutshell, larger tanks need bigger and more powerful filters, while smaller aquariums will be just fine with smaller less powerful filters. There is a well-agreed-upon rule among fish lovers that states that the GPH of the filter should be about five times the capacity of the aquarium. If the filter is too powerful for the tank it could create too much water movement causing some disturbance and problems for the tank inhabitants.
Filter flow rate
The filter flow rate refers to how much water can go through the filter in one hour GPH. The higher the GPH, the better the filtration process. However, a filter with a GPH that is too high will create too much current and movement inside the tank, and that's not ideal for most fish types. If the flow rate is too low, the filter may not be able to keep the tank clean. In fact, this factor is closely linked to the size of the aquarium. Owners could always go for the rule of the GPH being five times the tank capacity.
The motor Noise
The motor or pump is the tool that constantly moves water between the tank and the filter. If the pump stops working, the whole filtration process comes to a halt. Therefore, you need to choose a filter with a good-quality pump that will last longer. A powerful pump provides excellent performance but may make more noise while operating, whereas a weaker one won't make as much noise at the expense of performance. Buyers need to strike a balance between comfort and performance.
Power Consumption
Bearing in mind that the filter will be working for extended periods of time, it is crucial to take power consumption into consideration. If the filter consumes a lot of power, that will show on your electricity bill at the end of each month. On the other hand, if power consumption is acceptable, but the filtering performance is not good, this can cause even more serious problems for your tank and fish. Ideally, you want to purchase a filter with reasonable consumption that doesn't neglect performance.
The Quality of the Manufacture and Materials
I believe this is the most important factor to consider for the sake of your beloved fish pets. The manufacturing quality and used materials should be the best possible you can afford. Good-quality materials mean the filter is safer for the fish and that the filtering process will be excellent.
Cheap materials may be harmful to your little fishies, as they may contain toxic elements that would spread in the tank and hurt or even kill the fish. The bottom line is, don't cheap out when buying your canister filter; just buy the best one you can afford.
Your Budget for the Aquarium
Budget may be last in our factors list, but it is the one that eventually has the most significant impact on your decision of which filter to purchase. You can't buy something you can't afford. So, the best thing to do is to precisely know your budget for the filter and make a list of filters you can afford. Then, finally, compare all the products on your list using all the other factors we discussed above and carefully make your final decision.
Top 10 Best Aquarium Canister Filters Reviews

Canister filter vs power filter, which one is better?
Canister filters and power filters are two of the most popular kinds of filters. The point of a power filter is to be a simple and straightforward piece of kit. As such, the operation is very simple and doesn't need much setting up. The power filter hangs on the aquarium and draws water through a tube into the filter using a pump.
This water is then cleaned via a carbon filter and other chemicals that purify and remove harmful substances from the water. Depending on the model of filter you buy, you can get any combination of biological, chemical, or mechanical filtration. 
However, canister filters offer superior performance when compared to power filters. They are capable of filtering large amounts of water quite quickly. They are also versatile and allow users to choose their own mechanical, chemical, and biological filtration mix.
With a canister filter, you do not have to worry about water splashing everywhere when it returns to the tank, as it usually comes with a spray bar that prevents this from happening. Although an aquarium canister filter costs more than a power filter, its performance justifies the cost.
What is biological, chemical, and mechanical filtration?

Throughout this article, we have mentioned on more than one occasion filtration types, namely biological, chemical and biological filtration. They are the three key elements that make canister filters more efficient than any other type of aquarium filter thanks to their multi-stage filtration. What do they mean? How do they work? Why do they need different types of filter media? It's time to answer these questions.
Biological filtration stands for the use of biological agents to clean the aquarium water and get rid of any debris or toxins that prosper in the water. Beneficial bacteria are used to clean the water from any dissolved organic chemicals, which can be the sources of algae, bacteria, nitrate, and all types of harmful elements that grow in the aquarium. The beneficial bacteria feed on those elements and make them less toxic and harmful. Simply put, Biological filtration uses organisms to remove waste and debris from the water, and it is the primary method for keeping your aquarium water clean.
Chemical filtration is a process that removes chemical impurities from the water. These impurities can include minerals, medications, pollutants, and other substances that would make the water unhealthy for the fish.
Chemical filtration is one of the most important parts of an aquarium because if the water is unhealthy, the fish will be sick and may even die. Usually, activated carbon, or any other cleaning resins, is used to absorb impurities from the water by absorbing them. Chemical filtration relies on chemical agents to perform the cleaning and filtration process.
Mechanical filtration uses mechanics, in this case, the movement of water that is propelled by a water pump and goes through the mechanical filtration media to catch any impurities without doing anything to modify the chemical properties of the water. The simple water movement through the filtration media such as a sponge or foam is enough to physically stop solids from going through it.
Mechanical filtration catches unsightly particles like dust, fish excrement, uneaten food, etc. Mechanical media need regular cleaning and replacement because of the build-up of the impurities that can seriously affect its normal functioning.
Which Aquarium Filter is Best for Me?

We can't really answer this question for you, as this matter is highly subjective. Every user can have a favorite filter based on their own personal preferences, experience, and other factors like the size of the tank, the type of fish or any other aquatic animal to be kept and their specific needs, The type of water to be used, the person's ability to tolerate noise and sacrifice some comfort for the sake of performance, etc. 
That's a pretty long list of factors that come together to help the potential buyers make up their minds on which canister filter will be best for them. We are sorry, but it's time for you to take matters into your own hands. We reviewed the best canister filters and specified some important factors that can affect your choice; now, it's up to you to do some homework and decide which canister filter is best for you.
Can you use a canister filter with a sump?
The short answer is yes; it is technically possible to use an external canister filter with a sump tank. The more realistic answer is: It can be done, but it is risky. A sump is an additional water tank that can be placed underneath the display tank, next to it or any other place where it won't be visible. Many people choose to do it for esthetic reasons: the view of the display tank is not disturbed by any hoses, pumps, heaters, etc., as everything can be placed in the hidden sump tank, making the aquarium better-looking.
The more practical reasons for doing so are numerous; for instance, the water will be cleaner and contain more oxygen, filtration will be even better, the visible surface gunk will be trapped in the sump, and the volume of water will be higher. Gravity helps move water from the aquarium into the sump, going through the filter, and an additional pump can be used to pump it back up towards the display tank.
This looks promising, useful, and practical, but if any setup components fail, this could mean disaster; if one of the pumps dies, one of the two tanks will overflow, while the other will be emptied. Water flow needs to be precisely calculated and regulated to keep both tanks full of water. In the end, it is a fantastic setup that requires a lot of work and attention, but if you're willing to make the effort the result is worth it.
Can you run a saltwater tank with a canister filter?

Before buying a fish, it's crucial if it needs fresh or saltwater. That helps decide which filter to get. The answer to the question depends mainly on the manufacturer and the canister filter itself. There are a lot of filters today that can work with both freshwater and saltwater without any problems. However, you need to make sure the filter supports saltwater; otherwise, a protein skimmer may be required to help with saltwater filtration.
Usually, using a canister filter with saltwater won't be a problem. However, it would definitely help to check the technical details of the filter. Those are usually marked on the filter box. Support for saltwater will be marked there. 
In addition, saltwater tanks require more movement; so, it would be better to choose a canister filter with a higher flow rate to use with saltwater.
What Are Filter Media?
In a canister filter, filter media are any substances that change the quality of water flowing through them. There are three types of media: Chemical, biological, and mechanical. All three work together to absorb impurities and debris and keep the water clean and healthy. They are usually kept in filter media baskets or trays.
It is recommended to use all three types of media, but aquariums need to have mechanical and biological media at a minimum. Biological media provide housing for beneficial bacteria to thrive in and feed on any toxins or harmful elements such as ammonia and nitrite and break them into less toxic elements. Gravel or crushed granite are usually used as biological media.
Chemical media use chemical reactions to absorb dissolved harmful substances from the tank water. The most widely used chemical media is activated carbon.
How Often To Clean The Canister Filter?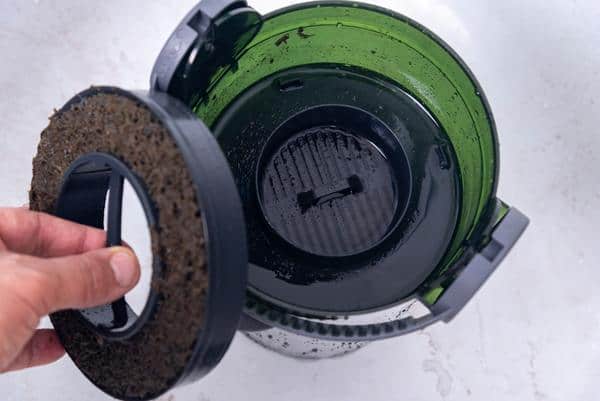 As canister filters trap the impurities and debris they are susceptible to clogging. Therefore, it is necessary to clean the canister filter to ensure smooth operation and provide a safe environment for the fishes and other inhabitants of your aquarium.
As many of the best aquarium canister filters use mechanical, biological, and chemical filtration systems it is essential to clean them all. 
The mechanical filters must be ideally cleaned once every month to remove the trapped solid particles and debris. Replace or clean the chemical filters when you notice the water in your aquarium turning cloudy. Nonetheless, they must also be cleaned every two months. Lastly, you must also replace or clean the biological filters once every two months.
How Long Do Canister Filters Last?
Most filters, and especially the ones listed in our aquarium canister filter reviews last for years. The most important thing to note to prolong the canister filter's lifespan is to clean and maintain the individual components of the filter well. Apart from the filter media you must also clean the impeller, canister casing, fasteners and hose to increase the filter's life.
Use a scrub pad or toothbrush to get rid of the algae sitting on the canister parts. To clean the filter hose use a sump pump. Immerse the hose in a solution of vinegar or hydrogen peroxide and use the pump to rush the water through the hose.
What Is The Quietest Canister Filter?
Filtering your aquarium can become a noisy affair if you do not select the right filter. However, silent filters do exist and there is more than one option to choose from.
Canister aquarium filters by nature make less noise compared to other types of filters. The efficient design and mechanism used to turn the water through the tubes in such filters ensure minimal noise without compromising the performance. 
As canister filters use tubes to push the water back into the tank you will not hear the sound of water splashing at all. Moreover, a few of the latest models use sound-dampening technology to bring down the noise levels even more.
Among the products that we have mentioned in our aquarium canister filter review, the Eheim classic is the quietest canister filter. So if your current filter is vibrating and making humming noises, replace it with a quieter model to restore your peace of mind.
What Is The Best Canister Filter?
Different models have different features. Therefore, the best canister filter for you ultimately depends on your needs and the type of fish tank you have.
After analyzing the top 10 products in great detail in our aquarium canister filters review we find that the Fluval 07 series are the best canister filters out there in the market. Not only do they have a price tag that will not drain your pockets too deeply but they also do the job very well. They are easy to install and maintain and they have safety features that prevent leaking.
However, if you are ready to spend a few extra bucks, we suggest going for the Fluval FX filter especially if you have a larger aquarium. Its cleverly designed filtration path and high flow rate deliver an excellent performance. Its superior build quality, easy availability of replacement parts, and three-year warranty are some of the other positives.
Final Thoughts
An aquarium can light up even the dullest room and make it look so much better. However, to prevent it from getting dirty and maintain your fishes' health, it is imperative to install a suitable aquarium canister filter.
We hope that our review of the ten best canister filters for aquariums has equipped you with all the pieces of information that you need to make your choice. All the products mentioned here are the top-rated canister filters available in the market today. Apart from being durable and sturdy, they are also efficient. 
In the end, we could say with confidence that one manufacturer does dominate the canister filter market by providing options for different aquariums capacities: Fluval. The company managed to provide some of the most reliable canister filters ever to be produced. The 07 series are mainly oriented towards aquariums of smaller to medium water capacities, while their FX series simply blew our minds during our tests; they are intended for use with aquariums of bigger capacities and offer some insane flow rates.
Of course, there are some other excellent filters in our reviews. The Penn Plax Cascade and the Eheim Classic, just to name a few, are also outstanding and don't fall far behind the Fluval canisters. Still, we have just fallen in love with the Fluval filters, as they are amazing pieces of technology that offer an all-around outstanding performance coupled with fantastic design, unbelievable power efficiency, and quiet operation.
As mentioned, the final choice depends on your personal needs and those of your fish pet. However, you have to bear in mind some of the factors while making your decision. These include the tank size, flow rate, and motor noise level. We suggest going through our canister filter reviews carefully before rounding up your choice. 
Thanks for reading, and if you have any comments or queries, do share them in the comments section.