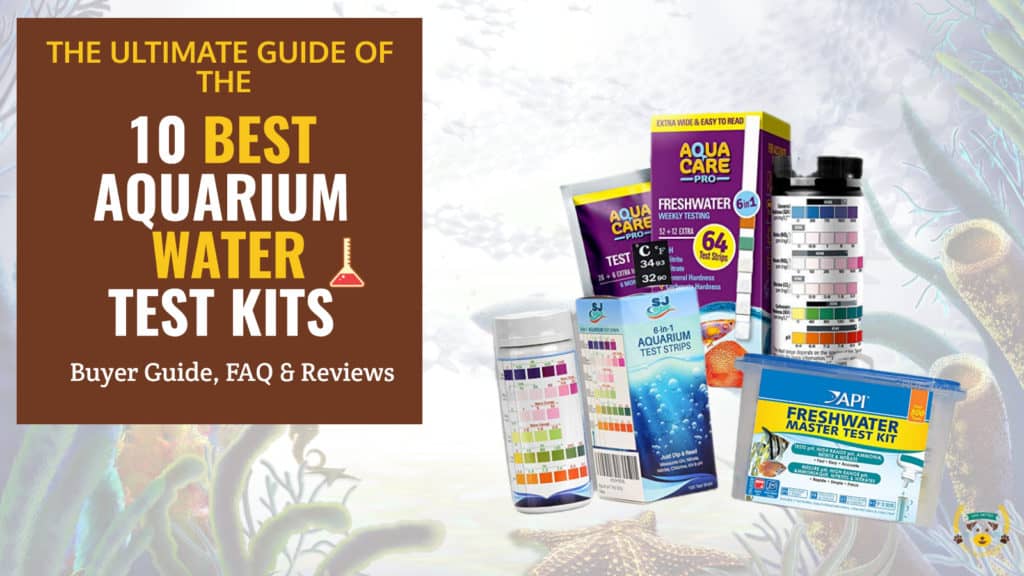 The 10 Best Aquarium Water Test Kits Review & Buyer Guide
Last updated:
August 15, 2021
An Aquarium water test kit is something that an aquarist cannot do without. It is crucial to measure all the tank's water parameters and adjust if anything is found wanting. Without a test kit, there is absolutely no way you will know your aquarium's health. That way, a water test kit for your aquarium is indispensable.
Have you been looking for an effective aquarium water test kit? Whether it is a freshwater or  saltwater, the best aquarist never compromises their water test kits. 
Water may look the same everywhere, but it has several minerals, chemicals, and contaminants dissolved in it. The presence or absence of these in the water can translate into being beneficial or harmful for the fish and your other marine creatures.
When it comes to caring for your Aquarium, you want to make sure you are doing everything right. This starts with knowing the current water conditions that you should adjust accordingly. Testing Aquarium water can be done using several methods.
Check Also: Starting A Fish Tank For Beginners: Fish Keeping Basics Guide
Quick Overview

Aquarium Type
Freshwater, Saltwater
Freshwater
Saltwater
Tests
Nitrates, Nitrites, Water Hardness, Chlorine, Alkalinity and P H Levels
Freshwater PH, High Range PH Ammonia, Nitrate and Water Hardness
Salinity of Water
Aquarium Type
Freshwater, Saltwater
Tests
Nitrates, Nitrites, Water Hardness, Chlorine, Alkalinity and P H Levels
Tests
Freshwater PH, High Range PH Ammonia, Nitrate and Water Hardness
Last updated September 18, 2021. Those are affiliate links, we may earn a small commission when you click on the links at no additional cost to you; More Information>>. Product images are served from Amazon Product Advertising API.
What is an aquarium test kit?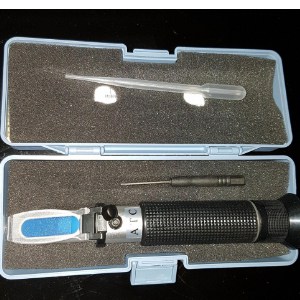 An aquarium water kit is used to test the water in an aquarium. It can test for the levels of ammonia, nitrite, pH, carbonate hardness, and temperature. It's essential to regularly test your aquarium water to ensure that it is healthy and safe for your fish.
The kit will usually consist of a bottle that contains the test liquid with a dropper, a test tube that has been marked, and a color chart. You'll be able to use the dropper to place a few drops of the test liquid into the test tube.
Aquarium test kits help you test your aquarium water on various parameters such as:

The pH level of the water or its alkalinity

Ammonia

Nitrate level

Carbonate and phosphate

The hardness of the water
Steps to use a water testing kit:
Step #1– Fill about 5ml of water from your aquarium in a test tube. Do not dunk your test tube in the water; instead, use a pipette to transfer the water.  
step #2- drop about three to four drops of testing solution into the test tube. Wait for one to two minutes. You will begin seeing cloud-like formations on the surface of the water.  
Steps #3– Now shake the test tube gently to ensure that the solution mixes evenly in water.
Step #4 - Match the color of water with the color chart in your testing kit. 
Make sure you follow the instruction manual closely to arrive at the most accurate result.
Check Also:  Best aquarium canister filter
Why should you use an aquarium test kit?
Without a master test kit, there is no way you can determine the chemical composition of your tank water and consequently will not be able to keep a tab on the health of your marine life. 
If you are a person that keeps rare types of fish and plants, then you can never overlook testing at all. Even otherwise, testing is indispensable for hobby aquarists.

The testing kit will tell you the correct chemical composition of water and determine if it is the right one to introduce the fish.

The kit allows you to perform periodic tests in the tank water so that the water quality stays hygienic and worthy for your marine life.

The aquarium water test kit helps identify harmful substances such as ammonia levels in the water, nitrate, and nitrite that occur from the waste's breakdown that your fish produce. 

The kits help prevent infections and diseases in the fish tank water.
Here is a good video (4 minutes 41 seconds) from Friday Fish Facts channel explaining how to test your water, remove nitrates, and how often water should be changed in your aquarium:
Types of Aquarium Test Kits
There are various types of test kits available in the market. Below listed are a few: 
Test Strips
Testing kit will consist of plastic strips coated with reactive pads. Each of the pads measures one parameter. The strips are colorimetric, meaning that the result will depend on the color of the strip. Every kit includes a color chart for reference. All you need to do is dip the strip in the marine aquarium and hold it for a few minutes. That's it! 
Liquid Tests
Liquid aquarium water test kits are also colorimetric but much more reliable than strips. They could be a little more time-consuming, and they will require you to test water samples and add reagents to them to understand the water parameters. 
Electronic Water Tests
If accurate water chemistry is what you are looking at, then electronic tests akin to labs are what you must zero in. They may be small, but they work in record time; no waiting to understand the water parameters you need to collect a sample from the tank and mix reagents. Tadaa!
The tests are accurate, and they come with a display portraying all the important parameters. Most of the time, aquarists use this for sensitive aquarium fish or reefs. They are battery-operated and may need calibrating. They are the costliest.
What do aquarium test kits measure?
Aquarium testing kits help test many important parameters that you must check when it comes to fish and reef aquarium. Predominantly, these are
The ammonia content

The amount of nitrite, nitrate, and phosphate present

The fish and reef tank's pH value

The carbonate, phosphate, water hardness, etc.

Water temperature is also an important parameter to check 
The pH test kits on the market are inexpensive and quite accurate to test the water in your aquarium. To check the pH, add some of the water from your saltwater tank or freshwater aquarium in a test tube, use a testing strip or drop a few drops of testing solution and watch the color change. Use the color chart in the kit to determine your aquarium's health. 
Normal pH is always in the range of 6.5 and 7.6; it is considered neutral. The pH of water is a transient value, and it keeps dropping because of the fish waste and breaking of other organic material inside the tank. You must regularly change partial water in the tank.
If your test results indicate a very high pH level in the range of 9-14, it will harm your fish by denaturing their cellular membranes. A very low pH level below 5 accelerates the release of metals from the rocks inside it. Too high pH or too low pH affects aquatic life drastically by altering the water chemistry.
Fish reproduction for many species in your saltwater aquarium or freshwater will be adversely affected if the waterfalls' pH is 5. If it dangerously falls below 4, you must be prepared for the worse.
The nitrate that is produced in your aquarium is highly toxic to the fish life inside your tank. If you are wondering how it came there in the first place, then it is because of the waste that your fish generates, the rotting of their leftover food, as much as the decomposing green plants inside your tank. Your tank's bio-filter first converts the ammonia into nitrite and later into nitrate. All three are harmful to the fish and reef life inside your tank.
Check Also:  Best aquarium heater
How accurate are aquarium test kits?
If you have asked this question often to yourself, here are some hard facts.
The testing strips are often considered to be less accurate than the liquid testing kits. If you are looking for precise results, for example, commercial aquariums, then scientific probes and instruments may be the best thing for you.

For hobby fish keepers, testing kits are good enough. The only thing about them is that you need to get used to them and practice understanding results by matching results with the color card.

When you are raising rare species, or sensitive plants, fish, reefs, and corals, you will want to look at something more precise like the electronic kits. For beginner level fish keeping, the liquid water testing kits are good enough.

Precise testing kits are not very pocket-friendly. They may be quick and easy-peasy, though. They also have a longer shelf life than the rest because they are battery-operated. They are precise to the last digit and a great way to handle your tank's water quality.
How often should you use an aquarium test kit?
The best piece of advice that you can get as a hobbyist or a serious fish keeper is to test your water every day to understand how the tank's nitrogen cycle is progressing.
Once you feel confident that your tank is all set up and cycled, you could reduce the testing frequency to once in three days or once a week.
A point of concern is that if you notice irregularities in the aquarium water, such as cloudiness in the water or that your fish are stressed, test without wasting a single minute.
It is critical not to lose your fish in such cases due to the rise in single rogue parameters such as ammonia or nitrite. You can overlook other things once in a while, but testing your waters is not one of them.
Our Recommendations of the 10 best aquarium water tests
As a fish hobbyist, your aquarium is one of your most prized possessions. You have invested time, money, and effort into building a healthy ecosystem for your aquatic pets.
Testing your water constantly is one of the most critical aspects of the hobby. Over time, the water quality in your aquarium will naturally change. To keep it healthy and your fish happy, you should test it regularly.
To help you with this task, we have put together the following list of our top 10 best aquarium water test kits.
What is the best way to test aquarium water?

Testing strips do not require any preparation for testing. Pull out individual strips from the packaging and dip them in the tank water for a stipulated period as recommended. When the color of the strip changes, match the color with the color closest to the color card to derive the result.  

Liquid test kits come complete with test tubes and reagents for every single parameter. Take 5 to 10 ml of tank water in the test tube and add the recommended number of liquid reagent drops. Wait for a few minutes for the reaction to take place. Now corroborate the color in the test tube with the color card.

Digital hand-held testing kits are easy to use. Probe electrode directly into tank water and hold it for a few seconds or till you hear a beep. The results displayed are most accurate, with only a 5 percent scope for error. 
All the above testing methods are suitable for both freshwater fish and saltwater fish. It is good to note down results in a log to determine fish buying in the future. 
FAQ About Aquarium Tests Kits
What is the difference between testing freshwater and saltwater tanks?

A freshwater tank is perhaps the first aquarium for most hobbyists. This is because they are easier to maintain, and there is not much that you can gaffe about on it.
Freshwater tanks are more pocket-friendly than their counterparts. The tank can be made of glass or acrylic. There should be a good filtration system and some live plants. Some of the freshwater fish species include Cichlids, betta, and tetra fish. The cost of procuring these species is not bank-breaking. 



Saltwater tanks are more costly, especially because their tank size is big. The cost of procuring the saltwater species is as high as the maintenance of the tank. They require extra filtration equipment such as live rock, mechanical and chemical. You will also need to invest in protein shimmer to remove the dissolved water. A saltwater aquarium is costly and more colorful than a freshwater one. 
Do aquarium test kits expire?
Gratefully, aquarium testing kits have a long shelf life. They could go on for about three to four years, and that is a very long time. If you are used to testing the water, say once a month or less, your bottles will be done and dusted in a matter of a year and a half max.
Every liquid test bottle has many numbers printed on its label or the underside of the bottle itself. The last four digits per the rule book are the month and the year of manufacturing.
Usually, the pH range, ammonia test, Nitrate, phosphate, and Copper easily last over three years. Nitrite has a shelf life of mostly four years. The low range pH in a freshwater fish tank and the alkalinity test usually stay good for a whopping five years. Do not use any of the tests that have passed five years. It is better to dump them and go for new ones than lose your precious fish getting the wrong results from the test kits.
How do you make tap water safe for fish?
If you have thought that distilled or RO purified tap water is best for your fish, think again! Water devoid of essential minerals may not be as beneficial to most aquatic life because you need to create similar water chemistry to where they come from.  
Test your tap water for pH and alkalinity. Check if the nitrate and phosphate level is suitable for your saltwater and freshwater tropical fish

Let the aquarium sit for 2 -3 days before you introduce your fish to it; test the water before putting them in

Make sure your fish are acclimatized to your aquarium.

Make sure to change 10% of your aquarium water every week. 25% of the water in the tanks need to be cycled every fortnight

During water changes, make sure that the water you replace is similar in temperature

Treat your tap water with water conditioners so that it neutralizes chlorine and ammonia

Filter and cartridge changes must be done diligently every month; if they can be removed, clean and rinse them under running water.

Do a regular inspection of your marine life.

Do not overcrowd the aquarium as it can lead to water quality issues.
Final Thoughts
Good quality water and bad quality water can look identical when you look at it. You can never tell with your bare eyes if parameters such as ammonia or nitrate are high. That is why we recommend that you use the best aquarium water testing kits because bad quality water is detrimental to your marine life. It can create a lot of stress in them and lead to diseases and even death.
Anyone looking to have healthy fish in their aquarium must test their water quality from time to time. We all can be lackadaisical (no judgment there) when it comes to changing the water regularly, but it is the only way you can manage to have happy fish and consequently a happier you!