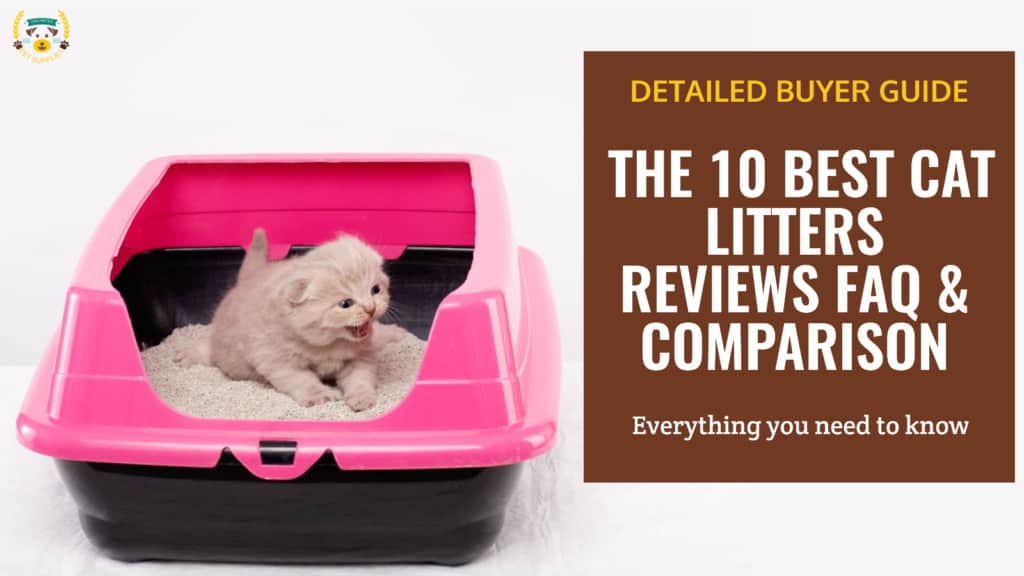 The 10 Best Cat Litters For Multiple Cats
Last updated:
December 12, 2020
Cats are fastidious by nature. They are obsessed with cleanliness and can endlessly lick themselves after they've answered nature's call. For humans, cat's urine is one of the most disagreeable of stenches, and that is precisely why you must choose multiple cat litter boxes that are not just sufficiently big for all your cats' work but also absorb the stench from it.
Cats can efficiently recycle their body liquids and that is the reason their urine is highly concentrated and pungent. Cats are also extremely particular about their litter boxes. They will not use one that puts them off with a bad odor. Instead, they will conveniently go anywhere else, like in the house plants or the basement or washed laundry!
Below we bring to you the world's best cat litter reviews that are independently tried and tested. Hope you find this review guide on the multi-cat litter box useful. We have chosen the 10 best multiple cats litter boxes and chalked out all the salient features for you to make an informed decision.
You May Also Like: The Ultimate Beginner Guide To Getting Your First Cat
Quick Overview:

Features
Biodegradable, Flushable, Odor Control, Clumping, Unscented, Natural
Odor Control, Non-Clumping, Unscented, Dust Free, Low Tracking
Clumping, Multi-Cat, Odor Control, Dust Free, Low Tracking
Litter Material
Wood
Clay
Clay
Features
Biodegradable, Flushable, Odor Control, Clumping, Unscented, Natural
Features
Odor Control, Non-Clumping, Unscented, Dust Free, Low Tracking
Features
Clumping, Multi-Cat, Odor Control, Dust Free, Low Tracking
Features to Look for in the Best Cat Litter for Multiple Cats
Here is the list of features that you must look for when you are out shopping for the best multiple cat litter box but do not know which product to put your finger on:
Easy to clean: If you are using cat litter that clumps when it comes in contact with the cat's waste. Make sure that the litter clumps well so that it is easy to remove from the rest of the litter. In the case of non-clumping litter, it should be extraordinarily absorbent.
Long-lasting odor control: Clumping litter is your best bet when you want to be able to clean better. They are also less sticky. Go with products that have ingredients such as activated carbon and baking soda to control stinks.
Low-dust: Lesser silica equals being low-dust. However, please do not trust the product label; check on the testimonials from people who used them.
Within your budget: The most expensive cat litters are not exactly the best ones. Go for the ones that are easy on your pocket and also good at their work.
Low-tracking Litter that gets trapped in the cat's paws, hair, and fur will start spreading everywhere in the house. Go for the low tracking ones and use litters that are granular in appearance.
Check Also: Best cat food for sensitive stomach
The Best Rated Cat Litters: Our Top 10 Reviews
All the multi-cat litter products mentioned below have the best formula cat litter for households with multiple cats. Each and every product is guaranteed to give you a mess-free and odor-free experience from day one.
Are you ready to check out the best litter for multiple cats?
| Photo | Title | Litter Material | Features | Buy | Chewy |
| --- | --- | --- | --- | --- | --- |
| | Tidy Cats Breeze Cat Litter Pellets | Clay | Odor Control, Non-Clumping, Unscented, Dust Free, Low Tracking | View On Amazon | View Price On Chewy |
| | ÖKOCAT Less Mess Low-Tracking, Clumping Mini-pellets Natural Wood Cat Litter | Wood | Biodegradable, Flushable, Odor Control, Clumping, Unscented, Natural | View On Amazon | View Price On Chewy |
| | Fresh Step Crystals, Premium Cat Litter | Crystal | Odor Control, Non-Clumping, Scented, Low Dust | View On Amazon | View Price On Chewy |
| | Fresh Step Advanced Simply Unscented Clumping Cat Litter | Clay | Odor Control, Clumping, Unscented, Multi-Cat | View On Amazon | |
| | ARM & HAMMER Clump & Seal Platinum Cat Litter, Multi-Cat | Clay | Clumping, Multi-Cat, Odor Control, Dust Free, Low Tracking | View On Amazon | View Price On Chewy |
| | World's Best Cat Litter, Clumping Litter Formula | Corn | Unscented, Flushable, Odor Control, Clumping, Biodegradable, Natural, Dust Free | View On Amazon | |
| | Dr. Elsey's Ultra Premium Clumping Cat Litter | Clay | Clumping, Multi-Cat, Odor Control, Unscented, Dust Free, Low Tracking | View On Amazon | |
| | JONNY CAT Complete Multi-Cat Clay Litter | Clay | Odor Control, Multi-Cat, Scented, Clumping | View On Amazon | |
| | Cat's Pride Unscented Complete Care Hypoallergenic Multi-Cat Litter | Clay | Clumping, Unscented, Multi-Cat, Odor Control, Lightweight | View On Amazon | |
| | CatSpot Non-Clumping Coconut Cat Litter | Coconut | Biodegradable, 100% Organic, Lightweight & Dust-Free | View On Amazon | |
CatSpot Coconut Cat Litter
If you are concerned about the environment as much for your lovely felines, then this super absorbent, chemical-free, lightweight, and natural scented cat litter is the one that you must pick up.
As per the cat spot litter review, the product is only a recent entrant in the multi-cat litter box segment, but it has created a niche for itself within the shortest time. The manufacturers claim that one five-pound Cat Spot litter has the same absorbency as a 20-pound bag of clumping clay cat litter!
The product does not have any toxic chemicals at all. And in case you have been lifting heavy litter everywhere, Cat Spot is also extremely light in weight.
The product is best for the environment because it has been made from recycled coconut coir that does not pollute even when made. The natural scents will not irritate the respiratory tracts of your feline babies as well as the young kids at home.
Check Also: Best Cat Food For Indoor Cats
Key Benefits & Ingredients
Best kitty litter for multiple cats
Excellent odor control
Eco-friendly
Made from recycled coconut coir
No artificial scents added
Lightweight
Very effective
Highly absorbent
100% all-natural
Hypoallergenic
Zero dust formula
Made in the US
Ingredients:
Made with only one simple ingredient: Coconut
No allergens and no chemicals at all
Highlighted Features
SAVE MONEY!: Our 2-pack bundles save $1.50/bag over normal, retail price!
SUPERIOR ABSORBENCY: One, 5-lb bag of CatSpot, has the same absorbency as 20 pounds of clay litter!
CHEMICAL FREE: CatSpot is an all-natural, non-clumping litter that does not contain the nasty chemicals clumping litters do.
LIGHTWEIGHT: Don't lug home heavy litter ever again.
BETTER FOR THE ENVIRONMENT: Litter from recycled coconut coir.
Cat's Pride Fresh Ultimate Care Multi-Cat Litter
If you find that your cats are not using the litter box but messing in other parts of the house, you will most likely have picky cats. Perhaps it is the strong scent of the cat litter that is putting them off.
Presenting the most lightweight and unscented litter box for multiple cats. The best thing about it is that it is also hypoallergenic. Its unscented formula will ensure that the cats do not get irritated with very strong fragrances added to most multi-cat litters of late. If your cats have signs of being allergic, then Cat's Pride cat litter is the best of litters to soothe them.
As cat parents, consumers that have used this product are extremely happy because it has safer ingredients that make their hyper-allergic cats very comfortable using the litter box.
If you thought that the cat litter might be ineffective in killing odor because it is unscented, let us reaffirm. The litter works wonderfully well and instantly kills all bad odors as soon as it comes in contact with it. It's a win-win situation for everyone!
Key Benefits & Ingredients
Best litter for kittens
Works instantaneously
50 percent lighter in weight
Absolutely odorless from the word go
Works best for sensitive cats
Cleaning up of clumps is a breeze
Keeps litter box odor-free for longer than other brands of multi cat litter
90 percent dust-free formula
Comes in convenient 10-Pound packaging
Ingredients:
Proprietary odor control technology
Clumping Clay
Zero scents and fragrance
Highlighted Features
Age Range Description: All Life Stages
Included Components: Cat's Pride Fresh Ultimate Care Lightweight Unscented Hypoallergenic Multi-Cat Litter (1 Pack)
JONNY CAT Complete Multi-Cat Clay Litter
Consider all your worries are taken care off when you are a parent of multiple cats, and you decide to go in for the Jonny Cat litter. This cat litter is very potent and is capable of managing multiple cats without even trying very hard. What is more! It is also cheaper than most other cat litter in its category.
However, what is essential is that you make a note of your kitty's habits before you start using this. This cat litter can leave track marks. That is perhaps the only downside to this product.
If your cats are well-behaved and do not create too much mess in the day or are in the habit of keeping the litter box where there is minimum traffic, we suggest strongly that you go for this product. It is one of the most recommended on the market. The product is entirely dependable when it comes to tackling waste management from multiple cats in the house.
Key Benefits & Ingredients
Best cheap cat litter
Powerful formula that prevents odor from escaping
Guards and seals odor almost instantaneously
Scented highly absorbent clay
Long-lasting odor control and protection to the feline
Conveniently packed in 10 and 20-pound packs
Ingredients:
This world best cat litter has a fantastic composition with absorbent clay
Patented formula that eliminates all odors without using any single harmful chemical
High-speed deodorizer that neutralizes all odor and also pumps out a clean and pleasant fragrance.
Highlighted Features
Triple action strength delivers long lasting odor control
Knocks out ammonia odors and Inhibits fecal odors
High speed deodorizer goes to work on odor instantly, leaving a scent that's clean and refreshing, yet safe and gentle
Twenty pound bag
Dr. Elsey's Precious Cat Ultra Unscented Clumping Clay Cat Litter
Have you ever tried cat litter from over the counter and repented your decision? A lot of cat litter nowadays is stuffed with silica dust that can become a concern in the long run.
Cats exposed to silica over very long periods can become prone to severely debilitating lung diseases. If your cats suffer from some respiratory discomfort or want to make sure that they are never afflicted with it, try this Doctor-Prescribed cat litter.
It is specially designed to control the lungs' diseases and is completely low on dust and absolutely free of any scents and perfumes. The product is certified to be hypoallergenic.
The cat litter uses natural essences that will help reduce stress in your cat-babies. Because the product contains no silica at all, there is zero percent dust in this cat litter. Expect no track marks in your house. Now no more cleaning after your cat and fussing over track marks too! Yippee.
Key Benefits & Ingredients
World's best kitty litter
99.9% dust-free
Hypo-allergenic
Natural materials used
Hard clumping
Multi-cat formula
Superior odor control
Best suited for mechanical litter boxes but can be used in any litter boxes available
Zero dust formula and prevents respiratory conditions
No track marks in the house.
No plant proteins or deodorant, or perfumes used in the cat litter
Ingredients:
Clay, which is hard clumping
Doctor-prescribed formula
Natural essences that help in reducing stress
Highlighted Features
NOTE: Item package indicates weight in both Kg and lb. 40 Lb is equal to 18.14 Kg
99.9% dust free, hypo-allergenic natural litter to keep your surfaces clean and perfect for families who suffer from allergies
Hard clumping, medium-grain clay makes it the perfect clumping litter that helps prevent moisture
Multi-cat formula and superior odor control keeps your home smelling clean and fresh day in and day out
Ideal for sifting and mechanical litter boxes so it's easier for you to dispose of your kitty's waste
Forms hard clumps that don't break down making easier to scoop up and clean the box twice daily
World's Best Cat Litter W/ Clumping Formula
Say goodbye to all the cat litter made from cheap clay that is compromising your cat's respiratory health. World's Best Cat litter is purely made from all-natural materials. There is absolutely no silica in the formula and therefore is 0 percent dusty. The main ingredient in this cat litter is compressed corn material that forms tight clumps as soon as it comes in contact with the cat's urine and feces. If you are looking for the world's best cat litter review for corn-based cat litter, then look no further than this.
The clumping happens almost instantly and forms tight clumps that are easy to scoop out, making the caretaker's job easier. And that is not all! This excellent product is eco-friendly and, therefore, can be flushed down. There is no scent in it, and of course, it is entirely biodegradable. So, whether you have a single kitty or multiple cats, you will never need to migrate to any other litter brand ever.
The formula is potent and is very efficient at keeping the odor away. It is a tad bit costly, but all good things do come at a price.
Key Benefits & Ingredients
Best flushable cat litter
Best cat litter for kittens
Recommended world over by vets and pet shop owners
Forms clumps as soon as it comes into contact with urine and feces
Long-lasting odor control technology
No silica at all
Eco-friendly and safe for the pet as well as the planet
Made with all biodegradable raw materials
Flushable in the toilet bowl
Safe for septic tanks and sewer systems
Ingredients:
Made with natural, whole, and compressed kernel corn
No silica, no strong fragrances, no perfumes, no harsh chemicals
Highlighted Features
OUTSTANDING ODOR CONTROL — Keep your cat's litter box smelling fresh thanks to a natural unscented litter with long-lasting odor control.
QUICK CLUMPING & EASY SCOOPING — No more chiseling and scraping thanks to a fast-acting natural litter that leaves less mess in and around your litter box.
FLUSHABLE* - SEPTIC SAFE — Skip the trip to the trash with a lightweight litter that's Tested and proven flushable* and safe for septic and sewer systems!
LIGHTWEIGHT & 99% DUST FREE — Naturally free of silica dust, this lightweight cat litter offers low tracking and less mess — so you and your cat can breathe easy.For the best results, do NOT mix with a non-clumping litter
PET, PEOPLE & PLANET FRIENDLY — A naturally safe litter made from whole-kernel corn that offers no harmful chemicals and no artificial perfumes.
ARM & HAMMER Clump & Seal Platinum Multi Cat Litter
If you or someone in your family is hypersensitive to strong smells or allergic to dust, or is asthmatic, then Arm & Hammer cat litter is the best multi cat litter formula for your home. This cat litter is available in a standard 40 Pounds packaging and is worth its weight entirely in gold. The litter eliminates 10% more odor than other 'clump and seal' cat litter available on the market today. The 100% no-dust formula ensures none of it is lost in the environment when it is being poured out.
Using this litter in the multiple cat litter box is easy. Fill the cleaned litter box with about 4 inches of the litter. When the cat uses the litter box, the litter will immediately clump, sealing its odor.
You will need only to remove those clumps on a daily basis to keep the litter fresh. Cats are genetically wired to bury their wastes to replace the lost litter by adding more from the packaging. It is best to maintain an optimum of 4 inches of the litter in the box at all times.
Key Benefits & Ingredients
Recommended cat litter for kittens

Absolutely no dust while pouring out

The litter does not leave track marks around the hours

Converts into hard clumps when coming into contact with moisture

Easy to clean-up

No odor at all

Needs to be replaced entirely once in a month only

Pleasant with a light flavor

Patented strong formula for multiple cats

Amazing money-back guarantee
Ingredients:
Micro-Granules that is moisture-activated

Strong Odor Eliminator

Light scents

Baking Soda
Highlighted Features
10% more odor eliminators than our clump & Seal fresh scent
100% dust free platinum formula
7 day odor-free home, Guaranteed
Patented formula seals and destroys odors on contact. Rock hard clumps
Our Largest Size
Fresh Step Advanced Clumping Cat Litter
This unscented advanced clumping cat litter is what you must get home if you have a breed of multiple cats, and are sensitive to strong smells and scents. The product is a fortified formula to absorb a large amount of urine and solid waste. There is activated charcoal added to it for natural odor control. It absolutely does not contain any artificial fragrance whatsoever. The cat litter has the most flattering reviews on various e-commerce websites.
The advanced formula is ultra unscented and certified to fight odor much longer than any of its competitors. Most vets recommend it because apart from being non-fragrant, it is almost entirely dust-free and harsh chemicals and dye-free.
The clumping cat litter is also non-marking, and therefore you can be sure that there will be no track marks around the house when the cats use the litter. Non-tracking litter is a boon to the homeowners because it means less mess and lesser cleaning.
Key Benefits & Ingredients
Easy to scoop and cleaning is easy and quick

The litter forms into tight clumps as soon as it comes into contact with urine and feces

Has activated charcoal for long-lasting odor control

Reasonably priced

Recommended by vets everywhere

Free from added fragrances and dyes

Non-tracking litter

99.9% dust-free

10-day odor control

Leaves no stench after it clumps.
Ingredients:
Advanced formula that neutralizes odor

Activated charcoal

No fragrance at all
Highlighted Features
FIGHTS ODORS LONGER: Fresh Step Advanced Cat Litter starts fighting odors on contact to control odor longer compared to Fresh Step simply unscented
UNSCENTED CAT LITTER: Recommended by vets, this Fresh Step Advanced Simply Unscented Cat Litter is 99.9% dust-free and it is free from added fragrances and dyes
CLUMPING CAT LITTER: Created with your cat's health and happiness in mind, this high-quality clumping clay is designed to stay off your kitty's paws and help keep floors clean
ADVANCED FORMULA: This Fresh Step Cat Litter uses an advanced formula to neutralize odors with activated charcoal and no additional fragrance, 10 days of odor control guaranteed
EASY TO SCOOP: Make cat litter box cleaning fast and easy; ClumpLock technology forms tight clumps to reduce stinky crumbles, making kitty litter easy to scoop
Fresh Step Advanced Clumping Cat Litter
The scented crystal litter has a fantastic odor-lock technology that makes cleaning litter a breeze. The moisture-absorbing capacity is way too impressive when compared to the other similar cat litter products lined on the market shelves today.
The Fresh Step Crystals have not ten not fifteen but a whopping thirty days odor control guarantee. No other brands have unmatched this. And if customer reviews and testimonials across the internet are to be believed, the cat litter product lives up to all its expectations.
The cat litter is very light in weight, which means that it is easier to lift and clean or dispose of as and when required. The formula is low on dust. Lesser dust in the product is a great comforter to cat parents whose children are allergic to dust or have extra sensitive lungs.
The product does not leave track marks in the house when cats use the litter. It is made with immense love and care, just like how you want it.
Key Benefits & Ingredients
Very safe for sensitive cats

Comes with Ammonia odor block technology that controls bacteria and fungus

Attractive purchase schemes wherein you earn points on every purchase of cat litter

Absorbs moisture instantly on contact

Locks in odor

Long-lasting

Lightweight

Keeps home smelling fresh for as long as 30 days!

It is easy to sift the unused crystals

Almost nil dust

Non-tracking on floors
Ingredients:
Clumping cat clay litter

Odor eliminator Ammonia Block Technology
Highlighted Features
CRYSTAL CAT LITTER: Litter box maintenance made easier with odor locking litter crystals that absorb moisture
ODOR CONTROL CAT LITTER: These Fresh Step Crystals have 30 Days of Odor Control Guaranteed. Our longest lasting odor control (vs. other Fresh Step litter)
ULTRA LIGHTWEIGHT: 8lb bag of Crystals is the same number of uses as a 28lb bag of clumping cat litter
LOW DUST LITTER: For cleaner surfaces and clearer air, we developed a low dust formula
FRESH STEP CAT LITTER: Fight litter box odors with scented Fresh Step Crystals that's created with your cats health and happiness in mind
ökocat Natural Wood Clumping Cat Litter
The Okocat wood clumping cat litter is not just a fantastic product but is also very reasonably priced. This is one reason why many families with multiple cats go in for this product each time they need one. The clumping cat litter comes in various sizes, and it is touted to be the best plant-based cat litter that is not just environment friendly but also healthy for your cat and humans.
The uniqueness of Okocat is that it stops urine and feces stench as soon as the cat passes them. Wood can naturally prevent enzymes from bonding with liquids and control the creation of any odor.
The clumps become tight solids as soon as they absorb liquid, and this allows for easy scooping out and cleaning the litter tray. Wood is naturally 99% dust-free, and there are not going to be any dust clouds when you pour out the litter from the packaging.
The product has absolutely no fragrance, chemicals, toxic scents, and dyes; nothing at all that makes it non-biodegradable.
Key Benefits & Ingredients
Made with the world's best cat litter ingredients

Does away with constant cleaning up because the litter makes very little mess

The mini pellets cat litter is soft and will not stick to their paws

Great choice for cats with long and medium hair

The most reviewed clumping litter for kittens

It contains a fresh, natural scent that closely resembles the outdoors.

The product is made from sustainable forests and rescued natural wood fiber

European engineering and brilliant packaging
Ingredients:
Natural wood shaving and healthy cat litter

Outdoor-reminiscent odor
Highlighted Features
Pellet Cat Litter: Our next-generation, clumping cat litter mini-pellets are exceptionally absorbent to clump solid and stop odors, and are less likely to stick to your cats' fur or track through the house
Exceptional Odor Control: Wood fiber naturally prevents enzymes from bonding with liquid and waste to stop the creation of ammonia and odor
Clumping Litter: Pellet litter absorbs liquid on contact, forming solid, easy-to-scoop clumps that make cleaning the litter box quick and easy
99 percent Dust-Free: Our low-dust cat litter is made from clean wood fiber that has been screened and de-dusted for a cleaner pour and a healthier home and no dirty clay dust
Natural Cat Litter: Our sustainable cat litter is free of artificial fragrance, synthetic chemicals, toxic dyes, and GMOs; unlike clay, our biodegradable, compostable cat litter degrades quickly and cleanly

TOP PICK
Tidy Cats Breeze Cat Litter Pellets

It is drums roll time! Topping our charts of cat litter for multiple cats is Tidy Cats Breeze Cat litter pellets. The product comes with superior odor protection that makes it the best cat litter for your home. This cat litter has garnered very high ratings across the popular e-commerce sites and has people poring over their positive reviews everywhere on the internet.
The best Tidy Cats litter pellets are designed to allow the liquid to pass through it into different compartments. The product can be used with a separate litter box with compartments to collect solid and liquid wastes. It is because of this; it is most suitable for homes that have more than one cat.
The pellets have silica in the form of a gel. They don't create any dust. Pellet cat litter is one of the safest cat litter options for felines as well as humans. Zero dust means no allergies and no respiratory tract inflammation. The product is no-tracking. It can be kept anywhere in the house and be completely assured that it will be neither messy nor smelly.
Key Benefits & Ingredients
Best clumping cat litter for multiple cats

Keeps carpets and floors completely safe

Pellets are soft but do not stick to the cat's paws.

Complete odor control

Non-tracking

Especially suitable for multi cats homes

Can be used by cats of all ages

Rated five stars across the platforms
Ingredients:
Cat litter pellets containing silica gel

zeolite
Highlighted Features
Superior odor protection
Lets liquid to pass through
Can be used with Breeze litter box
Long-lasting
What makes multi-cat litter different?
A multi-cat litter formula has
Higher saturation.

Better odor sealing capacity.

Stronger formula since it has to tackle multiple cat wastages.
If you are using clumping cat litter, then they must clump nice and tight as soon as they come in contact with the cat's urine and feces. It may take time initially for a household with multiple cats to determine which cat litter works for them. Once you are able to put the finger on a product to say that it is good for your cats, make sure that you continue using the same product. Cats do not much appreciate surprises and changes in their settings. It can unsettle them and stress them out.
Pro tip: Multi-cat litter formulas effectively keep odors at bay only if they are cleaned religiously every day.
Should I have a litter box for each cat?
Cats are private creatures, and more so when they are eliminated. When you do not maintain one litter box per cat for your multiple cat home, you run the risk of making them control their bladder. If they are trained well they wait for the litter box to be free or they go somewhere else if they find the litter box occupied. Both of them are undesirable and avoidable. Excessive control of the bladder can lead to painful kidney conditions in your felines.
Cat owners with multiple cats will tell you that they prefer to keep one litter box per cat. The thumb rule is to maintain one litter box for every cat you have and one more additional litter box for safety.
So if you own two cats, you need to furnish three litter boxes at home. Likewise, if there are three cats, then four litter boxes, so on and so forth.
Check Also: Best Cat Carrier
How often should you change cat litter?
Scoop out feces and litter clumps from the litter box daily.

How often you need to change cat litter can be determined vis a vis the number of cats you have and the number of litter boxes you have laid for them.

Replace clay clumping litter at least twice a week.

If there is a strong odor or you see leakages from the litter box, change litter on an urgent basis.
Follow a scrub and clean routine each time you change cat litter. Use a mild liquid soap to clean the tray. Avoid using soaps with ammonia or citrus oils and vinegar as these smells can put the cats off.
How to train a cat to use the litter box?
Here are some tips to litter train your cats:
Show your cat babies the litter boxes and set them inside, allowing them to sniff it and examine the contents.

Maintain only one place for the litter boxes. Moving them excessively will confuse them, and they are likely to relieve themselves in the wrong places.

Set them inside after meals and after naps.

You will need to put them in it when they look like they want to go. Signs include sniffing and crouching in selected areas of the house.

Reward them when they use the litter boxes to go. Praise them or give those treats and toys.

Do not punish or behave harshly if there are accidents. This will only increase their stress levels, in turn making it more difficult to train them.

It is not very difficult to litter train cats; have a positive frame of mind.
Here is a great video (7 minutes 20 seconds) with additional tips to litter train your kitty.
Is cat litter harmful to humans?
Cat litters containing significant amounts of silica dust can be the reason for many respiratory ailments in humans. Some of the fragrances used in the litter can also be toxic to the cat babies and us.
Another dangerous substance used by mass producers of multi-cat litter boxes is sodium bentonite clay. This major ingredient in clumping cat litters can swell up to 15 times its original volume when it comes in contact with organic waste or liquid. That makes it one of the best litters globally. Still, when this accidentally gets into our food or the cat accidentally ingests it, it can cause stomach distress, even leading to fatalities.
Why does my cat sleep in the litter box?
There are a lot of reasons why cats will sleep in the litter box.
Kidney problems: an adult cat sleeping in the litter box can indicate urinary infection or crystal formation in urine that can cause intestinal discomfort or making it very painful to eliminate wastes.

Dementia

If it's a kitten and newly adopted because it finds it cozy and secure.

Multiple cat homes may have some of the dominant cats marking their territory by sleeping inside their litter boxes.

Stress: if there are major changes in the surroundings, the cats may sleep in the litter boxes to derive comfort.

Labour: when cats give birth, they usually take refuge in their litter boxes. It provides them a private place.
How many litter boxes per cat?
Have you wondered if it was good to go for one box for two cats or buy two separate litter boxes when you have more than one cat?
The math is very easy. Provide one litter box for every cat that you own plus one spare one.
Cats do not like to share their personal spaces. Make sure that the box is not small. A big enough box gives them a comfortable place and helps in easing waste elimination. The best multi-cat litter box must allow the cat baby to turn around without feeling scrunched.
If your house is multi-storied, make sure to leave litter boxes on all the levels so that your older cats do not have to run helter-skelter to avoid accidents.
Conclusion
Searching for the best cat litter for multiple cats can be a daunting task. With options galore, choosing the right stuff can be intimidating as well as exhausting. That is the reason why we came out with this very helpful guide.
When choosing for multiple cats, zero in on a cat litter that can handle heavy traffic and has a stronger odor seal. Litter boxes in homes with more cats are always busy if you know what we mean. All the above listed cat litter boxes are tried and tested on multiple cats, and they have delivered their promises. Feel free to check out whichever suits your preferences and budget.