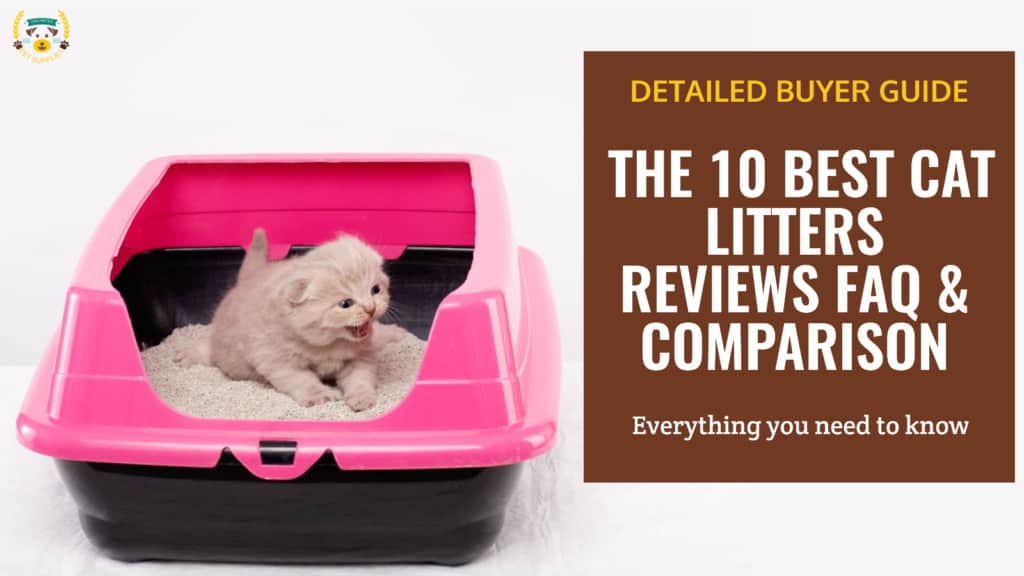 The 10 Best Cat Litters For Multiple Cats
Last updated:
August 15, 2021
Cats are fastidious by nature. They are obsessed with cleanliness and can endlessly lick themselves after they've answered nature's call.
For humans, cat urine is one of the most disagreeable of stenches, and that is precisely why you must choose multiple cat litter boxes that are not just sufficiently big for all your cats' work but also absorb the stench from it.
Cats can efficiently recycle their body liquids and that is why their urine is highly concentrated and pungent. Cats are also extremely particular about their litter boxes and have a strong sense of smell. They will not use one that puts them off with a bad odor. Instead, they will conveniently go anywhere else, like in the house plants, basement, or washed laundry!
Below we bring to you the world's best cat litter reviews that are independently tried and tested. We hope you find this review guide on multi-cat litter boxes useful. We have chosen the ten best multiple cat litter boxes and chalked out all the salient features for you to make an informed decision.
You May Also Like: The Ultimate Beginner Guide To Getting Your First Cat
Quick Overview:

Features
Biodegradable, Flushable, Odor Control, Clumping, Unscented, Natural
Odor Control, Non-Clumping, Unscented, Dust Free, Low Tracking
Clumping, Multi-Cat, Odor Control, Dust Free, Low Tracking
Litter Material
Wood
Clay
Clay
Features
Biodegradable, Flushable, Odor Control, Clumping, Unscented, Natural
Features
Odor Control, Non-Clumping, Unscented, Dust Free, Low Tracking
Features
Clumping, Multi-Cat, Odor Control, Dust Free, Low Tracking
Last updated September 18, 2021. Those are affiliate links, we may earn a small commission when you click on the links at no additional cost to you; More Information>>. Product images are served from Amazon Product Advertising API.
Jump To The Reviews
What makes multi-cat litter different?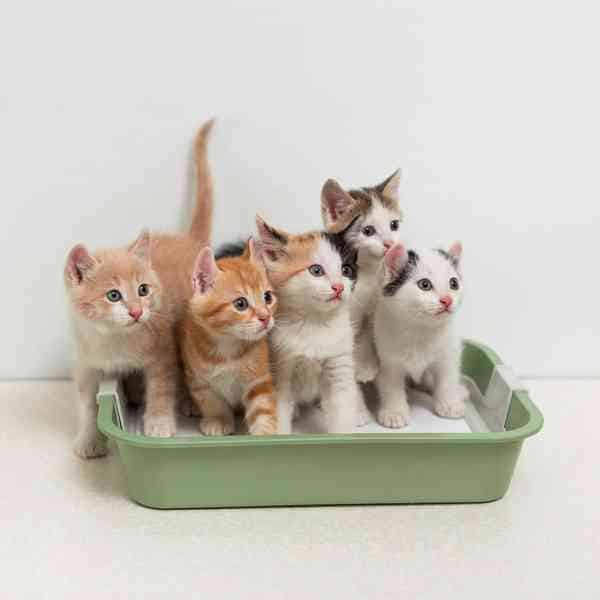 Compared to standard cat litter, a multi-cat litter formula must provide:
Higher saturation levels, allowing for better absorption and less need for replacement. The ability to absorb more moisture from the urine stream means that it does not pool in your home or on floors.

Better odor sealing capacity and more odor neutralizers to eliminate the strongest odors.

Stronger formula since it has to tackle multiple cat wastages.

A higher level of biodegradability so you can dispose of it without any worries. Most are made with natural ingredients instead of chemicals.

The majority of multiple-cat litters today use a clumping type of litter for easier cleaning (by just removing the solid clumps). However, there are also non-clumping types that can be used as well.
If you use clumping cat litter, they must clump nice and tight as soon as they contact the cat's urine and feces. Initially, it may take time for a household with multiple cats to determine which cat litter works for them.
Once you find the right product for your cats, continue using the same product. Cats do not appreciate surprises and changes in their settings.
If you have any concerns about what kind of litter is best for your home or if you want to switch from one brand to another, talk to your vet first before making any decisions. 
Pro tip: Multi-cat litter formulas effectively keep odors at bay only if they are cleaned religiously every day.
Check Also: Best cat food for sensitive stomach
Features to Look for in the Best Cat Litter for Multiple Cats
Here is a list of features to look for when you are out shopping for the best multiple cat litter box but do not know which product to buy:
Easy to clean:

If you are using a cat litter that clumps when it comes in contact with the cat's waste, make sure that the litter clumps well so that it is easy to remove from the rest of the litter. In the case of non-clumping litter, it should be extraordinarily absorbent. Unless you have a reason to do so, using clumping litter is the most effective option because it is much easier to clean and provides better odor elimination. Some owners, however, may have to opt for non-clumping litter for one reason or another (if the cat is allergic to any components of the litter, for example).

Non-toxic:

There are some chemicals that can cause health problems if they get into the body. Make sure that there are no harmful substances like arsenic or lead in the litter. Silica dust is also another component widely found in cat litter; when inhaled, it can cause severe lung problems for cats in the long term.

Long-lasting odor control:

A cat clumping litter is your best bet when you want to clean better. They are also less sticky. Go with products that have ingredients such as activated carbon and baking soda to control stinks.

Low-dust:

Lesser silica equals being low-dust. However, please do not trust the product label; check on the testimonials from people who used them. Sometimes, manufacturers would use wordplay to confuse or mislead consumers. Customer reviews are your best tool to avoid any bad surprises; make sure to go through those carefully to know what actual clients said about the product.  

No added fragrance:

Some cats hate the smell of certain scents. So, avoid adding any fragrances to the litter boxes. This may affect their behavior. So, avoid buying products that contain fragrances as much as possible. Otherwise, you need to ensure the scent is all-natural and contains no chemicals to avoid hurting your pets.

High-quality material:

You need to go for high-quality materials because they will last longer than cheap ones. It is important to choose a good brand name too, as these have a good reputation to preserve and are more likely to provide the best products using the best materials.

Good customer service:

When choosing a cat litter, always remember that you are dealing with an animal here. Do not expect instant results. Give yourself time to try different brands before settling down on one. Also, ask questions whenever necessary. 

Within your budget (Affordable litter):

The most expensive cat litters are not necessarily the best ones. Go for the ones that are easy on your pocket and also efficient and suitable for your cats and home.  
Litter tracking: Litter that gets trapped in the cat's paws, hair, and fur will start spreading everywhere in the house. Go for the low-tracking ones and use litters that are granular in appearance.
Basic Types of Litter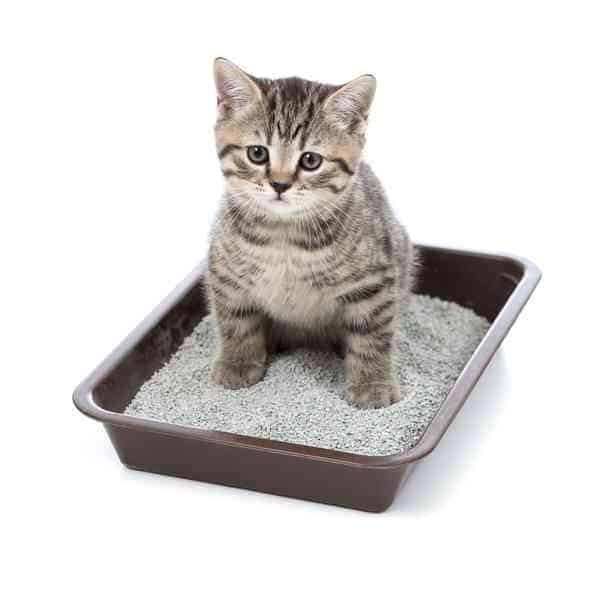 Nowadays, litter comes in many different shapes and sizes and uses different materials that work for different cats and owners. Manufacturers make naturally or artificially scented litter as well as scent free. in addition, the following are the most widely used types of cat litter:
Traditional clay litters
Clay is a widely used ingredient in making cat litter. It is very absorbent and holds moisture well. There are two types of clay cat litter:
Clumping clay litter is usually favored by cat owners as it clumps easily, so it makes cleaning up after your pet simple. This type is usually used by owners who prefer regular cleaning and scooping of the waste from the litter box.
On the other hand, non-clumping litter is preferred by people who don't like to scoop their litter boxes daily. Instead, they will replace the whole litter once its maximum absorption capacity is reached.
The interval between litter replacements depends on the number of cats in the home.
Silica Gel litters
This type of litter uses Silica gel crystals to absorb the waste and odors. Silica is widely used across different industries for its humidity absorption capability.
These crystals come in various sizes and shapes which can be chosen according to the size of the litter box. They are available in both dry and wet forms.
A dry form is recommended if there is limited space in the litter box while a wet form works better when there is ample room.
The wet form has fewer dust particles than the dry form but requires frequent replacement due to evaporation.
Whenever you buy litter that contains Silica gel, make sure it doesn't produce a lot of Silica dust whenever it's poured inside the box or while being used by the cats, as the dust can be very harmful to the lungs if inhaled for long periods.
You May Also Like: Best Cat Food For Indoor Cats
Natural litters and Biodegradable cat litters
This type of eco-friendly litter is usually based on natural ingredients and is biodegradable; that means it can be disposed of safely without any worries about the environment or the cats' health. 
Wood chips

are great at absorbing odors but don't hold onto water as well as clay.

Shavings

work similarly to wood chips, except they're smaller and tend to be harder to pick out of carpeting.

Sand

absorbs liquids really quickly and doesn't leave behind residue. It mimics the cats' natural way of going to the toilet in the wild; that's probably why cats love using it. It's also cheaper than other materials. Still, sand doesn't cover feces and urine smells very well!

Coconut fiber

has been shown to help reduce ammonia levels by 50%! Ammonia can build up inside a litter box that isn't cleaned regularly enough due to the cat's urine and feces. Coconut fiber is a safe, natural material that can help eliminate ammonia fumes that can cause severe respiratory issues for cats and humans alike.

Walnut litter

is another type of natural litter that is mainly made from walnut shells. This biodegradable litter is perfectly safe for cats.
Best Rated Cat Litters For Multiple Cats
All the multi-cat litter products mentioned below have the best cat litter formula for households with multiple cats.
Each and every product is guaranteed to give you a mess-free and odor-free experience from day one.
Are you ready to check out the best litter for multiple cats?
What is the best place to put a cat litter box?
Litter boxes should always be placed away from areas frequented by humans because cats may try to mark them as theirs. It also helps to keep the area around the litter box free of clutter. 
You might want to think twice before placing the litter box near an air conditioning unit since heat makes odor more noticeable.
Also, avoid putting the litter box too close to windows because sunlight can damage the plastic cover over the box.
Wherever you decide to put the litter box(es), you must ensure they are accessible to the cat. For example, if you place the box in the bathroom or any other room or place that the cat likes, the door must be open all the time.
As was mentioned before, cats don't like changes; so, if you ever need to move the litter box, you must do it gradually by moving it a few inches every day until the destination is reached.
Also, make sure the boxes are not placed near noise-making appliances like the washing machine or refrigerator. The noise may scare your cats away from the boxes.
Do any of your cats have allergies?
Cats can develop three main types of allergies: Flea, environmental, and food allergies.
Flea issues can cause the cat's back and tail to be irritated. Vomiting, diarrhea in addition to itchy skin on the face and neck, can all indicate a food allergy. Finally, environmental allergies can be caused by any pollen, perfumes or smoke that the cat inhales; those are the ones to pay attention to while choosing a type of litter.
Some of their symptoms include sneezing, coughing, wheezing, excessive licking, infections, etc.
If one of your cats suffers from allergy problems, they will probably find some kind of litter less appealing. In this case, you'll need to look into different available options.
There are many brands of organic cat litters which contain no chemicals whatsoever. These kinds of products are made using only natural materials.
Natural litters are the best options for your allergic cat.
Should I have a litter box for each cat?
Cats are private creatures. When you do not maintain one litter box per cat for your multiple cat home, you run the risk of making them control their bladder.
If they are trained well they wait for the litter box to be free or they go somewhere else if they find the litter box occupied.
Both options are undesirable and avoidable. Excessive control of the bladder can lead to painful kidney conditions or bladder inflammation in your felines.
Cat owners with multiple cats will tell you that they prefer to keep one litter box per cat. The thumb rule is to maintain one litter box for every cat you have and one more additional litter box for safety.
So if you own two cats, you need to furnish three litter boxes at home. Likewise, if there are three cats, then four litter boxes, so on and so forth.
How often should you change cat litter?
Scoop out feces and litter clumps from the litter box daily.

How often you need to change cat litter can be determined by the number of cats you have and the number of litter boxes you have laid for them.

Replace clay clumping litter at least twice a week.

If there is a strong odor or you see leakages from the litter box, change litter immediately.
Follow a scrub and clean routine each time you change cat litter. Use a mild liquid soap to clean the tray.
Avoid using soaps with ammonia or citrus oils and vinegar as these smells can put the cats off.
How to train a cat to use the litter box?
Here are some tips to litter train your cats:
Show your cat babies the litter boxes and set them inside, allowing them to sniff them and examine the contents.

Maintain only one place for the litter boxes. Moving them excessively will confuse them, and they are likely to relieve themselves in the wrong places.

Set them inside after meals and after naps.

You will need to put them in it when they look like they want to go. Signs include sniffing and crouching in selected areas of the house.

Reward them when they use the litter boxes to go. Praise them or give them treats and toys.

Do not punish or behave harshly if there are accidents. This will only increase their stress levels and make it more difficult to train them.

It is not very difficult to litter train cats; have a positive frame of mind.
Here is a great video (7 minutes 20 seconds) with additional tips to litter train your kitty.
Is cat litter harmful to humans?
Cat litters containing significant amounts of silica dust can be the reason for many respiratory ailments in humans.
In addition, some of the fragrances used in the litter can also be toxic to cats and us.
Another dangerous substance used by mass producers of multi-cat litter boxes is sodium bentonite clay.
This major ingredient in clumping cat litter can swell up to 15 times its original volume when it comes in contact with organic waste or liquid.
That makes it one of the best litters globally. Still, when this accidentally gets into our food or the cat accidentally ingests it, it can cause stomach distress, even leading to fatalities.
Why does my cat sleep in the litter box?
There are a lot of reasons why cats will sleep in the litter box.
Kidney problems: an adult cat sleeping in the litter box can indicate urinary infection or crystal formation in urine that can cause intestinal discomfort or make it very painful to eliminate wastes.

Dementia

If it's a kitten and newly adopted because it finds it cozy and secure.

Multiple cat homes may have some dominant cats marking their territory by sleeping inside their litter boxes.

Stress: if there are major changes in the surroundings, the cats may sleep in the litter boxes to derive comfort.

Labour: when cats give birth, they usually take refuge in their litter boxes. They provide them a private place.
How many litter boxes per cat?
Have you ever wondered if it was good to go for one box for two cats or buy two separate litter boxes when you have more than one cat?
The math is very easy. Provide one litter box for every cat that you own, plus a spare one.
Cats do not like to share their personal space. Make sure that the box is not small. A big enough box gives them a comfortable place and helps in easing waste elimination.
The best multi-cat litter box must allow the cat to turn around without feeling scrunched.
If your house is multi-storied, make sure to leave litter boxes on all the levels so that your older cats do not have to run helter-skelter to avoid accidents.
Conclusion
Searching for the best cat litter for multiple cats can be a daunting task. With options galore, choosing the right stuff can be intimidating as well as exhausting.
That is the reason why we came out with this very helpful guide. 
We did all the necessary work to test and review a vast number of products to provide you with a list of the best cat litter products available in the market today.
We provided all the necessary information that you need to know before making the right choice. We also explored all the factors that you need to keep in mind while looking for the perfect product for you and your cats.
When choosing litter for multiple cats, zero in on a cat litter that can handle heavy traffic and has a stronger odor seal.
Litter boxes in homes with more cats are always busy, if you know what we mean.
All the above-listed cat litter boxes are tried and tested on multiple cats, and they have delivered their promises.
So, no matter which product you pick in the end, we guarantee that you won't be disappointed as long as you take into consideration your cat's preferences and any potential health problems or conditions it may have. 
Feel free to check out whichever product suits your preferences and budget.