The 10 Best Cat Carriers Review. For Large, Medium And Small Kitten
First published:
August 6, 2020
Last updated:
July 28, 2023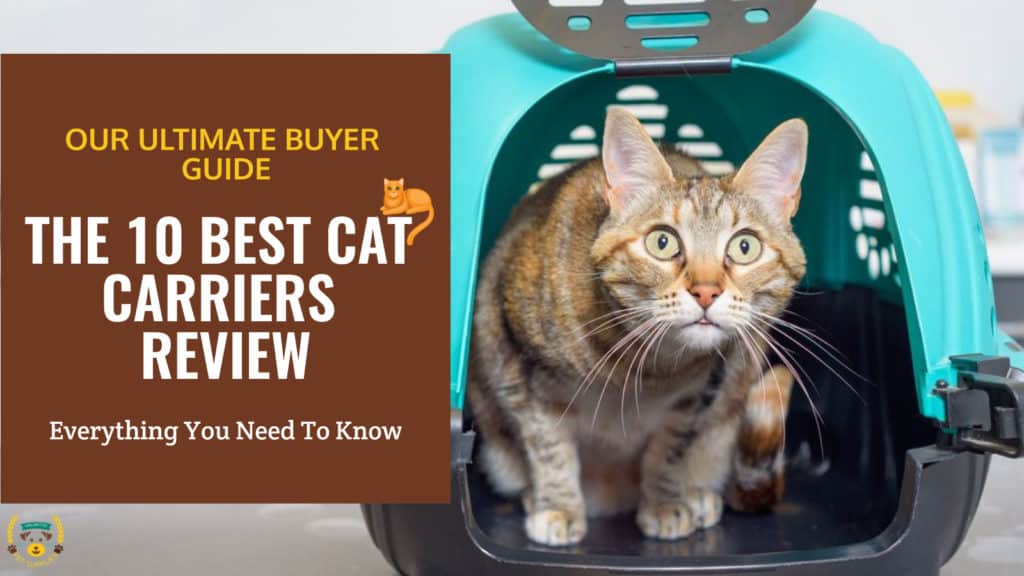 We are supported by our readers and we may earn a small commission when you click on some of the links at no additional cost to you. Our full disclaimer can be found
here
. Thank you.
Every cat lover looks for a furry friend to spend their precious moments with. Having a cat at home changes the atmosphere instantly. But, when you get a cat, there are other factors to consider as well.
There are a ton of challenges to look out for, and traveling is one of them. If you are an avid traveler and would love to take your furry friend along with you, you must consider other options. Unfortunately, it is not always possible to unleash your cat while traveling - this is where cat-carrying cases come into play as one of the basic cat essentials.
A cat carry case ensures that your cat does not get spooked while traveling and creates a safe and dependable atmosphere for you and your cat. Pet carriers for cats have been garnering a lot of popularity as they are some of the most convenient ways to travel with your little buddy without worrying about them running off or giving you a tough time - we all know how difficult it is to manage cats when they are moody!
No Time To Read The Whole Article? No Worries. We've Done The Work For You And Compiled A List Of The Top Performers.
| Product | Features | Our Rating | |
| --- | --- | --- | --- |
Why Use A Cat Carrier?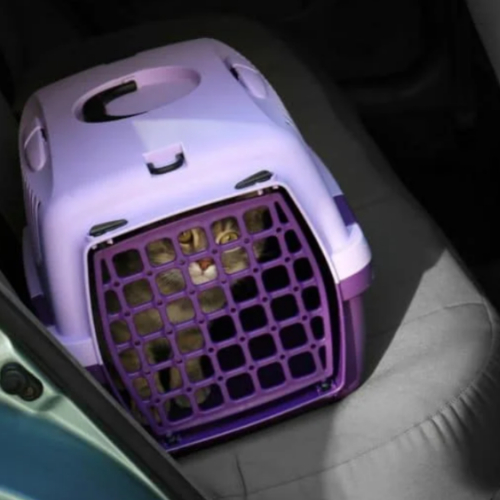 The cat carrier is one of the most common items in any pet owner's home. It can be used for many different reasons, but it has become an essential part of our lives as we travel with our cats (and dogs).
There are several good reasons to bring along a cat carrier while traveling. The first reason is safety; if you don't want your kitty getting loose during transit, then this is something you need to do. If you plan to take your cat with you on trips where they may encounter other animals, then having a safe way to transport them is important so they don't get hurt by another animal. You also want to make sure that your cat isn't injured from being dropped off somewhere unsafe such as a car trunk or boat deck.
Another thing to consider is that sometimes pets aren't allowed inside certain hotels or motels for one reason or another. Having a cat carrier will enable you to keep your furry friend safely at your side without worrying about whether or not you'll be able to stay overnight.
Finally, there's comfort. When traveling, especially long distances, having your cat near you helps ease stress and anxiety [1]. A cat carrier will guarantee your cat companion will never be lost or out of sight.
However, cat carriers can be useful in situations other than traveling. The following are some of the additional reasons why you should consider a cat carry box.
Litter box training.
Taming cats.
When you introduce a new cat to your old cat.
Diagnosing ailments.
Short-term crating and penning.
While using medication.
Introducing your cat to a new environment.
Using a cat carry box as a training device.
Take your cat for outdoor runs.
When your cat has breeding issues.
What Are The Main Types Of Cat Carriers?
There are many different types of cat carriers; they come in different sizes and shapes to fit all kinds of cats. However, the following are the main, most commonly used types of carriers:
Cardboard Carriers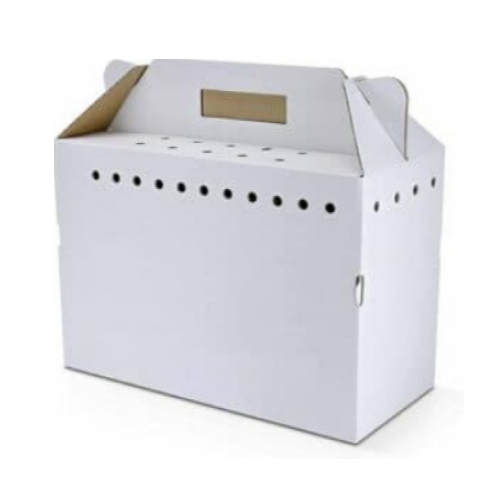 These cardboard boxes, which can be found in most pet stores and online retailers, are great for small cats. They are some of the cheapest options since they are disposable and can be discarded after your kitty has used them; they don't require any maintenance or cleaning, and you won't need a lot of space for one.
However, these carriers aren't as sturdy or durable as other options available on the market. If your feline gets into an accident inside their carrier, there is no way to get them out without breaking the box open. This could cause injury to your beloved animal. Also, if your cat scratches at his claws while trying to escape from the carrier, they may damage the cardboard box itself.
Hard-Sided Carriers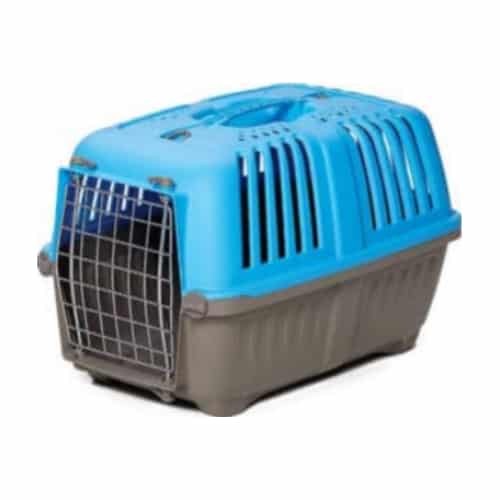 These carriers are very similar to the ones above, except they have a more rigid exterior shell instead of being corrugated cardboard. These carriers also tend to be more expensive than the cardboard type because they last longer and will hold up better against accidents. The best thing about this type of carrier is its durability. It doesn't tear like paper does when it comes in contact with sharp objects, so your cat isn't going to hurt itself getting away from it. The construction is usually a mix of steel (for the frame) and plastic.
On the other hand, a good soft-sided carrier usually has sides of vinyl or other plastic material. These tend to be more comfortable than hard-sided ones since they allow better air circulation around your cat's body. Still, they can be scratched easily by your cat's claws. Also, they're not as safe because they could get damaged if you drop something on them. So if you're looking for a high-quality carrier that won't scratch, then hard-sided carriers are recommended.
Rolling Cat Carriers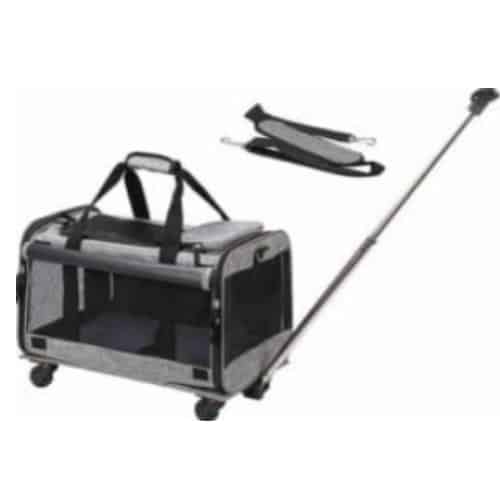 As the name suggests, these carriers use wheels and can be dragged along by the owner. Therefore, they are also called 'wheel carriers' or 'carriers on/with wheels'. There are two different kinds of rolling carriers: one has a single wheel attached to each side, making them easier to move but less stable. A second type has four wheels, providing more stability.
They come in several sizes depending on how many pounds per square inch of force they need to withstand. Most cats weigh between 5 - 15 lbs., making these carriers ideal for most pets.
Cat Strollers and Backpacks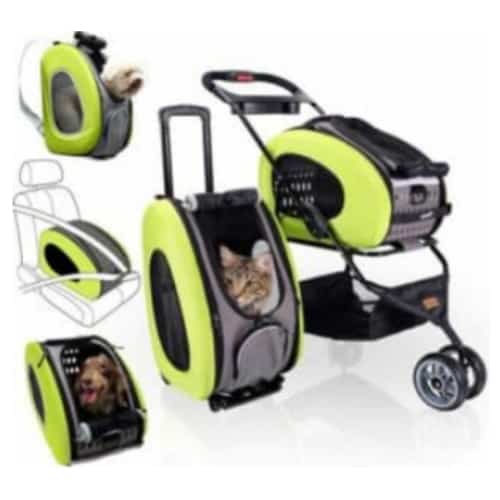 These two options can be used to carry your cat in a more comfortable way. The main difference between cat strollers and rolling carriers is that the first is pushed in front of the owner (as with a baby stroller) while the latter is dragged behind. Backpacks, on the other hand, are designed to carry the pet on your back. They are usually equipped with a big window and ventilation holes for your cat to enjoy the view. A good cat backpack is usually equipped with two wheels and a long handle that allows you to easily transport the feline around (if you choose to do so).
These kinds of carriers are very useful for traveling as they allow you to take your pets along without having to worry about their comfort. However, it is important to note that cat backpacks do not provide a lot of protection from weather conditions.
What Should I Look For In The Best Cat Carrier?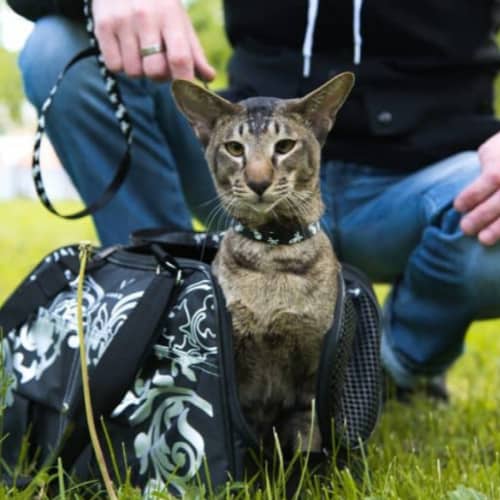 There are so many things to consider before making your choice. These include: the size, weight, and price of your chosen model, the used materials, how much room there will be inside the carrier, and finally, which features do you need from such a product?
All you need to do for now is keep reading this article. In the end, we believe the choice will be easier to make.
When looking through different brands and styles, keep these things in mind:
Size
The first thing that comes to mind when choosing a cat carrier is its size. It needs to be the right size for the cat; if it's too big, the cat could slide around, causing it to feel stressed and insecure. Conversely, the cat will feel more secure in a more snug carrier.
You also need to make sure that it's not too small for the pet; if your cat can turn around, lie down and stretch out inside the carrier, then it's the right size. Finally, make sure you measure your cat(s) carefully before purchasing any kind of carrier. If the pet is bigger than average, then choose a larger-sized carrier. This way, you'll have enough space for them to move around comfortably without any movement restriction.
Budget
Another factor that you must think about is the cost of the carrier. Various types are available online, ranging anywhere from $10 - $100 (or even thousands of dollars for the more premium items) depending on their quality and materials. So, always shop wisely, depending on your personal budget and the benefits the carrier will provide.
Maintenance
Maintenance is another important factor. Since the owner will have to do the cleaning, the chosen carrier needs to be easy to clean and maintain. Some products have a removable floor padding that can be removed and cleaned separately.
Material
There are many options available today such as nylon ones, leather ones, vinyl ones, mesh bags, fabric sacks, etc. The material used depends mostly on your personal preference and budget. There are even special designs specially designed for cats that suffer from arthritis. So whatever case you decide to buy, make sure it meets all your requirements and preferences (and those of your cat).
Look for a durable material that won't break easily. A good example would be faux leather for soft carriers or plastic for hard ones. The frame should also be made of a durable material like steel or aluminum.
Also, remember to check whether it comes with any accessories such as food bowls, water dishes, litter boxes, scratching posts, bedding supplies, etc. This way, you won't end up spending extra money later.
Check Also: Essential Items for Pet Cats
Features and Closures
Be careful of those extra bells and whistles like zippers and Velcro closures. They may seem appealing, but they also increase the chances of injury to your kitty and may be opened if the cat tries hard enough.
Try to get a carrier with a latched gate instead; these will be more challenging to open even to the most clever cats. Moreover, the carrier needs to have at least two openings. Some hard-sided items even provide a side opening for easier access for the pet.
Comfort and Ventilation
Last but not least, a cat carrier must be comfortable. Even though soft carriers are usually more comfortable than hard ones, any chosen carrier must provide a minimum comfort level because the cat will be spending long periods of time inside it (especially during long road trips). It must also provide plenty of ventilation to prevent discomfort or even asphyxiation.
BEST CAT CARRIERS
Now that we are familiar with different types of carriers as well as the main factors to consider before buying one, you may still be wondering which one to choose among the countless models and brands available on the market. Don't worry, we got you covered, as we have come up with our list of the ten best cat carriers that money can buy today. We tested a vast number of carriers of different brands, sizes, styles and features to make sure you will be able to make the right choice.
Based on our research, testing, and experience, below is our final list:
Sherpa Delta Airline Approved Cat Carrier Bag
This airline-approved cat carrier bag from Delta is perfect for just about any kind of trip though it has been specifically crafted for airline requirements. The cat carrier bag has been approved through a Guaranteed on Board in significant airlines. These airlines include most American Airlines, Delta, Air Canada, and United flights.
This cat carrier from Sherpa Delta can fit cats that weigh up to a whopping 16 pounds and is ideal for average-sized cats.
The padded straps, top and side entries, locking zippers, and mesh panels ensure that your pet experiences a comfortable journey. The bag is undoubtedly fashionable and comes with an array of features and accessories like a side pocket for storage, roll-down privacy flaps, top and side entries, mesh panels for visibility and ventilation, locking zippers, padded hand carry straps, non-slip padded shoulder strap, luggage strap, and a Delta tag.
Pros
Approved in significant airlines
Comes with an array of comfortable features
Features machine-washable faux lambskin, which is non-allergic for sensitive pets
Comes with an excellent and affordable price tag
Requires minimal maintenance
Cons
The mesh material could be sturdier for more energetic cats.
If you happen to be someone who cannot leave their furry buddy behind, no matter where they go, this mesh cat carrier bag is something you should consider investing in.
Pet Gear 360° View Cat Carrier & Car Seat
This cat carry bag from Pet Gear is everything you might be looking for. Featuring mesh interiors for ample ventilation, this cat carry bag provides your kitty with a 360-degree view of the immediate surroundings so that your little friend never feels left out.
The carrier also provides plenty of fresh air and light while on the go. It has a push-button entry that gives you easy access on either side, thus allowing you to ignore fussing around with unwanted zippers.
This cat carrier also involves a washable and removable fleece pad that is very comfortable and a tether in the interiors that allows you to attach it to your little companion's harness. It also comes with a padded carry handle that can be converted into a safe and secure car seat.
Pros
Washable and removable fleece pad.
The push-button entry gives you easy access.
An interior leash that can be attached to your cat's harness.
Padded carry handle that can be efficiently converted into a secure car seat.
360-degree view.
Mesh ventilation.
Cons
Not enough headroom for larger breeds
If you happen to be an avid traveler who loves to show the world to your little buddy, you should consider investing in this mesh cat carrier bag, as this is undoubtedly one of the best pet carriers for cats that the market has to offer.
X-ZONE PET Airline Approved Soft-Sided Pet Travel Carrier
An airline-approved mesh cat carrier from X-Zone PET that features two entrances, including one on the top, so that your little kitty can peek its head out upon opening the zip. This sturdy cat carrier is made of mesh and oxford fabric to prevent claw tears efficiently.
The harness, along with the auto-lock zipper, ensures that your pet cannot escape easily, while the comfortable fleece mat that this top-opening pet carrier provides ensures that your pet is healthy at all times.
Pros
Airline approved
Side entrance for easy breathing and visibility
Convenient belt loop for smooth transportation
Super comfortable fleece mat
Robust steel frame to prevent the bag from collapsing
Thick bottom plate for better balance
Top entrance for your pet to pop out their head
Conveniently priced
Cons
The size is comparatively small
This cat in a bag carrier also features a side entrance that ensures adequate visibility and enough ventilation to prevent your cat from feeling suffocated. The side panel has a belt loop that can function as a luggage strap or a dual seat belt for a safe and secure journey, making this cat carry cage the ideal choice.
Amazon Basics Soft-Sided Mesh Pet Travel Carrier
This mesh cat carrier from Amazon happens to be one of the best cat carriers in the market. This cat carry box comes with an array of accessories like a base insert, fleece pet bed, an adjustable shoulder strap, and the soft-sided cat carrier itself.
The rugged design has high reliability and makes it easier to travel with your cat safely. This cat travel cage has been specially designed to keep your pet protected and secured. The cat pet carrier also happens to be one of the most airline-approved cat carriers in the market as it is hugely convenient to carry your cat around in this bag.
Pros
Reliable design
Comes with various accessories
Mesh ventilation
Perfect for air travel
Portable pet carrier
Comes in multiple sizes
Cons
These portable pet carriers from Amazon Basics also feature a comfortable VIP style that enables you to move around with ease. There is mesh ventilation on all four sides, which ensures easy viewing and convenient airflow, making this the best cat carrier for car travel. If you are someone who always needs to check on your little kitty, then this cat in a bag carrier is the perfect pick for you.
EliteField Soft Sided Airline Approved Cat Carrier Bag
This cat carrier bag from Elite is made from lightweight and durable materials that allow you to take your furry friend with you wherever you go. In addition, it features mesh netting to let in enough light and air, thus ensuring that your little buddy never feels suffocated or claustrophobic.
This soft carrier enables you to carry your pet conveniently. The material also happens to be waterproof and provides enough comfort for your pet, thanks to the removable plush bed. This mesh cat carrier comprises a strap and a seat belt loop that makes it easy to attach to your luggage while traveling.
Pros
Airline approved
Perfect for traveling
Mesh netting ensures easy visibility and ventilation
The seat belt loop and strap help you to attach it to your luggage
Waterproof material
Machine washable
It has pockets where you can store treats and toys
Cons
The mesh could be more durable, especially for aggressive cats
If you are someone who travels frequently and happens to be on the lookout for a perfectly comfortable mesh cat carrier bag, then you should consider purchasing this product as it is one of the best budget-friendly foldable pet carriers.
Amazon Basics Two-Door Top-Load Hard-Sided Pet Travel Carrier
This two-door cat top-load hard-side cat carrier from Amazon Basics is highly recommended for small size pets. If you have a kitten or a small cat, this top-opening cat carrier is one cat cage carrier you should consider buying.
The double-door cat cage allows you to load your pet quickly without any hassle. Its sturdy and reliable design ensures that your pet gets enough ventilation through various parts of the crate. The latch in this cat carrier crate provides smooth opening and closure due to the spring loads while the top door features locks and handles to open to the right or left conveniently.
This travel cat carrier comes in medium and large sizes. It is a medium cat carrier that makes it a perfect accessory for travel, hiking trails, trips to the large cat kennel or park, or even routine visits to the vet. It is undoubtedly one of the best cat carriers for long car trips.
Pros
Two-door design that ensures easy accessibility
Convenient features like the smooth opening of the door from left to right
Exclusively caters to small size pets
Sturdy design
The included screws in this fabric cat carrier can be used to secure both ends for further reinforcement.
Cons
It is not an airline approved
If you are someone who likes to drive around frequently, then this is one of the best pet carriers for cats you should consider buying!
Henkelion TSA Large Pet Carrier
This cat carrier from Henkelion is the perfect cat in a bag soft carrier for travelers who would love to take their little furry friend along with them. This collapsible pet carrier is ideal for airline travel as it offers balanced carrying thanks to the two connecting loopholes that can be used as a luggage strap or a dual seat belt for secured transport.
The bag also features a three-side breathable mesh entrance that ensures your kitty gets a better view of everything and does not feel claustrophobic. You can also use the side pocket to store treats, food, and toys for your little friend to keep them from being bored or hungry while traveling.
Pros
Airline cat carrier
Deluxe zip
Three-side breathable mesh ventilation
Side pockets to store treats, toys, and food
Safety leash
ABS hooks for support
Comfortable woolen mat
Cons
The larger size is only suitable for car seat journeys and daily travel
The safety leash ensures that your pet is protected at all times, while the sturdy ABS hooks keep your kitty safe while supporting more weight. This mesh cat carrier also features a foam mat, woolen mat, and a wooden board along with deluxe zippers to ensure that your pet stays safe and comfortable during the journey.
Petmate Soft Sided Cat Carrier Bag
Travel in style with your furry mate with the Petmate Soft-Sided Cat Carrier Bag. Featuring a two-door design for both front and top loading, this top load pet carrier is perfect for in-cabin and general airline travel.
The mesh windows promote healthy airflow and ample light, while the carrying handle and the shoulder straps are comfortable and convenient. This top-loading cat carrier is made of durable materials that feature PVC backing. The bag also features an exterior rear pocket where you can store your pet's belongings.
Pros
Two-door design
Front and top-loading
Perfect for in-cabin and general airline travel
Mesh walls in this cat carrier for plane promotes visibility and airflow
Convenient carrying straps and shoulder handle
Made of durable materials with PVC backing.
Rear pocket to store your pet's belongings
Cons
The zippers and velcro are not the best closures
Overall, this cat carrier for airplanes meets every requirement for traveling purposes. You should get in touch with your airline company in advance to learn about individual needs. In case you are an avid traveler with your furry buddy, this airplane cat carrier that also happens to be a top-loading pet carrier should definitely be on your priority list.
DLAGER Pet Carrier Soft-Sided Cat Carrier for Small Cats
From running errands to going on escapades, the DLAGER Pet Carrier is the ideal cat carry bag that enables you to travel around places in comfort. Featuring a roomy interior, the floor of this cat carry bag is lined with machine washable and soft Sherpa that ensures a comfortable journey.
Pros
Exclusively caters to everyday travel
Roomy interiors
"Petty window" through which you can pet your little friend
Easily collapsible sides that comply with the under-seat compartment requirements of the airline industry
Shoulder straps for custom mobility
Machine washable
Soft Sherpa floor lining
Easy to clean
Cons
Does not cater to big cats
The cat carrier even features a handy "petty window" through which you can reach out to your pet and has a smooth side entry that allows your pet to move in and out conveniently.
MidWest Homes for Pets Spree Travel Pet Carrier
This hard-sided carrier from MidWest Homes is perfectly suitable for tiny breeds for quick trips to the store, park, or vet. The cat cage carrier has been designed to provide convenient air circulation and excellent visibility and is available in three fun colors.
Made of durable plastic that is easy to clean, this cat cage features a built-in carrying handle. This product also features a four-step assembly that does not require tools - anybody can put it together. In addition, the door can be opened quickly and in either direction to ensure safe portability.
Pros
Available in fun colors
Ideal for small breeds
Perfect for quick getaways
Easy to clean
Offers smooth visibility
Plenty of air circulation
Built-in carrying handle
Sturdy, durable body
Great price
Cons
The material could have been better
This product happens to be one of those exceptional cat cage carriers that offer a limited one-year warranty. Overall, if you are someone who loves to take your little friend outside for various adventures but find it difficult to contain their excitement once they step out, this plastic cat carrier is the perfect cat cage carrier for you.
Tips To Help Your Cat Get Used To The Cat Carrier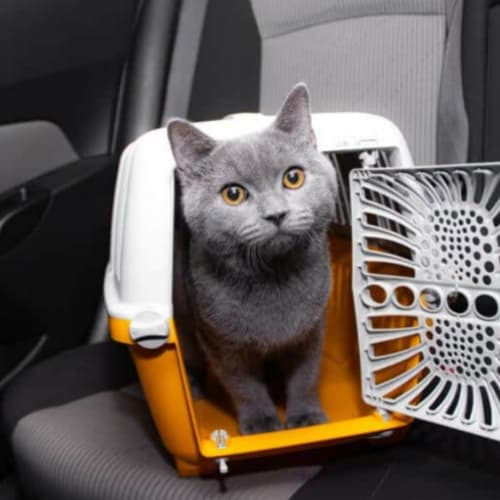 Cat carriers are essential items in every cat owner's home; they can help do many different things. However, getting your cat used to the carrier is not an easy task. It takes a lot of patience and time for your cat to consider the carrier as a safe home. However, some tips can help you achieve the goal faster and without causing any problems to your cat.
Introduce It as a Bed
This is the very first thing that needs to be done. Put a comfortable pillow or blanket inside the carrier to make it more attractive for the cat. At first, you can't expect the cat to get in there and stay immediately. It takes time, but making the place more comfortable will certainly help shorten the time your cat will take to get used to the carrier.
You could also toss in some of the cat's favorite toys to make the carrier even more appealing. With time, your feline friend will start to realize that the carrier is a good place to take naps. Just be patient; the goal will be achieved, eventually!
Give the Cat Carrier a Familiar Scent
The next step would be to give the carrier a familiar scent so that when your cat enters the carrier, it won't feel like entering into another unknown space. This way, the cat will know where to go once it gets out of the cage. Try using one of your cats' scented blankets or towels if possible. If this isn't feasible, use a spray bottle with water mixed with a few drops of cologne. Next, spray the area around the door of the carrier and let it dry before putting anything else on top of it. Also, try to place some treats inside the carrier; try to put the cat's favorite ones. Doing so will make the place more familiar and attract the cat to get in and stay there.
Moreover, catnip [2] is widely used to help attract cats to a specific place. It is an aromatic plant that has a stimulating effect on cats. Putting some catnip powder or catnip toys inside the carrier will magically make it much more interesting for the cat. Additionally, catnip will provide serenity to your car for 10 to 15 minutes.
Use A Pheromone Spray
Another useful thing to do is to resort to pheromones that can convince the cat to get used to the carrier. Pheromones [3] come in different shapes and forms and are all designed to calm your cat down in stressful situations.
There are pheromone collars, sprays, diffusers, etc. You can find some good brands of pheromone sprays online such as Feliway, Comfort zone, Well & Good, etc. Pheromone sprays are not only used to avoid your cat getting stressed and scared during the adjustment period it takes to get used to the carrier, but they can be extremely handy during long trips, vet visits, etc. They can even help avoid conflicts between multiple cats (new and old cats) in the same home.
Here's a helpful video (4 minutes 14 seconds) from Jackson Galaxy that gives tips and tricks for getting your cat in a pet carrier stress-free!
Frequently Asked Questions About Cat Carriers
While choosing a carry box, you will surely want to select nothing but the best cat carrier for your furry friend. There are a lot of factors to consider, and your kitty's comfort and well-being are definitely going to be your utmost priority. It is okay to have a lot of questions in your mind - it only means that you care!
The following are some of the most fundamental questions that cat owners generally ask while looking for a cat carrier bag. These questions will help you choose the right carrier for your little friend more appropriately.
What Should You Put In Your Cat Carrier?
The answer to this question is: to put anything that can make the cat calmer and less scared of the carrier. The most important thing is for them not to be afraid of it, so if they are already a little bit scared or nervous, just try putting something soft like a blanket on top of their cage.

Using a little blanket or towel that contains the scent of the cat or that of its favorite person can also help. You could also use some toys inside the carrier but don't forget to take those out before taking them outside.

Food can also work wonders and help your cat feel better inside the carrier. Last but not least, catnip and pheromones should also be placed in the carrier for the serenity and comfort they provide for the cat.
Is a Hard or Soft Carrier Better?
Hard cat carriers are usually more durable, which makes them a good choice. Cats can often get moody and not comply with being locked up. Sometimes,  the cat carrier is susceptible to a lot of scratching; so, having a hard-sided cat carrier makes it more durable, especially for a restless kitty.

Though both have their virtues and vices, hard cat carriers are mostly recommended for traveling in cargo or an airplane. On the other hand, soft cat carriers might be less robust and durable; they are travel friendly and have higher portability, especially for someone who likes to travel light. At the end of the day, it all comes down to individual preference.
Are soft-sided cat carriers safe?
Yes! Soft-sided pet carriers have been around since the beginning of time as people would carry their pets with them when traveling. They were made from canvas until the plastic was invented, which allowed more room for the animals to move about freely. Nowadays, there are many different types available, including mesh bags, fabric sacks, etc. As long as the carrier has enough space for movement and ventilation, then it will do fine. Some cats prefer being carried while others may feel safer sleeping on the floor. 

In a nutshell, soft-sided carriers are more comfortable and perfectly safe as long as the owner pays attention not to place or accidentally drop anything heavy on them. Still, soft carriers are not recommended for anxious or nervous cats as they are less sturdy and can be destroyed more easily.
How Do You Measure Your Cat for Its Carrier?
It's best to get an idea of how big your cat is by measuring its height at the shoulder. If he/she measures over 20 inches tall, then you'll need a large carrier. Smaller breeds usually fit into small-sized carriers. For example, a 10-inch tall cat needs a medium-sized carrier, and a 12-inch tall cat requires a large carrier. It doesn't matter which carrier you choose as long as it fits well and allows plenty of air circulation. 

Also, you need to take your cat's measurements from the tip of the nose to the tip of the tail while it is in a standing position; after that, it is recommended to add four inches to those measurements. Doing this will give you the approximate size of the carrier your cat needs. Remember, the carrier must not be too big or too small. Typically, only one-third of the total area of the carrier should be used as headroom because cats love to stretch out their bodies.
How Long Can a Cat Stay in A Carrier?
Most cats can stay for up to 8 hours in a cat carrier. It is generally advisable to take a break every two to three hours. There might be circumstances where you might have to keep your cat inside the cat carry box for a more extended period of time. During these times, ensure that your pet does not get stressed out with the journey.

Pack enough food and toys to keep your little buddy entertained. Plan every little detail in advance to ensure that the journey is comfortable for your little buddy.

It is also important to know that a cat can hold its pee for up to 24 hours; Some cats can even hold it for 48 hours without any problems. So, there are almost no chances of a trained cat ruining your family car trip with the pungent smell of its pee. No guarantees, though!
Should I Cover My Cat's Carrier when Traveling?
Cats are often moody and can throw a fit if they are not used to traveling in cat carriers. In such a case, you can cover your cat's carry bag with a towel along with your cat's favorite foods and toys to keep them entertained.

You May Also Like: Best Cat Food for Sensitive Stomach

There might also be times when your cat might feel overwhelmed with its immediate surroundings when you place them in a cat crate for car travel and get curious as a result of which they can tear the mesh. In such situations, it is indeed advisable that you get a multi-cat carrier or an extra-large pet carrier and cover the rolling cat carrier while on the go and keep your little buddy entertained with other distractions like toys and treats.
Can Two Cats Travel in One Carrier?
There might be an array of exceptions when it comes to pet air travel. For example, an airline has the right to refuse your pets traveling in one carrier because there might be a possibility of a shortage of airflow for your cats.

A double cat carrier is mostly recommended in these situations. You can get a cat carrier for two cats or a two-cat carrier that has been uniquely curated for such circumstances. These cat carriers for two cats or multi-cat carriers have been specially built for this purpose. Although a two-cat carrier might help, it is always advisable to check with your airline in advance.
How Do You Get an Aggressive Cat Into a Carrier?
A cat might throw a ruckus while entering a cat holder which happens to be entirely new territory. It is okay for your little buddy to do so, though; sometimes, they can get aggressive while letting their guard down. They might even experience a defense mechanism and give you a rough time while getting them inside the cat carry box. The easiest way to deal with this situation is to familiarize your little buddy with the new environment or get them the best cat carrier for large cats and make them feel safer.

Apart from getting the best cat carrier for difficult cats, you can also get an extra-large cat carrier to place their favorite toys, treats, towel, kibble, or even a catnip in your little buddy's favorite corner make it feel like home. Keep replenishing the supply at regular intervals.
Conclusion
Feed, play, train, interact, and groom are the main mantras to having a healthy and active cat at home. Looking for its dietary requirements, giving it adequate training, and taking to regular vet sessions for checkups will elongate the life span of the cat. Well, how to get a cat to like you is still an unanswered mystery, but studies show that frequent interaction can help you create a bond with your feline friend. They are loving beings, independent, most active, and playful that can keep your home ambiance warm and joyous. They can be lazy, but it is their innate trait to sleep for long hours.
Lastly, it is best not to expect affection from the cat as it varies according to the cat breed. So, if you want to play with your cat, it is recommended to bring home a lap cat that will snuggle up to and rest in your arms!
---
References:
Spotting Signs of Cat Stress - How to Care. Cats Protection. Retrieved from https://www.cats.org.uk/help-and-advice/health/cat-stress
What Is Catnip and How Does It Affect Your Cat? Martha Stewart. Retrieved from https://www.marthastewart.com/2140307/what-is-catnip
What Are Cat Pheromones and How Do They Work? | Comfort Zone. The #1 Brand in Cat and Dog Behavior Management. Retrieved from https://www.comfortzone.com/behavior-blog/pheromones/what-are-cat-pheromones
You May Also Like