10 Best Bird Cages, Parakeet, Cockatiel, African Grey
First published:
October 1, 2020
Last updated:
October 12, 2023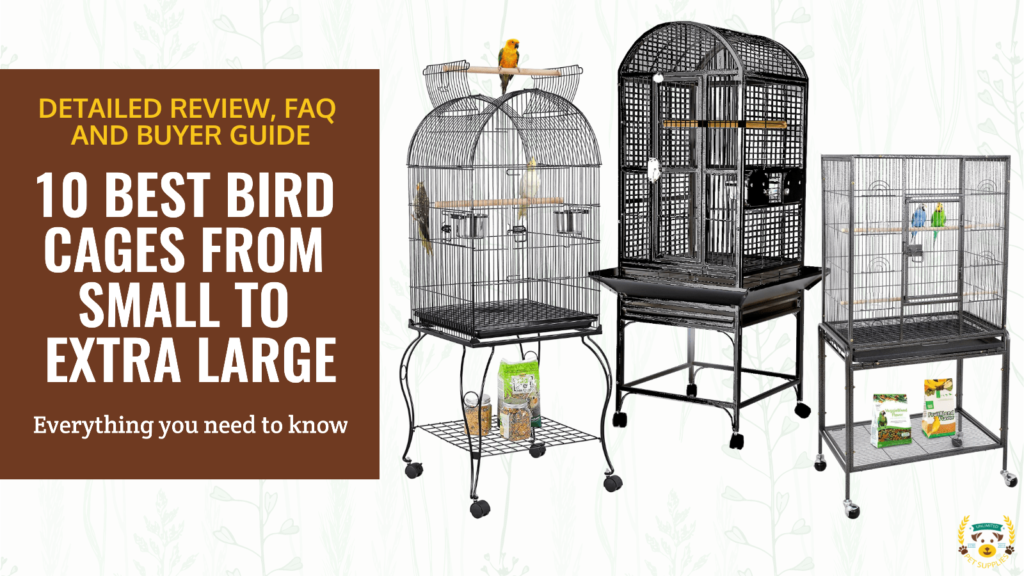 We are supported by our readers and we may earn a small commission when you click on some of the links at no additional cost to you. Our full disclaimer can be found
here
. Thank you.
Are you a crazy and proud owner of feathered, chirpy birds? Does waking up to the symphonic call of birds excite you and make you want to own one? Many would agree that birds are the most wonderful, beautiful, but also extremely sensitive pets to keep. They require a lot of attention and care. Most probably, the very first question that every future bird owner asks themselves is: Where should I put my beloved bird?
The most basic requirement for owning a pet bird is to get an excellent quality bird cage. Regardless of its species, and whether it is a big cockatoo, African Grey, Cockatiel, Parakeet, or a small budgerigar parrot, selecting a suitable birdcage for these beautiful creatures is a very important step that may require a lot of research. It can simply be compared to choosing a home for yourself. You need to make sure that the cage size, accessories, features, etc., are perfect. Adequate living space is crucial for a bird's health as well as its safety.
If you think choosing the right bird is difficult, especially for a first-time bird owner, because of the variety in colors, size, lifespan, food, etc., then you are in for a big surprise because choosing a birdcage may turn out to be equally, if not more, confusing.
Parrots are some of the most preferred birds as pets: Macaws, lovebirds, cockatoos, amazons, and many more are among the 350 species called parrots. You will get endless choices in parrot cages: large, small, or medium, and making up your mind can be difficult. However, there are some factors that can help you choose the most suitable birdcage. Here is more information about various unique best birdcages to help you out.
You May Also Like: How Much Does A Parrot Cost
In a Hurry? Here Are the Top 3 Bird Cages We Like the Most
Brand
Prevue Hendryx
ZENY
Mcage
Material
Plastic
Wrought Iron
Wrought Iron
Dimensions
78.7 x 52.1 x 134.6 centimeters
53-Inch or 60.2-Inch
76.2 x 76.2 x 161.3 centimeters
Top Features
Perfect home for multiple parakeets, canaries or finches
4 Plastic double cups and 3 wood perches included
Easy to clean
Durable wrought iron construction
Easy to assemble
Sturdy and durable bird cage
Lower Removable Sliding Grate For Easy Cleaning
Has 2 perches
Durable wrought iron construction
Easy to assemble
Space-saver
Large access door
Easy to clean
Dimensions
78.7 x 52.1 x 134.6 centimeters
Top Features
Perfect home for multiple parakeets, canaries or finches
4 Plastic double cups and 3 wood perches included
Easy to clean
Durable wrought iron construction
Easy to assemble
Dimensions
53-Inch or 60.2-Inch
Top Features
Sturdy and durable bird cage
Lower Removable Sliding Grate For Easy Cleaning
Has 2 perches
Durable wrought iron construction
Easy to assemble
Dimensions
76.2 x 76.2 x 161.3 centimeters
Top Features
Space-saver
Large access door
Easy to clean
Last updated December 9, 2023. Those are affiliate links, we may earn a small commission when you click on the links at no additional cost to you; More Information>>. Product images are served from Amazon Product Advertising API.
What to Consider When Choosing the Best Cage for Your Bird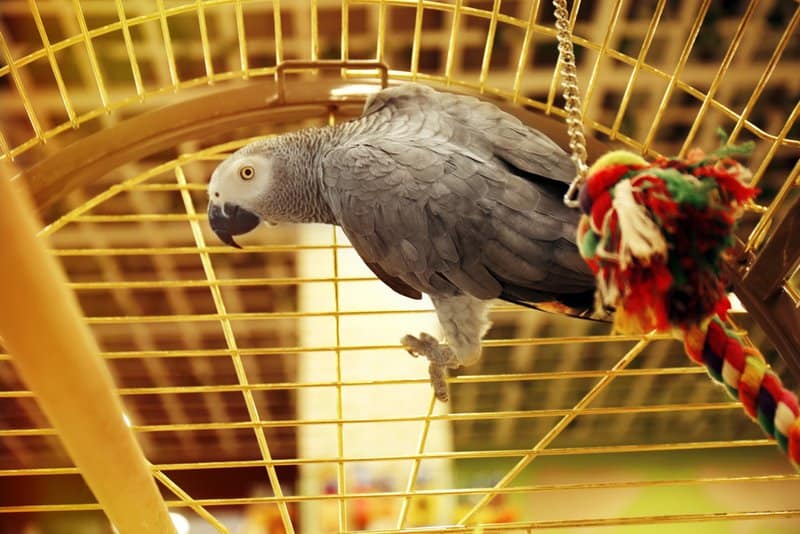 Cage Size
Ideally, a cage should be big enough for the bird to walk around comfortably and extend its wings. Therefore, buying a big parrot cage is better than choosing something small. The rule here is regardless of the cage size or number of your pet birds, the bigger and more spacious the cage, the better it will be. This is because the birds will be free to move around or even fly a little inside the spacious enclosure, making them happier and healthier. Of course, this depends on the owner's living space (whether it is a small apartment or a big house), budget, and many other factors. Still, you need to provide as much space as possible for your birds.
Location
You should be clear about the placement of your bird cage and shop accordingly. It is best to keep it away from windows and noisy, drafty areas as some external elements such as cats, storms, hawks, etc., can scare the bird. In addition, placing the cage near a window can cause rapid changes in temperature, which is highly unhealthy for birds.
Keeping the cage in a central or active area is preferable, but there shouldn't be too much moving around. In other words, while the birds will love the interaction with your family members and friends and may feel lonely and bored in an empty, quiet room, too much interaction will have opposite effects, as it may cause the birds to feel scared, and insecure, or even stressed.
Another critical thing to remember is that at least one side of the cage needs to be up against a wall. This gives the birds a feeling of security. Otherwise, the birds will be scared because they feel that there is no place to hide from any potential danger.
Finally, always remember to keep your birds away from any heat or air conditioning vents or any source of toxic materials, be it natural or artificial. These include naturally poisonous plants, scented candles, air fresheners, and any fumes from cigarettes, cooking, etc. They can cause serious problems to the birds.
Space Between Bars
Smaller birds like canaries and finches should have a cage with bars that are ½" apart. The spacing can go up to 5/8" depending on the bird's size. Medium-sized birds like Lories and Senegals can have a bar spacing between 1/2" and 3/4". For the larger birds like Cockatoos or Macaws, it is recommended to keep the spacing between 3/4" and 1". Horizontal bars on the cages of large birds give them a means of climbing and exercising.
Quality & Style
The best bird cage should be solid & sturdy. You need to look for any sharp edges or loose parts since they can be dangerous for the bird. More and more people are now avoiding round cages as they can be harmful. That is to say, the bird's beak, toe, or any other body part may get stuck in the small space where the bars gather on top of the cage, possibly causing injury or even death to the pet. Most cages can be hung or placed on a stand.
The 10 Best Bird Cages
Getting a pet of any kind requires the right type of preparation from you as the owner. Choosing the right bird cage can get complicated if you don't have enough information. This list of the ten best bird cages can help you find the most suitable one.
Best Parakeet Cage: Prevue Pet Products Wrought Iron Small & Medium Birds Flight Cage
If you have bought multiple small and medium-sized birds, then this product is perfect. Featuring two large doors and a bottom shelf, this birdcage can easily stand or move to any area on its caster wheels. Measuring 53 inches in height, 31 inches in length, and 20.5 inches in width, it is made with powder-coated wrought iron. It is effortless to clean and will not rust. Showcasing multiple small birds like parakeets and canaries will be easy. Probably the best parakeet cage that you can find.
Apart from the two large front entrances, it also has six small side-access ones, making it easy to place feeding bowls. Its construction is very durable, and the design is cleanliness-friendly. The product comes with four double plastic cups and three wooden perches. A pull-out grille and tray make it easy to clean. The tray collects all debris and droppings from the cage. You can take it out and wash it thoroughly before placing it back.
Pros
Easy to clean
Several access doors plus a shelf for storage
Caster wheels
Cons
The bar spacing is quite wide
Another additional feature is the storage rack at the bottom. You can keep things required for your pet here within reach. It is also convenient to take the rack along wherever you move the cage without any problems. This parrot cage is small yet spacious for your birds.
Best Cockatiel Cage: ZENY Bird Cage with Stand Wrought Iron Construction
Made with wrought iron, this birdcage is ideal for cockatiels, finches, and other small to medium-sized parrots. It is quite spacious with a height of 53 inches. You can either keep multiple small birds or just a couple of medium-sized birds. You will get a sturdy and secure cage when you buy this product. It has a durable construction and can easily last for years.
Though it is large, it is easy to move around because of its caster wheels. Apart from the main door, there are four feeder doors in these parrot's bird cages. They make for easy feeding. All doors have locks that cannot be opened by the birds, even by accident.
A tray at the bottom, along with a grille, is perfect for catching any debris. In addition, removing and cleaning the tray is relatively easy.
Pros
Several feeding doors
The swivel caster wheels
Durable & secure
Cons
Metal bars are a bit thin
When you choose this product, you also get two wooden perches and four feeding cups, so there is no need to buy any accessories separately. A shelf at the bottom works as a storage space where you can easily keep anything the bird may need.
A&E Cage Company Dome Top Bird Cage
A & E is a family-owned company with over 30 years of experience in the pet industry. They have a variety of designs, styles, and sizes to suit your requirements. They use a chemical-free powder coating on the cages, which has been analyzed and certified by avian veterinarians.
Among the best bird cages for lovebirds, it is entirely non-toxic and safe for birds. A removable seed guard will catch any stray seeds which can drop while replacing the feeding bowls or while the birds are eating. Also present is a slide-out tray with a grate, which makes cleaning the cage very easy.
Pros
The dome top gives more space
Durable and non-toxic powder coating
Available in various colors
Cons
Caster wheels don't move freely
Two swing-out feeder doors with an additional breeder box door make for easy access & feeding. All the doors have safety tabs on them to keep the birds safe. The best part is that each food bowl has a separate door. This product includes two stainless steel feeder cups, one wooden perch, and a removable seed catcher.
Yaheetech Dome Open Top Parrot Bird Cage
This beautifully designed Yaheetech birdcage is perfect for your Cockatiel parrots or any other birds. Its innovative design with an open roof allows for better interaction with your birds. The cage roof can be opened widely, and a perch can be attached to the roof door. In addition, there is a locking device that secures the roof when not in use. Built of premium metal with excellent artistry, these medium parrot cages are durable and corrosion and rust-resistant. Its four heavy-duty caster wheels ensure smooth rolling from one place to another.
A detachable mesh panel under the cage allows birds to walk or even lay eggs sometimes. Under the mesh panel, there is a slide-out tray that collects all debris & droppings. It allows for an easier and more thorough cleaning, which is essential for your bird's hygiene. You will find a hook lock at each door & opening.
Pros
Beautiful European design
The roof can be opened
Well made with the right materials
Cons
Feeding bowls and perches are a bit too big
A glossy, smooth finish is what you get when you choose this cage. These bird cages for small parrots come with polished wooden perches and stainless-steel feeder cups. The European styling, with the S-shaped legs of the stand, is beautiful and will add elegance to any room you place it in. A grill acts as a shelf below the cage.
Homey Pet Station Parrot Cage
For medium to large-sized birds, this Homey Parrot cage is perfect. With a height of 63.8 inches, these large parrot cages boast some great features. The open-top adds to the beauty of the cage design. Birds love coming out of the cage to sit out in the open, and you can also watch and interact with them better this way.
The doors on the roof open up, so a perch can be attached. As a responsible bird owner, it is good to see your birds go in and out freely. Access to food & water is also easy. This is the best macaw cage to showcase your pet.
This birdcage also has a grille at the bottom, along with a tray. You will find it easy to clean and keep hygienic. The seed guard prevents any debris or seeds from getting out. You will get three wooden perches as well as three feeding bowls. Each of the feeding bowls has a small door that opens out. Moving this large bird cage on wheels is not a problem with the sturdy caster wheels.
Pros
Attractive & well-constructed design
Seed guard
Open-top design
Cons
The bar spacing is quite wide
Another great feature is the heavy-duty door lock, which keeps even the most intelligent & strongest parrot inside. So, you will not have to worry about any children opening the cage accidentally.
Vision II Model S01 Bird Cage
A great combination of practicality and design, this Vision birdcage is loaded with some great features. It is a single-height, small wire cage designed mainly for budgies, canaries, and finches to enjoy. Among the best bird cages for lovebirds, its many innovative features provide a safe, secure, and comfortable habitat. Multi-grip perches are one such feature. These perches have exterior access, which reduces stress during maintenance. They also promote circulation in birds' feet, which prevents any foot problems.
Unlike the traditional cages, which have pull-out waste drawers, here you get a handy debris guard as well as a deep base design. This is good for keeping any food & waste inside the cage and not letting it spill outside. After all, birds are not the cleanest eaters.
Pros
Easy access to feeders
Multi-grip perches
Attractive design & great features
Dropdown panels at each end allow you to access the feeders easily. The product comes with two blue water or seed cups, two waste shields, and two blue perches. The food and water dishes come with covers that help to keep them clean. With its snap-fit feature, you will find it very easy to assemble the cage. The size of this cage makes it versatile and can be placed on the floor or on a table. Made from non-toxic and durable materials, this cage is perfectly safe for your birds.
Mcage Corner Wrought Iron Parrot Bird Cage
One of the few birdcages with a unique corner design made with wrought iron. Parrot cases, large or small, require precious space. Specially made to fit in inches which otherwise can be wasted.
It has a height of 63.5 inches and is perfect for small to medium and even some large birds. Because of the corner design, you save space in the room, and the inside of the cage is more spacious. You get two long, thin perches perfectly sized for the birds. Four stainless steel bowls with individual doors make for easy access as well as easy feeding. The door takes over most of the cage's front but on top of it is another smaller pull-down door. It acts as a little play area, just like what you may get in an open-top cage.
Pros
Corner design
Perches are comfortable
A small pull-down door acts as a play area
Adequate bar spacing allows the birds to exercise by climbing. Thanks to its slide-out grills and the trays at the bottom, it is effortless to clean the cage. A wide-angled seed guard catches any debris and does not let it fall out. Moving the cage is comfortable with its caster wheels, which move smoothly.
VIVOHOME Wrought Iron Bird Cage
A large birdcage made with high-quality, low-carbon steel is also waterproof and rustproof; this Vivohome birdcage has several great features. You get guaranteed durability and high safety levels. The entire cage is covered with non-toxic hammer-pattern paint making it a safe environment for pet buddies.
The cage stands on sturdy legs with smooth caster wheels, and moving the cage is relatively easy. There is a latch that can be used to keep the cage from moving when not required. One of the best bird cages for conures, it is available in different sizes and construction for you to choose from. You may select a solid top, open-top, or play-top construction depending on your requirements. All three are of the same quality and constructed well.
Pros
Slide-out tray & removable shelves
Two cage door design
Many accessories
Cons
The removable bottom grille can accumulate debris
In addition to excellent quality, you also get four white plastic food boxes, three long wooden sticks, a colored beaded rope with bells, and hanging accessories like a swing or a hook. The wrought iron cage can withstand most types of weather, be it hot or rainy. If you always keep it outside, the best thing to do would be to keep it covered when not in use.
MidWest Poquito Avian Hotel Bird Cage
Many bird owners want to travel with their beloved birds. The MidWest Poquito Avian Hotel Bird Cage is specially designed for such a purpose. A beautiful, lightweight 'hotel' cage is easy to assemble and carry. The handle on top doubles as a perch for the birds apart from being used to carry the cage.
The size of this traveling cage is 14 by 14 by 18 inches. It is small enough to carry around but not so small that it gets cramped for the birds. A slide-out tray under the cage collects all debris and can also act as a play area when the birds are out of the cage.
A durable yet lightweight cage, designed well is what you want for your cockatiels, parakeets, finches, etc. You must keep in mind that this cage is not to be used for more than a week at a time. It is to be treated as a temporary or travel cage only.
Pros
Specially designed for travel
Smooth, glossy finish
Rooftop doubles as an open play area
Available in ruby as well as platinum colors, its looks are glossy and smooth. Assembling this portable bird cage is very easy because it has no-nuts-and-bolts assembly. Bird-proof door locks ensure that your birds stay safe even while traveling. You will get 2 stainless steel feeding cups, and one cotton rope perch in addition to one natural wood perch on top.
Nova Microdermabrasion Bird Cage
Do you have multiple birds ranging in size from medium to large? Are you wondering about the right cage for them? Look no further because the Nova large parrot cage is quite spacious and meant to house several such birds.
They either come in 61" or 68" in height. They have a bird-friendly design with many useful features. Tabletop bird cages give your birds a sense of freedom. They get to exercise as well as socialize with people while sitting on top. The grille on the bottom and the removable tray under it are perfect for collecting all debris and food bits. It is always lovely when cleaning a cage is easy because keeping the cage clean is vital for the birds' health.
Pros
Seed guard
Quite large and spacious
Large play area
The seed guard around the cage prevents seeds from falling out and making a mess. You will get 5 stainless steel feeding bowls inside the cage while two are on top in the play area. All the inside feeding bowls have their doors and are very easy to refill. There are two wooden perches, one in the cage and another in the play top. The front of these big parrot cages has a door with a heavy-duty push-button lock, which keeps your birds secure.
Measuring Birdcage Bar Spacing
Bar spacing in birdcages is crucial because incorrect spacing can result in injury to your bird. If the spacing is too broad, then the birds may escape or, even worse, get injured. For any amazing bird cages, there is a general guideline that you can follow. If the bar spacing is not correct, then the bird may even get stuck in the gap.
Small birds: for birds like Canaries and Budgies, the ideal bar spacing is ¼ to ½."
Small-Medium birds: for birds like Cockatiels and Lovebirds, ½ to 5/8" bar spacing is good
Medium birds: smaller African Grays, Amazons, and Parakeets require a bar spacing of 5/8 to ¾."
Large birds: larger African Grays, Amazons, and Eclectus need bar spacing between ¾ to 1."
Extra Large birds: larger Macaws and Cockatoos are big and need cage bar spacing between 1 to 1.5."
Frequently Asked Questions
If you want to be a responsible pet owner, you must ensure safe and secure living conditions for a healthy and happy pet bird [1]. Choosing the best parrot cages is a little tricky, with so many options available. However, with some research and information, it is possible to get the best birdcage. Factors like size, bar spacing, style, material, and birdcage brands are essential when getting a cage. Simultaneously, ensuring a good location, regular cleaning, and good nutrition is crucial for you as the pet owner.
What Are the Most Trusted Bird Cage Brands?
In our top 10 best bird cage review section, we compared some of the best cages that bird lovers can buy based on their personal preferences. It seems rational to say that those brands can be the most trusted brands to choose from. A lot of people would argue that there is no such thing as "the perfect bird cage", and buyers need to do a lot of research before they decide which bird cage suits their needs and those of their pets. Still, most of the online reviews of bird cages and experienced bird lovers would agree that the three following bird cage brands constitute the most trusted and reliable ones; these are, in no specific order: Prevue Hendryx, Avian Adventures, and A&E Cage Co.
Where Should You Place a Bird Cage?
Basically, the bird cage needs to be placed in a place where the birds can get some attention and interaction with the owner(s). The cage needs to have at least one side to a wall for a feeling of security. Any noisy or toxic places (with any types of fumes) must be avoided at all costs for the sake of the pet's health. 

It is also important to appropriately place the cage at the right level. Placing the cage too low can cause anxiety problems for the birds as they see themselves as inferior and endangered. Putting it too high may cause the opposite effect, as the bird may see itself as superior to anyone trying to look at or interact with it. In fact, placing the cage too high can possibly cause the bird to feel lonely.  The ideal level to place a bird cage is at chest level.
How Do You Keep a Bird Cage Clean?
First off, Choose an easy-care bird cage. This will save you a lot of time and energy. After that, regular cleaning is the key. Depending on the size of your bird, you will have to do daily (for larger birds) or weekly (for smaller ones) in addition to monthly cleaning routines. 

For the daily and weekly cleaning, you simply need to remove any fallen debris from the cage floor and make sure that everything is clean (feeding bowls, water bowls, etc.). The floor lining and removable bottom tray must also be cleaned often because they can quickly become breeding grounds for bacteria and cause the birds to be sick. Better yet, try to replace the floor lining every day; You can use newspapers or other paper liners which will cost you almost nothing.

Every month or so, the birds need to be carefully taken out of the cage, placed in some other safe enclosure, then everything must be cleaned thoroughly. A good way to do it is to scrub the entire cage with a hand-held brush and a non-toxic disinfectant. Then, everything has to be rinsed with clean water and completely dried out before replacing the clean toys, perches, and the bird inside the cage. These are good times to check your bird thoroughly for any infections, injuries, etc.
How Often Should You Let Your Parrot Out of the Cage?
Parrots are very intelligent creatures, a fact that most people can agree on. What is not as widely agreed upon is how often a parrot should be allowed to fly around the house and when it is better to let it out of its cage. Some believe that keeping a parrot in a cage is an unhealthy practice that drives the bird mad. Others think that keeping a parrot in a cage for extended periods of time is cruel since the bird will become bored and start to mess with everything it can get its beak on. 

The healthiest thing to do is to allow your parrot out for a period of two to three hours a day, but even then, you have to check on it often. They may look like they are playing, but they could be looking for food or checking on other parrots. They may also be trying to get out. The best thing to do is check on them often and be sure to put them back in before they are out too long.
Do Birds Like Round Cages?
More than asking if birds like round cages, we must ask if the round cages are suitable for birds. Traditionally, round cages were used, but more and more experts now feel that the round cages are more harmful. It is thought that it is bad for any bird's mental health to be in a circular cage.

Additionally, birds are smart and require an adequately challenging space to live in. A round cage can make a bird go around in circles to the point of craziness. Poor construction is another factor. All the bars in a round cage converge at the top, and a bird can easily hurt a toe, beak, tail, etc. if caught in it. Apart from the poor design, another factor is that they are not easy to clean.

Generally, round bird cages are not recommended. If you have used parrot cages before, then you are in a better position to find more suitable ones.
What Is an Aviary?
A bird aviary  (also called a flight cage) is a very large bird cage where birds are kept in captivity. In fact, the word aviary is just a combination of two words that are very popular among bird keepers: Avis (Latin for bird) and ary (Greek for "garden-place"). 

The advantage that an aviary has over traditional bird cages is the space it provides for the birds, allowing them to move and fly around freely, making them happier and healthier. An aviary can also allow the bird keepers to have more than one bird species and thus more variety inside the same enclosure. Moreover, aviaries can be money-savers; instead of buying many larger cages, the owner may opt for a single aviary to keep all the pets.

Another type of aviary usually referred to as a "bird park", is a place where people can interact with many different kinds of birds. These can usually be used for education, training, research, breeding, conservation, or entertainment. 
Do You Need to Cover a Birdcage at Night?
This will depend on the individual bird. Some parrots and other birds prefer to remain uncovered, while some find it difficult to sleep without a cover. Birds can sleep between 10 and 12 hours every night if they are comfortable. Adequate sleep is essential for their health. Noise and bright lights can disturb their sleep. Using a cover can feel like a natural nest cavity to the birds.

Covers also shelter the birds from any ambient light in your home and stop any drafts from the air conditioner. You can try leaving your bird without a cover to see how it sleeps. If it appears happy and healthy, then you can leave the cage uncovered. However, if you notice any signs of sluggishness or crankiness, it is best to cover the cage at night. Small parrot cages are easier to cover. Making sure that your pet sleeps undisturbed and gets enough rest is most important.
Why Is My Bird Sitting on the Bottom of the Cage?
When you see your precious Cockatiel sitting at the bottom of the cage, it can worry you. However, the most common reason for this is that it is ready to lay eggs. Even single birds can lay eggs. It is like a monthly cycle, and they will mostly lay unfertilized eggs. Sometimes it is the age factor that causes them to sit on the floor of the cage. As they get older, their arthritic legs may get relief on the softer peat-lined floor.

If your bird is not pregnant or old and still sitting on the bottom, it could be sick. Therefore, you should observe them while they sit on the floor. Is it active and looking for seeds fallen from the top, or is it just sitting there? If it eats well and looks active, then it is not a cause of worry. However, keep an eye on it.
What Should I Put on the Bottom of My Birdcage?
The lining at the bottom of the bird cage is there to collect everything that falls there and should be easy to clean. It is also essential to choose the right material for your bird's health [2]. The best liner to use is paper. Newspapers, paper towels, butcher paper, etc., are all good as a liner. It is economical, easy to replace, and lies flat at the bottom.

Apart from paper, wood chips or shavings can be used as well. However, some wood like cedar or treated pine can be toxic to your bird. They also form an uneven surface on the bottom and make it difficult to clean. Crushed walnut shells and corncob are also used as lining. Unless you are regular with cleaning, they can become a breeding ground for molds and fungi, especially in humid or wet weather conditions. For portable bird cages, the best material to use is paper.
Conclusion
Through this article, you must have learned by now that bird cages come in a variety of sizes, styles, and shapes with their unique features. They are all meant to do one main thing: to provide a safe shelter for your beloved pet bird. When you decide to look for cages for parrots, you must first understand your pet's requirements and consider your budget and placement of the cage. These are the very first things you need to consider before even buying your pet.
After that, try to find the best parrot cage brand made with the best quality materials that are safe and non-toxic for birds. The cage needs to be easy to clean and maintain; It also has to look stylish. Some parrots can live up to 30 years. That's a very long period of time during which you have to make sure that the pet is as healthy, happy, and comfortable as possible. Choosing the right bird cage is essential because your bird will spend most of its life inside it. With the help of some informed decision-making, you will be able to choose a cage that will meet your expectations and provide a secure and cozy living space for your avian companion.
Finally, we hope that in the different sections of this article, we could help any future, or current, bird pet owner to choose the suitable enclosures and necessary accessories for their pets and that we were able to provide them with clear instructions and advice on the necessary steps to follow to set up the perfect living space for their birds.
---
References:
The Elements Needed to Keep Pet Bird Happy & Healthy | Beauty of Birds. (n.d.). Www.beautyofbirds.com. Retrieved July 22, 2022, from https://www.beautyofbirds.com/keepyourpetbirdhappy.html
Cage Hygiene in Birds. (n.d.). Vca_corporate. https://vcahospitals.com/know-your-pet/cage-hygiene-in-birds
You May Also Like