8 Best Chew-Proof, Indestructible Dog Beds Reviews & Guide
First published:
February 17, 2021
Last updated:
October 12, 2023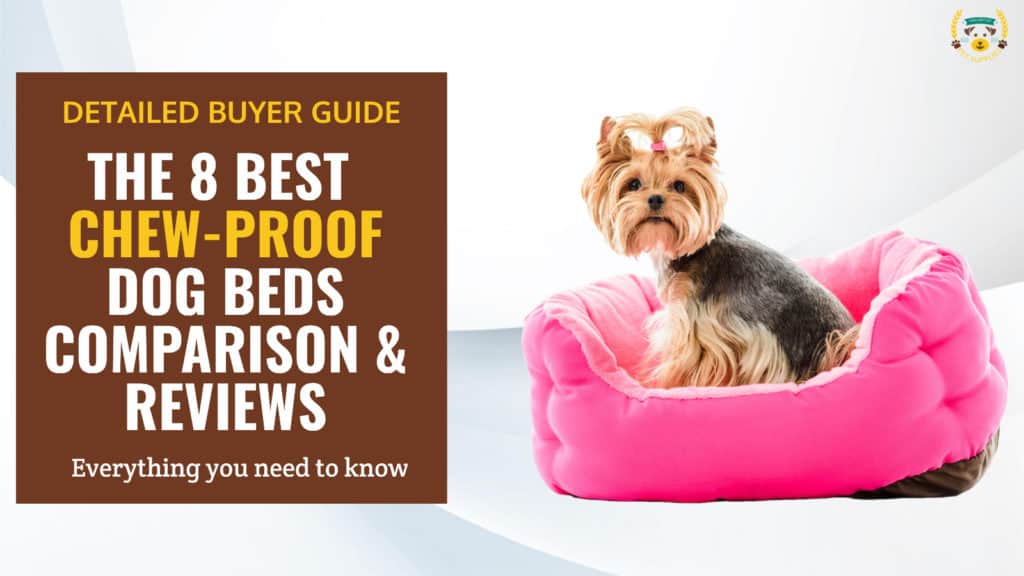 We are supported by our readers and we may earn a small commission when you click on some of the links at no additional cost to you. Our full disclaimer can be found
here
. Thank you.
Summary
Our top pick for the Best Chew-Proof, Indestructible Dog Bed is the BarksBar Gray Orthopedic Dog Bed. It is made with premium materials, including an ultra-soft polyester cover and a solid orthopedic foam that offers comfort and balance and reduces joint pain. It also comes with a non-slip rubber backing and is easy to maintain and clean. The BarksBar dog bed is perfect for dogs of all ages and sizes, and it is especially beneficial for those pets that need special care.
Have you purchased a regular dog bed for your pup recently, only to find it chewed and destroyed in a few days? If this situation seems relatable, then it is time to invest in a chew-proof indestructible dog bed.
Dog beds are a common chew toy for pets. If your pet is from a healthy breed, it is easy for the dog to tear apart the fabric material. Chew-proof crate pads are a sought-after item among pet parents as these are indestructible and last longer.
Indestructible chew beds available today are simple, offering utmost comfort to your dog. The bed is worth the value for money spent giving you peace of mind and saving you from worrying about it falling apart by an under-stimulated or anxious dog [1].
Below we listed some of the popular chew-resistant dog beds for you to evaluate and choose the best for your dear pet, be it a golden retriever or any other breed.
No Time To Read The Whole Article? No Worries. We've Done The Work For You And Compiled A List Of The Top Performers.
| Product | Features | Our Rating | |
| --- | --- | --- | --- |
Why Do Dogs Chew On Their Beds?
Dogs are experts at chewing on pretty much anything and everything. Chewing for them releases stress, relieves boredom, pain, and helps keep their teeth clean.
In short, dogs are notorious for chewing on everything, and that includes their beds. So why do dogs chew on their beds? And why do some dogs have destructive chewing habits while other dogs don't? There could be several reasons why your dog is chewing on their dog crate pad.
Instinct and Exploration
Like how a human baby chews on things when it is teething, pups also explore the world through their mouth. The chewing behavior may prolong to adulthood, as this is how the dog understands the world around it. It is a part of their instinctual behavior.
Separation Anxiety and Boredom
Dogs need to be stimulated both mentally and physically. If dogs are not taken out for regular walks or given toys to play with, they get bored. Once boredom sets in, dogs get destructive and resort to chewing.
Dog separation anxiety [2] is also one of the most common behavioral problems that dog parents face. It is triggered by the pet's feeling that his owner is leaving him alone.
If your dog is anxious about being left behind, he may engage in destructive chewing as a way to release his anxiety and gain some comfort. While it's usual for dogs to chew when they're bored, separation anxiety chewing can be particularly destructive.
An Underlying Problem With Their Health
Your dog may be chewing because of some health issues as well. It could be because of a gastrointestinal issue caused by the intake of certain dog snacks or a compulsive chewing disorder. In such a case, do not delay in showing your dog to the vet.
Check Also: Why Does My Dog Smell Like Fish?
Just for Fun
Although dogs generally enjoy chewing on wood, it's important to note that this behavior is not necessarily a sign that your dog is trying to tell you something is wrong. This destructive behavior can be a common and natural activity for dogs, especially if they don't have enough exercise and stimulation.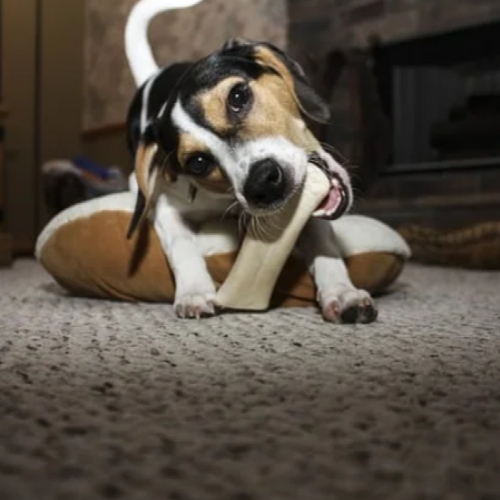 What Is A Chew Proof Dog Bed?
Yes, you read it right, chew proof dog beds exist, and they offer the same comfort, smoothness, and relaxation to your loveable pet as any regular bed.
Chew-proof beds are the beds that your pet dog cannot chomp away and come with a chew guard. It is the combination of sturdy materials such as Cordura, canvas, or PVC, making a dog bed chew-proof. These are indestructible beds, a secret weapon that lets you win the war against your dog, who chews every new bed you buy for him/her.
Whether you have a puppy that is still learning how to explore by chewing or have an older dog that wants to chew on the bully bed to beat boredom, the chew-proof beds are the answer to all your troubles, unlike the pillow bed, these are indestructible beds are a great purchase that ensures that your dog stays comfortable and, at the same time, your dog bed stays protected.
Made of tough, durable Cordura fabric and abrasion-resistant materials, the chew-proof beds are the latest in the market and have received much attention from pet owners.
What To Look For In A Chew Proof Dog Bed
Here are some of the critical features you must consider while investing in a chew-proof bed for your dog.
Should consist of reinforced materials
This gives the bed extra strength and withstands the sharp dog's teeth. The mattress should be sturdier than the traditional dog beds and use more robust materials such as Cordura, canvas, or PVC for extra durability.
Should have a crate mat
And they should take more weight and easily hold a large dog. With plenty of space on the bed, the dog will feel safe and secure and not attempt to chew the bed beneath it.
Made using abrasion-resistant materials
Even when the dog tries hard, it will not create a hole in this material. Materials such as ballistic nylon canvas and PVC make for good chew-proof beds. These are tear-resistant and durable and do not break when the dog tries to chew on them.
Investing in sit-on-ground beds is recommended
because dogs find it difficult to chew through them. They relate it to a bed that they should lay on and not as a toy to tear apart. The bed also offers orthopedic support to the dog.
Should be comfortable for the dog
Even if the chew-proof bed is made of wood or metal, as a pet owner, you must check how much comfort it provides the pet; it is better not to compromise on this part. When it comes to a chewing-proof dog bed, a layer is placed under the cover, making the dog feel comfortable as any other bed with lots of cushioning and padding that helps the pet feel relaxed.
Our Recommendations For The 8 Best Chew-Proof Dog Beds
The best chew-proof dog bed is the right fit for you and your dog. You will need to pick the appropriate product depending on whether you have a puppy or a senior dog. It must be a combination of both durability and comfort.
It is not easy to find the right option for your dog, so we have done all the research, and comparison and come up with our top 8 picks for the best indestructible dog beds available right now.
Based on our research, testing, and experience, below is our final list:
BarksBar Gray Orthopedic Dog Bed
BarksBar orthopedic is a tough dog bed, perfect for large or medium-sized breeds and can also be used if you have many small dogs at home. The bed can hold 100lbs of weight. Made of premium materials, the BarksBar dog Crate offers the ultimate sleep experience to your pet, ensuring total comfort.
Perfect for dogs of all ages and those pets that need special care, the chew-proof dog bed is made of an ultra-soft polyester cover with a solid orthopedic foam that offers comfort and balance and reduces joint pain. It improves mobility—the cotton-padded rim cushion contours to the pets' neck that provides constant support.
BarksBar orthopedic dog bed comes with a non-slip rubber backing built into it that does not let the bed slide on any tiled or wooden floor. Easy to maintain and clean, you can remove the cover and wash it in the machine for a spotless and hair-free cover.
Pros
Best for dogs that enjoy curling up
High-quality construction
Easy to maintain
Attractive design and colors
Cushioned rim
Comfortable
Eases on the pressure points
Cons
Available in limited sizes
Thin foam for some dogs
Perfect for your snuggly sleeper, the dog bed is designed to provide comfort to your dog of every age. The cotton-padded cushion around the rim keeps the dog comfortable and snug. The polyester cover is machine washable and offers extra comfort.
Dogbed4less Premium Memory Foam Dog Bed
Dogbed4less is a supportive and comfortable crate pad with many removable covers made of strong canvas and provides double-layer protection with two zippered layers that prevent the dog from biting or scratching. This bed is one of the best options for dogs that chew especially the corners.
Easy to clean, and the bed layers are ripped with a waterproof liner that protects the foam from accidents and spills. Made of quality shredded memory foam [3], the dog bed offers extra comfort required by large and older dogs that suffer from joint problems.
Dogbed4less dog bed offers everything that you may have ever asked for in a quality bed. The gel-infused memory foam is 4inches thick and hypoallergenic, and it has a microsuede external cover that is soft and waterproof. A middle cover is made of heavy-duty cotton denim with a tough zipper closure and a gusset stitching to withstand even repeated wash.
Pros
Holds up well to dog abuse
100% heavy-duty denim cover
The inner line is waterproof and removable
4 inches of memory foam of high density
It does not flatten over time
It comes with 2 years chew proof warranty
Simple design to blend with the home deco
Cons
Clinging dog hair even when washed
Not adequately waterproof.
DogBed4less offers perfect comfort and cushioning to your dog for years to come. With memory foam, which is five times denser than regular foam, it lets your dog have healthy joints and sleep well.
You can choose from seven different sizes of bed as per what best suits your dog. The good part about this dog bed is that it is not one of the expensive ones, and it is affordable if compared to the quality that it delivers.
PetFusion Ultimate Lounge Memory Foam Bolster
The PetFusion dog bed is a multi-purpose dog sleeping bed. This product has 4-inch memory foam, and your chewy pet can spend all day on this bed without causing any destruction. No matter how much your dog chews on this bed, the dog bed will not tear.
The bed can take the 100 lbs weight, reduce pain in the body, improve your dog's energy and help him maintain his health. The bed offers optimal support bolsters that provide safety to your pet.
A smartly designed that matches all kinds of room décor and color. The bed is ideal for all types of dogs of varied sizes, be it a puppy, medium, or large chewer dog. The company offers a PetFusion dog blanket matching the bed.
The memory foam bed has been tested for its quality as per European safety standards. It is provided with bolsters, so all you have to do is enclose the foam base in the cover and then place it where you wish to.
Pros
It comes in a range of colors and sizes.
Offers optimum safety
Durable
Affordable
Cons
Only for a single pet dog use
Not available to be shipped globally
The PetFusion chewy bed offers a superior level of comfort to your chewing dogs. Your pooch is sure to be happy and have a wonderful cuddling experience. The optimal support bolsters and its base makes it safe for the dog to sleep on. The bed is torn and water-resistant.
Big Barker 4" Orthopedic Sleek Dog Bed
The Big Barker dog bed uses the same foam technology as the other beds from the Big Barker brand. This bed is, however, best suited for medium and small dogs.
This sleek dog bed comes with a 10-year warranty, the manufacturer promises that the foam will retain 90% of its original shape even for 10 years to claim our money back.
Made in America, using the highest quality foam that does not flatten with time. The cover is easy to clean, machine washable, and made of 100% microfiber.
Big Barker dog bed is soft to touch and blends well with the aesthetics of your home. The bed's rim cushion is what draws your attention to it, letting the pup rest their head on the rim and use it as a pillow.
The cushion contours provide support and decompression for the neck and head. Also, easy to clean and reassemble the bed ensuring that your pet dog's bed stays spotlessly clean.
Pros
Suitable for small dogs and pups
Blends with most of the home furniture
Excellent craftsmanship
Soft top cover
Stays in shape
Cons
Not very thick as the other varieties
The waterproof cover snugs
If you have been looking for a reliable, comfortable, affordable indestructible dog bed, then the Big Barker orthopedic bed is the right choice for you. Well-built and an easy-to-clean bed that will let your pup or small dog sleep on it happily for years to come.
Coolaroo The Original Elevated Pet Bed
The Coolaroo elevated dog bed is sturdy, resistant to chew, made of breathable material, and affordable. Made of HDPE fabric [4], a powder-coated steel frame surrounds the bed. An off-ground design helps increase and promotes airflow on every side of the bed that keeps the pet calm.
The suspended platform offers additional comfort that creates a low-impact area on the joints and pressure points. The high-density polyethylene fabric is breathable and eliminates any hot spots; It is also resistant to mites and flea. Easy to maintain and wash, the bed is ideal to be used both indoors and outdoors.
The Coolaroo dog bed is available in three sizes-small, medium, and large. There are four designer color options that you can choose from, and they can be assembled in minutes. The usage of environmentally friendly fabric makes it 100% recyclable and pet-friendly.
Pros
Best budget elevated dog bed.
Available in 3 size choices and 6 different colors
The airy mesh design makes it comfortable in the hot and humid summer months.
Cover 100lbs of weight
Cons
It does not come with a lifetime warranty
Not 100% indestructible
The Coolaroo pet bed lets you treat your dog to utmost comfort. The bed is elevated from the ground, and this promotes airflow on all sides. The bed keeps your pooch comfortable and relaxed.
The steel frame is lightweight and robust, made with a breathable fabric. The Coolaroo pet bed is best for those on a budget and is ideal for dogs of every age, weight, and breed.
Blueberry Pet Heavy Duty Pet Bed
Blueberry Pet's heavy-duty bed is sure to blow your mind off. For your chewy friend, this is the best pet bed that you could have asked for. The luxurious dog bed can take up to 6 pounds of weight and offers a cuddling area. However, if you have a large dog, you may want to place two of these beds side by side.
Blueberry Pet's heavy-duty bed feels like a sofa and can let your pet lounge on it. The cozy bed allows your dog to stretch and relax all through the day, filled with recycled microfibrous material produced with sophisticated bolsters of high quality. This makes this bed a value-for-money purchase.
Scratch-resistant and anti-chew dog bed features a YKK zipper and is filled with microfibrous material. Blueberry Pet's heavy-duty bed falls under the luxurious dig bed category, strong enough for scratchers, diggers, and up to moderate chewers.
Pros
Easy to place it
Convenient bed for dogs
Chew-resistant and luxurious
Pet-friendly design
Cons
Not available for purchase globally
Not suitable for a heavy shedder breed
Not suitable for disabled dogs
The Blueberry dog bed has a rolling cover that can be fagged off and shaped the way you wish. Ensure the correct sizing before you enclose the bed into its cover. Made of extra-thick material, the bed is scratch-resistant and an anti-chewer.
All this makes this product an ideal bed that offers the correct bending. The zipper provided in the cover is waterproof, which lets you clean the cover easily.
Bedsure Original Elevated Dog Cot Bed
Bedsure elevated dog bed comes with a recyclable and breathable Teslin mesh fabric that offers 360-degree airflow that keeps your pup feeling cool during the hot months. Allow your dog to sleep comfortably and let them stay healthy, dry, and clean.
The fabric used in the Bedsure elevated bed is designed to offer water and heat resistance. It is easy to assemble the bed, and the Teslin mesh center helps the heat from the dog's body escape by allowing it to stay cool.
It is also easy to clean the dog crate with fabric that is waterproof, breathable, and heat resistant. All you need to do is wipe off the spills from the surface using any damp cloth. You may also hand wash it with soapy water and let it dry.
Durable and easy to clean, the bed is stable and safe with skid-resistant feet that do not let the floor get scratched and keeps the dog secure when it jumps off the bed.
Pros
The Teslin mesh promotes 360-degree airflow.
Environmental friendly
Elevation keeps the dog clean.
Heat, water, and rip-resistant
Easy to assemble
Cons
Not suitable to use outdoors
The Mesh center could sag and stretch.
Mesh center may lose its support.
Bedsure raised dog bed is among the popular choices among pet parents, and the elevated bed raises your dog 8 inches from the ground. The material choice allows comfortable airflow keeping your pet cool.
PHYEX Heavy Duty Steel-Framed Portable Elevated Pet Bed
Phyex steel-framed heavy-duty portable elevated bed is ideal for your pet. Its off-the-ground design offers the utmost comfort and support to your dog while keeping them away from the ground.
The pet bed is handy for senior and arthritis dogs. Ventilated well, the bed keeps the dog feeling cool even in the warm months. Phyex steel-framed heavy-duty and durable dog bed comes with a hex key and screws that make it easy to assemble and disassemble. Made with strong material stitched well, this raised bed keeps your pet cool and can be used all through the year. All that you need to do is to change the blanket and cushion as per the season.
Light and easy to carry, the pet bed is ideal to be placed both indoors and outdoors. With a small pad provided at the button, it does not let the bed scratch your floor. Phyex steel-framed heavy-duty beds can withstand 80lbs of weight. All that you need to do is to use a hose and soap to clean the bed.
Pros
Easy to assemble and disassemble
Allows airflow
Can be kept indoors or outdoors
Does not scratch the floor
Cons
Not available for global shipping
PHYEX Heavy Duty Steel-Framed Portable Elevated Pet Bed is an ideal choice if you are looking for a simple chew-proof dog bed for your pet. Easy to maintain, the dog bed is affordable and allows your pet to stay on it comfortably all day long.
Frequently Asked Questions About Chew-Proof Dog Beds
What Makes A Bed Chew-Proof?
Chew-proof dog beds like the Kuranda, K9 Ballistics, etc., are made using reinforced materials that cannot be easily destroyed when the dogs chew on them.

A chew-proof bed should be made with the materials such as Cordura, canvas, or PVC and should be designed perfectly to provide comfort to the dog.

The toughest materials available for dog cots in the market are used to withstand heavy chewing. Heavy-duty materials like hard PVC frames are the top choice materials used in dog beds. Here are a few materials you will notice in most chew-proof beds:

* Cordura
Cordura nylon is one of the most robust fabrics available. A durable and water-resistant material that was first used to create military uniforms. DuPont [5] made this fabric in 1937. It was created to provide a material that was stronger than cotton but lighter than leather. Condura's durability is applied to develop military gear, including parachutes, backpacks, and pants. Nowadays, this fabric is primarily used to create bags and accessories for outdoor activities.

* Ballistic Nylon
Ballistic nylon is the term used to describe fabric that is woven to be durable and tear-resistant. This fabric is strong enough to be utilized in combat gear and a wide range of other industrial applications. Ballistic nylon has two features that make it an excellent material for indestructible dog beds: strong and water-resistant.

* Heavy Denim
"Heavy Denim" is a term that was coined by the denim industry in the 1930s to describe jeans with a higher weight (thickness) than the standard offerings of the day. Denim was first developed in Nîmes, France. Today, heavy denim is associated with any pair of jeans that is particularly thick and durable, but it is commonly used to describe types of denim over 14 ounces. While heavy denim is not inherently chew-proof, it is often employed to make the bed more resistant to scratching and biting from light to moderate chewers.

* Dropcloth Canvas
Dropcloth is a close relative of the canvas. It is made by weaving long, cotton fibers in a plain weave pattern to create a cloth that feels similar to canvas but which is lighter, thinner, and more durable. It is most commonly used to cover the furniture before painting or to protect floors, but it can also be found in the upholstery of high-end automobiles and on the seats of some airplanes. Dropcloth is often used as the material for chew-proof dog beds because of its durability. But again, like Denim, Dropcloth canvas is resistant to light and moderate chewers.

These materials do not let the dog dig into them. The chew-proof beds have round corners and edges that make them safe for the dog, and the dog does not grab on the edges as it is hard for them.
Some dogs also do not sit on the floor and signal that the bed is only for resting and it is not a toy, thus not meant for chewing.

Pet owners who have rough and strong breeds or even puppies who are in their teething stage should get a chew-proof or indestructible bed for their canine who is eager to nibble away.
Which Dogs Need Indestructible Dog Beds?
Every new dog owner has had to deal with things being chewed at their home. It could be the slipper or the sideboard or even the entire couch. The truth is whatever the dog breed as per your pet, you need an indestructible bed for them. Here we list down some of the heavy chewers.

* Labradors - An active breed full of energy, Labradors have a habit of mouthing things, mostly when bored. They are aggressive chewer dogs.

* Chihuahua - Do not underestimate these small breeds as they are prone to chewing equally to their bigger counterparts. Small dogs need lots of activity and a lot of attention. Chihuahua is especially prone to nervousness, anxiety, and boredom, which instills the desire to chew on stuff.

* Border Collie - This dog breed is also known to get bored quickly. When they are restless, they start to look for things to keep themselves busy. It is then that they resort to chewing on their beds.

* Bulldogs - Bulldogs are known to be aggressive chewers, and if you own one, you probably already have a pile of chewed-up and ruined furniture. They are famous for their tenacity. Although dogs' destruction is a common problem, it's not a reason to give up on training your BullDog.

* Huskies - Huskies are recognized as one of the most high-energy and intelligent dog breeds. However, when a Husky becomes bored and has nothing to do, it may decide to turn your furniture into its chew toy, and they usually start with their bed. Huskies have a special knack for finding the most expensive, delicate, and attractive piece of furniture and then chewing it to pieces.

You may also like: 10 Most Stubborn Dog Breeds
Are Elevated Beds Better For Dogs?
Elevated beds are usually thought to be only for the sick, elderly, and injured dogs. On the contrary, these are excellent products for all dogs. Here are a few reasons for the same.

1. Elevated beds lift the dog from the floor, which lets it stay at a comfortable temperature. The dog neither gets too hold nor too cold.
2. Offers support and firmness, which does not let the dog feel stiff.
3. Elevated beds do not have any stuffing and thus cannot be chewed up. Dogs love to shred beds, which is not the case when you use elevated beds.
4. Easy to clean, handy for humans and dogs prone to allergies.
5. Your dog does not require any special need to benefit from an elevated dog bed. These can be used by all dogs regardless of whether they are just a little pup or a mature dog.
Do Dogs Grow Out Of Chewing?
Some dogs may outgrow their chewing habit, but other breeds are chronic chewers and gnaw at anything that they get. This continues even when they reach the adult stage.

Puppies chew because it helps to soothe their aching gums. Your puppies will lose teeth for the first six months of their life. At seven months, they reach adolescence, and then they chew for some other reason. It is how they learn about their environment, which continues till they are a year old.

Ideally, dogs should grow off their chewing stage once they reach adulthood. However, this may not always be true. Some breeds chomp all their lives like the spaniels and retrievers. A breed may not always be the reason for this. Some cannabis like to chew, which is a part of their personality as it helps release tension, is soothing and lets them relax when they are stressed.

Here's a video (1 minute 11 seconds) with additional insights about puppies growing out of the biting or chewing stage.
Final Thoughts
There are several reasons why your dog chews on the bed. It could be because of hunger, boredom, or anxiety. It is essential to observe the dog and understand the underlying reason.
Chew-proof indestructible dog beds are a good option that withstands their chewing behavior. The market is flooded with many indestructible dog beds; make a well-researched pick for your friendly dog.
Prioritize the selection based on the comfort that the bed can provide to your dog. The material should not be harmful to the dogs' skin, and the size of the bed should be big enough that it can cover the entire body of your dog.
Bid bye to torn and shattered dog beds. It is time to invest in a good quality chew-resistant dog bed. These are valued for money and save your dog from choking on a regular dog bed's foam and cotton.
---
References:
American Kennel Club. American Kennel Club. Retrieved from https://www.akc.org/expert-advice/health/treating-dog-anxiety/
Separation Anxiety. ASPCA. Retrieved from https://www.aspca.org/pet-care/dog-care/common-dog-behavior-issues/separation-anxiety
What is Memory Foam? | Sleep Foundation. Retrieved from https://www.sleepfoundation.org/mattress-information/what-is-memory-foam
Fabrics. Base Structures. Retrieved from https://www.basestructures.com/fabrics/
Wikipedia Contributors. DuPont (1802–2017). Wikipedia; Wikimedia Foundation. Retrieved from https://en.wikipedia.org/wiki/DuPont_(1802%E2%80%932017)
You May Also Like