Starting a Fish Tank For Beginners – Fish Keeping Basics Guide
First published:
May 31, 2020
Last updated:
June 5, 2023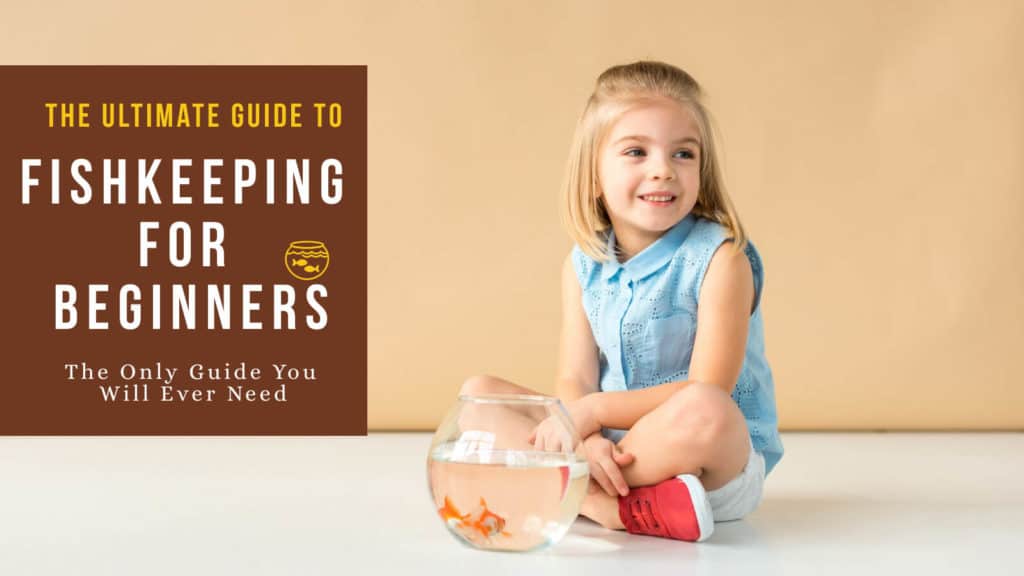 We are supported by our readers and we may earn a small commission when you click on some of the links at no additional cost to you. Our full disclaimer can be found
here
. Thank you.
Has the world of marine creatures fascinated you always? A Home Aquarium can help you recreate the magical aquatic world within the walls of your house. Have you just made up your mind to add the positivity and liveliness of this natural wonder to your home? Well! If you are a novice at this, the moment you let the word out, you must be overwhelmed with the advice and suggestions you have received.
While it might look all that easy to own an aquarium, there are quite a few things you should be aware of before deciding to have one. In this article, you will find all the facts you need to know to make sure your newfound hobby goes by as a smooth and rewarding experience.
Freshwater or saltwater? What types of fishes should I choose? How many can I have in one aquarium? You will have all the answers to your questions by the time you are done reading this fish tank for beginners guide.
Whether you're a cat, dog, fish, bird, or reptiles enthusiast, Make sure to follow Pet Supplies Unlimited for more expert guides and product reviews.
Importance of doing your research
One cannot emphasize the importance of research for anything that you are about to begin for the first time. You will also be investing a considerable amount of money in setting up your home aquarium, the gear, fishes, and other accessories. A bit of research will go a long way to get what you need without much hassle. It's a great way to get yourself prepared to welcome the new pet's home. Research can also do away with the common myths you may have about fish keeping. For instance, most of us think that fishes have a short life span until you have raised some at home. You will be surprised to know that fishes can live for more than a decade if they are taken care of properly.
Besides you should also know what to expect, the do's, don'ts and other things to take care of when you have these finned companions at home. The research will also fetch you some fantastic deals and best accessories if you have had the time to go through user feedback and review articles.
Thinking of your fish as your pets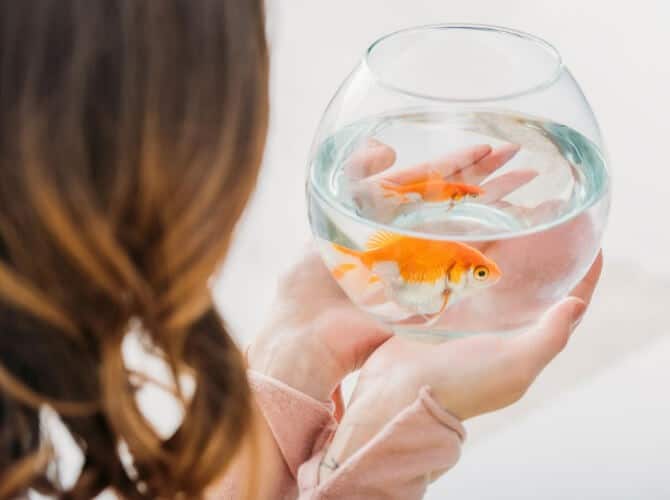 Fish as pets are the easiest. most convenient, and less expensive companion animals you can have in your home. It does not take much of your time or effort to maintain it. They do not need any grooming.
Fishes are safe to have even around kids; it is an excellent way to introduce your kids to pet keeping. There is not much fuss around feeding or cleaning them. If you are not so tolerant of noises (barking, squeaking, or chirping) that most pets produce, fishes are the best pets you can have.
You will be in awe of the number, variety, and vibrant hues you will find of these aquatic creatures.
These silent yet beautiful creatures are also capable of bringing in a lot of positivity into your homes. They can give a calming effect while you watch them move through the water effortlessly. Get the best aquarium fish to spice up your interiors.
Freshwater Vs. Saltwater Aquarium
This is probably the first thing you would want to consider if you have decided to buy fish as a pet. You will need to know the advantages and downsides of having both types of aquarium to choose the one as per your preferences and ease of handling.
Freshwater aquarium
Fishes would be an ideal choice for beginners owing to the following reasons
Easier to maintain
Less expensive.
Tanks can be of any size and will not have very expensive filtration systems.
Saltwater aquarium
These are a lot more beautiful and difficult to maintain at the same time.
Expensive and complicated filtration systems
Saltwater fishes are costly.
Provides for a more vibrant and colorful setup
Choosing fish for your home aquarium, whether freshwater aquarium fish or saltwater depends on your budget, the space available, time, and efforts you can put in to set it up. If you are a fan of the ocean and the incredible life underwater and have a reasonable budget, you can go for a saltwater aquarium. Beginners can start with freshwater aquariums as it is easy on your pocket, effort, and time.
Basic equipment Checklist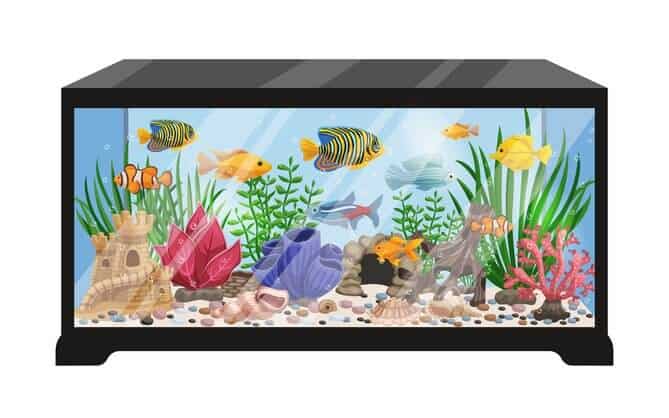 It's time we make a quick list of all the essentials we need to welcome these lovable pets into your home. The items we have explained below are a necessity irrespective of saltwater or freshwater aquarium. This is not an all-inclusive list as you may want to have additional accessories for the saltwater aquarium
Aquarium
This is the first item on the list as you cannot have them swim around in joy. People do keep them in a big bottle. Glass bowls etc. However, if you have a good number of fishes, it is ideal you have them in a fish tank that gives them enough space to move around.
Small and restricted spaces will reduce the life span of the fishes. Choose a tank that has at least 5 gallons capacity. With tanks that are smaller than this will make it difficult to maintain ideal temperature, pH, and mineral levels in the water. Large variations in these conditions can be fatal to the fish.
Fishnet
A fishnet is required at the time of cleaning, as well as to remove any debris in the water. Do not put your hands into the aquarium rather have a fishnet handy. You can also use it to remove algae or any dead fish from the tank. Please ensure you use it with caution as the fins of the live fish are likely to get caught in the net.
Fishnet is also required at the time of your routine cleaning of the tank to remove and put them back safely into the aquarium. These are not very expensive and must-have if you are planning to have an aquarium at home
Aquarium filter
This is one of the essential equipment next to having an aquarium. It is not advisable to have a fish tank without a proper filter. Over time, the ammonia levels in the water will get to a toxic level, and the fish will eventually die an unnatural death. The tank will also look messy with leftover fish food and accumulated fish waste if you do not have a good filter. Some fish species are quite sensitive, so it is essential to keep the water in the tank clean. It is not possible to have fish tanks at home without a proper filtering system.
Check Also: Best aquarium canister filter
Aquarium Water Test Kit
These kits are considered key operating expenses for maintaining a healthy fish tank. It is also equally important to use water testing kits before introducing fishes into the tank.
Most kits that are available on the market test the alkalinity and the hardness levels in the water. Nitrate, Nitrite, Ammonia, and pH kits are the most commonly used water testing kits for an aquarium. Again, you will not be required to invest in an entire kit unless you plan to have water plants in your home aquarium. Phosphate kits can be used if you have regular algae blooms in the tank.
Related: Best aquarium water test kit
Aquarium gravel
Adding gravel and soft substrate to the bottom of the tank plays an essential role in creating a natural environment for the fishes. Some species of fish like to have this little hiding place in the tank beneath the excellent substrate, some also love digging into the gravel. If you want to catch some of their natural behavior, it is recommended you have some amount of gravel at the bottom. Some fish may also like it bare. Gravel also adds to the beauty of the tank having the right substrate is key for the proper growth of water plants. Having gravel in the tank calls for a regular cleaning and vacuum routine without which your tank will look all hazy and blurred..
Thermometer
You will need a good thermometer to know and adjust the temperature in the fish tank. Doing this will help you correct the problems that arise due to extreme temperatures. Recording the temperatures more often will also help you maintain the stable temperature to keep your fish pets active throughout. You will find different types to suit your conveniences, such as ones that you can stick outside the tank, floating ones, and digital meters. Digital ones seem to be a preferred option owing to its ease of use and accuracy. These are the ones that are specifically designed for fish keeping.
Heater
This is required to maintain a uniform temperature in the aquarium. They come in different sizes and wattage capacity to suit your tank. Tropical fishes are the ones that will require a warm ecosystem compared to the cold-water species. You should choose one in line with the tank capacity and the type of fishes you plan to have. There are immersible, submersible, substrate heaters, to name a few popular types.
Decorations (such as fake or real plants)
Make sure you retain the natural look and feel of an aquatic body to be able to keep your fish happy and also bring in the natural beauty of marine habitat in your home aquarium. Gravel and pebbles make for great aquarium decorations at the bottom of the tank. You could also place colorful and varied plastic plants. Or, you can choose to have real plants to help improve the water quality in the tanks, provide oxygen, and maintain an ideal pH balance in the tank. However, maintaining a tank with real plants has its challenges.
Fish food
There are a lot of varieties of fish food available in the market. Fish food available at local pet stores is easiest and less messy to use. Some people consider feeding human food such as bread, grains, etc. Some fish might eat it. However, it is not the best food you can give your fish pets. They need food that is rich in fat and protein. Commercially available food has a good percentage of both.
Aquarium Vacuum
Cleaning the fish tank the right way goes a long way in ensuring a longer life span for the fish. You also need a rigorous cleaning regime to keep your fish tank clean and sparkling. You will be surprised by the amount of dirt accumulating under the gravel and the plants, so regular vacuuming is required.
Picking the right aquarium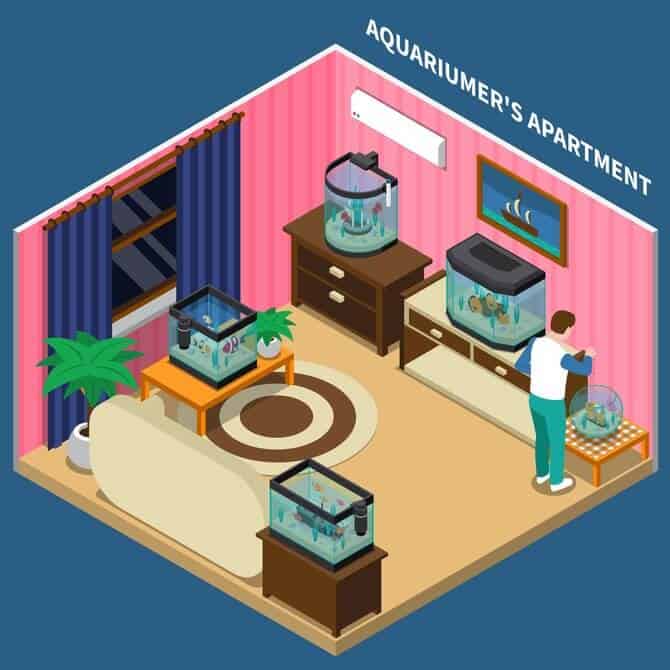 This may seem like a simple task. However, it is not as simple as it appears to be; there are quite a few considerations you will have to take a look at before investing in one. You would first have to understand how you want it to come up completely. Something like a rough visualization of where you want it, the size, the number of fishes you want to have in it, and so on.
Aquarium Type
There are as many options out there to choose one as per your preferences.
The most common aquarium type is the community aquariums that can hold all different varieties of fish from different regions. You could also make it more colorful with a wide variety of foliage.
Exclusive Goldfish Aquariums – Most beginners love to start with this as goldfish are readily available and maintaining them is easy. They are quite attractive and lively as well.
Planted Aquariums which contain more plants than fish can be a great addition to your living room.
Then we have the saltwater and freshwater aquariums as we discussed earlier. While you look out for tanks, you can plan to have them as stand-alone, cabinet, wall, or floor varieties based on the space and budget.
Fish tank sizes
Choose the ideal size based on the space you have allotted for the home aquarium. If you are going in for freshwater fish, you can have a 10-gallon tank per fish. On the other hand, if you are looking to have saltwater fishes, you will need a bigger tank. Most aquatic enthusiasts will agree that the bigger the tank, the better it is for the fishes. If the tank is big enough, there will be more oxygen and water required for the fish's well-being. Small tanks can even stunt the growth of the fish, so it is always better to go in for a tank that is not too small.
Choosing A Location
If you do not select the right location, you might have issues maintaining the water quality in the fish tank. While looking for an ideal place to keep your fish pets, consider the following factors:
Choose a location that is visible for your guests and also adds to the beauty of the room
Easily accessible – you should be able to feed the fishes and also carry out regular maintenance.
Light – Make sure the tank is placed at a location that receives moderate sunlight. Avoid, putting the tank under direct sunlight.
Position of the heating or cooling vents – make sure the tank is not placed under any cooling or heating vents to maintain the ideal tank temperature.
Set up optimal aquarium water conditions
Maintaining optimal water conditions requires a little extra time and effort. You will have to spend about an average of 30 minutes a day to make sure you get to assess the water conditions in your tank daily. When you start with a new aquarium, you will need to check for ammonia and nitrite levels to ensure they are maintained at zero levels. The growth of algae can be an indication of not following regular checks.
Long term exposure to nitrate can also prove fatal to the fish, and hence it is essential to have partial water change more often. There are quite a few benefits both you and your fish pets can enjoy if you can take care of the following points religiously. You are sure to be a proud owner of a home aquarium that you can show off to your guests.
Cycling & Testing Aquarium Water
These two activities go hand in hand as it will help the hobbyists to know how organic fish waste affects the water quality. It also enables you to understand how often you should take up the water change and cycling. Also, remember to test the water once the cycling process is complete. Test the water for ammonia to avoid fatalities from ammonia poisoning.
Water Temperature
Get to know about the ideal temperature for the types of fishes you are planning to have in the tank. Tropical fish will have a different temperature tolerance than goldfish. Also, pay attention to the sunlight exposure to avoid overheating of the water. For regions where you experience freezing temperatures, choosing the best aquarium heater can be an excellent way to keep the temperature at the desired level.
Maintaining proper pH levels
Ideal pH levels can differ for freshwater aquariums compared to saltwater fish tanks. It also depends on the species of fishes. For instance, in freshwater fishes, you should have a pH level ranging from 6.9 to 7.8. Whereas for saltwater aquariums, the ideal pH levels range between 7.8 to 8.4. It is best to talk to the local pet fish store owner to know more about the perfect pH levels for each type of species.
Check Also: How To Lower PH In Aquarium Safely
Before adding fish
Now that you have tested the water, you will need to check that the water conditions are ideal just before you put the fish in the tank. You also have to make sure that the water's chlorine levels are almost zero if you are using tap water. Keep the lights off to not cause much stress to the fish. If you got the fish from the pet store, you would want to mix that water, so the transition is smooth.
Let your tank cycle (fishless cycle)
Fishless cycling is a way of maturing the aquarium and preparing it for welcoming the new fish. It usually takes anywhere between 1 week to 45 days. This is required to ensure proper bacterial build-up that is essential for the fish to thrive in the new waters. Ammonia is usually introduced to grow the friendly bacteria that can process the ammonia to nitrite, which is then transformed into nitrate.
Test temperature and PH stability
We already discussed maintaining the right temperature and pH levels in the earlier sections. Temperature is one crucial factor that helps keep healthy metabolism in the fishes. A good quality digital thermometer will help you get accurate temperature readings in the tank.
pH stability is also an essential factor during the acclimation process as the fish should not be suddenly introduced to water that is highly acidic or alkaline. High alkaline levels can negatively affect the gills of the fish and can also cause death, whereas high acid levels can cause eye damage, thickening of the skin, and gasping.
So, it is always advisable to check the pH levels to ensure they are ideal for the type of fish you are about to introduce in the tank.
Aquarium Fish
Now let's talk about the most exciting and favorite part about the fish pets you would like to introduce into the fish tank. While there are numbers of fish varieties, you will need to consider your preferences with the water conditions, temperature, salt, or freshwater pet fish varieties before choosing.
You can have an entire range of community fish or just go for a single species. Saltwater fishes give you endless possibilities of adding more creativity to the aquarium but are also challenging to maintain and are expensive. However, the choice is entirely on the hobbyists to choose the best pet fish types that they love and can keep without much hassle.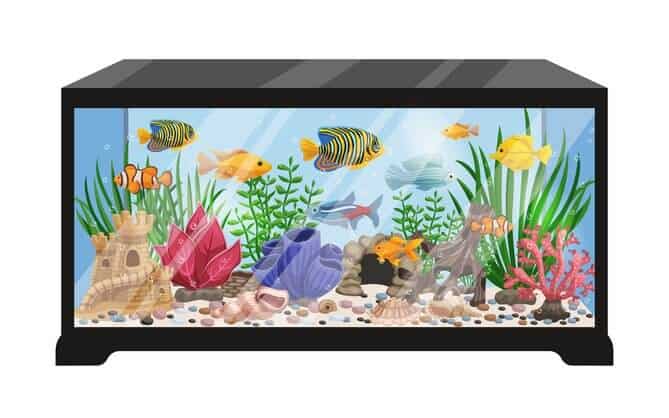 Choosing the right fish for your home aquarium (What to consider)
The first thing to keep in mind while going to choose the fish for your aquarium is not to be overwhelmed by the number of available choices. You can simply filter out based on your preferences. Answering the questions below will help you choose the right mix if you were to go for a community aquarium.
Do you want big or small fishes?
Will the big fish scare or feed on the small ones?
Is the species shy or aggressive?
Is it affordable?
Can the fish be clubbed with other species?
Is the fish a loner?
Do you want to have tropical aquarium fish?
Saltwater over freshwater fish for aquariums?
These are some of the questions to help you get the best pet fish types. A freshwater aquarium is an easy choice and most preferred by most aquatic hobbyists.
Most popular pet fish types
There are n number of fish types that will amuse you by its beauty and colorful hues. Among other types, the freshwater aquarium fishes are quite famous.
Cherry Barbs, Neon Tetra, Guppies, Oscar, Mollies. Zebra Danios, Pearl Gourami, Platies, and the list goes on.
If you are looking to start with some hardy fish, you have mollies, swordtails, guppies, betta, etc. that help you with the tank's natural cycling process. Betta fishes have the reputation of being the easiest to care for and maintain. These freshwater fish for aquariums does not require complex ecosystems to thrive and do well in as less as 5-gallon tanks.
Saltwater fishes such as Angelfish, Clown Fish (after Nemo movie), Flame Hawkfish, Triggerfish, Firefish, Coral beauties, etc. are some popular types. Out of all these, the Clownfishes seem to be a top choice owing to the bright colors and unique patterns on it.
How to Properly Feed Your Fish?
Hobbyists who are new to fish keeping will have this question at the back of their minds. The tiny creatures may not require much to eat. However, you will need to take care to see that it gets the required nutrients. It is also essential to know if the fishes belong to the herbivores, carnivores, or omnivores category. If you happen to have a mix of all types, you can feed them alternately with meat and plant-based food.
Regarding the frequency, it depends on their eating preferences, appetite, and type of fish. For instance, the carnivore's fishes may eat less frequently, whereas the herbivores need more frequent feedings.
What Should I Feed My Fish?
You can choose after you have known if you have vegans or meat-eating fishes in your tank. You can choose from a host of options such as dry foods, frozen, dried foods, live foods, or plants.
Dry foods are the most convenient and preferred form of fish foods available in the market. You will find them in different forms such as flakes, pellets, granules that can either float or sinking in water to facilitate easy feeding. Dry food may not necessarily be rich in fiber and hence may cause bloating in fish. You can consider adding some vegetable foods to avoid these issues.
For those hard-core vegetarian fishes, you can always find dried algae or spirulina, which can be an excellent food to nibble on.
When it comes to frozen foods, the carnivore's guys have a wider choice in the form of frozen plankton, prawns, krill, mussels, shrimp, and blood worms.
Live foods are a good option for the larger fishes and will have a lot of variety. Alternately you can also have a lot of aquarium plants if your fishes love munching on greens.
How Much Should I Feed My Fish?
Overfeeding is commonly seen among aquarium hobbyists. They have a feeling that they are not providing enough food to the fishes. This is not only harmful to the fish but will also end up dirtying your tank faster. More food will mean more leftover and increase in fish poop as a result of overfeeding. So always consult the expert at your pet fish store to get accurate responses based on the types of fish you have chosen.
If there are a lot of young people in the tank, you might want to feed them small quantities three or four times a day. Adults fishes can manage with one-time feeding as well. Even the herbivores fishes will need to be fed in smaller portions over three or four times a day as they tend to have a small stomach and love nibbling on plants throughout the day.
A good rule of thumb is that you should be feeding them the quantity they can eat within 5 minutes.
Why Should I Avoid Overfeeding My Fish?
Feeding more than the fishes require is one of the main reasons for a majority of fish loss in aquariums. It is common for fish owners to confuse our appetite with that of the fish and feed them more than they need. Here are the reasons why you should avoid this:
Excess feeding that leads to a lot of waste will cloud the tank and make the aquarium look dirty and unpleasant to the eyes.
Food and poop waste will alter the water chemistry to a lethal level, causing a lot of distress to the fish.
It will lead to fewer oxygen levels in the water and a substantial increase in the carbon-di-oxide levels making it difficult for the fish to breathe.
Overfeeding can also cause several complications like fatty liver, improper digestion, and fin rot conditions in the fish.
The waste from overfeeding can also clog the filters and hamper the process of filtration.
Common Mistakes To Avoid When Starting a New Aquarium
As a beginner, you might find yourself over-enthusiastic about the whole process and can easily make a lot of mistakes that can harm your fish. Every hobby can have a learning curve, and these tips that we are about to share will help you avoid the most common mistakes while setting up an aquarium. Starting from identifying the difference between the saltwater, freshwater fish to an ideal number of fishes in a tank. This will help you be better informed about the whole process.
"Thou shalt have patience" goes a verse from one of our scriptures; hence you must have a lot of patience as you cannot create a well-thriving eco-system in a few days. It requires a lot of dedication to the hobby.
Starting with a Small Aquarium
Either for budget or the ease of maintenance, people choose to have a smaller tank. This is also a common myth that a small tank is easier to maintain. So never make this decision for your convenience as you might end up being dissatisfied with your hobby.
Aquarium enthusiasts recommend fish tanks that are between 30- and 60-gallons water holding capacity. This will let you have the optimal water conditions in the tank. Less water in the tank will mean it can change the quality of the water very quickly.
When there is a large volume of water, the impact of specific errors can be minimized. For instance, if there is a variation in the pH levels, ammonia, nitrite, or nitrate levels, it can be better managed. Where there are smaller volumes, these changes can almost lead to fish loss. Even experienced aquarium keepers will find it tough to maintain smaller aquariums.
Adding Fish Before Testing the Water
We have already discussed how adding fishes before cycling or testing procedure can play havoc on the whole process. A newbie will not know much about the water chemistry and its effects on the fish. Most experienced aquarists are guilty of doing this and have learned the hard way that this is not the way to go.
The blame is all on your excitement to see the fish move through and play in the new waters. But have you tested it and stabilized the conditions to make sure it is safe for the fish? You will have to complete the fishless cycle to ensure the water is stable in terms of pH, ammonia, nitrate, and nitrite content.
This will also take care of the hardness levels, which is not ideal for the fishes to thrive. You will also have to check the filtration system and heater to ensure they can provide a stable ecosystem for the fish.
Overstocking the Aquarium
Are you eager to add as many fish as you want into the new aquarium? Wait! This might make your aquarium look pretty, but the beauty may not last long due to overcrowding. It is difficult for the new ecosystem to support a huge load of fish without a well-developed good bacterial network in the tank. Add a few fishes in a week until ammonia and nitrite levels reach a zero.
Also, initially remember to fill only about 80 percent of its capacity with water. For instance, if you have a 20-gallon fish tank, you can have only 16-gallon water filled at the beginning. Adding the fish based on the water capacity is also a good rule you can follow to avoid overcrowding. For every gallon of water, you can have a one-inch length of fish to ensure you have the right ratio of fish to water. So, if you have a 10-gallon tank, you can have 6 or 8 fishes that are of one-inch length.
Not Changing the Water
After all the initial overhaul, aquarists can tend to forget the maintenance part. Not changing the water partly can lead to a lot of waste build up and make your fish tank look messy. You will have to follow a regular water change and vacuum routine to keep the water in optimal conditions ideal for the fish. Newly set up aquariums will want a weekly partial change of water. Once the natural filtering process stabilizes, you can change the water once in a month or so.
Replacing 20 percent of the water with fresh water is ideal at the initial stages. However, if the water test results do not show favorable conditions, you can go in for more frequent water change.
If you fail to stick to a regular water change routine, the fishes will get stressed out quickly due to poor water conditions and will affect their lifespan
Frequently Asked Questions
After a rather thorough and detailed discussion on taking care of your fish pets and the aquarium, make sure to adopt all precautions so that you and your pet fishes have a long-lasting companionship. Here are some of the common questions all new fish keepers would have: Which pet fish type is ideal to buy? What kind of fish tanks to purchase? Are your family members ready to welcome the new pet? And so on.
What pet fish lives the longest?
There are fish varieties that live for more than 15 years if they are cared for properly. Lack of knowledge on taking care of these finned companions can often reduce their lifespan. In the freshwater aquarium fish varieties, the goldfish species seems to be the one that has the most extended lifespan, even in captivity. 
The average life span of fishes varies from species to species. Betta is a popular aquarium fish that has a shorter life span of 2 years or so. Big fishes have a longer lifespan than smaller ones. It is important to note that the fishes that lay eggs tend to live longer than the ones that give birth to live ones.      
When it comes to saltwater pet fishes such as angelfish, lionfish, clownfish, and groupers, they seem to have the most extended lifespan. Angelfish can live for about 20 years in captivity.
Why is my fish tank cloudy?
This is a common issue that most aquarists face irrespective of their expertise in maintaining the fish tank. There is no one single reason as to why it gets cloudy – Substrate residue can be due to improper cleaning of the gravel at the bottom of the tank.
Water in the aquarium might contain high levels of dissolved particles such as silicates, heavy metals, or phosphates. 
Bacterial bloom – over time, bacteria might build up in the water causing the water to turn cloudy within a few weeks of the initial break-in cycle. Some of the cloudiness will get clear on its own when the good bacteria develop over time. Just remember to keep the water free from debris, and decaying plant remains in the aquarium.
Excess food waste and fish poop in the fish tank can also cause the water to look grayish or white. Improper functioning of the filters will also cause the water to look cloudy.
For more detailed information check out the article: Why Is My Aquarium Cloudy? 9 Cloudy Aquarium Water Causes and Solutions
What is fish tank cycling?
Fish tank cycling is a long process that ensures the water quality in your fish tank is ideal for the fishes to thrive. The cycling process allows us to establish an excellent bacterial colony as well as normalize the nitrogen cycle. Here the nitrogen to nitrate helps stabilize the water chemistry. The most important thing to note is that this is not an instant process and takes considerable time to establish the ideal water conditions. 
You can add around ten to twenty percent of the total fish load initially to test the water. This will cause a spike in nitrogen and ammonia levels, which may not be deadly to the fish. Once your filters are working well, and the water has considerably stabilized, you can add more fish. You will also have to regularly test the water to help you achieve the optimum conditions in water through cycling.
Can fish tanks cause breathing problems?
Warm moist environments can be a breeding ground for mold, which is not suitable for people with breathing problems. Most tropical fish live in warm and moist environments. While fish tanks may not directly cause problems with breathing, you will need to follow a rigorous and regular water change routine to tackle the mold growth issue. It is also advisable that people with breathing problems abstain from sleeping in the same room where the aquarium is placed. 
 Always make sure to keep the fish tanks clean and healthy so that you and the fish are in the best of their health. If a healthy cleaning routine is followed, people are less likely to get sick from owning these finned companions. You will be benefitted by the positivity these marine creatures can bring to your home.
Conclusion
We have given you every bit of information on how you can do your best while planning to have an aquarium with all the dos and don'ts. Having fish pets at home will not take much of your time, effort, and money. However, it does require you to pay attention and effort from your side to make sure they have suitable habitat. In our article, we sum up some of the key points we gave you to keep these finned creatures happy while creating a serene atmosphere at home.
Freshwater aquarium fish is a preferred choice among beginners and experienced aquarists as they are comparatively easy to maintain.
Proper care and maintenance will go a long way to maintain a healthy- and nice-looking aquarium.
Start with a reasonable sized fish tank; not too big or too small.
Acclimation – adding fish slowly is the key to a long-term bond with your fish pets.
Tropical aquarium fish is also quite a popular choice.
Adding aquarium decorations should not overcrowd the fish tank and cause inconvenience to the fish.
We hope you find this beginner fish tank guide helpful, and you would find the best aquarium fish that would hold your heart.
You May Also Like