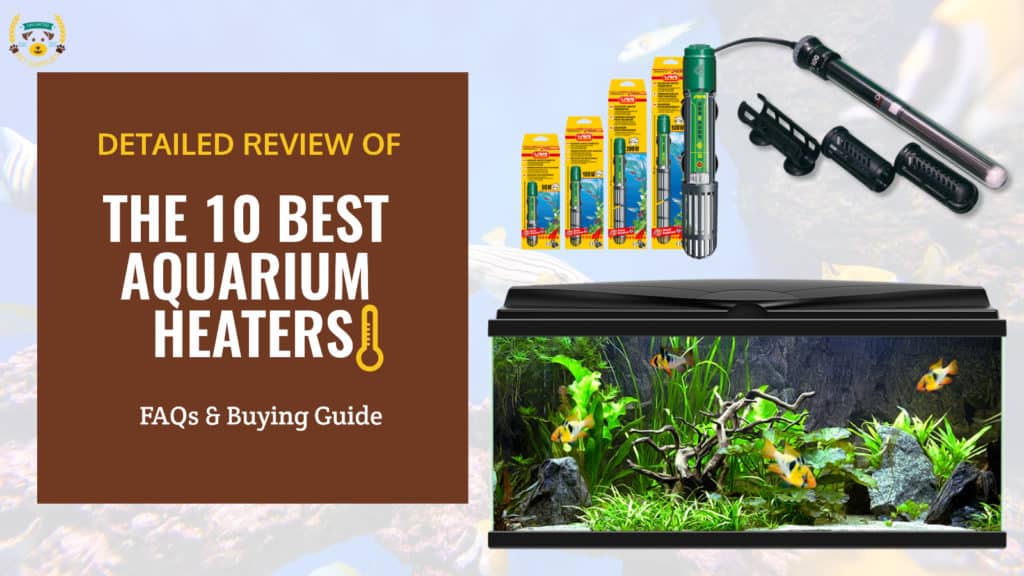 The 10 Best Aquarium Heaters in 2021 Reviews & Buyer Guide
Last updated:
June 9, 2021
Did you know that having an aquarium with fishes is good for your health? However, did you know that the right heater for the aquarium is essential for the health of the fishes? If you are fond of colorful fishes swimming around, then either you already have an aquarium or are planning to get one! 
Having a home aquarium is like bringing a small part of nature into your home. It is satisfying and peaceful to watch the fishes in all their colorful glory. However, it is a bit challenging at the same time as well.
Aquariums are self-contained ecosystems that need certain specific parameters for the fishes to thrive. One of the most important things is to keep the desired temperature consistent. This is where aquarium heaters come into play. They are available in various designs, shapes, and features, and you can choose the best aquarium heater, depending on the size of your water tank and the types of fishes you have.
Related: Fish Tank For Beginners
Our Featured Selections 
Material
Plastic, Glass
Titanium
Quartz Glass
Aquarium Type
Freshwater, Saltwater
Freshwater, Saltwater
Freshwater, Saltwater
Automatic Dry Run Shut-off
Aquarium Type
Freshwater, Saltwater
Automatic Dry Run Shut-off
Aquarium Type
Freshwater, Saltwater
Automatic Dry Run Shut-off
Aquarium Type
Freshwater, Saltwater
Automatic Dry Run Shut-off
Last updated June 16, 2021. Those are affiliate links, we may earn a small commission when you click on the links at no additional cost to you. Product images are served from Amazon Product Advertising API.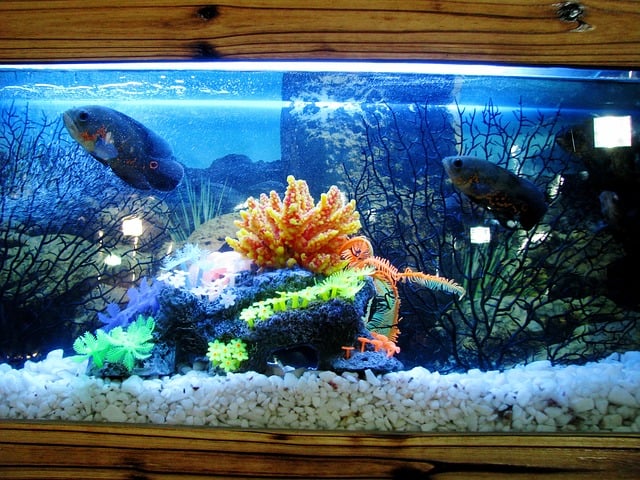 Why You Need a Heater For Your Fish Tank?

One of the most essential pieces of equipment in an aquarium is the heater. It plays a vital role in fishes' health and should not be neglected. Wrong aquarium heater size or bad placement can result in cold spots in the aquarium, potentially life-threatening to the fishes.
For the well being of your fishes, the temperature in the aquarium is of great importance. Unlike mammals, fishes cannot produce their body heat. Fishes rely on the temperature of the water they live in to maintain this. 
When they are out in the wild, the water naturally changes from cold to warm to hot or the other way around, but they can swim and find water conducive to them. However, in an enclosed tank, it is not possible. A heater will help in maintaining the right temperature. Even if you fill the aquarium with water at room temperature, there is no guarantee that it will remain so.
Keeping the water temperature in the right range will help the fishes to stay healthy. With a heater, it is possible to have tropical fishes in cold winter regions. Heaters are essential to create a stress-free environment and prevent any sudden changes in the temperature.
Recommended:  Best aquarium canister filter
Types and Placement Of Aquarium Heaters
There are various aquarium heaters available nowadays, and depending on the type of fishes and the size of the aquarium, one can select a suitable heater.
Immersible: it has a heating element inside a glass tube that is immersed in water. It is very common and usually moderately priced.
Submersible: it sits entirely inside the tank in the water. Though you can place it anywhere, you should avoid crowding the fishes 
In-line: an inline aquarium heater is placed between the tank and the filter. It requires more space and is more effective for larger tanks. 
In-sump: this can be installed in the sump itself. It works best for large aquariums because it requires more space and is more expensive than other types.
Substrate: these heaters are not very common. Generally, coils are put along the bottom of the tank and then covered with the substrate.
Where Should You Place It?
Placement of the heater in the aquarium is of prime importance. Submersible heaters are best placed horizontally near the bottom. Some can be installed vertically and place heaters near a filter inlet or outlet for the best results.
You can put them near a circulation pump or air pump as well. Heaters should be away from any decorations so that the water can flow freely. As the water flows in front of the heater, it will become hot and spread this heat to other parts. It is always a better idea to have more than one heater in tanks and placing them on opposite ends. This prevents any cold spot formation and results in more thorough heating.
Placement of the heater in an aquarium is crucial. One should understand that heat travels in three ways, and an aquarium heater controller should use it.
Conduction: heat spreads from hot to cold areas. Though water is a better conductor of heat, it is not very efficient in a tank.
Convection: when water becomes less dense on heating, it rises, and cold water replaces it. 
Circulation: this is how heat transfer takes place in an aquarium. The filter pump will circulate and mix the water to spread heat all around.
You should place the heater near the water inflow or next to an air pump where water flows past the heater. These are the best locations for quick and even spreading of heated water in the entire tank.
Check Also:  Best aquarium water test kit
Our Recommendations: TOP 10 Best Aquarium Heaters Reviews
Hydor In-Line External Aquarium Heater
This aquarium heater is technologically very innovative. It is an external aquarium heater with PTC technology. PTC heating element is self-limiting and provides maximum safety against any overheating. This is best used on water lines coming from sumps or filters. Submersible heaters are great for small and medium tanks, but external heaters are more efficient for large tanks.
This product is suitable for freshwater and saltwater fishes alike. It is an in-line heater (External) that warms the water before it enters the aquarium. It is very convenient and has an exact electronic temperature control system.
Pros
Suitable for both freshwater and saltwater aquariums
PTC technology ensures the maintenance of ideal temperature
Easy to install and use
Cons
There is no visible temperature display and can be difficult to adjust
The product has to be installed in a vertical position, but this is easy, and once installed, you can rest easy because your fish will be safe. The heater will maintain the ideal temperature without overheating and perform well consistently.
External heaters are convenient for large tanks and places where the water could be very cold or very hot. You can hook it up to the filter line, or sump and water will reach the tank at the right temperature.
Highlighted Features
Suitable for marine and tropical aquariums
Easy to use
High precision electronic temperature control
For external use
5/8 inch hose
Marineland Precision Heater
Maintaining the right temperature in an aquarium depends on the heater, and with this one, you get great value for the money you spent. Comes with various affordable options that are available in 8 different sizes. You can get a 50-watt aquarium heater going up to 400 W. Whatever the size of your tank, you will find a suitable heater for it.
Moreover, you can even put two of these in large tanks and ensure proper and even heating because of the low price. If you need to change the temperature for any reason, there is an adjustable temperature dial that allows you to set the required tank temperature.
Pros
Available in a wide variety of sizes and wattages
Mica core for better transfer of heat
Automatic turn on and off with a thermal switch
Cons
The thermostat may not work all the time accurately
This heater can heat a tank with a capacity of 125 gallons. Its thermal switch shuts off automatically when it reaches the set level and starts again when the level goes down. It is very effective thanks to the advanced heating element. 
It has a mica core that enhances heat transfer and durability. There are three windows in the mounting bracket, making it easy for you to check on the temperature anytime you need to.
Keep the fishes in your aquarium at their healthiest with this heater. The Mica core in this product is effective and ensures consistent heating throughout the tank.
Highlighted Features
This 50 watt heater is for aquariums up to 12 gallons. Adjustable temperature dial allows you to set the temperature 1 degree with every click.
Thermal Switch automatically turns off as temperature rises above an internal preset and turns back on once it cools down.
The advanced heating element contains a mica core surrounded by a mesh heating element for superior heat transfer with enhanced durability
Advanced mounting bracket securely attaches to glass and provides 3 window positions to view the temperature display
Easy to view sliding scale tells the exact temperature setting. Top dial view shows the setting from an additional location.
Aquatop Quartz Glass Submersible Heater
If you are looking for an affordable and no-frills aquarium heater, then you can choose this product. It will get the job done effectively without putting a dent in your wallet. This is a fully submersible product and is available in a range of sizes and wattages. 
50w is enough for an average small tank, or you can go for a 200 w aquarium heater if you need more power. You can place the heater anywhere in the tank and can set the temperature between a range of 68 and 93 degrees Fahrenheit.
Pros
High-quality and durable glass construction
Very easy to monitor and read temperature settings 
Affordable price with great features
Cons
Temperature readings are not accurate
You can easily maintain the ideal temperature because as soon as the temperature drops below the set level, it will automatically turn on and heat the water. This automatic turning off and on will depend on the settings. 
This heater is suitable for both saltwater and freshwater use. An easy to read thermometer will help you track the settings and adjust the temperature. This product is made with high-quality insulated glass that is quite strong and safe. Suction cups are included with the product and make for easy installation. Installation is quite easy and does not take much time.
Highlighted Features
Tank capacity: up to 13-gallon
Voltage/freq: 110-120volt/60hertz
Power: 50-watt
Easy to use temperature setting
Fully submersible
Tetra Submersible Aquarium Heater
This is one of the most popular aquarium heaters when it comes to smaller aquariums. It is available in 50 watts and 100 watt aquarium heaters. Tetra is a better fit for aquariums with a capacity of about 30 gallons on Chewy. For 50 gallons consider this Tetra Submersible Heater With Electronic Thermostat.  It is a fully submersible heater, and you can place it either horizontally or vertically as well.
With smaller aquariums finding the right space is a problem, but you will not have this problem with this heater. You can place it wherever you find space. There is an in-built electronic thermostat that maintains the temperature at 78 degrees Fahrenheit. This is an ideal temperature for most tropical fishes.
Pros
In-built thermostat with red and green indicator lights 
Can be installed vertically as well as horizontally
Perfect for smaller sized aquariums
Cons
Standard temperature. It remains at 78 degrees F
 An indicator light is red when the water is being heated and then turns green when the required temperature is achieved. Small aquariums should buy a small aquarium heater; otherwise, you may end up with unnecessary electricity bills and even in some cases, extreme overheating of water. Overheated water can hurt and even kill fishes.
This is a low wattage aquarium heater perfect for smaller tanks with up to 30 gallons. It keeps the temperature at 78 degrees F without needing any adjustments.
Highlighted Features
Electronic thermostat automatically maintains water temperature
Prevents overheating for extended heater life
Indicator light lets you know when water is being heated or when it is at the correct temperature
Silicon carbide crystals improve heat distribution and transfer
Strong glass tube is heat and shock resistant
Cobalt Aquatics Neo-Therm Aquarium Heater
The Cobalt Aquatics Neo-therm is a very modern looking stylish aquarium heater with excellent performance! It has a unique and elegant design that goes well with the aesthetics of an aquarium. The heater offers a one-touch control feature and is very handy. Neo-Therm is very safe for fishes and is also reliable as well.
This heater is among the best saltwater aquarium heaters, as well as great for freshwater tanks. You will get a high level of accuracy with this heater. The temperature will fluctuate only between a range of plus or minus 0.5 degrees, so it is easy to keep the tank's temperature stable.
The LED display gives both the tank temperature and the temperature set by you. The temperature can be adjusted between 66°F to 96°F, and this is enough for most aquariums and is competitive by industry standards.
Pros
Stylish design with a flat and sleek look
Highly accurate electronic thermostat 
One-touch control system is easy to operate
Cons
It is not a digital aquarium heater
There is an in-built safety feature that makes the heater stop working before it overheats. It is shatterproof and will not break even under extreme pressure. The heater has a sleek and flat design that does not take much space in the aquarium. 
This heater offers not only great design but equally better functionality as well and has several useful features.
If you are looking for a beautifully designed yet effective aquarium heater, this is the better option. It has some great features and is quite convenient to use.
Highlighted Features
Super-flat design. Fully submersible, modern design for energy efficient Aquarium and terrarium heating. Includes reversible holster/bracket, which allows heater to face inward or outward. See the product images to determine the best neo-therm size for your tank.
Accurate, one-touch system. Simply set temperature between 66-96°f with one touch and the neo-therm electronic thermostat will maintain Tank temperature within +0.5°F. Led displays both set temp and actual temp, simultaneously.
Ultimate safety and reliability. Integrated thermal protection circuitry prevents heater from overheating. If you forget to turn it off, the neo-therm will automatically shut it down.
Virtually indestructible. Unlike cheap, glass heaters, the neo-therm is a resin/thermoplastic heater with a shatterproof outer-casing. Made in Poland and includes a 3-year warranty.
Manufacturer You can trust. Most manufacturers rate their heaters on the ability to raise an aquarium 2-3°f above ambient temperatures. This is unreliable and misleading, as the average home fluctuates 2-3°f or more throughout the day. Cobalt rates The neo-therm on the ability to raise a tank 11°f above ambient temperatures, so you will never have to worry about overworking the neo-therm or it keeping up!
SZELAM 25W Mini Fish Tank Heater
You may only have a few fishes, and the tank could be small, but you still need a convenient heater for the aquarium. This is an excellent heater for small tanks with a capacity of 5 gallons or less. Once you buy it, all you have to do is place it inside the tank and start.
The heater comes with pre-set heat settings, which range from 73 to 82 degrees Fahrenheit. This temperature is ideal for most tropical fishes. This is a mini heater, but it is both durable and reliable. It is entirely safe for the fishes.
Pros
Has ABS covering, sandy quartz filler and MCH Alumina ceramic heating system
Comes with 2 artificial plants for decoration
Product has certifications by CE, ROHS, and, FCC
Cons
At times mild electric currents
In small tanks, there are more chances of fishes rubbing against the heater. The heater has an outer covering of ABS plastic, which keeps the fishes safe and is also shatterproof. An affordable heater with some great features meant explicitly for smaller tanks.
The product comes with suction cups for the initial setup making it easier to install. It has Smart Control, which has an accurate temperature sensing probe and an automatic heating system. It will switch on and off to keep the temperature constant in an energy-efficient way.
A small heater with some smart control features is both affordable and efficient. You just need to place it and switch it on, and the machine does the rest of the work.
Highlighted Features
Smart Control- Adopted intelligent circuit board, with a precise temperature sensing probe and constant temperature heating system. No thermometer required, no more operations: Unlike other conventional heaters, need you to manually adjust the temperature. Our Smart Aquarium Heater just plug the power cable then it will work. It works in intermittent operation mode and will automatically turn on/off to achieve the setting temperature constantly and stably, Energy-efficient.
Easier to Use- SZELAM Mini Heater different from a manually adjusted heater. Our heater automatic temperature regulate on 73ºF-82ºF(25℃-28℃) , no need to set. Prevent electric shock and burns. Keep you and your family safe. Position it near a strong water flow for whole aquarium are in the same temperature. The outlet of filter is ideal.
High Quality- Made by heat resistant ABS housing, sandy quartz filler and MCH Alumina ceramic heating system, anti explosion & cracking, it is scald-preventing for your pets and safe operation for you, safer and more stable to use.
Mini Sized- Fully submersible compact betta fish heater Gift with 2PCS Aquarium Decor Artificial Plant. Specific perfect for mini aquarium under 5 gal/20L. SZELAM Mini Heater provide a constant warm for your pet fish to stay healthy, suitable both for fresh and salt water.
Quality Assurance- This product have certificated by CE, ROHS, FCC certifications. We provide 1 year quality assurance for this product, we will provide replacement items for any product problems within 1 year after your purchase it.
Fluval M Submersible Heater
This heater is a fully submersible one with an accurate temperature sensor. It has a temperature dial you can set to the desired number. It is recommended to set it on the dial then adjusting based on thermometer readings for better results, however, this heater is known for its stability, maintaining the water temperature accurately in the fish tank.
The product is available (on Amazon) in 50, 100, 150, and 200-watt. like the Fluval E Electronic Heater, There is a visual alarm that shows when the temperature of water changes from what you have pre-set. The color of the display changes to immediately let you know. 
One of the best features this product has is the integrated heater guard. It protects your fishes by not allowing them to come in contact with heat.
Pros
Made from high-density ceramic
Better Temperature Control, remains stable once set.
Reflective technology of the outer casing makes the heater invisible
Cons
You will need a thermometer to fine tune.
It also has fast heat technology, which will bring the temperature to the required level quickly. The heater will give you accurate temperature readings unless the ambient temperature is extreme. The safety shut-off will prevent overheating and does not take much space thanks to its slim mounting bracket. 
The product has a 3-year guarantee, which is quite satisfactory. With its models available in different wattages, you must check which one is most suitable for your needs. It is fully calibrated when it arrives. Its user manual gives all details about the product and its usage.
Highlighted Features
Aquarium heater that blends into the aquarium environment with built-in reflective technology that mirrors the surrounding colors
Computer-calibrated thermostat and easy-to-adjust temperature control dial
Shock resistant Borosilicate glass and high density ceramic heat sick
Easy to install with slim profile tube for easy placement
50-watt heater suitable for freshwater and saltwater aquariums up to 15 gallons with a 3-year warranty
Aqueon Pro Adjustable Aquarium Heater
This is a top of the line fish aquarium heater, and you will be able to keep your fishes happy and healthy. It has an electronic thermostat which is very accurate. You can set the temperature anywhere between the wide range of 68 to 88 degrees, and it will maintain an accuracy of 1-degree plus or minus.
This heater is great for both freshwater and saltwater fishes. It is very convenient to monitor it because of its precise temperature dial. Aqueon is a submersible aquarium heater, and the best part is that it is shatter-proof. Both your heater and your fishes will remain safe.
Pros
Durable and shatterproof, fully submersible heater
Accurate and adjustable thermostat 
Automatic shut-off safety feature
Cons
Heaters with more wattage are too long
The product is available in a range of wattage, and it is quite easy to choose one which will be perfect for your aquarium. There is a LED light that remains on at all times. When the water cools down, the LED turns on to show that the motor is working, and then it turns green when it is off.
Its automatic shut-off safety feature is also quite convenient and will not allow overheating. This product is very durable and will last for a long time. You should keep it near the filter outlet to get the best results.
This is perfect for maintaining the right temperature for all kinds of fish tanks. It is available in a variety of wattages and is completely submersible.
Highlighted Features
Adjustable heat setting 68 to 88°F, Electronic Thermostat accurate to +/- 1°
Shatterproof and nearly indestructible
Fully submersible; Auto Shut-Off when over-heats, resets when it cools down
LED light is always on: red when heating, green when not heating
Limited Lifetime warranty
Eheim Jager Aquarium Thermostat Heater
The aquarium heater Eheim Jager is simple and elegant in design and very effective at heating the tank. The product is available in a wide range of wattage starting from 25 w to 300 w aquarium heater. It is suitable for tanks with a capacity of about 220 gallons. This makes it easy to pick one, which is just right for your fishes and tank. 
A wrong heater can do more damage than no heater, so you have to be careful. Its design is simple with a slim body. This product is a fully submersible one and the rod is completely watertight. It is enveloped by a unique and strong laboratory standard glass from all sides. This makes for a wider heating surface as well as a better protective shield.
Pros
TruTemp dial allows for temperature adjustments
Has a simple design with shatterproof glass
Includes mounting bracket and suction cups for installation
Cons
Unit is quite long and requires a continuous flow of water
 The heater has an excellent safety feature, which is the automatic dry run-off, also called the thermos safety control. Its temperature control system is adjustable and you can set it between 64 and 95 degrees Fahrenheit which is quite a good range. The product has a long cable of about 170 cm and has a 3-year warranty.
This fully submersible heater is quite effective and has excellent safety features. If the water level is too low, it stops working. It is on and off indicator lights are easy to follow for monitoring.
Highlighted Features
Fully submersible
Thermo safey control protects against running dry
Will automatically turn off when water level dips too low
TruTemp dial recalibrates the heater for precise temperature regulation
Made of shock resistant and shatter proof glass for fresh or marine water
On/Off indicator light for at-a-glance monitoring
Hygger Titanium Tube Submersible Aquarium Heater
A fully submersible titanium aquarium heater, which doesn't have any glass parts. This is one of the safest products that you can get because you will not have to worry about breaking or shattering into pieces that can harm the fishes.
This product is available in 50 W and 500 W models suitable for tanks with a capacity between 10 and 120 gallons. You can set the temperature precisely between 32 and 104 degrees with the digital thermostat.
Pros
Made with titanium. Very strong and anti-corrosive
Accurate setting and maintenance of temperature possible
Dual LCD gives all the information
Cons
Though very effective it is a bit highly-priced (but worth the price)
The heater displays both the current and the set temperatures and that too in both Celsius and Fahrenheit. Monitoring the heat levels is quite easy and an effortless job. You will find it very accurate and reliable in terms of performance and effectiveness.
With the two suction cups included in the pack, it is quite easy to install it. Best to place it near a strong water flow for even heat distribution. Its accuracy is of a high level at plus or minus 0.5 degrees Celsius. You can control the level of heat and automatic shut off will prevent any overheating.
There is no glass in this heater, and it is made with titanium. It is a high-quality product with exact settings, the accuracy is of a high standard and ensures consistent and even levels of heat.
Highlighted Features
🐠【For Fish Tank 10-25 Gallon】voltage 110-120V, power 100W, heater rod length 9.8inch. The heater and controller power cords are the same length 5.5ft, the thermometer cord is 4.4ft. There are mounting holes on the temp controller back for hanging on the wall
🐠【Fully Automatic Control】very easy and reliable to use. After well installing the aquarium heater and the thermometer, you just need to set the desired heating temp, it will stop heating when the water temp reaches to the set temp, it will automatically restart heating when the water temp is 1℉ less than the set temp. The controller has temp setting remember function
🐠【Durable Titanium Tube】this seawater resistant titanium aquarium heater is good for use in salt water and fresh water, service life can be 3 years or more. Very compact small, easy to hide in the tank. Don't suggest to use it in sump. The diameter of the titanium tube is19mm, you can buy suction cups suitable for this size when you need to get that replaced.
🐠【Digital LED Display】the IC temp controller can show the water temp and set temp at the same time, and there is a indicator light to show the heating status. You can press the 'up' key to shift degree unit between Celsius and Fahrenheit
🐠【Wide Temperature Range】With the thermostat controller you can set the temp from 32℉to 104℉, control precision is 1℉, please set the right temp for your aquarium pets. The separate thermometer can detect a temperature from -68℉ to 140℉, the measurement accuracy is 0.2℉ plus or minus, very sensitive
How Do I Know If My Aquarium Heater Is Working?

Once you place the heater in the aquarium, it is easy to just forget about it. You should check from time to time to ensure that it is doing the job. Here are a few things you can do:
Check the indicator light on the heater. Find out if it is only the light or the heater has some other malfunction
Use a thermometer or even your hands to check the temperature. First, do the check before turning on the heater and then turn on the heater and give it some time. Now check again. 
Sometimes the heater automatically changes the temperature. Set the heater at a higher level and then check after some time. 
One better way to check is by using a torch to watch the water flow around the heater. If it looks blurry, then you know that it is working.
How Many Watts Should My Aquarium Heater Be?

Aquarium heater wattage per gallon is an important point. Using too little or too much wattage can do much more harm than not using any heater. Generally, using about 3 w to 6 w of power for every gallon works well.
To get even heating and maintaining a constant temperature, there must be enough power. If a 100-gallon tank has only 100 watts, it is not enough because it is only about 1 watt per gallon. In the same way, a 10-gallon aquarium heater is too small for larger tanks. Ideally, the wattage should be between 300 and 500 watts for a 100-gallon tank. Instead of buying one heater with more power, it is better to place 2 smaller ones to regulate the temperature.
Are Aquarium Heaters Dangerous?

Like other electrical equipment, aquarium heaters are also safe or unsafe, depending on several factors. One needs to take proper precautions and safety measures both before and after installation.
Buying quality products is always better in the long run. Don't choose a heater just because it is cheap. Right wattage is equally essential. Excessive heat can cause severe health problems to the fishes and can even harm the aquarium.
In rare cases, aquariums have been known to burst due to this problem. Read the manual and understand fully before installing the heater. Positioning and placing them correctly is essential. Check regularly to see if it is working well and if you notice any sign of damage, replace it immediately. Even a small faulty part in the heater can trigger major problems.
How Often Should I Replace The Aquarium Heater?

Though there is no set rule, generally, a quality heater can work well for up to 2 years and sometimes even longer. If it is working perfectly, there is no need to change or replace it. If any part is damaged, especially the thermometer, which gives wrong readings, then it is time to replace the heater.
You must carry out regular checks to ensure that the heater is working effectively. Any kind of problem can lead to a very bad effect on the fishes. If you find the temperature fluctuating too much and too often by the heater, you must change it immediately. If you are careful while using and regularly maintaining it, you will not have to replace the heater very often.
Final Thoughts
Are you still wondering if you need an aquarium heater? Most commonly aquarium fishes are of the tropical variety. A heater is necessary, especially in colder areas. Without adequate heating, fishes can become unhealthy and even die.
Too cold or too hot water can make it uncomfortable for the fishes. They will become less active and develop problems. So, yes, you do need a heater. However, deciding this is only the first step. Now you will need to find the right heater to get the right results.
Heaters are made according to different tanks' sizes, and you must choose carefully to suit your needs. No point in wondering what the best aquarium heater is, instead look for the most suitable one. Placing them correctly is also essential. With the information given here, we are sure that you are in a good position to decide and give your fish a warm and comfortable home.