Top 10 Best Dog Nail Grinder Reviews, Comparison, and Guide
First published:
July 23, 2020
Last updated:
November 5, 2022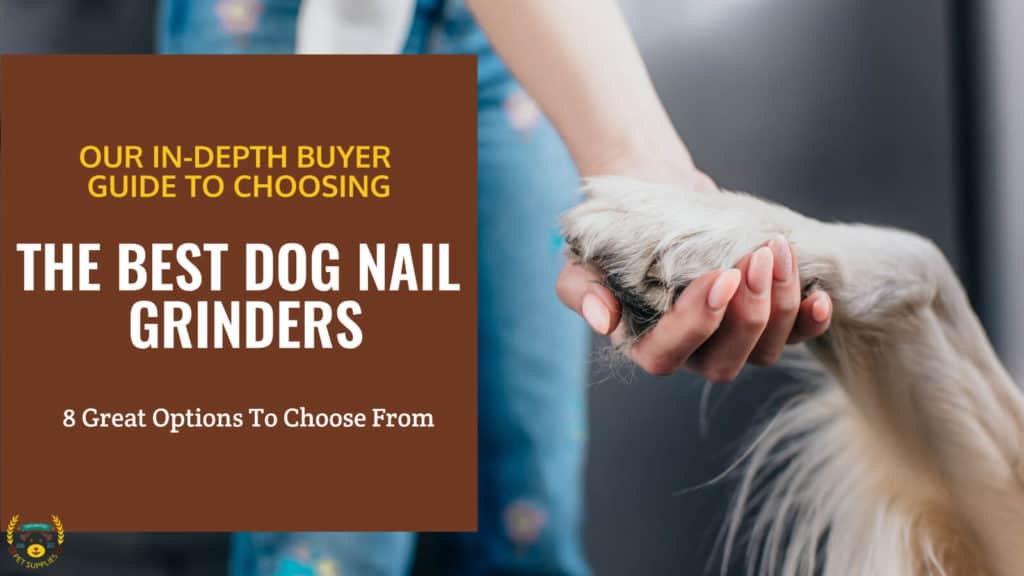 We are supported by our readers and we may earn a small commission when you click on some of the links at no additional cost to you. Our full disclaimer can be found
here
. Thank you.
Caring for your loyal companions is no easy task. Some of them can be fussy when it comes to nail grooming. Most dogs are not in love with the idea of having their nails trimmed. It can be that they simply do not like being held like a captive, or it may be because the previous nail trimming exercise was not a very pleasant one.
Whether your furry friend likes it or not, this hygiene [1] routine is not one that you can ignore. Avoiding the pet nail trimming routine might put your furry friend in trouble. It can tear off quickly or get caught on any hard surface or carpets, which might cause a lot of pain to the dog.
An increasing number of pet owners opt for grinders compared to dog nail clippers, considering the safety and ease of use. After you have started using the dog nail grinders, we bet you will not go in for any other alternative tools.
This article takes you through the top 9 dog nail grinders that you should add to your new puppy checklist to help you choose the best dog nail grinder for your furry friend.
Top 3 Overview
Best Features
Fast Charging, Includes Clipper, 3 different grind stone openings
Wireless & USB rechargeable, Whisper-quiet, Ultralight vibration motor
Security, Comfort, Quality, Compatible with a wide variety of Dremel sanding drums
Replacement parts available
Best Features
Fast Charging, Includes Clipper, 3 different grind stone openings
Replacement parts available
Best Features
Wireless & USB rechargeable, Whisper-quiet, Ultralight vibration motor
Replacement parts available
Best Features
Security, Comfort, Quality, Compatible with a wide variety of Dremel sanding drums
Replacement parts available
Last updated September 21, 2023. Those are affiliate links, we may earn a small commission when you click on the links at no additional cost to you; More Information>>. Product images are served from Amazon Product Advertising API.
Our Criteria: How We Picked the Best Dog Nail Grinders
While the dog nail grinders market has grown, and their quality varies greatly, finding a grinder that suits your needs can be challenging.
This type of product is not a "one size fits all" solution. Even though they all work in a similar way, different nail grinders come with various features and have different prices. That is why when we were looking for the best dog nail grinder reviews, we came up with a list of standards that all the grinders had to meet in order to be considered for this list.
Our goal is to provide you with the information you need to find the best dog nail grinders for your pet. To help you out, we've put together a list of the criteria we used to evaluate the grinder for our best recommendations. So we evaluated the following key factors to determine the best dog nail grinder:
Noise Level:
The next most important feature to consider when looking for a good grinder is the noise level. Many dog nail grinders are noisy, which can be unpleasant for both the dog and the owner.
Grooming can be stressful enough for animals, so you need to choose a quiet device, so the animal doesn't freak out when you turn it on.
Many dogs and cats will try to break free from your grasp if the grinder has a low or high pitch, which could cause injury to both of you.
Safety Guard
The safety guard is the top feature you will want to look for when buying a dog nail grinder. A safety guard is a device or small protective case attached to the top of the device that will stop the spinning grinding blade when you start to press it down too hard against your dog's nail. It protects your dog's nail from being cut too deeply, causing nerve damage that may result in pain when he walks.
Multiple Grinding Levels
If you're looking to purchase a dog nail grinder, it's essential to look for one with multiple grinding levels. Getting a grinder with multiple power settings is an excellent option since you can choose to slow down or speed up the rotation movement.
The most basic models have only two power settings; low for smaller nails and high for the larger ones. More advanced models feature more power settings for a variety of nail sizes.
Not all dogs have the same size nails, so you may need to adjust the power level to get a good result. While a more petite pooch might need a lower setting to ensure a good task, your large dog with thick nails might require a higher power to get a good grind. Multiple power levels are also convenient if you have multiple-sized dogs.
Wired or Cordless
There are two main types of dog nail grinders on the market today, wired electric and cordless battery operated. The main difference between the two is convenience. Cordless dog grinders are much lighter and more portable than their wired counterparts, making them a better choice for a dog owners who will be taking their grooming tools on the go.
Unlike traditional wired nail grinders, the cordless variety can be used anywhere without worrying about finding a power outlet. However, some of the best, cost-efficient and long-lasting professional models are wired.
Replacement Parts Availability
One of the most common problems people have with dog nail grinders is that their turning parts need to be replaced over time.
The availability of replacement parts and accessories plays a significant role in the quality of the dog nail grinders you choose. The best dog nail grinders will have their parts readily available for purchase. It will not only save you money but will also eliminate the need to purchase a new grinder.
Our Recommendations: The 10 Best Dog Nail Grinders as of 2023
As a dog owner, you should know that a dog's nails are a vital part of its body that deserves proper care. You should also know that if you fail to clip your dog's nails, it can cause many problems in the future. So, if you want to keep your dog healthy, you better invest in a good dog nail grinder.
We have done the research for you and compiled a list of 10 of the top dog nail grinders you can find on the market these days. Meant to help you pick or find the most convenient one for your dog we have tried to include diverse models based on size, speed settings, wireless ones, rechargeable, etc., so you can choose the perfect one for your beloved pup.
LuckyTail Dog Nail Grinder
Topping our list of the best dog nail grinders is the LuckyTail. This dual-speed, wireless, rechargeable grinder turns you into a professional without leaving your home. LuckyTail is ideal for a full pet-friendly trimming service.
The device produces less than 40 decibels of noise while in operation, making trimming stress-free – perfect for anxious pets. In addition, the powerful motor allows you to quickly and easily trim their claws.
The grinder comes with an automatic LED light, two speed modes, and three ways of grinding that help you achieve a precise nail trim. In addition, LuckyTail provides a safe cover to ensure your dog's fur doesn't get caught in the spinner and also keeps the dust down. They also have different – hard and soft–grinding heads for customizable performance.
Pros
Ideal for all breeds of dogs, and other animals.
Light and ergonomic in hand.
Wireless & USB rechargeable.
Whisper-quiet, with an ultralight vibration motor.
Grinding bit protector
Cons
Slightly more expensive, but worth it for the features.
Overall, it's the best-performing nail grinder, ensuring a safe and effective way to trim your dog's nails.
Dremel 7300-Pt Dog Nail Grinder Kit
If you are looking for a high-end option that serves as a complete grooming kit, look no further than the Dremel. It is an expensive option, however, it can be your dog's favorite tool due to its seamless operation.
This professional dog nail grinder comes in a 9-piece kit with all the necessary accessories and tools. It has the cordless pet nail groomer with the USB charging cable, power adapter, user manual, 2-year warranty card, quick start guide, etc.
The Dremel 7300-PT is a powerful cordless pet nail rotary tool, comes with a rechargeable Lithium-Ion battery that can be charged using the USB cable. The design and smooth texture make it comfortable for the user to handle with ease. It also comes with different speed options to use based on the thickness of your dog's nails.
This dog grooming nail grinder comes with a patented EZ twist nose cap to easily change the accessories and is touted to be one of the top dog nail grinders for dogs.
Pros
45-degree angle to make nail grinding easy and safe.
Comes with a paw adjustable safety guard to protect your pup's nails and collect the dust.
The convenient placing of on/off and speed selection buttons.
Soft and comfortable grip.
Cons
Slightly more expensive than other variants.
It is a bit noisier option.
You will have to get your pet used to the grinder's sound to make it a pleasant experience for both the groomer and your dog. The price should not be a deterrent if you are looking for a comfortable and safe way to trim your dog's nails.
Hertzko Electric Pet Nail Grinder
If you are looking for a safe and effective way to trim your dog's nails and happen to own a pack of canines at home, Hertzko is a perfect choice.
This rechargeable electric dog nail grinder comes with three different ports to use with small, medium, or giant dog breeds. You can safely use the first two ports for trimming the nails of small and medium-sized dogs.
However, if you own a medium-sized dog, you can completely remove the cover to help grind large and thick nails with ease, thanks to the diamond stone material used on the grinder that makes the whole exercise easy. The diamond bit grinder stone makes it safer and more effective than the regular nail clippers that can hurt your pet.
It comes with a super quiet motor that makes it ideal for use in very anxious pets during grooming sessions.
Maintaining and cleaning this kit is also relatively easy. You can simply remove the cap over the grinding stone and clean it.
Pros
Super quiet and low vibration motor.
Comes with a USB wire for recharge.
Simple and easy to assemble.
High on portability.
Easy maintenance.
Ideal for different size dogs.
The single-speed motor is not a flaw worth mentioning since it comes with three different ports. It is a must-have for pet lovers who have an odd assortment of canines.
Furminator Dog Nail Grinder
Your dog will feel quite comfortable around this nail grinder as this is yet another dog grooming nail grinder that only produces a slight hum. It is a lightweight and compact grinding tool that is high on performance and safe for pets and pet parents.
The ergonomic design simplifies the grooming routine's otherwise arduous task, and the automatic led light makes it best for dogs with dark nails. It is also a piece of cordless equipment that makes it more convenient to use around your pets.
Pet parents are no longer required to ignore the nail trimming routine in fear of hurting their pet, as it does not cause sore paws.
In case you are traveling out with your pet, this silent dog nail grinder easily fits in your suitcase. You also will not need any recharge as it works on four AA batteries.
It also comes with two replaceable grinding bands and 4 AA alkaline batteries in the package. The product comes with a dual-motor speed to adjust the grinding speed as per the requirement.
Pros
Easy to use design with a grip handle.
High-performance motor.
Does not require electricity.
The package includes extra grinding bands.
Comes with a protective cover on the top.
Safer option as fur does not get caught in the spinner.
Cons
The second speed setting is a bit loud.
Causes overheating of the nail if used continuously.
Overall, it is the best buy at a price with dual settings and portability standing out in this option. Pets and pet parents who are anxious about the noise can run the grinder in low-speed settings.
Conairpro Professional Silent Dog Nail Grinder
Producing less than 50 decibels of noise while in operation, this is one of the most silent dog nail grinders available on the market. You and your dog will hardly notice the sound while attending the regular grooming sessions.
Thus, it turns out to be the best option for canines who are intolerant or scared of loud noises.
This corded grinder comes with a powerful motor that can grind your dog's single nail within 5 seconds, making it relatively easy and quick.
This powerful nail grinder works on electricity, and it can be conveniently plugged into a power outlet on the wall. The package is inclusive of two interchangeable grinding stones and four bands. This allows you to use the grinder on all types of breeds.
It also features a protective adjustable cover to ensure your dog's fur does not get entangled in the spinner. Replacing the grinder heads is also easy, and the package also includes the necessary tools for the same.
Pros
Conveniently placed control buttons for easy use.
Lightweight yet powerful design.
Ideal for all types of dogs.
Less time is required to grind down nails.
Even at 7500 RPM, it is still a quiet motor.
An adjustable nail safety guard also keeps the nail dust from flying around.
Cons
Has only one speed.
Cannot be used without a power outlet.
Even though it functions only one speed, it has just enough power to wear down thick nails. It works well for small and medium dogs while it might take more time with your bigger canines.
Oster Gentle Paws Less-Stress Dual Speed Nail Grinder
This battery-operated cordless dog nail grinder is ideal for all breed types as it comes with two coarse bands, one fine band, and a rough stone. The fine band helps in achieving precise nail trim. It also protects against trimming your dogs' nails too deep in the form of an adjustable cover.
Additionally, this collects the dust from the filing and traps it, so it does not pollute the place, and you are not exposed to the dust. It is a complete accessory for grooming your pets, starting from grinding down the thick nails to filing the soft ones without hurting the paws.
This silent dog nail grinder works on four AA rechargeable batteries and is compact enough to fit in your carry-on while traveling. You can also use it outdoors as it is cordless and does not require electricity.
It comes with a design that makes it comfortable to handle without adjusting your pet's paw several times. You will be surprised that the motor produces a sound that is only a bit louder than a gentle whisper. So, you do not have to spend a lot of time calming down your pet; just make sure he/she gets used to the gentle hum before beginning the grooming session.
Pros
Affordable professional-grade nail trimmer.
Quiet operation.
Tidier and safer option.
Cordless design makes it more comfortable.
Cons
The speed is too high at times.
Takes more time to grind down nails in larger dogs.
If you are on a tight budget and need a good-quality professional dog nail grinder, this is the option if you know how to handle it carefully.
Andis 2-Speed Pet Nail Grinder Ergonomic Silicone Sleeve
The Dual Speed setting is the highlighting feature of this grinder. You can use it at a 7000 and 12,000 RPM grinding wheel speed to grind down your puppy's nails.
Having Andis Pet nail grinder at home makes your furry companion's pedicure routine stress-free, easy, and fast. You no longer will have to make frequent visits to the vet or dog grooming clinics.
In addition to the ergonomic design and silicone sleeve, this nail grinder features chrome-plated and carbon-edged blades for a better grinding experience.
Even though it functions at a high speed, it is still gentle on your puppy's paws. So you can grind your dog's nails without the worry of it hurting your pet.
The 13-piece kit includes all necessary accessories such as a detachable recharge unit with a DC jack, a big drum attachment with three sanding wheels, a small drum with two wheels, a wrench, and a soft storage pouch to hold the entire unit. You do not have to invest in additional accessories to make it function.
Pros
Easy control buttons.
Ideal for all breeds of cats and dogs.
Low noise.
Affordably priced.
Lightweight and Sleek design.
Cons
Friction while grinding causes an overheating problem.
Does not have grinding bite protections.
Even though it does not have grinding bit protection, it has an auto-stop feature in case fur gets stuck in the machine. You can consider including this nail grinder in your pet's grooming kit for smoother and rounded nails.
Pet Republique Cordless Dog Nail Grinder & Clippers
This Dual speed electric rechargeable grinder is ideal for your small to medium-sized pets. It comes with three different grindstone openings to use based on the thickness of the dog's nail.
This professional grinder comes with pet-friendly features such as decreased noise levels as low as 60 dB, less vibration, and a comfortable design to use around pets.
It comes with a quickly chargeable and long-lasting battery to use for a longer duration, along with dog nail clippers you can use if your pets are comfortable with them.
You can also choose the grinding area as you prefer by adjusting the cap. In larger dogs with thicker nails, you could even remove the lid and use it. It also has a charging light that indicates if the battery is at its total capacity. Once it is fully charged, the light will turn blue.
The product also comes with a 30 day money-back guarantee, which makes it a risk-free option. If you face any issues, you will get a replacement or a full refund.
Pros
Step-by-step instructions to use and charge the device.
Powerful motor with high and low-speed settings.
Affordable two in one tool.
Quick charging.
Cordless tools can be used anywhere and anytime.
Cons
The motor is weak when it is run at a low speed.
It is an ideal dog grooming nail grinder if you have a small dog, as it works well with their nails. You could also use the grinder in conjunction with the nail clippers that come as part of the package.
Wahl Professional Classic Dog Nail Grinder
At only 9 ounces, this battery-powered grinder is a lightweight and quiet nail grooming accessory that suits even the most sensitive pet. It is excellent for nail trim operation and ideal for smoothing and shaping rough nails.
The product comes to you from an ardent pet lover community with over a century-old experience catering to pets' grooming needs. Hence you don't have to be worried about the effectiveness and safety of this product.
The powerful motor operates on 2 CC batteries (not included in the package). It comes with a safety guard that collects the dust as you file your dog's claw. The safety auto-stop option prevents you from the risk of over-trimming the nails.
This kit comes with two big sanding drums, five sanding bands, and a safety cap for its seamless operation. The use of this grinder will not cause any strain on your hands as it comes with a comfortable grip. Just make sure you push away the hair on the paw before you start grinding your dog's nails so that the hair does not get tangled.
Pros
Affordable option.
Works well for small to medium pets.
Works at a steady pace of 5400 RPM.
Comes with a contoured grip for a better handle.
Cons
Comes only with a single-speed option.
CC batteries are not part of the package.
The cordless option is comfortable to use around your pets, even when you are at home or outdoors. At this price, it also has the features of a safety cap, and auto-stop gives you the best value for money.
Casfuy Dog Nail Grinder with LED Light - Upgraded
One of the first questions potential buyers ask is whether the grinder is quiet. In short, the answer is yes. The Casfuy is designed to run quietly, and it lives up to expectations. We have noticed that Casfuy performs so well that there is no need to grind the nail for more than a few seconds. After the nails have been ground for this time, they are appropriately shaped, and there is no need to make another pass.
This grinder provides fast, effective, and professional-grade grinding with an innovative motor using the latest technology. It produces a very low vibration and noise (lower than 50db) to keep your dog calm.
We also love that the Casfuy dog nail grinder is equipped with a highlighted LED light, allowing you to see the quick location so that you trim in the correct position. It's much clearer and safer to grind your pet's nails, causing less hurt to your pet.
In addition to the powerful low-and high-speed design, the new Casfuy Dog Nail Grinder offers three ports to match small, medium, or large pets depending on their size and nail hardness.
As for the battery, this cordless dog nail grinder boasts Ni-Mh battery that lasts 3 hours after a 3-hour charge.
Another great feature we love is that this electric pet nail grinder uses an advanced diamond drum bit grinder to deliver a safe and comfortable pedicuring session.
Pros
Powerful motor, with high and low-speed settings.
Has a built-in LED indicator light.
Super quiet and low vibration motor.
Ideal grinder for dogs of different sizes.
Diamond bit grinder stone.
Advanced 2-Speed Switch & 3 Grinding Ports.
Lifetime Replacement Warranty.
Affordable option.
Cons
Few users reported this grinder no longer holds charge after some time.
With more than 6,000 reviews on Amazon, the Casfuy Dog Nail Grinder is one of the best on the market and comes with several features that make it the ideal choice for a wide variety of dog owners.
Why Is It Important To Trim Your Dog's Nails?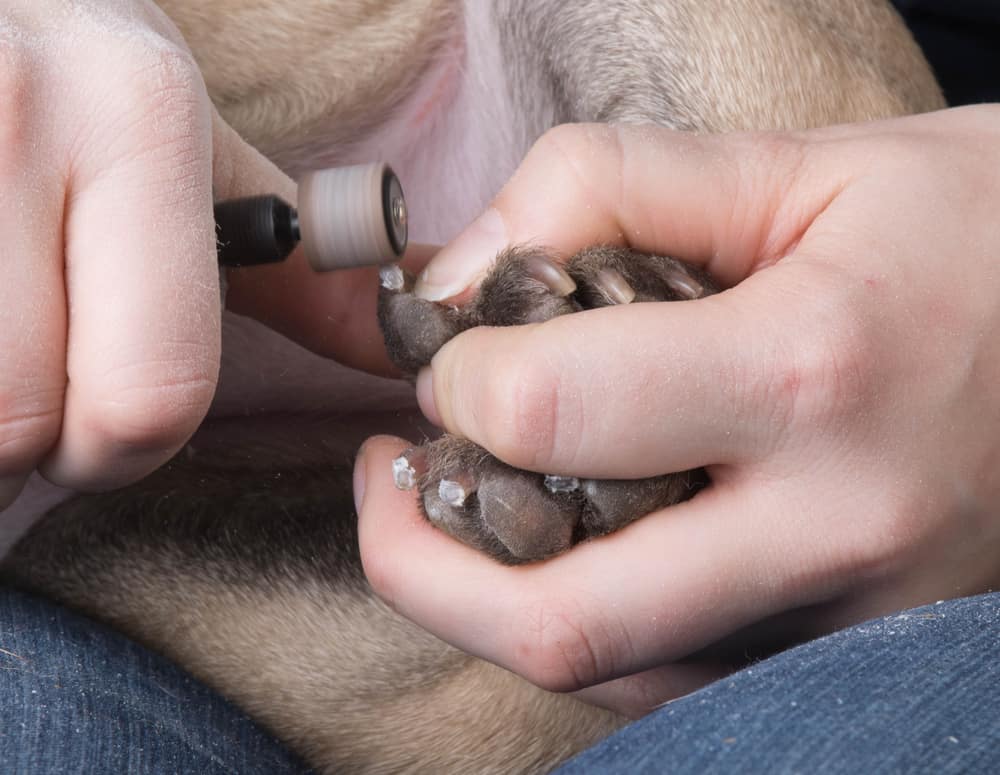 There is nothing more heartbreaking than hearing your dog's nails scratching at the floor and knowing that they are hurting themselves. Have you ever noticed how dogs sometimes struggle to fit through narrow doorways because their nails are so long? Long nails can be hard to handle and can make your dog feel disoriented and unbalanced.
Nails are essential for your dog's day-to-day life and sports like agility, they contain blood vessels and nerves. If they are too long or if the body is shifted too far back, the dog will have joint stress, joint pain and be at risk for injuries.
Long nails in dogs can be very harmful. A dog walks on its nails, so long nails can cause pain and discomfort for your dog and even make it difficult for them to walk. Long nails can lead to another range of problems, including discomfort, injury, and pain, and may disrupt our dogs' energy flow.
When nails get too long, they curl under and begin to touch the floor, making your dog susceptible to several issues. Furthermore, long nails can hurt dog owners and other people as well. It's especially important to maintain an emotional support dog's nails.
Nail trimming is not as complicated as it seems, and it's actually an easy and painless process if you know what you are doing.
If you are using a Dremel on your pet's nails, be sure to use the file to smooth out the nail and stimulate the quick to dry up and recede.
Professional dog nail trimming is the best option in many cases if you're not sure whether you can do it yourself. Aside from the fact that it's often less expensive to have a groomer do it, they will know how to do it properly. You can also get a nice overall groom for your dog, which is especially lovely in the hot summer months.
Here's a helpful video (2 minutes and 5 seconds) from Tier 1 Veterinary Medical Center that will help you further understand why you must trim your dog's nails.
How Do Dog Nail Grinders Work?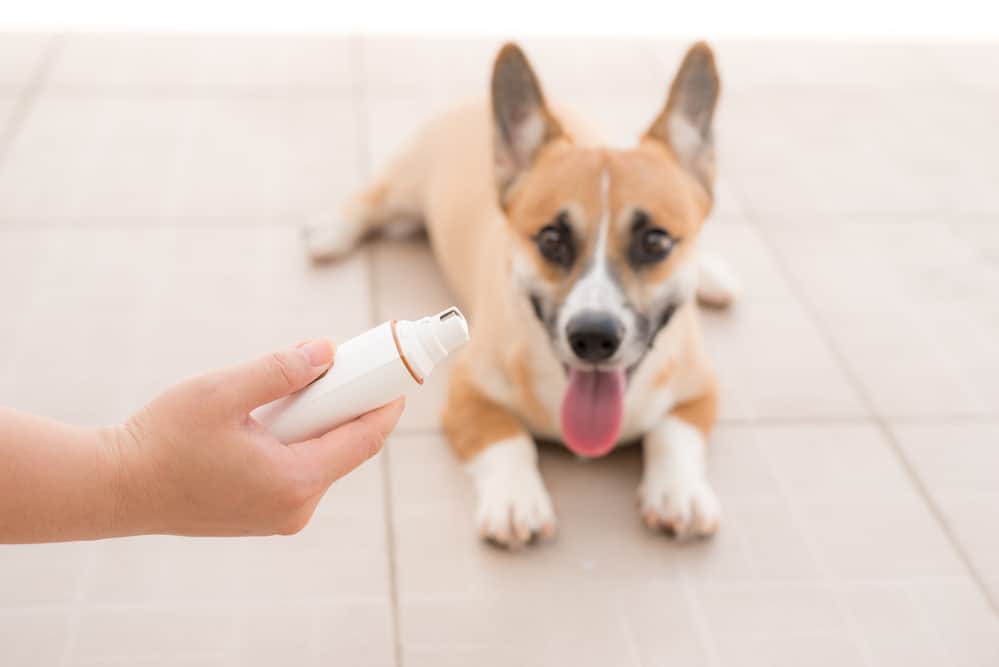 The dog nail grinders are an excellent way to keep your dog's nails at the perfect length. In addition to keeping your dog's nails looking beautiful, it also protects against the possibility of your having to clip your dog's nails too short.
The most economical way of grinding down your dog's nails (without having to make costly visits to the groomer) is with a dog nail grinder.
Also known as Dremels, grinders work by using a spinning grinding wheel to gently file down your dog's nails.
Nail grinders either have a power cord or are cordless and battery-operated. They have a cylindrical body and grinding head that makes shortening and smoothing the dog's nails easier than other trimming tools. Typically, most grinders use a rotating piece of material which is often sandpaper or grinding stone.
If used properly, dog nail grinders are virtually painless. However, it may take some time for your dog to become accustomed to the vibration.
Unlike dog nail clippers, grinders can get you a nice, smooth tip that looks quite natural, rather than the jagged tips that other tools may leave behind.
The best dog nail grinders provide several features such as multiple grinding speeds, LED lighting, and protective cases to prevent nail quick exposure, which may cause bleeding.
What's the Difference Between Dog Nail Grinders and Clippers?
Grinders help shorten the length of your dog's nail to a safe length by grinding their ends. It comes with a nail grinding tip to wear down the sharp angles and get them to an ideal size. However, It does take more time than a regular dog nail clipper. Grinders may also be suitable for dogs with tougher nails, or if your dog has black nails, it may not be easy to be precise using a regular clipper. Some nail grinders, such as Furminator Nail Grinder, are equipped with an automatic led light which will help you find the nail quick.
Most pet owners prefer using nail grinders owing to the ease of use. The best grinder will help in smoothing the dog's nails. Also, if you happen to own a medium to large dog, pet nail grinders would work well for them.
On the other hand, Dog nail clippers work like the regular clipping tools that you can use to trim your dog's nails [2] They come with curved blades, so they conveniently hold the nail.
Those with smaller dogs would like to go for scissors or, even better, guillotine clippers as their nails are not thick and can be easily clipped. Clippers are also for those impatient canines who are not very keen on spending plenty of time in nail grooming.
Even before we delve into the reviews of the different options available in the market, let's look at the advantages and drawbacks of using a dog grooming nail grinder tool.
Dog Nail Grinders Advantages
Reduces the risk of cut, pain, and bleeding.
Using grinders will also reduce any injury due to accidental scratches or hits to your pups' nail.
Reduce the sharp end by filing and smoothening.
Can be a replacement to nail file usage.
Many varieties such as battery-operated, rechargeable ones, cordless tools, etc.
Reduces anxiety as it does not produce much noise.
Ideal for dogs that have thick nails.
Avoids cutting near the quick, which is very painful.
It allows you to indulge in a guilt-free nail grooming experience for your pet.
Unlike the clippers, it does not produce sudden cracking noises.
Saves you from expensive visits to the grooming clinics.
Pets will have more rounded and smooth nails.
Affordable tools.
Highly portable and can be used anywhere.
Operates on the motor, which makes nail grinding effortless.
Can adjust the speed as per requirements.
It will not cause nail breakage.
Grinders will not cause pinching of your dog quickly.
Ideal for dogs with clipper anxiety.
Dog Nail Grinders Disadvantages
Time-consuming process - it takes more time to grind your dog's nail than clipping.
Noisy grinders can also be a cause of anxiety in your canines.
Battery changes, recharge, and replacement may be required.
Expensive when compared to clippers.
Produces a lot of fine dust from filing.
Nail Grinders or Clippers? You can use whatever type you are comfortable with and whatever works best for your dog. However, veterinarians advise against declawing a pet as a permanent solution, as it would essentially mean cutting off its fingertips. Many critics say such an approach is "barbaric and inhumane" [3].
Here's an in-depth before-and-after video (4 minutes 16 seconds) showing the difference between clipping and grinding your dog's nails.
It's always a good idea to get some styptic powder to stop bleeding if you cut a nail too short in case of using a nail clipper. If you don't have styptic powder on hand, corn starch may work too as a temporary solution as it will only stop bleeding quickly, but it won't disinfect or numb the pain.
Tip: We always recommend consulting a professional groomer for first-time dog owners, and in case you accidentally cut the quick and faced dog nail bleeding, we encourage you to seek veterinary help immediately.
Dog Nail Grinding Tips & Tricks
Dog nail grinding is a delicate process that involves grinding your dog's nails without overdoing it. Otherwise, you could do more damage than good. We understand that dog nail grinding can seem overwhelming, so we're here to clear up any confusion. You'll have your dog walking around with smooth, healthy, and attractive nails in no time.
The first step in properly grinding your dog's nails is to make sure you have all the necessary equipment. It is important to remember that the more consistent you are with your dog's nail grinding routine, your dog is less likely to resist it.
Then, start introducing the nail grinder to your pet gradually and gently to familiarize it with the sound's rotation and sound. This also gets your pet used to having something near its paws. Then, smoothly squeeze the paw to present the nail to the grinder, and move it in small circles, slightly and gradually increasing the speed as your dog gets used to the rotation and sound of the grinder.
Make sure to reward your dog after a successful nail trim. Give your pet its favorite snack as a prize for every accomplishment to build a connection between nail grinding and reward.
Give lots of praise and affection during the process if they're nervous in their first time grinding their nails. This will help them feel excited about doing it in the future.
Keep your dog's nails short by repeating this process every couple of weeks.
What angle do you cut a dog's nails?
When you & your dog first start the nail grinding adventure, you may have difficulty finding the correct angle to hold the nail grinder against your dog's nail. The key is to maintain the grinder at a 45° angle from the top of the nail. This will ensure that you get the closest cut to the nail without damaging the quick.
Frequently Asked Questions
Keeping your dog's nails trimmed is a necessary part of dog ownership, and it is recommended that you do it regularly. But dog nail grinders can be confusing to select and harder still to use correctly. Here are some answers to frequently asked questions about dog nail grinders.
Can You Grind Long Dog Nails?
The short answer is yes; you can grind long dog nails with a Dremel.

However, these electric tools work slowly and take longer to get the nails to the desired length.

The grinder requires some setup because it must be charged before use. It also has a vibration and noise that some dogs may not like.

Nail grinders may also make your dog's nails very hot if used for a long time, which can be uncomfortable for your canine.

The best thing is to use grinders after clippers for overgrown nails just to give them a smoother finish. Since grinders slowly grind down as opposed to a clip, you will have less chance of grinding to the quick.
Do Large and Small Dogs Need Different Grinders?
Size, age, and breed determine a puppy's particular needs, likes and dislikes, and personal needs.

You can use nail grinders for dogs of any size. However, the size of the nail grinder may be an issue for small dogs. Pet owners of small dogs with thin nails may be best off buying a grinder specifically for small dogs. On the other hand, larger breeds with thick nails can probably get away using a grinder designed for small dogs.

Before you purchase a nail grinder for your pet, it is essential to consider some factors. Large dogs have larger nails than smaller dogs, and they need grinders that will handle their toenails.

If you have a large dog, you will need a powerful device with multiple levels. Most pet owners choose a dog nail grinder based on how often it will be used, and some may even opt for a complete grooming kit that includes dog nail grinders.

For small dogs like Chihuahuas and Poodles, make sure the grinder has a nail guard (protective case).

Efficient grinders offer an automatic LED light's added safety benefit to ensure the quick is protected when grinding black or dark-colored nails, especially for small-sized breeds.
Are Nail Grinders Safe For Dogs?
The main reason why many pet parents choose nail grinders is solely due to the safety aspect. They don't want to carry the guilt of hurting their beloved pets while attempting to cater to their grooming needs:

- Nail grinders wear down the dog's nails to a safe length. You will maintain a safe distance from the quick, so you do not end up grinding too much.
- It is also important you follow the instructions given on the package. Use the nail grinders with the safety guard cap initially, and as you get familiar with its working, you can work your way around.
- Please make sure you get your dog used to the device's gentle hum and vibration so he does not panic this tool also does not make a sudden cracking sound, causing a lot of anxiety in your pet.

Though it is a time-consuming process, it is safer and more comfortable to use than nail clippers.
Is It Better To Grind Or Clip Dog Nails?
There has always been this debate regarding dog nail grinder vs. clipper. The best dog's toenail grinder does not produce much noise, and even the device's appearance is not as intimidating as the clippers.

- The nail grinders work on a motor with the help of power; hence, it does not require much effort from the pet parents' end.
- It also comes with a host of safety features such as adjustable guards, convenient exterior grips, and control buttons for safe and efficient use. Some versions also come with an auto-stop option to prevent the fur from tangling in the spinner.
- It helps dogs who are skittish and anxious when they see the clippers. The noiseless operation makes it easier to use, even with the most challenging pet.

Nail grinders can be a bit more expensive than clippers. However, you can learn about the whole nail trimming routine without worrying about hurting your dog's paw.
How Often Should You Grind Your Dog's Nails?
The frequency of nail trimming can depend on several factors:
- Age: If you have an aged dog, he is less likely to move around and hence will need his nails clipped more often than pretty active dogs. The younger ones who move around a lot will have their nails against hard surfaces, causing natural wear.
- Activity: If you happen to take your dog on frequent walks, the nails tend to brush on the surface more often, leading to natural wear down and will not require clipping or grinding.
- Surfaces: If your dog walks a lot on grass or dirt, his nails will not be exposed to the natural wear-out process. In contrast, a dog that walks on asphalt, concrete sidewalks, or any other hard surfaces will need a less frequent nail trimming routine.
- Breed of dog: There are a few dog breeds wherein their nails tend to overgrow compared to other species. Also, some small pets such as Chihuahuas and Poodles, who spend a lot of time indoors, will need to get their nails done more often.
What Happens If You Don't Cut Your Dog's Nails?
Cutting your dog's nails can actually make a big difference when it comes to their comfort and health. If you've ever accidentally stepped on a dog's paw, you know just how painful it can be. But dogs are especially prone to get tangled in their long nails, which can lead to other painful problems. For instance, their claws can curl under and grow into paw pads.

Here are some potential outcomes when you allow your dog's nails to grow too long:

- If nails are not kept at a desirable length, it can cause discomfort to the dog while walking. Your pup may not be able to put its paw firmly on the ground.
- Long nails are known to cause bone and joint issues in dogs.
- The most pressing concern due to long nails may be the risk of snagging or breakage. This can be a harrowing episode for your pet, which might require vet visits, and in the worst cases, it can lead to the removal of the nail.
- There is a possibility of the nails getting curled and growing into the dog's footpads, which can lead to infections [4] and cause a lot of pain to your puppy.
- Long nails can cause injuries to pets and their owners, especially if they are quite playful. This is quite important if you have kids around your pets.
What Do I Do If My Dog Won't Let Me Cut His Nails?
Patience and Empathy are the keys to getting your dog accustomed to this grooming thing.

- Use the appropriate device: Select the tool that your pooch is comfortable with, or instead get him/her used to the device before attempting the nail grinding activity.
- Try handling your pet's paws: he must get used to someone holding his paws even before cutting his nails. You can gently rub your dog's feet and treat him with goodies for allowing you to handle his paws.
- Always have another person with you: When you are cutting your dog's nails, you can have the other person hold the pet while you do the nail trimming.
- Give him treats: Give him a bone or any of his favorite treats to reward his calm behavior.
- Talk to the vet: If you are having difficulties after trying all this, it may be a good idea to consult the vet on how you can effectively go about this. Each breed may need a different approach.
Final Thoughts
Dog nail grinders are one of the most popular and perhaps controversial dog grooming tools. Some dog owners are fiercely loyal, others absolutely hate them, and a third group hasn't even heard of them.
Whatever your stance on nail grinders, there are a few things everyone agrees on. First, dogs with too long nails are uncomfortable and can develop behavioral issues and even medical complications. Second, grinders remove the danger of cutting the nail quick, so pedicuring is safer and more effective than nail clipping.
Thank our paw-perfect reviews later for making this rather grueling routine into an easy task. Dog nail grinders are safe and an effective solution to keep your dog's nails smooth and rounded. We have recommended the ten best variants considering the affordability, convenience, and safety of your pets. Hence after considering all the traits required for nail tools such as noise, value for money, safety, and ease of use, we nominate LuckyTail Dog Nail Grinder as our top pick. You can use this grinder dog nail trimmer under two different modes to suit your pet's nail type. It is lightweight and ideal for use in all breeds of dogs and cats as well. It comes with all the required accessories and additional sanding drums.
No matter which model you are going to choose from our recommendations, be sure you get your canine used to the device before attempting the grooming exercise.
---
References:
Foot and nail care essential for pets. Baltimoresun.com/Maryland/Carroll. Retrieved from https://www.baltimoresun.com/maryland/carroll/opinion/ph-cc-pet-wise-112016-20161116-column.html
A Stress-Free Way For Trimming Your Dog's Toenails. Dogs Naturally. Retrieved from https://www.dogsnaturallymagazine.com/trimming-your-dogs-toenails/
Cat declawing: Should it be banned, and why does it happen in the US? BBC News. Retrieved from https://www.bbc.com/news/world-us-canada-48528968
Nail Neglect Can Lead to Health Problems for Your Dog. American Kennel Club. Retrieved from https://www.akc.org/expert-advice/health/nail-neglect-can-lead-to-health-problems-for-your-dog/
You May Also Like