The 10 Best Training Collars for Stubborn Dogs
First published:
May 6, 2022
Last updated:
October 12, 2023
We are supported by our readers and we may earn a small commission when you click on some of the links at no additional cost to you. Our full disclaimer can be found
here
. Thank you.
Summary
Our top pick for the Best Training Collar for Stubborn Dogs is the SportDOG Brand 425X Remote Trainer. It features a long range of 500 yards, is waterproof to a depth of 25 feet, and has 21 levels of static stimulation, making it ideal for training stubborn dogs in any environment. The remote control can also operate up to three collars simultaneously, making it a versatile tool for multi-dog households.
Dogs come in a variety of breeds, and as a result, their skin, weight, height, and other physical characteristics vary. Additionally, certain dog breeds are stubborn and can't be taught to be obedient by conventional methods. Choosing the best training collar for stubborn dogs is a challenge because their training needs differ somewhat from those of other breeds.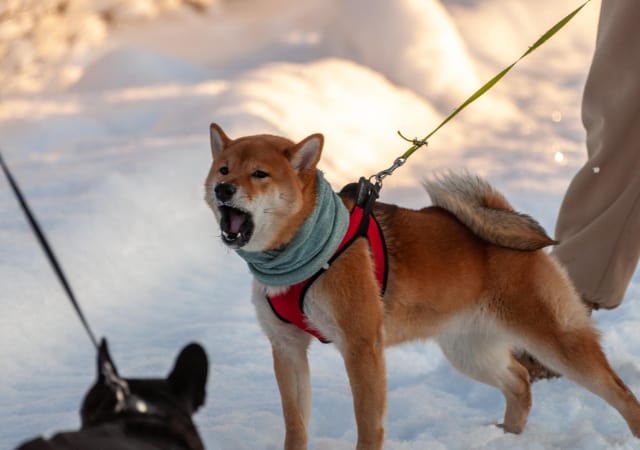 A training collar is a collar used by dogs to address behavioral issues. On the collar is a deterrent that fastens or tugs the pup if they behave badly.
If you have a dog, you'll need a high-quality electronic collar to help you modify their bad habits. Dog collars come with a variety of settings, including adjustable shock and vibration levels, so you can always choose the right one for your pet.
How Does an E-Collar Work?
E-collars work with remote control and a receiver attached to the collar of your dog. If you're looking to buy a dog shock collar, the process might be time-consuming and even difficult! Keep in mind that the optimum amount of exercise and positive training for your dog's breed is crucial for any high-energy adult dog. One of the most important functions of a shock collar is that it never injures your beloved pet. Choose the shock collar depending on its range, beep option, corrective level, and rechargeable option.
Pet owners can activate the collar's remote control by pressing a button on the remote. From his electronic collar, the dog will be given a modest electric stimulation.
An aversive avoidance training technique is used in this type of training. You should only utilize the vibrating setting on your dog's training collar if it has one. There are a few more names for the vibrating dog training collar, including the radius shock training collar and remote training collar for dogs.
It is important to utilize vibrating dog collars in an ethical and humane manner if you want to get the most out of them. As a result, the outcomes can be seen quickly. Remote training with a vibrating collar and positive reinforcement is effective for the majority of dogs. Just make sure you're using the lowest possible levels of stimulation.
The right way to use any remote training collar can make it a valuable tool. However, working with a positive trainer to learn how to use this training technique properly will provide more beneficial outcomes for both you and your furry best friend. Small dog training can help curb and prevent unwanted behaviors and responses.
You May Also Like: The 10 Best Retractable Dog Leashes - Reviews & Buying Guide
The 10 Best Training Collars for Stubborn Dogs
Beginning early in life, positive dog training is a lifelong process. Your effort spent training your puppy will pay off with a happy, well-trained puppy. It may take longer to effectively teach a stubborn dog, and you will need the necessary equipment and patience.
Positive dog training with rewards is a lifelong way of life for your animal best buddy. Consult a positive dog trainer if you're having trouble training your pup. You can use Skype or Zoom. In the meantime, here are our top 10 dog training collars for stubborn dogs.
Sportdog Brand 425x Remote Trainers
The SportDOG 425X Remote Trainer is advertised for hunting and sports dogs, but its quarter-mile range and waterproof build make it a versatile training tool for any dog owner. Static, vibration, and tone settings are available on the collar, and each remote can operate up to three collars simultaneously—ideal if you're sporting with numerous dogs.
The SportDOG Remote Trainer features a 1,500-foot range and is waterproof to a depth of 25 feet. Due to the adjustable collar, it may be used on any dog weighing more than 8 pounds and provides 21 levels of static stimulation. Additionally, its batteries last 50 to 70 hours on a single charge, and it comes in a matte gray or camouflage appearance.
Features
Due to the increased static stimulation range, it is ideal for training in the yard or on the field.
Submersible and waterproof
Batteries that are rechargeable
Pros
It is waterproof to a depth of 25 feet and has a range of up to 500 yards from the remote control.
The remote control is compatible with a maximum of three collars.
Numerous training choices suitable for all breeds of dogs
Cons
It might be fairly challenging to operate.
It can be challenging to adjust the collars' settings.
If you're searching for a shock collar for large dogs that is both sturdy and effective, this is the collar for you. This collar is included on this list due to its durability and high construction quality. During the process of making this high-performance dog collar, it feels like there is no compromise when it comes to its durability.
Dogtra Edge Long Range Remote Dog Training E-Collar
The Dogtra Edge E-collar is specifically built for single-handed use, featuring a straightforward transmitter and receiver that provide exceptional performance. This collar is capable of training four dogs simultaneously and has a button for communicating with the dog.
There is an LCD for monitoring the dog's performance. The training collar has a one-mile range.
Additionally, the collar contains a beacon and the receiver contains an LED light, providing an excellent optimized light-tracking mode. There are two types of correction modes: one in which the nick remains for one or two seconds and another in which it remains for twelve seconds continuously.
There are numerous color options available for the beacons and receivers, and even the LED light comes in four different hues. The Dogtra E-collar is capable of training even huge dogs weighing up to 35 lbs.
Features
The easy one-handed handheld transmitter provides modern technology for training up to four canines.
Each button on the remote corresponds to a different dog, and the LCD screen displays the correction level.
Interchangeable correcting dial with a range of one mile
Developed for one-handed use and equipped with cutting-edge technologies for training up to three dogs
This high-output e-collar is ideal for dogs weighing up to 35 lbs.
Pros
Two modes of correction
You have a variety of color options.
The selection of the correction level is reliable.
Range of one mile
Four dogs can be trained concurrently.
LCDs to monitor progress equipped with a pager vibration to transmit vibration
The Dogtra Edge is perhaps the best product available in today's dog market. The main disadvantage is the price, but in certain ways, you get what you pay for. These are just a few of the advanced features available on a training collar.
SportDog Brand No Bark Rechargeable Control Collar
When it comes to electronic tracking and training, the Sport Dog Brand is one of the most recognized pet brands. It has Silent Partner technology, which rapidly identifies your dog's distinctive barking style and filters out the rest, avoiding any erroneous corrections. This collar is equipped with three customizable modes. Temperament Learning, Progressive Correction, and User-Selected are just a few examples. Additionally, there are ten degrees of static stimulation available. This collar is waterproof and submersible to a depth of ten feet. The lithium-ion rechargeable batteries take two hours to charge and have a capacity of 200 hours per charge.
Temperament learning begins at level one and progresses at a rate of one level every time your dog barks within 30 seconds of the previous bark.
Features
Watertight and submersible
Nylon strap that is odor-resistant, robust, and coated
Reasonably priced
Equipped with progressive correction
Manual selection by the user between 1 and 10
Familiarizes what works well and maintains it
Pros
Effective in heat and cold, snow, rain, dust, mud, and wind
Static stimulation at ten levels
Silent Partner Technology is a pending patent.
Designed with an OLED display
Corrects only when your dog barks
Lithium-ion rechargeable battery
Allows for the selection of three customizable training modes
Provides 200 hours to spare
Cons
Consumers are alleging that they are being zapped even when the dog is not barking.
Inconsistent corrections
Consumers are saying that their dogs are getting neck burns.
We appreciate this dog training e-collar for stubborn dogs since it comes with a comprehensive operating manual, is reasonably priced, incorporates Silent Partner Technology, and adapts to your dog's individual barking style.
The Sport Dog Brand No Bark Rechargeable Bark Control Collar is ideal for beginning and advanced dog training sessions. It is completely waterproof, which is quite advantageous for both the pet owner and the dog. It enables hard training sessions to take place outside, in the water, on rainy days, and on damp grass or in similar conditions. You will no longer feel compelled to keep your dog inside during inclement weather, as his conduct outside will no longer be an issue.
Patpet Waterproof P-Collar 640
The PatPet remote dog training collar is ideal for dog owners looking to train their wayward or mischievous canine companions. You can use remote dog training to rectify your dog's misbehavior due to its broad range and compassionate corrective techniques. However, this should not be used on aggressive dogs.
This is considered one of the best waterproof dog training collars with a fully waterproof (IPX7) receiver and an IPX5-rated remote transmitter. You may train your dog easily while it is raining and they are playing in puddles or even swimming.
The receiver is equipped with metal contact sheets that are particularly helpful when dealing with long-haired canines. Additionally, it features soft conductive silicone covers that preserve the coat and skin of your dog.
On the other hand, there is no lock button to avoid unintentional shocks, and the 16 static settings provide little scope for experimentation.
What's included: a user manual, a test light, a wrist strap, a USB charging cable, a charging adapter, four contact points, an adjustable collar, a remote transmitter, and a receiver.
Features
Remote range of 3,000-ft
Tone, vibration, and shock commands
Expandable to a two-dog system
16 progressive intensity levels adjustable for shock
The backlit LCD display indicates intensity level and battery
Rapid charging for two hours battery made of lithium polymer
The receiver is completely waterproof
Blind operation with touch-separated mode buttons
Pros
To avoid accidental contact, two sides of the collars have been raised.
Buttons are anti-stuck in their design.
Remote control that is waterproof
Battery life is excellent, lasting up to 60 days.
Additionally, a mute training design is offered.
Cons
The remote caped range is 330 yards.
A user handbook is challenging to comprehend.
If you activate the device continuously for ten seconds, it will shut down automatically.
While no dog is perfect, the PATPET Outdoor Remote Dog Training Collar is an excellent alternative for your canine companion's undesirable tendencies. It enables you to deliver a safe but obvious message when they engage in inappropriate behavior. A simple remote control allows you to choose from a variety of unpleasant beeps, vibrations, or mild electric shocks—and notifies you when the stimulation becomes too harsh for your furry pet.
Pet Safe Rechargeable Bark Collar
Pet Safe is a well-known pet brand with a 30-year history. This collar learns to recognize your dog's bark, preventing the collar from issuing a false correction to your furry best friend. This is another water-resistant collar constructed of strong nylon and plastic. It includes a rechargeable battery with a 40-hour power life and serves as a safety reminder to your dog to keep quiet.
What makes this collar unique is that it is meant to distinguish between your dog's bark and other noises. This package includes a test tool that enables you to evaluate the product prior to training. Static correction is adjustable on a 15-level scale to aid with training.
Features
Adjustable to accommodate dogs of all types and sizes (adjusts up to 27 inches)
Reasonably priced
Gentle & adaptable with a variety of control options
It incorporates a novel bark sensing technique.
Effective for restraining excessive barking
Constructed as a thin, waterproof collar
When a dog begins barking, they receive the lowest amount of reprimand from the collar.
Equipped with an integrated automatic stop mechanism for maximum safety
Pros
Bark collar with rechargeable battery and an adjustable band
Includes a test tool for extra security
Equipped with a USB charging adaptor
Quick-start guide
The collar is waterproof and includes static correction.
There is no programming necessary.
Cons
Collars in the traditional design
The PetSafe Rechargeable Bark Control Collar allows you the freedom to instruct your dog to quit barking excessively and unnecessarily.
It essentially trains your dog for you. The static stimulation begins at a low level and steadily increases as your dog barks. The static correction will then cease as your dog calms down. Indeed, this characteristic renders the bark collar completely harmless and effective on both sensitive and/or recalcitrant dogs.
Herm Sprenger Black Stainless Steel Prong
This is a German-made black stainless steel prong collar. This variant includes a swivel for attaching the leash. The links are detachable, and the prong points are slightly beveled. The links are created by interlocking them and can be added or detached (up to four links) to adjust the length of the collar.
The Herm Springer black stainless steel collar is constructed from durable black German steel that is resistant to rust in all weather conditions. A martingale chain slides to allow for precise correction. This collar can be used in place of a choke chain and evenly distributes pressure around the neck. Bear in mind that this dog training e-collar does not exert direct pressure on the trachea and that the middle link is configured symmetrically via a center plate connector. This enables the prongs to tighten equally.
Features
German anti-rust steel for all-weather application
A swivel leash attachment is included.
Detachable links
Pros
Martingale chain slides with a wire gauge of 4mm allow for precise adjustment.
Links that interlock
It includes an O-ring and is available in three sizes.
Assures the highest level of safety
Reasonably priced.
Numerous favorable reviews
Cons
To be used humanely and correctly, it must be employed by a professional dog trainer or first under the instruction of one.
The Herm Sprenger Black Stainless Steel Prong stainless steel collar is one of the best products for your dog. The item will serve your dog for many years without rusting due to its seawater resistance and rust-proof properties. Stainless steel contains chromium and nickel, not simply on the surface (compare - steel with chrome coating that can be easily damaged and result in rusting). So even if the steel is cut or scraped, the microscopic layer will regenerate. This makes it the most corrosion-resistant substance.
Garmin Delta XC Bundle
Garmin's Delta Sport XC trains your dog in three different methods and is quite easy to use. With continuous as well as momentary stimulation, vibration, or tone, your dog will quickly become well-behaved. You can even combine the three into a single session. The three correction settings, which are accessible on the LCD display, enable the trainer to choose the most appropriate training method based on the situation and the type and temperament of the dog. Garmin Delta XC also includes the option to control and switch between up to three dogs. Additionally, the device features an adjustable, customizable BarkLimiter, which includes an Advanced Bark Correction function. This teaches dogs to distinguish between their owners' desired and unwanted barking, which results in positive behavior.
Features
Handheld controller unit featuring an intuitive three-button layout and an easy-to-read LCD display.
18 degrees of stimulation, including brief and continuous stimulation, as well as tone and vibration
Contact points that can be changed/replaced — long and short three corrective setups for various behavioral concerns
Train one, two, or three dogs, according to the settings on the handheld (with purchase of additional dog devices)
Pros
The collar is extremely durable
Three options for configuration
Includes interchangeable/replaceable long and short contact points.
The battery is of superior quality and will last a long time.
Cons
The supplementary guide is necessary to ensure optimal training and operation.
One may be confident that the Garmin Delta XC provides the maximum level of safety for the dog, as it corrects undesirable behaviors without inflicting pain or harm. The radius of action is quite large, which is ideal for owners with big expanses of land.
Similarly, it adjusts to those who own multiple pets, providing them with the tools necessary to control each one independently and with a single remote control. The strength is evident, and its resistance to external forces is guaranteed.
Bousnic Shock Collar For Dogs
The Bousnic training collar is an excellent choice for owners and trainers searching for a short-range collar. It is a waterproof collar that is also rechargeable.
This collar has a range of 1000 feet, which is ideal for dogs who like park walks but dislike being separated from their owners or trainers. Within a 1000-foot range, the Bousnic collar includes three stimulation modes: vibration, beep, and safe shock. These parameters are programmable for up to 16 levels of intensity.
Pet owners with several pets can use this collar with two dogs simultaneously. Additionally, this collar features twin channels for operating and controlling both animals concurrently.
Features
Three incredibly effective and safe modes are available: beep (standard), vibration (standard), and
safe shock (adjustable 1-16 levels)
The remote control has an ergonomic design.
100% waterproof
Battery life is extended
Pros
Numerous training options
Dual remote channels provide the optimal level of dog control.
Batteries may be charged using a phone adapter on the waterproof collar.
Cons
Collars are prone to wear out
Shock collars may prove ineffective for some canines
With a transmission range of 1,000 feet, the BOUSNIC shock collar is one of the best electric dog collars on our list for agility training and recall practice. However, because the controller cannot be tied to a lanyard, you must carry it in your hand to avoid accidental activation, which could result in confusion and unneeded stress.
Pet Resolve Dog Training Collar with Remote
Pet Resolve has received an incredible new makeover with the addition of a detachable shock function. You can disable the shock function and configure the device to operate solely on vibration and buzzer. This high-quality dog training collar is ideal for training up to three dogs concurrently. We prefer this dog training collar for difficult dogs since it has an extremely long range with memory and is made of high-quality plastic that will not break easily. Additionally, dogs may swim across rivers while wearing the collar, and it will still work. Due to the absence of a standby mode, the Pet Resolve Dog Training Collar allows you to promptly punish your dog. This eliminates confusion and ensures that your dog understands the correction.
The Pet Resolve dog training system is constructed from tough materials that will not shatter if dropped. With a range of 34 miles (1312 yards), this is an excellent choice for hunting and working dogs because it covers the largest fields. This premium training collar has received numerous great reviews from delighted customers.
Features
Features Identification of the dog
Designed with a range of 3/4 mile
The collar that is waterproof (can be fully submerged)
There are ten levels of shock and vibration, as well as a beeping feature ( 3-modes)
Shock mode is detachable.
Pros
Affordable
Each remote is capable of controlling up to three dogs (with extra collars) and stores memory for each dog.
Provides a two-year warranty
Features 4 sizes ranging from tiny to extra-large Adjustable shock and vibration settings, as well as two-centimeter-long prongs for long-haired dogs
Ten different intensities of shock stimulation
Battery with a very long life (LI-ion battery)
There is no standby mode, which saves you time and enables rapid action.
Can assist sound mode primarily in eradicating undesirable behavior
The system that has been recently updated
With the purchase of the Pet Resolve dog training collar, you will receive a complimentary clicker and dog training whistle.
Cons
According to reviews, customer service needs improvement.
Pet Resolve's objective has always been straightforward: to deliver a cheap solution that genuinely works. The Pet Resolve Dog Training Collar is a budget-friendly breakthrough that aims to employ the highest-quality raw materials while being user-friendly. Additionally, it has many tweakable settings that you may use to teach your furry buddy a variety of commands.
It is functional in that it is inexpensive, robust, dog-friendly, and backed by a two-year warranty.
Educator E-Collar Remote Dog Training Collar
This training collar features an incredible spectrum of stimulation levels ranging from 1 to 100, as well as a boost stimulation level ranging from 1 to 60. Additionally, the stimulation is "soft" rather than "aggressive," which helps to alleviate any stress on your dog.
The receiver is waterproof and features many contact points to accommodate dogs of all sizes, while the biothane collar measures 30 inches in length and may be shortened to fit your dog's neck. While this fully-featured training collar comes equipped with a plethora of settings and training methods, we found configuring it to be extremely hard. Additionally, it has a subpar battery life when compared to other training collars. Nonetheless, this is an excellent alternative, particularly if your dog enjoys roaming, because of the vast range.
Features
For dogs weighing five pounds or more
With ergonomic "stopwatch" transmitter in a small package
User-selectable stimulation intensities ranging from one to one and a half miles
Ergonomic innovation
The transmitter and receiver are both waterproof.
Resistant to shock
Has a tracking light for night use
Pros
Extremely long range
The collar can be customized
Has a tracking light for use at night
Cons
Prices higher than competitors
Complications in design
The Educator E-Collar is an excellent alternative training collar for little dogs that require mild to medium vibrations to help them become less stubborn. These have a half a mile radius, which is great for a tiny dog that likes to explore. The collar is equipped with an LCD screen that allows for easy adjustment of the vibration level.
Buyer Guide: What to Look For in a Dog Training Collar
Not every collar available on the market is a worthwhile purchase. Without due diligence, it's possible to end up with a subpar product that does not operate as stated or as required. Consider a few criteria when choosing your collar to avoid this issue.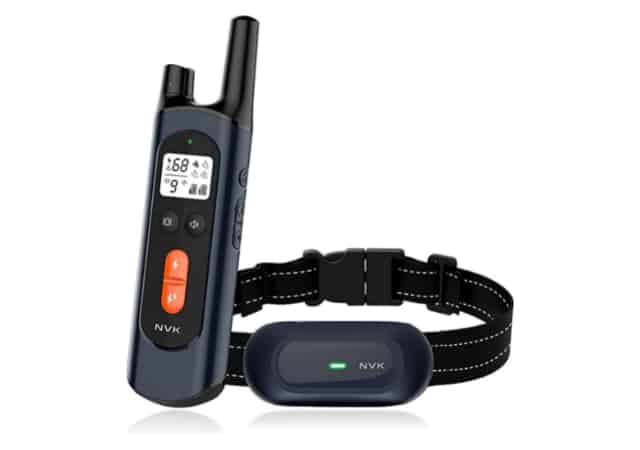 Comfort
The first element to consider while selecting the best training collar for recalcitrant dogs is the dog's size.
Certain collars are adjustable, while others are not; therefore, before purchase, ensure that they will fit properly and are completely comfortable around your dog's neck.
As a general guideline, you may determine the proper size of a collar by placing it around your dog's neck and attempting to fit two fingers within. The size is correct if your fingers fit comfortably between the neck and the training collar.
The collar's size must be comfortable but with that, the collar's material must be comfortable too. Most dog collars are made of nylon, while some are made of leather.
Most people opt for nylon collars for their dogs, but you can go for the leather ones if they are not comfortable.
Shock Level (Stimulation levels)
When it comes to stubborn dog training collars, you want something that produces a significant vibration mode to stimulate your dog's interest. This is not the same as injuring or causing them pain, so do not be alarmed!
The majority of dog training collars include warning vibrations or alarms before the actual shock that causes your dog discomfort. However, if you believe that the training collar may cause your dog discomfort, you can begin by setting it to the lowest shock intensity possible and then adjusting it as necessary.
There are two types of stimulation: momentary stimulation (short-term shock) and continuous stimulation (longer shock from 8-10 seconds).
Battery
Selecting the appropriate battery for your dog's training collar is critical to achieving the greatest outcomes with shock collars. Before recharging, you should examine the volume and duration of the charging process, the duration of the low battery warning, battery replacement, and run-time. It is preferable to avoid having your dog bark when the remote's battery is low, as you will be unable to manage it!
Price and Brand
A dog training system can be a significant investment, costing upwards of $200. Therefore, you must ensure that it will not exceed your budget, particularly if it is not necessary.
However, there are numerous economical solutions available that may save you money, but if they are low-quality knock-offs, they may cause harm to your dog. Therefore, exercise caution when evaluating the pricing.
With all of these considerations in mind, selecting one of the best training collars for stubborn dogs becomes much easier and allows you to begin training immediately!
Distance range
This feature will inform you of the maximum distance your dog can travel while wearing the device. The majority of training collars have a range of between 1/2 and 1 mile.
However, the extent to which you allow your dog to venture beyond your observation range is entirely up to you. We recommend that you stick with the standard range.
Speed and Reliability
To be effective with dog training, your dog must associate the stimulation provided by the dog training collar with the behavior you wish to discourage. This demands an instantaneous delivery of stimulation upon a trigger, which necessitates a quick, stable wireless connection between the transmitter and the collar.
Numerous inexpensive dog training collars have unstable or slow connections. To ensure reliability, E-Collar models are assembled and tested in the United States. Indeed, testing indicates that they can resist pressures of up to 5,000 G-force and survive up to 500 feet below sea level, making them the world's hardest electronic dog training collars.
Waterproof
Never buy a collar that is not completely waterproof. Even traditional collars should be waterproof such as the collections sold by Biothane collar.
Training collars must be able to withstand the filthiest conditions a dog can throw at it. For dogs that enjoy running, playing, and digging in the dirt (which is the majority of them), a shock collar that is not waterproof is likely to stop working after the first rainy day.
Avoid falling for the "water-resistant" deception. This label indicates that an object is somewhat waterproof but has water resistance restrictions. While these products will survive a little longer, they will still succumb to moist conditions. Ascertain that the labeling reads "waterproof."
Frequently Asked Questions
The following are frequently asked questions concerning training collars for stubborn dogs.
What's the Need for a Training Collar?
E-collars provide stimulation or shock to deter undesirable behavior. E-Collars feature adjustable degrees of motivation and can assist your dog with undesired behaviors. An e-collar is beneficial for both tiny and large dogs, and the adjustable intensity of stimulation teaches your dog the essential behavior.

Shock collars should never be used in place of positive dog training, particularly on puppies. You must completely grasp that simply taking relaxed walks with a high-energy dog breed is insufficient! Bear in mind that dogs require a high level of environmental stimulation, positive dog training beginning at a young age, and ample off-leash exercise.

It is critical to start with the least amount of stimulation possible, as each dog is unique. E-Collars are advantageous since they help keep your dog safe in potentially harmful situations or near busy streets. Additionally, they can assist you in resolving undesirable behaviors including excessive barking, digging, and, most significantly, jumping up on your guests.

Do Electric Stimulations Hurt the Dogs?
They do not, because the stimulations are often so mild, they will have no adverse effect on your pet. The majority of training collars will vibrate as a warning before administering a minor shock to stop the dog from doing unpleasant things or misbehaving.

When training using a shock collar, you must take care not to inflict discomfort on your dog. Each shock collar incorporates a primary shock mechanism with variable degrees of intensity. By collaborating with a positive dog trainer from the start, you'll have the greatest dog training methods and the best interests of your dog on your side while utilizing the radius shock collar. Avoid employing high-level frequencies that induce pain at all costs.
Can You Use A Shock Collar On A Puppy?
Your puppy's bad habits may prompt you to use an e-collar immediately. However, you should wait until your dog has mastered basic commands before employing a shock collar. For puppies to be able to follow directions, they require time to develop the necessary attention span.

To PetSpy and other experts, dogs under six months of age should not wear e-collars. Why? E-collar training and stimulation for puppies under the age of six months may not be possible. It's critical to determine the optimal age at which dogs can begin utilizing shock collars in order to guarantee that they are used properly and successfully without creating emotional discomfort.
Can I Train Stubborn Dogs?
Stubborn dogs are not rowdy or reactive. They aggressively disobey fundamental commands. As a result, you must provide more effective instruction by utilizing collars to resolve their persistent unwanted behavior.
Final Thoughts
Certain dogs require behavior modification, which requires owners and trainers to select the appropriate training collar for stubborn dogs. These collars aid in the proper development of your canines. You may now relax, as you can select the ideal one for your pup from the selection above.
You May Also Like