10 Best Chameleon Cages Comparison
First published:
October 11, 2020
Last updated:
September 6, 2023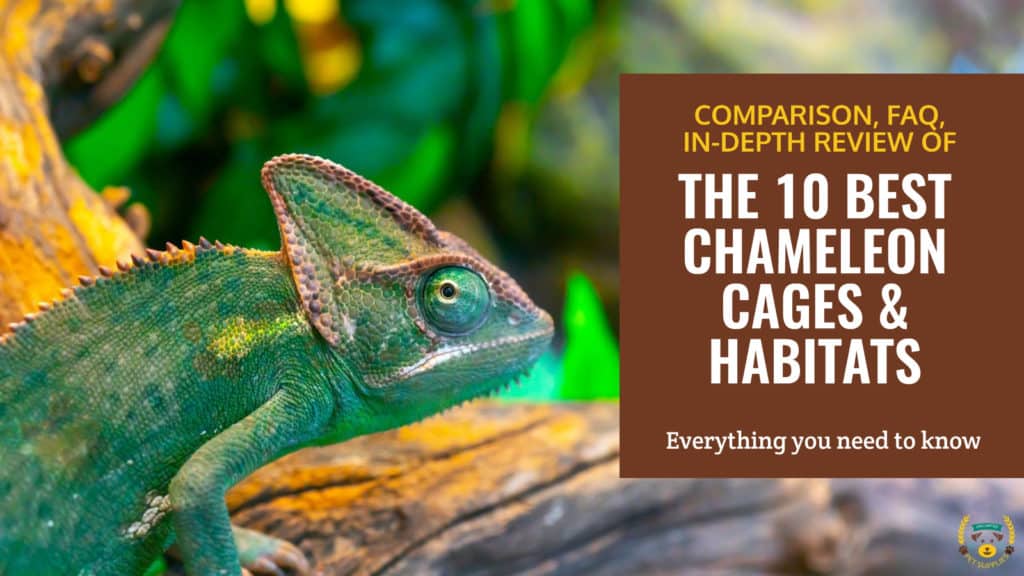 We are supported by our readers and we may earn a small commission when you click on some of the links at no additional cost to you. Our full disclaimer can be found
here
. Thank you.
Are you thinking of bringing home a pet chameleon [1]? If yes, then you must bear in mind that a chameleon is nothing like any average pet. They have specific needs that you must take care of to ensure their safety and health.
Chameleons are short-headed reptiles/lizards species with tiny horns on their heads and circular-shaped eyes that can rotate in all directions. They have long, coiled tails measuring 25-50 cm in length. Chameleons have one important specificity: the ability to adjust their body's color to blend into any background. They have long sticky tongues that make it easier for them to catch insects located up to 30 centimeters away. Chameleons also usually have a 2 to 4-year lifespan.
We strongly advise that you do some research on chameleon facts [2] and figure out if it is the right pet for you. If you are genuinely convinced about the idea of having a pet chameleon, then deciding on a suitable habitat is the next logical step.
Buying a suitable chameleon terrarium is essential as it will keep your pet active and entertained.
However, this is not an easy task because buying the best enclosure for your pet often raises more questions like what size cage must I buy? Should I purchase a screen or glass cage? What factors should I consider?
To get the right answers to all your questions, please continue reading.
No Time To Read The Whole Article? No Worries. We've Done The Work For You And Compiled A List Of The Top Performers.
| Product | Features | Our Rating | |
| --- | --- | --- | --- |
Detailed Reviews Of The Top 10 Best Chameleon Cages
Based on our research, testing, and experience, below is our final list:
Zoo Med Repti-Breeze Open Air Screen Enclosure
Topping our list and taking the best chameleon habitat title is the Zoo Med Repti-Breeze open-air screen cage chameleon enclosure. Backed by a reliable brand, this cage is a good choice for people looking for veiled chameleon enclosures.
Constructed using black anodized aluminum, the frame is aesthetically appealing and resistant to rust and corrosion. It features a large door that makes it easy to access the entry and exit points. It also has a bottom door that makes it convenient to remove the substrate without opening the main door.
The screen mesh provides excellent airflow and prevents the air inside the cafe from getting stagnant. It is also strong enough for your pet reptile to climb and have some fun.
Pros
All the required hardware comes as part of the kit
The black anodized aluminum screen cage is durable
The bottom door facilitates easy substrate removal
Provides good ventilation
It is affordable
Cons
The chameleon cage size is 24 x 24 x 48 inches and provides sufficient vertical space for your pet chameleon to climb. Its sturdy construction makes it suitable for several species of large lizards.
This chameleon screen cage comes with all the necessary hardware and can be easily assembled with a screwdriver's help. So, once you have received the product, you must assemble and screw the parts together as per the instruction manual. This cage is durable and will last for the entire lifespan of your chameleon.
Exo Terra Short All Glass Terrarium
A terrarium is most certainly an essential requirement for ensuring your pet's health and safety. Keeping this in mind, Exo Terra has developed many products, each with its own specific features. However, this particular terrarium enjoys a slight edge over the others as it is versatile and easily adaptable.
We feel that this product deserves the 2nd spot; it has been well-designed by European herpetologists. Moreover, this terrarium has been rigorously tested for safety and health. You can, therefore, rest assured about the quality and performance of this 12 x 12 x 18-inches enclosure.
It has front opening doors that make feeding and maintenance a breeze. To prevent your pet from accidentally leaving, this terrarium features a specially designed lock. Additionally, the doors of this cage can be individually opened.
Pros
All glass terrarium for reptiles
Fullscreen top ventilation
Waterproof bottom
Closable inlets useful tubing or wire management
Secure locks that prevent escape
Cons
The styrofoam background is not visually appealing
The top full-screen ventilation permits infrared and UVB penetration. The top is also detachable and thus makes the process of cleaning or decorating the tank simpler. There are five closable tube inlets on either side that are useful for installing heat wave rocks, sensors, or waterfalls inside the terrarium.
Thanks to the raised bottom plate, owners can also mount a substrate heater inside it to heat the ground surface. The fixed front window is extra high and is most suitable for thick layers of substrates. The natural background provides an additional climbing dimension for your pet.
R-Zilla Fresh Air Screen Reptiles Habitat
This screen product with an aluminum frame is long-lasting and sturdy. It is well-suited for use as a veiled chameleon habitat as these creatures are more comfortable and livelier in such outdoor-like setups. You can also use this habitat to make a home for your preferred gecko morph or any other tree-dwelling animals.
The black mesh is super tough and will not get ripped or scratched by your pet's jaws or claws. Moreover, you can power any accessories with the help of the in-built cord port. Therefore, you do not have to drill any holes into it manually. This product also comes with a 90-day warranty.
Pros
It is easy to assemble
It is lightweight and portable
Comes with a tight woven screen
Double opening door
Can be fully customized
Cons
Does not come with any equipment or accessories
The chameleon screen cage with aluminum frame is long-lasting and sturdy. It is well-suited for use as a veiled chameleon habitat as these creatures are more comfortable and livelier in such outdoor-like setups. You can also use this product to make a home for your pet gargoyle gecko, crested gecko, and any other tree-dwelling animals.
The black mesh is super tough and will not get ripped or scratched by your pet's jaws or claws. Moreover, you can power any accessories with the help of the in-built cord port. Therefore, you do not have to drill any holes into it manually. The cage also comes with a 90-day warranty.
Zoo Med Reptibreeze Deluxe LED Open-Air
The next product on our list is the Zoo Med Reptibreeze LED cage. It is among the best chameleon enclosures available in the market, in our opinion, due to its many useful features.
It is an open-air screen enclosure that allows the free circulation of air. The cage also has a clear acrylic door that gives a better view of your pet reptile. The size of this product is 24 x 24 x 48-inches.
The frame made using aluminum is sturdy and durable. It not only looks pleasing but is also rust and corrosion-resistant. Additionally, this product comes with 18 red and 36 built-in LED lights. Users can choose from 3 different light settings (only red, only white, red, and white) based on their preferences.
Pros
Made using corrosion-resistant materials
The large-sized front door makes cleaning easy
It is an extra-large chameleon enclosure
The clear acrylic door provides a clear view
This kit comes LED lighting
Cons
The high cost of the product may be a deterrent
The large front door facilitates easy entry and exit. As a separate entrance has been thoughtfully provided for accessing the substrate, you do not have to open the main door to clean it. Moreover, this product is easy to assemble and comes with all the things you will require to set up the enclosure.
Its large size makes it suitable for old-world Chameleons, geckos, hatchling Green Iguanas, anoles, and various other arboreal lizards.
Carolina Custom Extra-large Terrarium
Need some extra space to house your reptile buddy comfortably? If yes, go for the extra-large XXL option from Carolina. This terrarium provides ample space for your pet to have loads of fun!
The primary material used for its construction is glass. You can therefore get a clear view of your pet and monitor its activities even from a distance. A steel screen mesh forms the top of the enclosure, which helps circulate air inside easily.
The screen mesh also helps to manage the humidity. The high-quality material used for its construction makes it a long-lasting product. Moreover, it is sleeker than the other glass options available in the market. It also has a 12 inches deep waterproof base and measures 36 x 36 x18 inches.
Pros
Offers adequate flexibility for access and cleaning
Assembling the product is easy
Provides ample air circulation
Tall and extra-large dimensions
Premium product
Cons
It is an expensive option
The big sliding double doors is another most loved feature of this product as it facilitates effortless cleaning. The key-lock security prevents the pet from escaping. It comes with self-explanatory instructions, which makes it very easy to assemble.
Although it is not a cheap option, it is one of the top habitats that you can buy for your pet and is available in multiple sizes. The box-inside-a-box packaging and additional styrofoam ensure that the product reaches you in perfect condition.
REPTI ZOO Reptile Tall Glass Terrarium Rainforest
This terrarium is convenient for every reptile enthusiast. Although it costs higher than other similar products, it is truly worth every penny.
This enclosure features side meshes and side glasses that can be switched easily, which is great for your pet needs; the side meshes and glasses can be switched according to the conditions, providing your reptile with a stable and comfortable environment to live in.
The product comes with front opening doors that allow easy access for maintenance and feeding. The specially designed lock will prevent escape, and the doors can be opened separately. Well ventilated with a removable mesh top allows UVB and infrared penetration, in addition to the vents on the sides to ensure adequate airflow.
Pros
Side Meshes and Side Glasses that can be Switched Easily
Double front doors for easy access
Top opening with removable mesh top
Waterproof Base & Raised Bottom Frame
Super easy assembly with installation notes
It is a full glass terrarium
Cons
This product has a solid body structure and features glass sliding doors, in addition to the water-tight base, which is tested for leaks; it also has a raised bottom frame to fit a substrate heater.
The REPTI ZOO Reptile Glass Terrarium is flat packed to avoid breakage during transport. Super simple and easy to put together, all you need is a screwdriver and 20 minutes of your valuable time.
Zoo Med Repti Breeze Screen Cage
If you are a first-time pet owner and unsure where to start, then the Zoo Med Repti Breeze Screen Cage is the right product for you. This complete terrarium kit comes with a 30x16x16 inch open-air enclosure, a tropical lighting kit, a digital thermometer, and a few decorations like a natural-looking vine, plants, and green carpet to get you going. You can also find a few supplement samples in the package.
Pros
Suitable for many different species
Naturalistic decorations included in the package
UVB lights help to keep the pet warm
Side mesh lets in air and natural light
A thermometer is part of the kit
Cons
Not suitable for adult chameleons
Like other veiled chameleon cages, this one is also made using durable Aluminum metal and wire mesh screens. It can also be used for housing Jackson, panther, and other similar reptiles. It weighs only 4.95 pounds and also can be easily moved. Once you receive the product, all you need to do is set up the enclosure with a screwdriver, place the decorations and install the lights.
Exo Terra Rainforest Habitat Kit
The Exo Terra rainforest habitat kit is a great option for any reptile enthusiast. It measures 18 x 18 x 24 inches and weighs around one pound. As this is a complete substrate kit, it comes with all the parts needed by a beginner.
After unboxing the kit, you will find a full-glass terrarium with a ventilated mesh top in it. The mesh top's primary benefit is that it allows adequate sunlight to seep into the cage.
A fluorescent lighting system, basic accessories, water dish, substrate, jungle rope, jungle vines are also included in the kit. You can use it for housing frogs, snakes, geckos, and lizards.
Pros
It is a full glass terrarium
Includes ventilation lighting system
Rocky and natural-looking background
Double front door for easy access
The kit contains all the necessary decoration items
Cons
The bulbs are not part of the package
The rocky and natural-looking background of this product is sure to put your pet at ease. This terrarium has dual front doors that make cleaning and feeding your pet an easy task.
Thanks to the step-by-step instructions provided in the manual, assembling the parts is not a chore. You will also find detailed instructions on how to maintain and decorate.
Zilla Vertical Tropical Kit
If you plan to buy a small chameleon or are looking for a temporary solution, the Zilla vertical tropical kit is a good option. Apart from baby chameleons, this 12x12x18 inches kit is ideal for Crested Geckos, Tree Frogs, and other small-sized tree living reptiles.
In this terrarium kit, you will find a tall glass cage along with the required accessories such as bedding, food bowl, textured background décor, and substrate. It is, therefore, a value for newbie pet owners.
This sleek and stylish terrarium can hold up to 5-liters of water. It has front opening glass doors with a locking latch and a locking pin. It also has a hinged screen top.
Pros
Tall and suitable for small tropical reptiles
Easy to set up guide
The locking latch prevents the pet from escaping
Has a deep base
Front opening doors
Cons
Not suitable for fully grown species
Maintaining the humidity level inside this product is easy, and the glass panels are easy to clean and provide a clear view of your pet's activities.
A Mini Halogen Dome, along with a light bulb, is also part of the kit. It is compact and provides pinpointed light and heat, thus making it more efficient than the standard incandescent light bulb.
Zilla Front Opening Terrarium
Are you looking for a product that gives you free access while providing a safe habitat for your pet? If yes, then the Zilla front opening terrarium is just what you need.
The top of this product features a hinged panel that allows you to access your pet and clean the cage conveniently. It also comes with removable doors and a durable and powder-coated screen. It will, therefore, not rust.
Pros
Powder-coated rust-resistant screen
Realistic rock foam background
Dual screened hinged lid
Watertight bottom
Affordable price
Cons
This is an excellent-looking product that has a realistic rock foam background. Some of the other noteworthy features of this chameleon terrarium are its 3-inch water-tight bottom and locking pins. The locking pins are especially useful for securing the door and preventing children from accidental openings when no adult is around. It also prevents the critters from getting in. The Zilla front opening terrarium is made from glass and thus a bit pricey. However, it is much cheaper than other glass cages. The size of this product is 18x18x25 inches. There are also inserts provided to maintain the humidity levels.
Types Of Chameleon Habitats: What Is The Best Type Of Chameleon Cage?
It should be noted that chameleons are moody creatures and do not like being trapped in a small closed cage.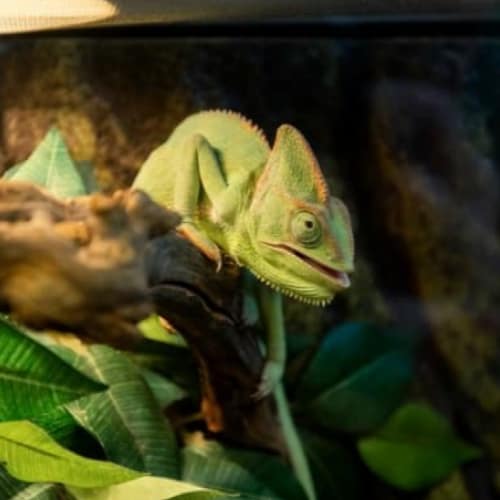 They may get stressed or even depressed if they can't move around freely or see the outside of their cages. To have a happy and healthy pet chameleon, owners must carefully choose the best cage for their pets, and this should be considered as one of the extra expenses in addition to the Chameleon cost itself.
Cages are usually made of a wooden or aluminum base structure, with metal or mesh screens that can be easily installed and removed for regular cleaning. Glass is generally not recommended, as the reflection on it may be disturbing and stressful for the chameleon itself.
Some people even opt for no cage at all, in an attempt to keep the pet in a habitat that is as close to nature as possible. They would simply devote a specific place for the pet, where they install anything it needs: tree branches, food, etc.
Many people favor mesh cages; even though they are not as durable as metallic cages, they provide plenty of ventilation and make controlling humidity and temperature much easier, making them a very practical and relatively affordable option.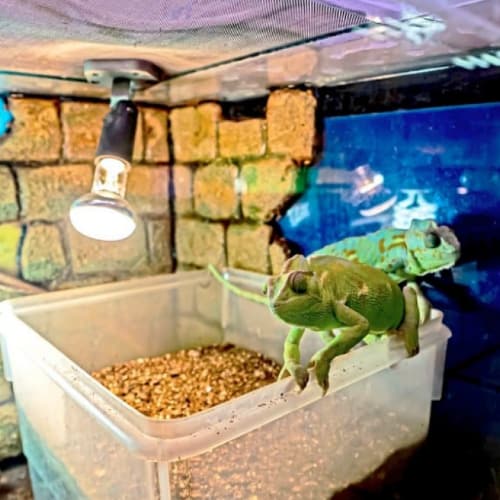 What To Consider Before Choosing A Chameleon Cage
In order to buy a cage for your chameleon, you must consider many factors. However, here are the four that you should not miss out on:
Size
Size does matter when it comes to choosing chameleon enclosures, as these creatures are arboreal. This means that they generally live in plants and trees, hence the chameleon terrarium must be large enough to accommodate such foliage.
While the ideal size for a chameleon terrarium is "as large as possible," it is still essential to know the minimum dimensions in which your pet will feel better.
Material
Glass is usually used for building several chameleon enclosures as it provides a clear view of the inhabitants. However, a cheap cage made using mesh may also be an option.
The mesh walls also help prevent stress in some animals. Territorial species can be disturbed by their reflection. In the worst case, they feel the need to work the wall. They will thus waste a considerable amount of time scratching it.
The better choice for the long-term housing of chameleons is grid terrariums with metal structures, mostly anodized aluminum.
Although their price is often high, these terrariums have several advantages: ventilation and optimal brightness, resistance to heat from light bulbs over the years, stainless steel, rot-proof, non-toxic, rigid, relatively light, modular at wall level (wooden panels or a thinner mesh net can be easily added if necessary), etc.
Durability
Several types of chameleon terrariums are available on the market, including mesh terrariums with plastic, metal, or aluminum structures. The glass terrariums are, in theory, only suitable for young chameleons under the age of 4 months.
Some terrariums are made entirely of nylon with wide mesh screens; using mesh terrariums with aluminum or plastic structures is always the better option. Unfortunately, they do not come in appropriate sizes for an adult Chameleon; they are often at a maximum of 60X60X120cm.
Nylon terrariums can be an excellent temporary solution for putting your animal outdoors for a few hours in the sun. They may be ideal as the main terrarium, but not for the long term. Grid terrariums with aluminum structures are the perfect solution for housing chameleons over a long period.
The Zoo Med ReptiBreeze Aluminium Open Air Screen Cage is a stylish basic model.
Always choose a chameleon terrarium kit that uses high-quality materials, as this will ensure that the cage is sturdy and long-lasting.
Ventilation
Aeration is one of the essential parameters in the maintenance of cages; terrarium manufacturers have made a huge step when it comes to ventilation.
The ideal choice would be to have a terrarium where all the walls are screened apart from the bottom. The minimum acceptable would be a terrarium where the ceiling is screened in addition to two of the four vertical walls, often the front face (entrance door) and the wall opposite to this face.
For technical reasons, it is not always easy to mesh a wall entirely. In this case, try to create an air current that will move the air all the way up to the terra. For example, one wall could have low ventilation and the opposite wall with high ventilation.
The ceiling must constantly be screened to maximize ventilation and visualize the lighting and the supply of UV rays efficiently and safely. The Exo Terra terrariums are meshed models on the top, allowing for better ventilation and having lighting and heating elements outside the terrarium.
It is essential to make sure that the chameleon screen cage has excellent ventilation features. This will not only help in air circulation but will also prevent the growth of mildew and mold.
Tips For Setting Up The Perfect Habitat For Your Chameleon
Chameleons are not easy to keep as pets; they require special treatment, handling, food, habitat, etc. Apart from purchasing the best chameleon enclosure, there are many other crucial things to consider before deciding to keep one:
Chameleons require calcium for maintaining good health. Therefore, install a UVB/ UVA fluorescent bulb in the cage and maintain a 12-hour dark and light cycle.
The average humidity inside the cage must be around 65 to 80%. To maintain accurate tracking, consider installing a hygrometer.
To take care of the hydration requirements of your pet, put a dripping system in place. This is especially useful when the temperature is soaring.
As they are solitary and territorial by nature, avoid housing more than one chameleon in a single cage. Putting two males may result in aggressive behavior.
The cage's height must be ideally more than its width, as veiled chameleons like to climb and need plenty of vertical space.
Use all-natural and non-toxic accessories for decorating the cage.
First off, chameleons are solitary animals; they don't like company, so it would be better to avoid putting more than one pet in the same cage because this may cause stress and violence, especially between male chameleons.
Second, chameleons are picky; they don't adjust very well to any changes in habitat and food. As a result, it is of utmost importance to keep your pet in an environment that simulates its natural habitat.
This includes having a tall cage with multiple branches for it to climb and hide. Humidity and temperature must be regulated and controlled at all times, meaning that having thermometers, misters, humidity gauges, and a UVA/UVB light source is a must.
Also, chameleons only feed on live insects, so you need to keep a supply of live crickets and/or mealworms with additional nutrients (mainly calcium supplements) that can keep your pet healthy. Misting helps keep the chameleon well hydrated, as it drinks the water that condensates on the branches and leaves.
Finally, regular cleaning of the cage is crucial to the chameleon's health, so be prepared for some daily, weekly, and even yearly cleaning. Dead insects and excrement must be removed from the cage every day; A quick wipe down of the whole cage and tree branches has to be performed every week. Every year, the pet needs to be taken out, the entire cage must be taken apart for complete thorough cleaning.
Frequently Asked Questions
Although keeping a chameleon as a pet is a rewarding experience, it is pretty challenging for first-time owners. So we have compiled answers to some of the most frequently asked questions for dispelling myths and arming you with the knowledge required to take the best care of your pet.
What Do Chameleons Need In Their Cage?
Probably the most important things to have are tree branches, be it natural or artificial. These would allow the chameleon to do some climbing and reach the highest points in the cage. Chameleons are reptiles, cold-blooded creatures; they are unable to regulate their body temperature automatically.

The only way for them to do so is by physically moving from one place to another (either cooler or hotter depending on the animal's needs). A heat lamp needs to be placed on top of the cage to provide a basking spot (around 95 degrees) to which the chameleon can go to for some heat.

The rest of the cage needs to be thermo-regulated and monitored as well (with minor differences between the top and bottom of the cage). So, thermometers (preferably quality ones giving accurate readings) must be placed in different spots of the cage in addition to light sources.

The lights have to be switched off during the night, providing a 12-hour circle of total darkness and slightly lower temperatures. Other necessary pieces of equipment include watering and misting equipment and humidity gauges.
What Is The Natural Habitat Of Chameleons?
The answer depends on the species of the chameleon. Veiled chameleons, for example, originate from the river valleys of Saudi Arabia and Yemen in the Arab peninsula.

Veiled chameleons prefer to live in humid areas, but not as humid as the rain forest. Another species is the Pygmy chameleon (also called Dwarf chameleon); it can be naturally found in the cooler interior of the forests of East Africa. They are known to live in relatively lower areas compared to other chameleons.

Panther chameleons are another chameleon species from Africa; they are naturally found in the humid, rain-forest-like regions of Madagascar (an Island in Southeast Africa).

Another chameleon species, the Jackson's chameleon, can be found in the wild in countries like Kenya and Tanzania (East Africa, again!). Mostly, they live in high-altitude humid areas where temperature can be lower compared to other species. All of these colorful lizards have one thing in common: their love, be it to different degrees, for humidity.
How Big Of A Cage Do Chameleons Need?
Common species of chameleons that are usually kept as pets grow to large sizes. It, therefore, becomes imperative to invest in a big cage.

How big, you ask? Well, a size of 18x18x36 inches is the minimum size required for an adult chameleon. However, a cage measuring 24x24x48 inches is ideal. Any suggestions for buying a chameleon cage smaller than this must be strongly ignored unless you are buying it for a baby chameleon.

Keep in mind that chameleon enclosures that are too small for their inhabitants can prove detrimental to their health. Therefore, buying a large cage is highly recommended as it offers adequate space for your pet to play, move around, and explore. Moreover, the cage must have enough room to accommodate small plants and trees.
Why Do Chameleons Need Screen Cages?
Chameleons require conditions similar to their natural habitat to survive in captivity. Adequate sunlight and continuous supply of fresh air is a basic necessity for your pet reptile to live comfortably in a chameleon cage.

A screen cage meets both these criteria. It ensures that the chameleon terrarium is well ventilated and fresh air circulates in the cage. This prevents the development of respiratory problems in chameleons.

Moreover, screen cages are easier to drain. This feature is especially useful as chameleons need plenty of water apart from good ventilation. If the cage is not drained well and kept dry, it may lead to the growth of harmful microorganisms that can be dangerous for your pet's health.
Finally, chameleons need screen cages to avoid lamp burns. As the material used for making the screen cages does not trap heat, your pet will not sustain any burn injuries.
Can A Chameleon Live In A Glass Tank?
Many pet owners have successfully kept their chameleon in a glass enclosure. However, not all glass tanks are suitable for this purpose.

Glass tank enclosures can be broadly divided into two categories- aquariums and glass terrariums. Both these glass tanks may look similar, but they serve different purposes. While aquariums are basically designed for housing fish and water, glass terrariums are more suitable for keeping chameleons.

A glass chameleon terrarium is usually designed for maintaining adequate airflow in the tank. A screen mesh is generally fitted at the top of the ventilation. As with any chameleon cage, keeping your pet in a glass tank requires attention to detail and consistent effort.

Although the care techniques employed for maintaining the glass tank are slightly different from screen enclosures, glass terrariums are more visually appealing for your chameleons and are much easier to maintain.
How To Clean A Chameleon Cage?
Keeping your chameleon habitat clean not only keeps them happy but also prevents them from contracting any diseases. To clean the chameleon cage, follow the below steps:

Remove the chameleon, transfer the chameleon to the spare cage. If you do not have a spare cage, place him on a plant outside the cage but do not forget to always keep an eye on your pet.

Remove and clean all the accessories. Please take all the accessories like plastic vines, fake rocks, caves, etc., and soak them in a soapy water bucket. Use an antibacterial soap for cleaning. If you have live plants and trees, take a sponge dipped in soapy water and gently wipe them. Allow all the accessories to dry completely.

Remove the substrate. If you have used newspapers or paper towels to line the cage, simply replace them with a clean one. However, if you are using the nondisposable chameleon substrate, scour it with hot soapy water. Use a scraper to remove any grime or dried fluids.

Use a sponge dipped in warm soapy water to clean the cage and rinse it thoroughly afterward. After it has completely dried, replace the substrate and accessories. Finally, carefully transfer your chameleon to the cage.
What Should I Put In My Chameleon Cage?
Here are some of the things you must put in your chameleon's cage to make it feel comfortable.
Like all reptiles, Chameleons are also cold-blooded creatures. Therefore, they cannot regulate their body temperature by themselves. In their natural habitat, the sun helps to keep their bodies warm.

Therefore, while purchasing a chameleon terrarium kit, make sure to buy a heat lamp too. Install it at a place where your reptile buddy cannot get too close to it and accidentally burn itself.

Place a ficus tree inside your pet chameleon cage. Choose one with many horizontal branches, as this will provide plenty of space for your pet to climb and explore. Also, place a few plants as chameleons usually drink droplets of water that fall on the leaves.

Food and water bowls; you must place a food bowl for putting insects such as mealworms for the chameleon to eat. Keep it in your pet's favorite spot. For providing water for your pet, install a drip system. This drip will also help to water the small trees and plants in the chameleon cage.
Conclusion
Keeping a chameleon as a pet is different from keeping any other creature in your home. Although it may be challenging initially, these reptiles can entertain and amuse you like no other pet. They are amazing creatures with bright colors that can help you relax just by watching them slowly move inside their enclosure.
Therefore, put in some effort to provide the best care for your reptile friend. Choosing the best chameleon cage is the first step in the right direction. Base your selection on your pet's needs and activities. Also, you need to pay special attention to what you feed your chameleons, as any lack of calcium (or other nutrients) or hydration can cause serious health problems to your beloved pet (skin infections, eye infections, etc.).
Finally, we hope that this article has provided you with all the information you need to make your decision. All the products featured on the list have received high ratings from users. They are well-built and long-lasting. So, if you are a tad overwhelmed by the number of choices available in the market, simply choose one from our top 10 list!
If you have any comments or suggestions, we would love to hear them! Do drop in your thoughts in the comments box. Good luck!
---
References:
Chameleon. Wikipedia; Wikimedia Foundation.Retrieved from https://en.wikipedia.org/wiki/Chameleon
Chameleon Facts. Live Science. Retrieved from https://www.livescience.com/51061-chameleon.html
You May Also Like