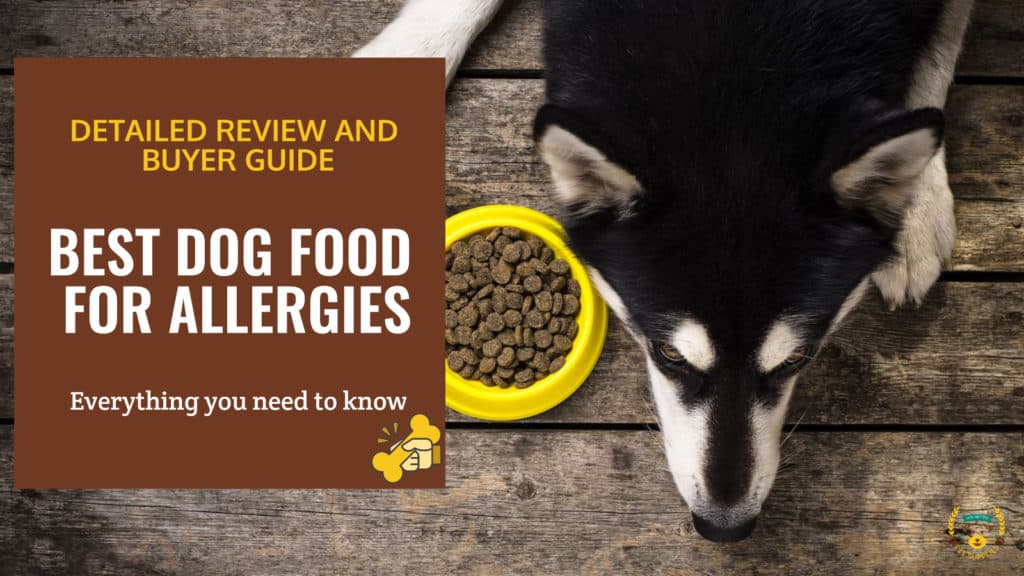 The 10 best dog food for dogs with allergies: an in-depth review
Last updated:
August 15, 2021
Your pup might be the best thing that has happened to you ever and trying to keep them fit and healthy can sometimes get exhausting. Dogs are susceptible to an array of allergies that can potentially lead to digestive issues, sneezing profusely, and itchy skin.
Dog allergies affect a large number of American dogs. In fact, according to the American Kennel Club study and WebMd, about 10% of dogs presented to a referral dermatology practice had food allergies.
The worst feeling that you might have to go through is to watch your dog get sick due to these external reasons. While allergy symptoms are unpleasant enough in adults, they're often worse in young puppies. Being a dog parent comes with an array of challenges. It is okay to get swayed away or get nervous at every step. 
What if we told you that this is entirely avoidable? It is indeed possible to ensure that your dog leads an allergy-free life and you can help them lead a healthier lifestyle.
One of the biggest reasons why your fur baby might be experiencing allergies is because of their diet. A lot of times, your pup might be allergic to a particular food and might end up consuming it. Hence, it is essential to be selective about their regular diet.
Keep reading to discover the best hypoallergenic dog food that should be on your next dog shopping checklist.
You may also like: Best Chew-proof Dog Beds
Our Featured Selections 
Top Ingredients
Salmon, Ocean Fish Meal, Sweet Potatoes, Potatoes, Peas, Canola Oil, Lentils, Salmon Meal, Smoked Salmon, Potato Fiber...
Enterococcus Faecium, L-Ascorbyl-2-Polyphosphate (Source of Vitamin C), Brewers Dried Yeast, Vitamin E Supplement...
Chicken, Rice, Corn Gluten Meal, Whole Grain Corn, Poultry By-Product Meal (Source Of Glucosamine), Whole Grain Wheat...
Special Diet
Grain-Free, Chicken-Free
Probiotics Supplement Powder
High-Protein W/ Probiotics
Food Flavor
Salmon
Fortiflora
Chicken
Top Ingredients
Salmon, Ocean Fish Meal, Sweet Potatoes, Potatoes, Peas, Canola Oil, Lentils, Salmon Meal, Smoked Salmon, Potato Fiber...
Special Diet
Grain-Free, Chicken-Free
Top Ingredients
Enterococcus Faecium, L-Ascorbyl-2-Polyphosphate (Source of Vitamin C), Brewers Dried Yeast, Vitamin E Supplement...
Special Diet
Probiotics Supplement Powder
Top Ingredients
Chicken, Rice, Corn Gluten Meal, Whole Grain Corn, Poultry By-Product Meal (Source Of Glucosamine), Whole Grain Wheat...
Special Diet
High-Protein W/ Probiotics
Last updated September 18, 2021. Those are affiliate links, we may earn a small commission when you click on the links at no additional cost to you; More Information>>. Product images are served from Amazon Product Advertising API.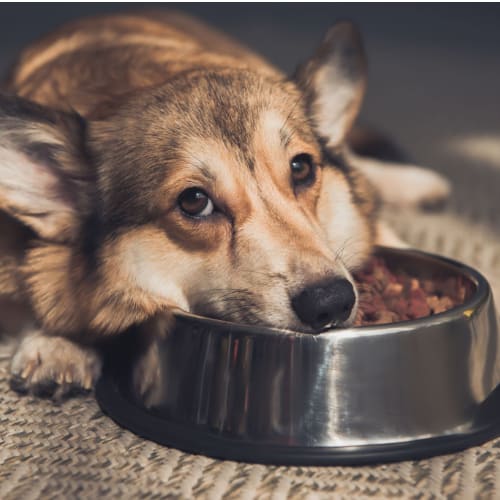 What causes a dog to develop a food allergy?

Most dogs are allergic to animal proteins. Some ingredients are associated with more of the confirmed cases than others. The most commonly reported food allergies in dogs are animal or plant-based ingredients; chicken, wheat, lamb, fish, soy, pork, rabbit, dairy, egg, beef, etc.
Allergies occur when the immune system reacts to something that is typically harmless. The reaction is triggered when the immune system misidentifies an invading substance as harmful, then releases chemicals into the body to help fight the invader.
These chemicals cause the inflammation and swelling that triggers an allergic reaction. Sneezing, sniffling, red eyes, and a runny nose are just some signs of the immune response. Your dog may also itch and scratch the skin, lose his hair, and develop digestive issues. Food allergies are responsible for the vast majority of allergic reactions in dogs.
Dog protein allergy is a complex problem. Treating your dog's allergies will require a visit to your veterinarian, who may, depending on the case, perform a physical exam and run a few tests.
If the symptomes are not too severe, a food trial using hypoallergenic dog food is the most reliable way to diagnose food allergies in dogs because some brands are more likely to trigger allergic reactions than others.
Dogs can develop allergies for various reasons, but food related are the most common ones. However, you can manage it successfully with the proper diet to help with symptoms and reduce the allergic reaction risk.
How can you tell if your dog has an allergy and needs hypoallergenic dog food?
Allergies can happen at any given point in time when it comes to dogs. Always check for skin reactions along with your pup's coat. Keep an eye out to check if they are itching ferociously or if there is an increase in the frequency. Rashes and hives on dogs are some of the most common ways of figuring out whether they are dealing with an allergy.
You may also conduct a dietary test on your pup to figure out if they are dealing with any allergies.
Shopping for hypoallergenic dog food brands can be quite tricky, given the number of options available in the market. These are typically expensive, and hence you need to be sure before purchasing any.
Dogs can be allergic to various ingredients like dairy, beef, corn, wheat, chicken, egg, soy, pork, rabbit, fish, lamb, etc. This purely depends on case to case. Your pup might end up with some of the most common dog allergy symptoms like itchy skin, sensitive stomach, hives, swelling of the ear flaps, face, lips, ears, eyelids, face; inflamed skin, sneezing, vomiting, diarrhea, chronic ear infections, itchy ears, and runny eyes; and allergies if they consume something their body cannot handle.
There is an array of commercial blood and skin dog allergy testing kits available in the market. You can always get your dog tested through these kits. The best thing to do is put them on a diet of dog foods that have been specially curated for allergies.
You also need to check your pup simultaneously for any skin reactions that might be visible. Some of the most commonly reported food allergy symptoms include skin irritations and itchiness. You need to be on the lookout and check for unusual behavior continually.
Keep a tab on your dog's regular diet and check for symptoms whenever you introduce them to something new. In case you see something unique, make a note of the original ingredients and try to exclude them in your elimination diet next time!
You may also like: Best Dog Nail Grinder
Food Allergies vs Food Intolerance: What's the Difference?
Food intolerance and allergy can be quite similar in their symptoms. Both conditions can cause digestive issues, skin diseases and can even lead to other health issues.
However, the main difference is that food allergy involves the immune system and is usually triggered by an immune response. In contrast, food intolerance is an abnormal reaction to an ingredient, but it does not include the immune system.
Food allergy is just one type of adverse reaction, and food intolerance describes all responses to foods that aren't food allergies.
The term "food allergies" should refer only to adverse reactions with a true immune component. Food intolerances refer to all other adverse responses to food not related to the immune system.
Dog food intolerance is more to do with the gastrointestinal system than the immune system. Dog food intolerance and allergies can both result in a dog's digestive issues and can sometimes be misdiagnosed for one another.
In general, dogs with food tolerance usually suffer from digestive problems rather than skin diseases; diarrhea, vomiting, gas, and other digestive stress forms.
Our Recommendations Of The Best Dog Foods For Allergies
Choosing the right diet for your pup can be complicated if your dog is sensitive to certain foods.
There are dozens of different manufacturers in the market. Their products come in an even wider range of formulas, brands, and flavors with an even more overwhelming number of ingredients on the labels.
The best dog foods for allergies are formulated specifically. Nutritional requirements for healthy dogs vary slightly from those with sensitivities, so the ingredients in hypoallergenic dog foods are often different. It's important to choose a food that specifically mentions allergies on the label.
Here we review the ten best dog foods for dogs with allergies. We have discussed all the details below so that you can find the perfect diet for your puppy.
Limited Ingredient Diets VS Hypoallergenic Dog Foods
Both limited and hypoallergenic dog foods have their share of advantages. Limited ingredient dog foods contain a higher quality of ingredients that are beneficial for your furry friend.
Limited ingredient dog food is usually sold over the counter, and you do not need to visit the vet to introduce it to your pup. You can voluntarily get limited ingredient dog foods and introduce them in your pup's routine any time you wish.
On the other hand, hypoallergenic dog foods are power-packed with nutrients. They also happen to have higher protein content along with prebiotics and probiotics. They also contain a ton of fatty acids that are beneficial for your pup as it helps them avoid skin allergies and improve their mobility and digestive health.
Overall, although a hypoallergenic dog food recipe avoids the common allergens, which is great for your pup, you should not feed it to your puppy without proper consultation with the vet.
Tips On How To Introduce A Sensitive Dog Food Diet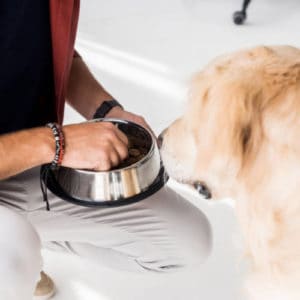 If you plan on changing your pup's diet, you should do it with utmost care – mostly if your puppy happens to have a sensitive stomach. It would be best if you start by keeping the ratio from ten percent of new dog food to ninety per cent of the old dog food.
This will help your pup to transgress into their new diet slowly and comfortably. Feeding your dog using this mixture technique for the first couple of days before adding higher amounts of fresh food is a perfect tested method and is proven to be the best way to introduce a new food into your dog's diet.
By day five, you can introduce a 50:50 ratio recipe to your pup and see how they react. You may introduce 100 percent of the new dog food recipe to your puppy by the tenth day.
What Is The Most Common Food Allergy In Dogs?
Some of the most common dog food allergiesinclude skin issues, itchiness, diarrhea, low coat quality, chronic ear inflammation, vomiting, gas, licking obsessively, sensitive stomach, etc. These can come from consuming eggs, dairy products, grain, beef, soy, lamb, and chicken.
The best way to figure it out is to get your dog tested. There is an array of dog testing kitsavailable in the market. Though food allergies are not all that common when it comes to dogs, it is always safe to get your little mate tested if you suspect anything unusual about their behavior.
Does Grain-free Dog Food Help With Skin Allergies?
It is a common belief that introducing a grain-free diet will help your little pup deal with skin allergies and that it will help them to get better with time. Though, this purely depends on a case to case basis.
Grain-free dog food is widely considered to be healthy as they utilize an array of carb sources and wholesome vegetables in the recipes. Introducing a fair amount of these recipes does not give way to obesity and is generally considered safe. Hence, it is a natural treatment for pups and dogs that are suffering from allergies.
Can A Dog Suddenly Become Allergic To His Food?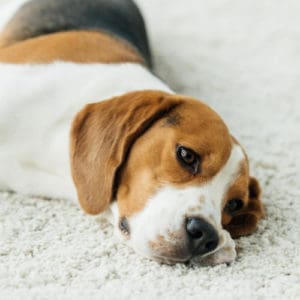 There is an array of factors that influences a dog's reaction to his usual food. It mostly depends on their genetics. Some dogs are likely to develop sudden allergies towards their foods due to the inclusion of certain dog foods ingredients.
Though this is not likely to take place very often, it is still applicable. Hence, it is always safer to be on the lookout frequently to check if your little friend is experiencing sudden systems and then act according to the situation in hand.
What Can I Give My Dog For Allergies?
The best thing to provide to your dog in case of allergies is a hypoallergenic diet. You may also opt for home-cooked food and watch out for differences. Some of the over the counter medicines include antihistamines, anti-allergy wipes and shampoos, and over the counter supplements.
If none of these things work out, it is best to take your pup to the doctor and get them tested and prescribed medication according to their conditions.
Here is a great video (12 minutes 58 seconds) from Dr. Andrew Jones explaining why food allergy happens in dogs, the most common signs and symptoms and how to best treat dog food allergies with natural home remedies.
Final Thoughts
Are you still wondering if you need an aquarium heater? Most commonly aquarium fishes are of the tropical variety. A heater is necessary, especially in colder areas. Without adequate heating, fishes can become unhealthy and even die.
Too cold or too hot water can make it uncomfortable for the fishes. They will become less active and develop problems. So, yes, you do need a heater. However, deciding this is only the first step. Now you will need to find the right heater to get the right results.
Heaters are made according to different tanks' sizes, and you must choose carefully to suit your needs. No point in wondering what the best aquarium heater is, instead look for the most suitable one. Placing them correctly is also essential. With the information given here, we are sure that you are in a good position to decide and give your fish a warm and comfortable home.