The 10 Best Dog Food for Dogs With Allergies: An In-Depth Review
First published:
September 16, 2020
Last updated:
October 12, 2023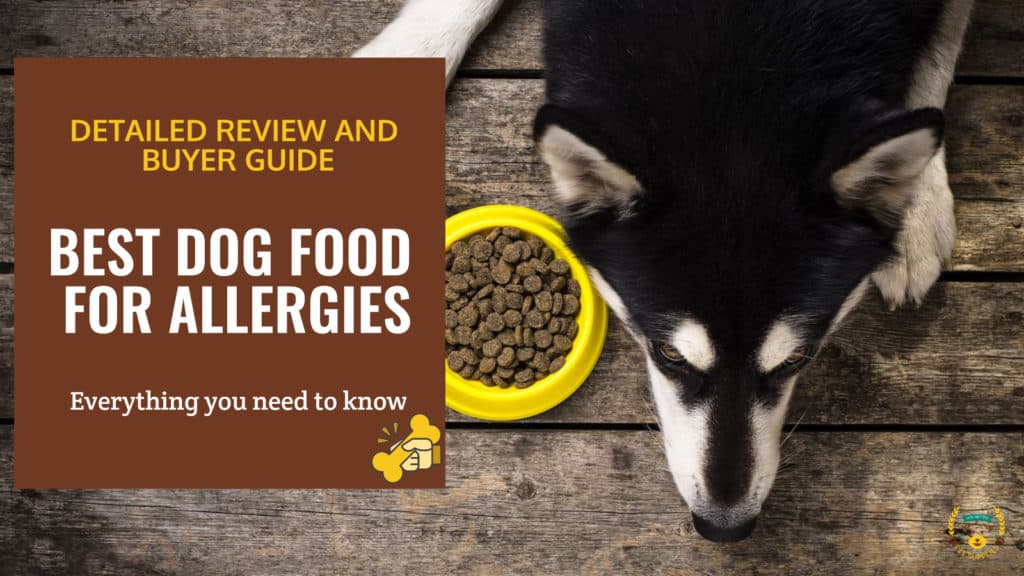 We are supported by our readers and we may earn a small commission when you click on some of the links at no additional cost to you. Our full disclaimer can be found
here
. Thank you.
Your pup might be the best thing that has happened to you ever and trying to keep them fit and healthy can sometimes get exhausting. Dogs are susceptible to an array of allergies that can potentially lead to digestive issues, sneezing profusely, and itchy skin.
Dog allergies affect a large number of American dogs. In fact, according to the American Kennel Club study [1] and WebMd, about 10% of dogs presented to a referral dermatology practice had food allergies.
The worst feeling that you might have to go through is to watch your dog get sick due to these external reasons. While allergy symptoms are unpleasant enough in adults, they're often worse in young puppies. Being a dog parent comes with an array of challenges. It is okay to get swayed away or get nervous at every step.
What if we told you that this is entirely avoidable? It is indeed possible to ensure that your dog leads an allergy-free life and you can help them lead a healthier lifestyle.
One of the biggest reasons why your fur baby might be experiencing allergies is because of their diet. A lot of times, your pup might be allergic to a particular food and might end up consuming it. Hence, it is essential to be selective about their regular diet.
Keep reading to discover the best hypoallergenic dog food that should be on your next dog shopping checklist.
No Time To Read The Whole Article? No Worries. We've Done The Work For You And Compiled A List Of The Top Performers.
| Product | Features | Our Rating | |
| --- | --- | --- | --- |
What Causes A Dog To Develop A Food Allergy?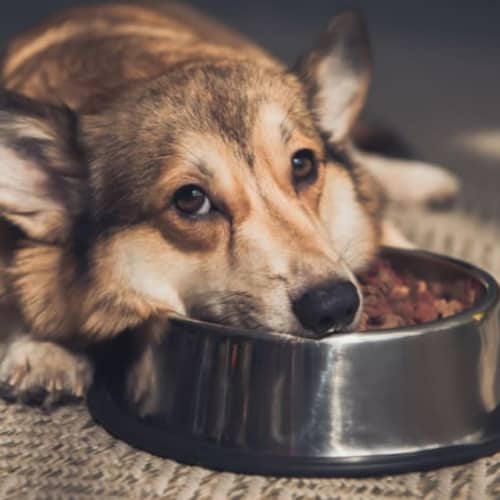 Most dogs are allergic to animal proteins. Some ingredients are associated with more confirmed cases than others. The most commonly reported food allergies in dogs are animal or plant-based ingredients; chicken, wheat, lamb, fish, soy, pork, rabbit, dairy, egg, beef, etc.
Allergies occur when the immune system reacts to something that is typically harmless. The reaction is triggered when the immune system misidentifies an invading substance as harmful, then releases chemicals into the body to help fight the invader.
These chemicals cause inflammation and swelling that triggers an allergic reaction. Sneezing, sniffling, red eyes, and a runny nose are just some signs of the immune response. Your dog may also itch and scratch the skin, lose its hair, and develop digestive issues. Food allergies are responsible for the vast majority of allergic reactions in dogs.
Dog protein allergy is a complex problem. Treating your dog's allergies will require a visit to your veterinarian, who may, depending on the case, perform a physical exam and run a few tests.
If the symptoms are not too severe, a food trial using hypoallergenic dog food is the most reliable way to diagnose food allergies in dogs because some brands are more likely to trigger allergic reactions than others.
Check Also: Why Does My Dog Smell Like Fish?
Dogs can develop allergies for various reasons, but food-related is the most common one. However, you can manage it successfully with the proper diet to help with symptoms and reduce the allergic reaction risk.
How Can You Tell If Your Dog Has An Allergy And Needs Hypoallergenic Dog Food?
Allergies can happen at any given point in time when it comes to dogs. Always check for skin reactions along with your pup's coat. Keep an eye out to check if they are itching ferociously or if there is an increase in the frequency. Rashes and hives on dogs are some of the most common ways of figuring out whether they are dealing with an allergy.
You may also conduct a dietary test on your pup to figure out if they are dealing with any allergies.
Shopping for hypoallergenic dog food brands can be quite tricky, given the number of options available in the market. These are typically expensive, and hence you need to be sure before purchasing any.
Dogs can be allergic to various ingredients like dairy, beef, corn, wheat, chicken, egg, soy, pork, rabbit, fish, lamb, etc. This purely depends on case to case. Your pup might end up with some of the most common dog allergy symptoms [2] like itchy skin, sensitive stomach, hives, swelling of the ear flaps, face, lips, ears, eyelids, face; inflamed skin, sneezing, vomiting, diarrhea, chronic ear infections, itchy ears, and runny eyes; and allergies if they consume something their body cannot handle.
There is an array of commercial blood and skin dog allergy testing kits available on the market. You can always get your dog tested through these kits. The best thing to do is put them on a diet of dog foods that have been specially curated for allergies.
You also need to check your pup simultaneously for any skin reactions that might be visible. Some of the most commonly reported food allergy symptoms include skin irritations and itchiness. You need to be on the lookout and check for unusual behavior continually.
Keep a tab on your dog's regular diet and check for symptoms whenever you introduce them to something new. In case you see something unique, make a note of the original ingredients and try to exclude them in your elimination diet next time!
Food Allergies Vs Food Intolerance: What's The Difference?
Food intolerance and allergy can be quite similar in their symptoms. Both conditions can cause digestive issues, and skin diseases and can even lead to other health issues.
However, the main difference is that food allergy involves the immune system and is usually triggered by an immune response. In contrast, food intolerance is an abnormal reaction to an ingredient, but it does not include the immune system.
Food allergy is just one type of adverse reaction, and food intolerance describes all responses to foods that aren't food allergies.
The term "food allergies" should refer only to adverse reactions with a true immune component. Food intolerances refer to all other adverse responses to food not related to the immune system.
Dog food intolerance is more to do with the gastrointestinal system than the immune system. Dog food intolerance and allergies can both result in a dog's digestive issues and can sometimes be misdiagnosed for one another.
In general, dogs with food tolerance usually suffer from digestive problems rather than skin diseases; diarrhea, vomiting, gas, and other digestive stress forms.
It's important to understand our fur babies' allergies and intolerances. Service and therapy dogs are not exempted from allergies and intolerances. Check our article about training and caring for your emotional support dogs here.
Our Recommendations Of The Best Dog Foods For Allergies
Choosing the right diet for your pup can be complicated if your dog is sensitive to certain foods.
There are dozens of different manufacturers in the market. Their products come in an even wider range of formulas, brands, and flavors with an even more overwhelming number of ingredients on the labels.
The best dog foods for allergies are formulated specifically. Nutritional requirements for healthy dogs vary slightly from those with sensitivities, so the ingredients in hypoallergenic dog foods are often different. It's important to choose a food that specifically mentions allergies on the label.
Based on our research, testing, and experience, below is our final list:
Purina Pro Plan Veterinary Diets FortiFlora Probiotic Gastrointestinal Support
The Purina Pro Plan Veterinary Diets FortiFlora Probiotic [3] Gastrointestinal Support Dog Supplement is the key to controlling dog food allergy symptoms. It is used to treat some of the most common dog food allergies and intolerances like an upset stomach, diarrhea, vomiting, stress colitis, etc. All you need to do is sprinkle some of it on your dog food before feeding it to your pup.
This supplement is one of the most highly recommended by vets and steadily improves your pet's health. It also helps in controlling Urine Tract Infections and gastrointestinal issues in dogs steadily. Besides, this supplement is fantastic to taste, and your pup will instantly fall in love with it from the first bite.
Pros
Fantastic in taste.
It is developed through a proprietary micro encapsulation process to enhance your pup's health.
This supplement has been specially curated to help dogs suffering from diarrhea by promoting intestinal microflora.
Consists of antioxidants and microorganisms that help in reducing gas and maintaining a good digestive system.
Cons
The cost is relatively high compared to other probiotic options.
This supplement has been specially curated through years of research conducted by several researchers, nutritionists, and veterinarians. It contains a specific number of antioxidants and microorganisms that help in reducing gas and supporting digestive health.
Royal Canin Veterinary Diet Gastrointestinal Low Fat Canned Dog Food
The Royal Canin Veterinary Canned Dog Food has been meticulously formulated to keep your pup healthy and running. Introducing it to your pup's diet will not only keep them happy, but it will save you all the hassles of breaking your head of what to feed them too!
This hypoallergenic dog food has low-fat content and delivers the ideal nutrition to ensure that your pup recovers from their allergies as soon as possible.
This formula works best to reduce and heal issues like loss of appetite, diarrhea, and vomiting. The prebiotics [4] present in the formula is excellent for balancing the good gut bacteria, while the dietary fiber blends encourage robust and healthy digestion. This makes it one of the best dry dog foods for allergies.
Pros
The formula has been specially crafted to encourage a healthy digestive system.
The presence of highly digestible prebiotics and proteins encourages optimum stool quality and digestive health.
The fiber blends and omega-three fatty acids support gastrointestinal health.
Prevents crystals from developing in the bladder, thus promoting a healthy urinary tract
Cons
Veterinary Approval Required.
It also contains omega-3 fatty acids that have been derived from fish oil. This helps to keep your dog's gastrointestinal tract healthy and soothe and nourish their tummies. The antioxidants present in this formula ensure that your pup's immunity system stays healthy while reducing the dangers of developing bladder crystals that might give way to a healthy and robust urinary tract too!
Taste of the Wild Pacific Stream Grain-Free Dry Dog Food
With the Wild Pacific Stream Grain-Free Dry Dog Food, you will be able to keep your little furry friend nourished for extended periods. It is flavored with smoked salmon as the single protein source and combines taste with a ton of goodness.
It has been formulated with grain-free recipes in combination with novel proteins. This dog food includes ingredients like sweet potatoes and peas that ensure that your little pup is brimming with energy at all times. It also ensures that your little buddy gets the goodness of natural antioxidants from legitimate veggies, fruits, and dried chicory root that offers digestion and prebiotic support.
Pros
It contains novel proteins like real smoked salmon that are beneficial for pups with digestive issues, food allergies, and a weak immune system.
It offers your pup super-powerful antioxidants from an array of veggies and fruits like raspberries, blueberries, and tomatoes that protects their immunity system.
The chelated minerals present in this dog food absorb the maximum amount of omega fatty acids and vital nutrients that help your pup achieve a shiny coat and super healthy skin.
It consists of trustworthy ingredients and sources devoid of corn, grain, wheat, artificial flavors, colors and preservatives, and fillers.
Cons
Limited grain-free flavor options.
This dog food contains an array of essential minerals that have been combined with amino acids that give your pup maximized benefits and a balanced nutritious diet that ensures higher endurance levels. This makes it one of the best dog foods for dogs with allergies.
Purina Pro Plan Large Breed Chicken & Rice Formula Dry Dog Food
The Purina Pro Plan Puppy Large Breed Dry Dog Food helps keep your pup big and robust. Specially designed for large-sized fur babies who are over 50 pounds, this formula provides all the nutrients they need to reach their most immense size.
The first ingredient happens to be chicken as the main source of protein, while the omega-rich fish oil DHA [5] supports your pup's vision and brain development. It also contains live probiotics that help maintain your pup's tummy, thus encouraging a robust digestive system.
It is highly efficient for dogs who are suffering from an upset stomach and diarrhea. Also, the best part about this Canidae dry dog food is that is highly affordable. It breaks the stigma attached to reasonably priced dog food, given the kind of hope and efficiency it brings to the table. If you happen to own a large breed, then the Purina Pro Plan Dry Dog Food is the perfect brand you can opt for your fur baby.
Pros
Designed primarily for larger fur babies who weigh at least fifty pounds.
Offers essential building blocks for your pup's development.
High protein formula nourishes your fur baby's development.
Omega three fish oil DHA promotes vision and brain development.
Cons
Only one flavor option currently available.
It is recommended that if your pup is already taking some other dog food, you slowly transition them over to this one rather than changing their diet overnight. Give them some time to get accustomed to their new food and see the change take place over time! The Purina Pro Plan Dog Food is one of the best dry dog foods for skin allergies and if you want your pup to stay fit and healthy, you should definitely opt for this brand.
Royal Canin Veterinary Diet Hydrolyzed Protein Adult HP Dry Dog Food
The Royal Canin Veterinary Diet Dry Dog Food has been specially crafted for fur babies who suffer from itching, skin issues, hair loss, tummy upsets, and other food sensitivities and intolerances. This hypoallergenic dog food recipe contains hydrolyzed proteins [6] that further break down into smaller pieces.
This helps your pup to digest their food quickly. These pieces of hydrolyzed proteins are much less harmful than traditional proteins that possess the capability to trigger your pup's immunity system. The presence of amino acids, Vitamin B, and omega-three fatty acid helps keep your pup's skin healthy and a super shiny coat.
Pros
It has been formulated for pups with skin and food sensitivity in addition to digestion and coat issues.
It helps control skin and gastrointestinal reactions that usually result from the usual protein present in dog foods.
The presence of prebiotics and fibers support a healthy digestive system.
Both adult dogs and puppies can consume it.
Promotes healthy skin and coat, thanks to Vitamin B, Omega-three fatty acids, and amino acids.
Cons
The price is higher than regular dog food.
The exclusive fiber blends in this formula encourage a robust digestive system. This formula has been crafted in a way so that dogs of all ages can have it without worry, and so your fur baby is safe to consume at any given point in time. It is also one of the best dog foods for Pitbulls with skin allergies and in case you own one, look no further!
Purina Pro Plan Savor Adult Shredded Blend Chicken & Rice Formula Dry Dog Food
Specially crafted with 26 percent protein and real chicken as the first ingredient, the Purina Pro Plan Savor Adult Dry Dog Food gives your pup the balanced and complete nutrition that it requires to lead a fit lifestyle.
It comprises an optimal protein and fat ratio that helps your little buddy stay healthy and in shape. It contains a blend of tender morsels, shredded, and dry food that gives it a fantastic texture bound to become your dog's favorite from the first bite.
Pros
It contains real chicken as the first ingredient, making it one of the market's highest protein formulas.
Its texture is a combination of hard and gentle pieces of kibbles.
The presence of live probiotics helps in maintaining healthy immunity and digestive system.
It contains omega-6 fatty acids and vitamin A which enables you to keep your pup's shiny coat and skin.
Cons
The presence of live probiotics in this dog food ensures that your pup's immunity system gets running and rewarded with a healthy digestive system. These aspects make it undoubtedly the best food for dogs with allergies on the market.
Hill's Science Diet Adult Large Breed Chicken & Barley Recipe Dry Dog Food
Hill's Science Diet Adult Dry Dog Food is one of the best dog food for dogs with skin allergies. It comes with the assurance that your little friend will live a lifetime of good health.
This hypoallergenic dog food recipe has been specifically formulated and meticulously tailored for big dogs to provide them with complete nutrition and nourishment. It comes with natural sources of chondroitin [7] and glucosamine [8] that keep your pup's joints intact and provides them with healthy cartilages.
Pros
The first ingredient happens to be chicken. It offers a flavourful taste bound to become an instant hit with your furry friend from the very first bite.
It has been scientifically formulated to provide balanced nutrition.
It contains natural sources of chondroitin and glucosamine that offer healthy joints and cartilages.
The presence of clinically proven antioxidant blends like Vitamin C and E encourages excellent health and a healthy immune system.
The presence of omega-6 fatty acids in combination with other nutrients ensures that your pup experiences a beautiful shiny coat.
Cons
Price may be higher compared to some other dog food brands.
Regular intake of this dog food ensures that your dog experiences great mobility with added nutrients, minerals, and vitamins. It also assures antioxidant benefits that are clinically proven.
Rachael Ray Nutrish Natural Chicken & Veggies Recipe Dry Dog Food
The Rachael Ray Nutrish Dry Dog Food is reasonably priced and provides your pup with all the nutrients they need to grow and develop a healthy immune system. Crafted with exciting flavors, your fur baby is bound to fall in love with it from the very first bite!
It is made with U.S. farm-raised chicken combined with healthy veggies that are sure to keep your pup strong and healthy. It is undoubtedly one of the best foods for dogs with allergies and it will help keep your little friend strong and devoid of unnecessary complications.
Pros
Offers a balanced meal as it has been formulated without wheat gluten, preservatives, or artificial colors.
Rich in probiotics like beet pulp and brown rice, which promotes a healthy digestive system.
Contains fantastic vitamin and mineral sources like carrots and peas, which provide optimum nutrition.
Contains poultry fats that are a natural source of omega-fatty acids, which help keep your furry baby's coat healthy and shiny.
Cons
Besides, this dry dog food does not come with any harmful preservatives or colors. It is both tasty and nutritious at the same time. Your fur babies will not only be attentive to their food from the very first day, but you will also see them getting energetic and happier with time.
This is one of the most reasonably priced dog foods on the market which will give your little buddy all the goodness and health that they truly deserve!
Hill's Science Diet Adult Sensitive Stomach & Skin Chicken Recipe Dry Dog Food
The Hill's Science Diet Adult Dry Dog Food happens to be one of the best dog foods for allergies on the market. It helps you to keep your little pup nourished and hydrated. This dog food helps to keep allergies in dogs at bay. It has been specifically designed for adult dogs and comprises prebiotic fibers and real chicken.
This combination helps your furry buddy to experience healthy digestion as it supports balanced microbiomes [9]. The presence of omega-6 fatty acids and vitamin E helps keep your buddy's coat healthy and shiny.
Pros
Promotes your pup's digestive health, thanks to the presence of prebiotic fiber.
This dog food from Hill's happens to be highly digestible, and hence it encourages high absorption, thus allowing your pup to produce stools that are easier to pick up.
Made with natural ingredients.
The presence of omega-6 fatty acids and Vitamin E helps to promote lustrous skin and a healthy coat.
Made with high-quality global ingredients.
Cons
Not recommended for puppies or pregnant/nursing dogs.
Your dog is bound to fall in love with this delicious recipe from the first bite as this dog food has been built based on decades of research [10]. It is one of the best hypoallergenic dog foods on the market and definitely a brand you should consider if you wish to keep your fur baby healthy.
Purina Pro Plan Focus Adult Sensitive Skin & Stomach Salmon & Rice Formula Dry Dog Food
The Purina Pro Plan Focus Adult Sensitive Dry Dog Food is everything your dog needs in order to lead a healthy lifestyle. As one of the best dog foods for skin allergies, it has a nutrient-rich recipe that will make your dog crave its time and over again. It is made from salmon that is not only great to taste but has an array of beneficial factors attached to it.
The formula is highly digestible and comprises a prebiotic fiber most suitable for dogs with sensitive stomachs. This dog food also contains rich sources of carbohydrates [11] like oatmeal and rice. Its special formula helps to nourish the beneficial bacteria that are usually found in your pal's intestine. This product is power packed with fish oil too.
Pros
It is the perfect choice for dogs with sensitive stomachs as it contains carbohydrates like oatmeal and rice that are highly digestible.
The first ingredient happens to be salmon, which is both high in protein and nutrient-rich.
Supports digestion, thus promoting a healthy immune system as it contains live probiotics.
It encourages positive digestive health and intestinal bacteria thanks to the natural prebiotic fiber it contains.
It comprises sunflower oil, a rich source of omega-six fatty acids, which helps keep your little buddy's skin and coat nourished at all times.
Cons
Limited availability of certain flavors and sizes in some regions.
Fish oil happens to be a rich source of omega-three acids [12] that help your pal continue to be mobile with healthy joints. On the other hand, the omega-six fatty acids [13] ensure that your pal stays with smooth skin and a rich coat.
Limited Ingredient Diets VS Hypoallergenic Dog Foods
Both limited and hypoallergenic dog foods have their share of advantages. Limited ingredient dog foods [14] contain a higher quality of ingredients that are beneficial for your furry friend.
Limited ingredient dog food is usually sold over the counter, and you do not need to visit the vet to introduce it to your pup. You can voluntarily get limited ingredient dog foods and introduce them to your pup's routine any time you wish.
On the other hand, hypoallergenic dog foods are power-packed with nutrients. They also happen to have higher protein content along with prebiotics and probiotics. They also contain a ton of fatty acids that are beneficial for your pup as it helps them avoid skin allergies and improve their mobility and digestive health.
Overall, although a hypoallergenic dog food recipe avoids common allergens, which is great for your pup, you should not feed it to your puppy without proper consultation with the vet.
Tips On How To Introduce A Sensitive Dog Food Diet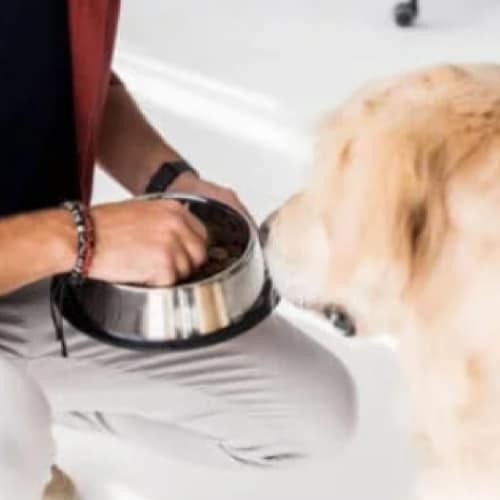 If you plan on changing your pup's diet, you should do it with utmost care – mostly if your puppy happens to have a sensitive stomach. It would be best if you start by keeping the ratio from ten percent of new dog food to ninety percent of the old dog food.
This will help your pup to transgress into their new diet slowly and comfortably. Feeding your dog using this mixture technique for the first couple of days before adding higher amounts of fresh food is a perfect tested method and is proven to be the best way to introduce a new food into your dog's diet.
By day five, you can introduce a 50:50 ratio recipe to your pup and see how they react. You may introduce 100 percent of the new dog food recipe to your puppy by the tenth day.
Frequently Asked Questions
What Is The Most Common Food Allergy In Dogs?
Some of the most common dog food allergies include skin issues, itchiness, diarrhea, low coat quality, chronic ear inflammation, vomiting, gas, licking obsessively, sensitive stomach, etc. These can come from consuming eggs, dairy products, grain, beef, soy, lamb, and chicken.

The best way to figure it out is to get your dog tested. There is an array of dog testing kits available on the market. Though food allergies are not all that common when it comes to dogs, it is always safe to get your little mate tested if you suspect anything unusual about their behavior.
Does Grain-free Dog Food Help With Skin Allergies?
It is a common belief that introducing a grain-free diet will help your little pup deal with skin allergies and that it will help them to get better with time. Though, this purely depends on a case-to-case basis.

Grain-free dog food is widely considered to be healthy as they utilize an array of carb sources and wholesome vegetables in the recipes. Introducing a fair amount of these recipes does not give way to obesity and is generally considered safe. Hence, it is a natural treatment for pups and dogs that are suffering from allergies.
Can A Dog Suddenly Become Allergic To His Food?
There is an array of factors that influences a dog's reaction to his usual food. It mostly depends on their genetics. Some dogs are likely to develop sudden allergies to their foods due to the inclusion of certain dog food ingredients.

Though this is not likely to take place very often, it is still applicable. Hence, it is always safer to be on the lookout frequently to check if your little friend is experiencing sudden systems and then act according to the situation at hand.
What Can I Give My Dog For Allergies?
The best thing to provide to your dog in case of allergies is a hypoallergenic diet. You may also opt for home-cooked food and watch out for differences. Some of the over-the-counter medicines include antihistamines, anti-allergy wipes and shampoos, and over-the-counter supplements.

If none of these things work out, it is best to take your pup to the doctor and get them tested and prescribed medication according to their conditions.

Here are a great video (12 minutes 58 seconds) from Dr. Andrew Jones explaining why food allergy happens in dogs, the most common signs and symptoms, and how to best treat dog food allergies with natural home remedies.
Final Thoughts
As a dog owner, it's important to understand the specifics of our dog's health, especially when it comes to their allergies. Not all dogs may have the exact same allergies, but knowing and finding out what dog food best benefits them is extremely helpful!
After going through this article, we hope that everyone can become better and more amazing dog parents overall.
Provide a good lifestyle for your beloved pups and choose only the best dog food for their allergies.
---
References:
Dog Allergy Symptoms: What's Causing Them and How to Treat it. American Kennel Club. Retrieved from https://www.akc.org/expert-advice/health/food-allergies-dog-scratching-licking/
5 Signs Your Dog Has Food Allergies - Dogs Naturally. Dogsnaturallymagazine.com. Retrieved from https://www.dogsnaturallymagazine.com/5-signs-your-dog-has-food-allergies/
Felson, S. (2017, January 26). What Are Probiotics? WebMD. Retrieved from https://www.webmd.com/digestive-disorders/what-are-probiotics
Prebiotic (nutrition). Wikipedia. Retrieved from https://en.wikipedia.org/wiki/Prebiotic_(nutrition)
12 Health Benefits of DHA (Docosahexaenoic Acid). Healthline. Retrieved from https://www.healthline.com/nutrition/dha-benefits
What Is Hydrolyzed Protein Dog Food? Petmd.com. Retrieved from https://www.petmd.com/dog/what-hydrolyzed-protein-dog-food
Chondroitin. Vca_corporate. Retrieved from https://vcahospitals.com/know-your-pet/chondroitin
Can Glucosamine for Dogs Help Treat Arthritis and Joint Pain? American Kennel Club. Retrieved from https://www.akc.org/expert-advice/health/glucosamine-dogs-arthritis-joint-pain/
Pet Microbiome: A New Approach to GI Pet Food | Hill's Pet. Hillspet.com. Retrieved from https://www.hillspet.com/about-us/nutritional-philosophy/microbiome
The Effects of Nutrition on the Gastrointestinal Microbiome of Cats and Dogs: Impact on Health and Disease. In Frontiers in Microbiology (Vol. 11). Frontiers Media SA. Retrieved from https://doi.org/10.3389/fmicb.2020.01266
Carbohydrates: Key to a Balanced Dog Food. Petmd.com. Retrieved from https://www.petmd.com/dog/nutrition/evr_dg_carbohydrates_key_to_balanced_dog_food
Hjalmarsdottir, F. (2018, October 15). 17 Science-Based Benefits of Omega-3 Fatty Acids. Healthline; Healthline Media. Retrieved from https://www.healthline.com/nutrition/17-health-benefits-of-omega-3
Role of Dietary Fatty Acids in Dogs & Cats. (2016, August 31). Today's Veterinary Practice. Retrieved from https://todaysveterinarypractice.com/nutrition/role-of-dietary-fatty-acids-in-dogs-cats/
What Is a Limited Ingredient Dog Food? Petmd.com. Retrieved from https://www.petmd.com/dog/nutrition/limited-ingredient-dog-food-it-right-your-dog
You May Also Like