The 8 Best Toys For African Grey Parrots Review
First published:
March 3, 2021
Last updated:
July 28, 2023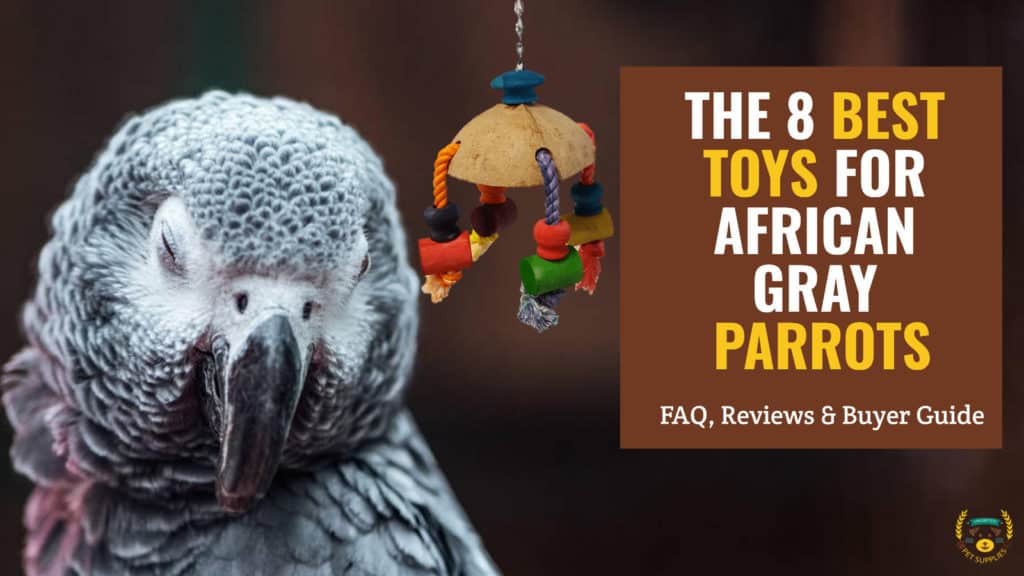 We are supported by our readers and we may earn a small commission when you click on some of the links at no additional cost to you. Our full disclaimer can be found
here
. Thank you.
Are you a proud owner of an African Grey parrot? Have you chanced upon this bird somewhere and now cannot think of anything else? We don't blame you!
If you are looking for a pet, then this is the bird that you must bring home as one of the best pet birds for beginners. It is quite possible that you may not be overly impressed with the bird at first glance. It has an understated dusty-grey body hence the name, and it is about the size of the common pigeon. But if you look closely, you will see a fire-red tail, orangey eyes, and a pretty plumage that is the characteristic of every bird from the parrot family.
There is a claim that African Grey parrots have been with humans from biblical times! The Grey is much coveted for its ability to talk and repeat words and phrases that it may have incidentally heard just a little over one or two times. By the time it is one year old, it is a fully talking bird mimicking all its sounds.
No Time To Read The Whole Article? No Worries. We've Done The Work For You And Compiled A List Of The Top Performers.
| Product | Features | Our Rating | |
| --- | --- | --- | --- |
Our Recommendations Of The Best Toys For African Grey
To keep your grey parrot happy and healthy, it is essential to create a stimulating environment to interact with its human family members. One of the best ways to boost your bird's mental health is by allowing it to explore and play with toys.
African grey parrot toys come in many shapes and sizes, and finding the best ones is a process of trial and error. Several toy manufacturers have designed affordable, safe, and durable toys specifically for African Grey parrots, making it easier to keep your pet entertained. Below are our top 10 picks of the best toys for African Greys.
Based on our research, testing, and experience, below is our final list:
Why Do Parrots Need Enrichment Activities And Toys?
Parrots are intelligent and social creatures that live in pairs or groups. In the wild, they actively forage for food, chew and destroy wood, noise, and build their nests throughout the day. This is known in the bird world as "enrichment" and is a key component of their wild behavior. In captivity, however, these behaviors are less stimulated, resulting in behavior issues.
Because of their intelligence, parrots need stimulation to keep them from getting bored. And that is where enrichment activities, toys, and games come into play:
The African Grey is a complex and sensitive bird. They will win you over with their charm and brilliance, but they also have issues with behavior. The bird can seem demanding, and so toys keep them occupied for a big part of the day, shielding them from mood swings.
They may demand more of your time, but surely they do not necessarily like cuddling. They tolerate a fair amount of petting and snuggling but abhor intense physical contact. Foraging toys and other activities keep them busy and far from getting bored and unhappy.
Greys get noisy, especially when they are learning sounds from their environment. They mimic sound tirelessly throughout their waking hours. Toys keep them busy.
They can develop terrible behavior like plucking and chewing their feathers if they get too bored. Like all other species of birds, they also miss their natural habitat. Giving them foraging toys helps to create a rainforest-like habitat where it would forage for its food.
Check Also: Best Parrot Food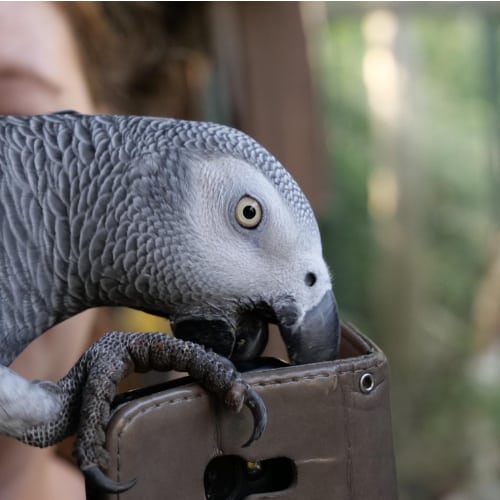 What Is A Good Toy For An African Grey?
The toys you pick must be stimulating, enriching, and educational. What's more important is they must encourage problem-solving skills in the pet. They dig puzzles, foraging toys, and toys that require opening or unlock to get to something kept inside. Natural wood, acrylic, and plastic are great for toys.
Here is a quick expert list of the toys to look out for your pampered greys:
Medium-density chewing and nipping wooden toys
Parrot puzzles with nuts or dried fruits hidden at each accomplished level
Stringed leather climbing toys that have a treat hidden in them
Foraging toys with several substrates and activity layers
Toys made from leaves that have natural fibers for them to preen
Noise making toys like rattlers and sound boxes
Perching toys made with rings
Food-grade carton boxes and newspaper rolled with treats inside also make fantastic toys.
How Do You Know If A Parrot Toy Is Safe?
By selecting toys specially designed for birds, you can be sure that the toys are safe for your pet. At the same time, exercise strict prudence in choosing toys for the greys to prevent serious accidents such as a toe or its beak getting caught in the toy. You must pay attention to the following details:
No sharp corners, large cracks and gaps, splinters, etc.
Restrict the number of parts and sub-parts
Refuse toys that come with metal chains and links as they can twist and get tangled in their feet and beak
No to too complicated and unfinished toys
Make sure that you pass only double U attachment (also known as C hook) for holding the toy in the cage
Damaged toys must be immediately fixed.
Veer away from toys and attachments that may contain traces of harmful or toxic chemicals and metals.
Parrot toys are usually sold according to the bird's size, so make sure you read the label before buying.
Go for sturdier toys over flimsy ones.
Here is a short video (6 minutes 27 seconds) from Parrot Playhouse providing good tips and discussing toys safety for parrots:
What Are The Most Suitable Toys For African Grey Parrots?
African grey parrots are incredibly intelligent birds with the ability to learn over 100 words. In order to keep their minds stimulated, they need to have toys (and bird-safe items) that provide mental and physical challenges.
They love chewing on different things and are particularly fond of wood. However, smaller African grey parrots will need toys specifically designed for them so that they don't swallow pieces that are too large.
The most suitable toys for African grey parrots include all of the following:
Swings! African greys can swing for hours. A large swing is mostly sufficient to cover the cage.
Foraging toys with treats like nuts or fruit inside is one of their favorite toys; look for well-made ones.
Chewing balls are similar to what you give to your felines and pooches but on a smaller scale. African greys love to keep something in their mouth all day.
Mini forests set up inside their cage will give them a feel of being in the wild again. The African grey parrot cages are usually kept on one side, touching the walls. They are not people's birds, and an environment stimulated to look like a rainforest will keep them happy.
Climbing ropes in cotton threads and leather are ideal for greys. You can tie them from the roof of the bird cage to hold and hang on it when they are in a playful mood.
Interactive and rattling toys, such as a music box or a wiffle block or balls.
Tiny dumbbells made from natural bones or rawhide
Plastic rings for them to perch on. They make great feet exercise for the greys.
Toys with music in them are also very attention-grabbing for the birds. Make sure that there are no jingle bells because they can cause choking if swallowed by them.
Branch shaped perches with pumice on them that will help to grind nails and beak.
Check Also: Best Squirrel Proof Bird Feeder
How Often Do You Need To Change Parrot Toys?
Rotate the African Grey parrot's toys every fortnight as it will keep them interested and active. Whenever you introduce a new toy or re-introduce an old toy, you must slowly do it. When you do it frequently, African greys will not completely ignore it or shy away from using it.
Watch and learn from your African grey's reactions to what they like and what they do not care for. If you see a pattern where they shy away from playing with certain toys, make sure they see you playing with it. Their inherent learning curiosity will push them to probe what it is that you are playing.
Once they begin playing with their hitherto ignored toy, leave it for two more weeks before you slate them back for another one from your toy stash—store toys in a clean cardboard box. You may add beads, blocks, and leather to upcycle them into DIY toys.
What Kind Of Toys Do African GREY Parrots Like?
The African Grey parrot enjoys toys that they can chew, swing on, and climb on. They dig the ones with noise, and they love foraging toys.
If space is a constraint, go for toys that double up as chewing and swinging or climbing toys. If budget is a problem, it is no problem at all. You can still keep your grey entertained all the time with these creative DIY toys:
Rolled up the newspaper with a treat
Cardboard that they can demolish
Plastic toys with old broken blocks or beads
Wooden corks stringed together for them to perch on it or to shred and destroy it
Plastic bottle caps minus the inserts
Big size plastic buttons
Bolts wrapped in paper; stainless steel only as other metals can prove toxic.
Paper cups; un-waxed
Popsicle sticks
Food grade cardboard discards such as egg crate etc.
Spool or clothespin with all sharp parts removed and sharp edges filed.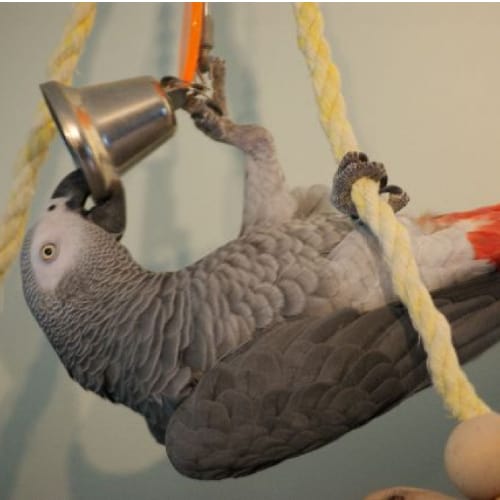 How Do You Keep An African GREY Entertained?
There are many ways you can entertain your cutie birdie. Here are a few ways you can try your hand at:
Spend time with it. Begin by talking and teaching basic word syllables. Sit in the same room, stroke its feathers on the head and pet it by gently scratching it. Look out for signs of whether your pet likes any of your petting habits. Be patient while teaching it tricks and words and reward with a treat when it does exceptionally well.
Improve the environment by cleaning the cage and setting it up differently. Offer perches and hiding areas in it and provide it with nutritious and tasty food. The enclosure must be big enough. Keep non-toxic plants inside the cages, and don't spray chemicals.
Give interesting toys to play with. Use wood, paper, cardboard to create chewing toys. Rotate the toys to keep the bird stimulated. Introduce a new toy slowly and demonstrate how to play with it so that it takes to it naturally.
Why Does My African GREY Parrot Shiver?
Shivering is typical of this bird species. It can mean one of the following things:
They are very excited
It is airing its wet feathers
It is feeling threatened by something or is afraid and nervous (red flag)
Food stuck in its esophagus
It is feeling itchy
African grey shaking its head means that it does not like something that you are offering it. It can also be putting out a pesky feather from entering its ear. It may have heard a new sound or seen someone entering the room.
Shaking its entire body is a preening act. They tidy up themselves with their beaks and quiver or shiver simultaneously. They will also shiver after a bath to shake off excess water and dry and fluff their plume. When they are very content and happy, they also shiver, often changing their restive position. If the bird is shaking its head too often, it could indicate an infection in the ear or the nares. You want to take it to the vet immediately.
Final Thoughts
Toys must not be ever considered as luxuries for the greys; they are essential for your bird's physical and psychological well-being. As much as possible, try to read and research about toys and pay closer and undivided attention to how the toy's construction is vis a vis the materials and dyes used in making it. The time you will invest in learning about them and choosing will be well awarded when you watch your darling pet happily playing with them. Nothing less than pure delight!
These unique African grey parrots' toys are engaging and keep them preoccupied most time of the day. If you look after them well, feed them the right stuff, take them to the vet regularly, and give them refreshing new toys every day, we promise that the African grey will become an asset to your household.
You May Also Like