The 11 Best Cages for African Grey Parrots: Reviews & Buyer Guide
First published:
May 9, 2023
Last updated:
August 4, 2023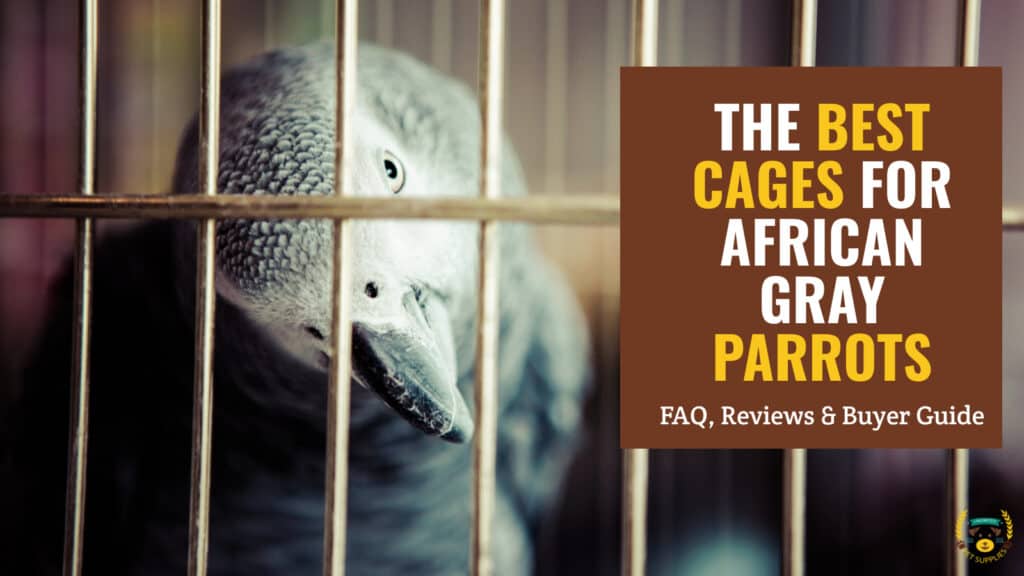 We are supported by our readers and we may earn a small commission when you click on some of the links at no additional cost to you. Our full disclaimer can be found
here
. Thank you.
African grey parrots are beloved for their intelligence and playfulness. They're also a long-term commitment, so it's important to choose the best cage possible when you bring one home.
In this article, we'll be discussing what features make up an optimal cage for an African grey parrot. We'll look at size, design, materials, and other considerations that will ensure your feathered friend is safe and comfortable in its new home.
Read on to learn more about finding the perfect cage for your African grey!
Importance of a Cage for Parrots
Cages specifically designed for parrots allow you to interact with your birdies peacefully. Many types of enclosures are available, ranging from simple wire cages to elaborate wooden ones with perches and toys.
Although parrots do need some time outside the cage as part of their training, being entirely without a cage is not advisable for new owners. Your pet may one day find a way to fly away even before you spend enough time developing a friendly bond with it.
No Time To Read The Whole Article? No Worries. We've Done The Work For You And Compiled A List Of The Top Performers.
| Product | Features | Our Rating | |
| --- | --- | --- | --- |
The 11 Best Cages for African Grey Parrots
Based on our research, testing, and experience, below is our final list:
Prevue Stainless Steel Play Top Bird Cage
Your pet will love living in the Prevue Stainless Steel Bird Cage. It is powder-coated steel, manufactured with a play top for the bird's out-of-the-cage time, which contains a stainless steel cup for your African Grey to have a fun time.
The Prevue bird cage allows easy removal of debris and leftover food through its removable feeding cups, trays, and grill. In addition, it has a unique feature of seed guards around the cage for a less messy mealtime. The heavy-duty push button safety lock, to keep your pet safe and secure in its home-like cage, is another remarkable attribute.
Finally, its perfectly designed frame with proper dimensions of 18" length, 18" width, and 57" height with 3/4" wire spacing is why every grey parrot lover gets one.
Pros
Stainless steel body
Play top stand
Four stainless steel feeders included
Push button Safety lock makes it a secure cage
Cons
This beauty in Black Hammertone coating is one of the best buys for your African Grey parrot. You will not regret getting this expensive but equally worthy pet cage for your beloved Grey.
Prevue Hendryx Wrought Iron Bird Cage
Prevue has again occupied the winning position with the Prevue Hendryx bird cage. It is made up of alloy steel, a sturdy yet lightweight material. Its play top stand is one striking feature that has two feeding stainless cups, a wooden perch, and a wrought-iron small ladder-like prop for the African Grey.
In addition, Prevue has given a larger seed guard add-on for the selected product to keep any morsel of food or waste from falling off to the floor and around and making a mess.
This highly-rated pet cage is available in multiple dimensions and colors depending on the size of your pet. You have to choose a smaller enclosure for a baby grey and the largest size for the fully grown adult grey parrot. This product's Sage green and garnet red colors are some aesthetically pleasing options.
Pros
Fairly priced cages
Great sturdiness
Easy to assemble
Tested for health and safety
Livable for all age groups and life stages
Cons
Build quality can be improved
You should consider buying your African Grey a Prevue Hendryx wrought Iron Bird Cage. This will give your pet lots of space to move around and enjoy their surroundings. In addition, it has a removable tray that lets you easily clean the cage without disturbing your pet. We encourage you to grab one for your favorite winged buddy while the price is still attractive.
PawHut 65" Double Rolling Metal Bird Cage
This unique bird cage by PawHut has extraordinary features which make it eye-catching. First of all, the design flexibility; you can detach its rolling casters when not needed or for easy transport. With many perches and stainless steel feeders, this sizable metallic bird cage will keep your birdies happy. The metal body and the durable plastic caster covers make it a life-long investment.
This cage has all the doors perfectly manufactured. The front doors are long enough for big parrots, and the feeder doors slide easily . In addition, a removable tray to take out the trash and waste is a worthy attribute. With all this, its bottom grill has ample space to keep pet supplies handy.
Pros
Detachable lower compartments
High-quality metal
Enough room for 3 or more parrots
Secure door locks
Cons
Unclear assembly instructions
This unique detachable metal bird cage will add excitement in your bird's life. Its mind-blowing attributes make it a top choice for bird owners. Get your smart birdie this special PawHut cage right now!
VIVOHOME Wrought Iron Large Bird Cage
Vivohome is a shining star as a brand in pet products, especially with its variety of bird cages. In this wrought iron large cage, your pet parrot will enjoy its time and find its new home super comfy.
The frame is made of rust-free and low-carbon alloy steel, ensuring a healthier and safer environment in the enclosure. The non-toxic painted body is another reason your pet has a healthy life in captivity.
The caster wheels attached with four steel rods at the bottom make it more durable and easy to move the cage. With the VIVOHOME bird cage, moving your bird from your lounge to your garden or rooftop won't be a hassle.
The cage has ample space for your pet or even its other feathered friends. They will feel like they are walking and flying in a mansion. The cage is large enough to hang pet toys or different types of perches on its flat top. The bottom side has a sandbox that works as a slide-out tray. You can slide it out quickly and put it back cleaned and refilled.
The cage is available in white and black colors, with variable sizes of 53", 54" (shaped differently) and 72" to ensure birds of all ages and sizes can be safely kept. The design is clean, and the cage will perfectly fit in any space of the house without affecting the aesthetics.
Pros
Large case available in three different sizes and two colors
Easy Cleaning and mobility
Manufactured with healthy cage materials
Sturdy and Durable steel frame
Loads of accessories included in the package
Cons
Not the best for baby Grey Parrots
This is a good quality parrot cage with great value for the money. If you don't want to make a terrible decision for the African grey parrot you have adopted recently, this bird cage by VIVOHOME is your best bet!
PawHut 54" Rolling Flight Cage Extra Large Bird House
Another mansion-like large birdhouse is our next pick; the company describes their 54-inch large cage as their affordable yet excellent quality enclosure for your feathered friends. Your Grey can easily roam around the safe cage and flap its wings to enjoy its time.
There is ample space to install different perches and feeding bowls. This cage will also welcome different bird toys with which your African Grey can have fun.
Multiple doors allow better access to provide your pet with food and water. In addition, the perfect bar spacing protects your pet bird from any predators and stops it from potential escape.
Pros
Lightweight yet durable
Four ball-shaped rolling casters for easy mobility
Large enough for more than one bird
Safe pet cage with proper bar spacing
Cons
Rolling casters should have a lock
If you are looking for a perfect cage with proper bar spacing, lightweight caster wheels, and ideal size at an affordable price, the PawHut Rolling flight cage is the one. Your winged babies will have fun inside this large enough, safe pet cage.
Vivohome 59.8 Inch Wrought Iron Bird Cage
The VIVOHOME 59.8 Inch Wrought Iron Bird Cage is ideal for pet owners looking to provide their African Grey Parrots with a secure and comfortable environment.
This bird cage offers easy assembly, making it simple to set up in any space. It also has safety features such as locking joints that prevent birds from escaping, in addition to noise reduction capabilities due to its sturdy frame construction.
The cage also has numerous accessibility options, including two doorways so you can easily retrieve your feathered friends when needed. Additionally, this birdcage comes with a sleek design aesthetic that will match virtually any decor style.
Pros
Spacious, especially for small birds
Easy access with two doors with locks
Possible to open the top area and place a perch
Good value for the price
Rolls easily
Easy to clean
Beautiful design
Cons
Slight problem with the perch fitting on top when open
Flimsy in some areas
With the various ways for the pet to play, four feeder cups, four wood perches, one swing, and multiple bars, this cage provides ample entertainment for your parrot while allowing them enough room to move around freely and comfortably. It will host even a younger Grey thanks to its 0.4" bar spacing.
VIVOHOME 54 Inch Wrought Iron Large bird Flight Cage
This large palace-like living place is another excellent addition to our list of African grey cages. The premium metal used in manufacturing its frame is high-quality and durable carbon steel. In addition, with its non-toxic paint, the company guarantees it to have corrosion-free attributes. These features combine to make your African Grey's environment secure and healthy.
You can enhance its ornamental value by adding hanging pots or bird toys to its flat top. Like other quality cages, VIVOHOME has removable shelving. The pull-out tray under the grill can slide out like a drawer, and you can wash all the debris away. In addition, 4 transparent food boxes are included in the package with 2 wooden perches for the birds to sit on. Four rotating wheels and brakes allow easy mobility.
Pros
Made of Strong carbon steel
Corrosion-resistant paint
Accessories included in the package
Easy to clean
Cons
Food bowls are not secured
A beautifully designed 54-inch Portable wrought iron bird cage must be your choice if you want a healthy yet enjoyable life for your favorite feathered friends. So, if you are still stuck with choosing a cage for your pet, buy this one, and you won't be disappointed with your decision.
Yintatech 52-Inch Wrought Iron Flight Bird Cage
If you don't like those enormous mansion-like homes for your Greys or the little ones that look too short for your birdie, get the Yintatech 52-inch wrought iron flight bird cage. It is manufactured with sturdy and durable metal. In addition, the powder paint secures the metal from any corrosion and related problems.
There are two doors on the front of the cage allowing easy access for taking out and putting the birds back in. In addition, a long sliding bar with a firm latch is used to deter the birds from flying away. Several accessories are also included in the package, such as 3 wooden perches and 4 plastic food bowls. The cage is spacious enough for the birds to flap and extend their wings without hitting the cage frame.
The 0.64" spacing between the bars is excellent for Greys, yet not suitable for other smaller bird species like sparrows or budgies. The cage comes with four bowls and three wood perches included.
Pros
No sharp edges
Corrosion-free powder paint
Sturdy metallic frame
Heavy-duty roller casters
Cons
If you are a true parrot lover, you will like the excellent features of this cage. This perfectly-sized durable cage with a metallic frame makes your birds happy and healthy. Neither you nor your bird will ever regret purchasing this spacious fly cage.
Yaheetech 69-inch Wrought Iron Rolling Large Parrot Bird Cage
Here is an enormous Grey parrot cage. Yaheetech's 69-inch wrought iron bird cage is even taller than an average woman's height. This vast rolling metallic bird cage is painted with water and rust-resistant substances to keep it strong and durable.
The rooftop of this cage has all the luxuries a pet would enjoy; two stainless steel bowls, a long wooden perch, a wrought iron ladder, and on top of them is a sliding trash tray. It is spacious enough to accommodate 2 to 3 African greys easily.
The manufacturer has prioritized health and cleanliness over other features. For that, there is a drawer-like tray at the bottom to catch droppings and debris. A grill above the drawer prevents the birds from directly contacting the waste.
Its all-directional caster wheels are attached with wrought iron rods to move this massive beauty.
Pros
Water and corrosion-resistant paint
Huge parrot cage
Accessorized play top
360° moving caster wheels
Removable debris tray with a handle
Amazing seed guard
Cons
Might be too big for one Grey
This cage is perfect for your African Grey to fly and flap its wings comfortably. Your feathered friend will be happy to live in this healthy and secure cage. It has some convenient features which your intelligent African Grey would love to experience. Its easy rolling and sturdiness is what we liked the most.
Prevue Pet Wrought Iron Select Bird Cage Pewter Hammertone 3151blk
The Prevue Pet 3151BLK is the ultimate cage for your African grey parrot. This premium design features a heavy-duty push button door lock to keep your bird secure and durable wrought iron construction enhanced by a non-toxic powder-coated finish. The easy setup makes this cage perfect for both experienced and novice owners; it can accommodate any parrot size.
This Bird Cage provides more than just safety and security; it also offers comfort for your pet with ample space for activities such as swinging or playing.
Its rounded seed guards help maintain a clean living environment and make cleaning easier for you too!
With four stainless steel cups included, your bird will always have access to fresh water and food throughout the day.
Pros
Easy assembly.
Comes with a play top and seed catcher.
Updated main cage lock that is more secure.
Multiple colors and sizes.
Sturdy and well-built.
Perfect size and bar spacing for the bird.
Cons
Some customers received cages with sharp corners and rough areas in the powder coating.
The bottom tray and bottom grate may not fit in evenly or close all the way in some cases.
The Prevue Pet Hammertone 3151BLK has everything needed to provide a comfortable and safe environment for your beloved bird.
Yaheetech 60.5inch Extra Large Bird Cage
The Yaheetech 60.5-inch Extra Large Bird Cage is an ideal habitat for your feathered friends, with its large size and roomy space providing the perfect home for up to 10-12 birds (small to medium-sized).
Constructed of water-resistant coated metal, this cage offers a sturdy and durable construction that ensures safety and long-lasting use.
The two large front doors provide easy access to the interior while also featuring locks to secure your precious dwellers inside.
For convenience and ease of cleaning, a removable tray lets you eliminate any debris to keep your bird healthy.
Additionally, four wooden dowel perches and feeders are included so that your African Grey Parrot can start exploring right away!
Pros
Spacious cage
Two large doors
Easy to assemble
Includes feeders and perches
Great value
Fast delivery
Cons
Thin and flimsy bottom tray
Instructions could be clearer
All in all, the Yaheetech 60.5-inch Extra Large Bird Cage provides maximum comfort along with simple assembly requirements - making it one of the best cages available for African Grey Parrots.
Factors Affecting Your Pet's Cage Life
Although you are trying hard to keep your Grey parrot happy, some factors may affect your pet's life in captivity. You should take care of those to make the bond between you and your feathered friend solid and long-lasting.
Location of the Cage in Your House
The placement of the cage you have chosen is one important point to consider. African Greys are social beings and like to be heard and seen, so the lounge or sitting room of your house is the perfect place for your Grey.
With this, you should avoid over-trafficking or placing it somewhere where the parrot might feel insecure. Instead, there should be one hiding spot for the parrot. The African Grey is an intelligent parrot; it knows how to please its housemates and expects the same from the owners.
Taking their movable cage to the garden or near the trees is an excellent activity. Greys enjoy this time to the fullest.
Lighting & Air Purification in Cage Area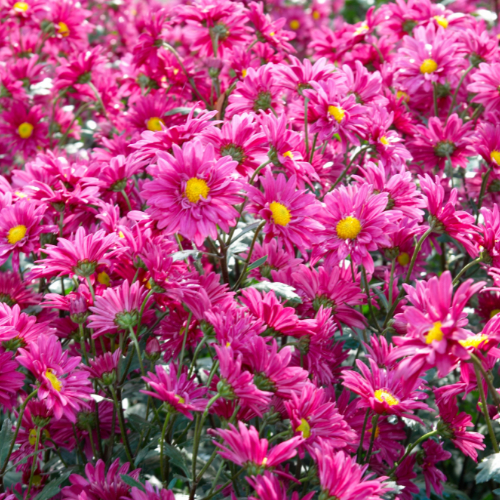 Birds and parrots have four color receptors in their eyes; they can see ultraviolet light. That's why regular incandescent bulbs aren't a good choice for your bird because they don't produce enough light. Instead, you should better invest in a full-spectrum light bulb to include inside the enclosure.
We advise you to get an air purifier for their cage because African Grey parrots are very sensitive about their living environment. Therefore, it must be kept clean and germ-free.
There are, however, cheaper ways to air purification; get an indoor plant like Snake plant, English Ivy, Chrysanthemums, Aloe vera, among others.
Cleaning their cage regularly is essential. A clean and odorless house will benefit your parrot and keep you healthy. Pets provide us with a sense of belonging, comfort, and safety. They help bring happiness into our lives. It would therefore be prudent for you to provide a clean, safe, and adequately ventilated cage for your birds.
Buyer Guide: What To Consider Before Buying A Cage For Your Grey Parrot
We have tried compiling a list of the 11 best cages for your African Grey Parrots. But, before making a purchase, check the following buying guide, which allows you to know different factors to consider in a pet bird's cage.
Size of The Cage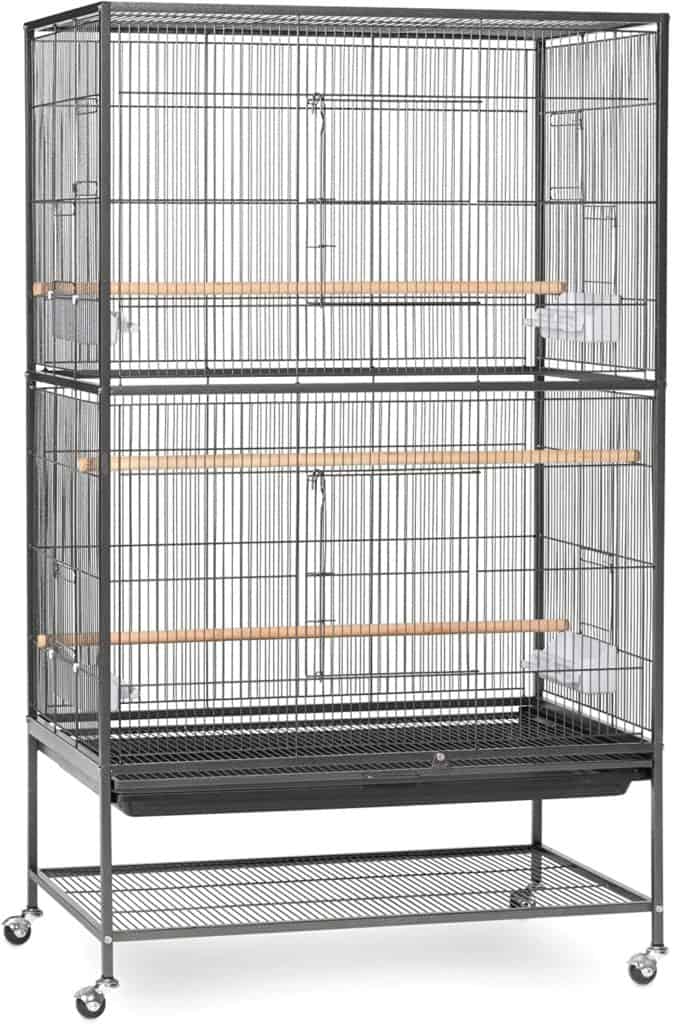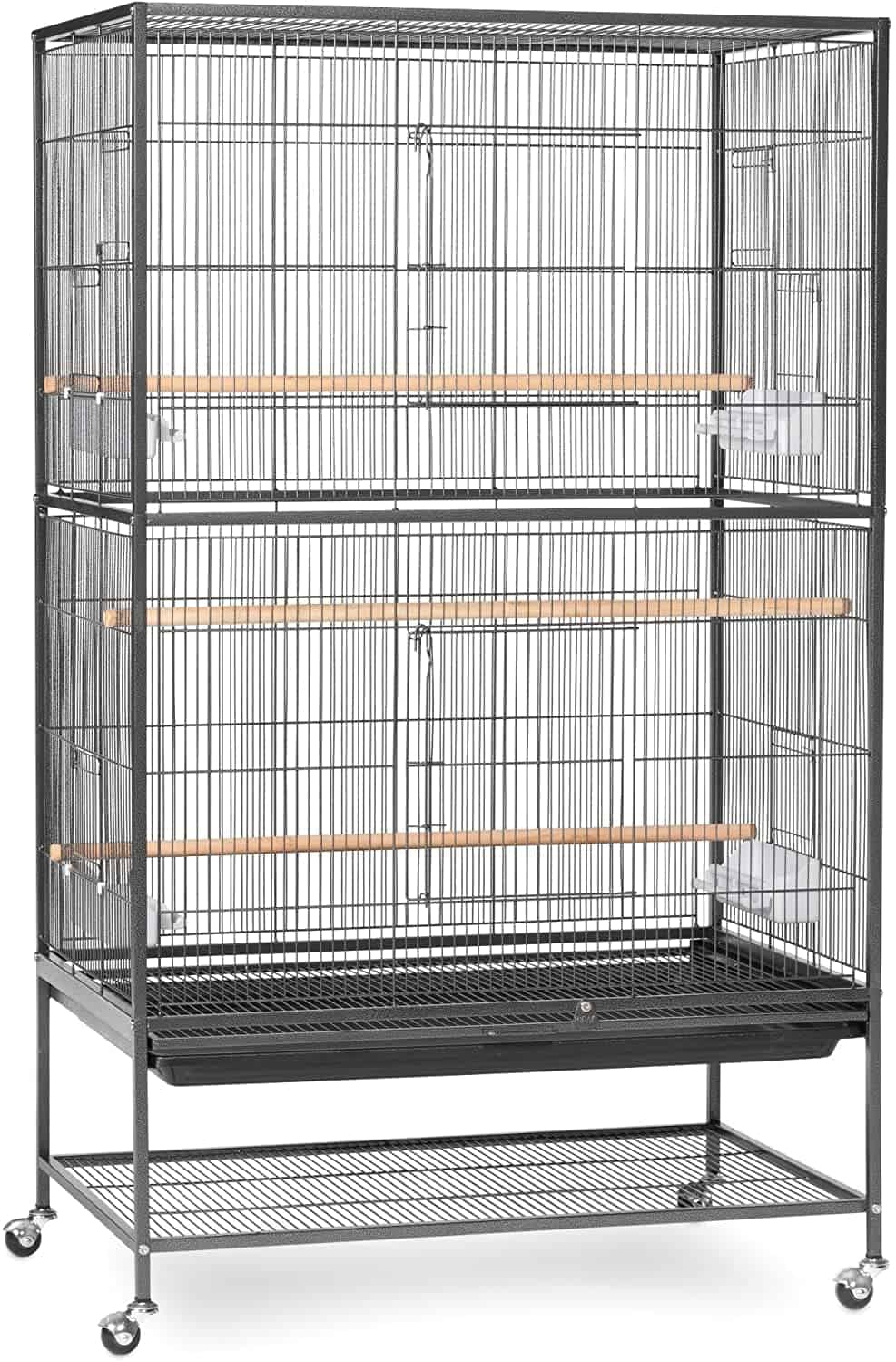 Your African Grey Parrot is mid-sized in comparison to other breeds. Therefore, getting a pet cage large enough for your Grey to experience short flights and flap its wings comfortably without hitting the cage frame is recommended.
The minimum size needed for an African grey is 36", x24", x48", but you should go for an additional foot or more to help your parrot enjoy its time in its cage.
Bar Spacing
We suggest you have proper bar spacing to avoid any mishaps like a predator's attack or an escape attempt. It is one consideration necessary for the safety of your winged pet. The recommended bar spacing for an African Grey is 3/4" to 1".
Orientation ( Vertical or Horizontal )
Although most of the regular parrot cages have vertical bars for an African Grey, a cage with horizontal bars is recommended so that it can climb and roam around easily. Horizontal orientation is also necessary to attach accessories such as perches, feeder bowls, and bird toys.
But size is a more important factor to consider for Greys. If a perfectly sized cage has a vertical orientation, choose that over the smaller one with horizontal bar arrangements. You have an intelligent parrot breed, and it will eventually find a way to climb and have fun in any orientation.
Ease of Access & Cleaning
You should also consider the easy access for cleaning in a cage. For example, having removable trays, sliding feeders, and seed guards are some of the components that may help properly clean your pet's home.
Materials and Build Quality
There are bird cages made from different types of materials. Several types are available for sale, including galvanized, powder-coated, or stainless steel wire. You must avoid toxic materials or ones that are prone to corrosion.
To keep African Grey parrots happy, we need to provide them with sturdy cages that they can use to practice strong chewing. Because of this, you'll probably be better off using wire cages than plastic ones. Wooden enclosures are harder to clean.
Accessories
Accessories play an essential role in the aesthetic value of a bird cage. Most cages have several types of perches at different levels. Wooden perches are the most used accessory in our reviewed cages. You should be looking for cages with spiral ropes, ladders, and other bird toys for a better living experience for your African Grey.
Frequently Asked Questions
Before wrapping up our article, let's go through some of the most frequently asked questions to help you get as many answers for your queries as possible.
What Is The Average Lifespan Of An African Grey Parrot?
The average lifespan of an African Grey Parrot can vary depending on its diet, enrichment activities, medical care, and vocalizing habits.

Most African Grey parrots live between 40-60 years in captivity if they are properly cared for - given a balanced diet, access to flight needs, and regular veterinary checkups.

When providing the best environment for your pet bird, paying attention to these elements is essential, as any deficiency or lack of care could significantly shorten its life expectancy.
Are African Grey Parrots Cuddly?
African Grey parrots are known to be one of the most intelligent species of birds and can make great pets if properly socialized.

However, they don't typically enjoy physical contact like cuddling as much as other pet birds bred for that purpose.

Their vocalization preferences, perching requirements, cage size guidelines, and flight safety should all be taken into consideration when socializing them.

Therefore, it is important to understand their needs before taking on this type of commitment.
What Is The Best Type Of Food To Feed An African Grey Parrot?
75 to 80% of the pet's diet should be made of pellets, which are the ideal food for Greys. The remaining 20% should be composed of the other food types.

Providing a balanced diet is essential. A variety of fresh fruits and vegetables should be included in the parrot's daily meals, along with seeds, grains, legumes, and nuts.
How Often Should An African Grey Parrot's Cage Be Cleaned?
The size of the cage will determine how often it needs to be cleaned, as well as what sanitizing materials you should use. 

Generally speaking, a smaller cage needs to be thoroughly cleaned once a week with hot water and bird-safe disinfectants; larger cages can typically go two weeks between full cleanings.

What Is The Best Way To Train An African Grey Parrot?
Training an African Grey Parrot requires socializing tips, enrichment activities, speech development, and dietary concerns.

As with any pet bird, controlling noise levels is important to prevent your parrot from getting over-excited or too loud.

Socializing involves spending quality time with your bird each day in a quiet atmosphere.

Enrichment activities can include providing toys, such as chewable wood pieces or colorful swings, to keep it busy.

Speech development comes through daily repetition of words that you want the parrot to learn; use treats to reward progress.

Dietary concerns involve making sure the parrot eats healthy food like fresh fruits and vegetables as well as good-quality seed mix every day.

With proper training techniques and patience, you'll have a happy and healthier African Grey Parrot!

Conclusion
When it comes to finding the best cage for an African Grey parrot, there are many considerations.
It's important to consider the size of the cage and make sure that it provides enough room for your bird to move around comfortably.
Regular cleaning is essential in order to provide a healthy environment for your pet.
Finally, providing proper nutrition and training should be part of any responsible owner's routine when caring for their beloved feathered companion.
With these key elements in place, you can ensure that your African Grey will live a long and happy life with you as its loving caretaker!
You May Also Like