15 Best Smelling Dog Shampoos - Reviews & Guide
First published:
October 13, 2023
Last updated:
October 19, 2023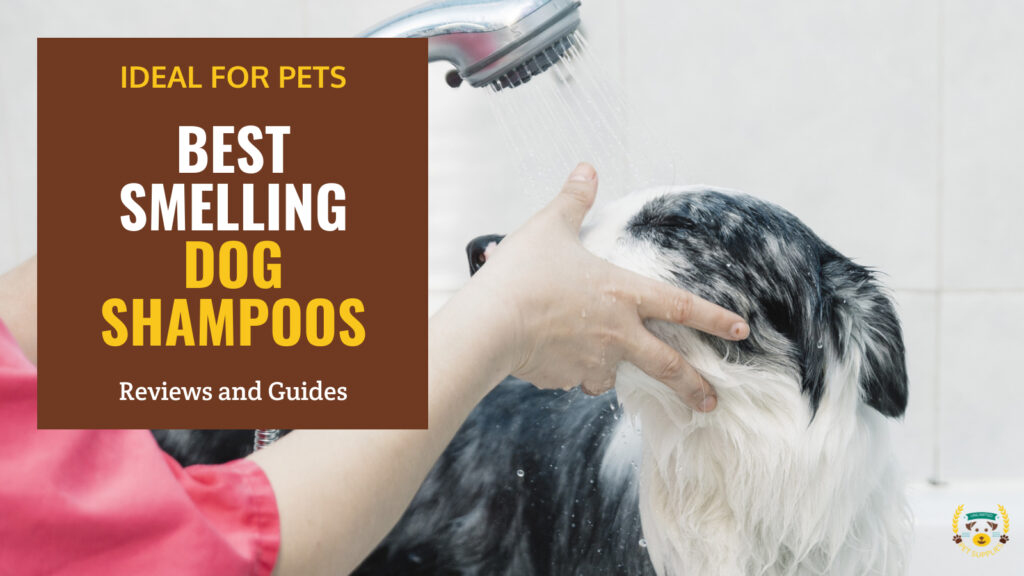 We are supported by our readers and we may earn a small commission when you click on some of the links at no additional cost to you. Our full disclaimer can be found
here
. Thank you.
Summary
Our top pick for the Best Smelling Dog Shampoo is Buddy Wash Original Lavender & Mint Dog Shampoo & Conditioner. This calming shampoo and conditioner bundle leaves coats clean, soft, shiny and smelling lightly of lavender mint. The easy rinsing formula penetrates thick fur and the cologne freshens between baths, making it one of the best natural scented shampoos.
Have you ever caught a whiff of your dog after they've been playing outside? That earthy scent can quickly make its way through your home. While some dog owners don't mind their pup's natural smell, others prefer keeping their homes fresh with a sweet-smelling pooch. The good news is that you can easily bathe your dog using specially formulated shampoos to leave their coat clean, soft and deliciously fragrant.
In this article, we'll explore the benefits of scented dog shampoos and provide tips for choosing the best option for your four-legged friend. You'll learn why natural shampoos with essential oils are ideal over synthetic fragrances, along with scent suggestions that both you and your dog will love. With the right shampoo, you can have your home smelling as fresh as a spring meadow, no matter how much time your dog spends digging in the garden.
So grab some shampoo and let's get sniffing out the possibilities!
No Time To Read The Whole Article? No Worries. We've Done The Work For You And Compiled A List Of The Top Performers.
| Product | Features | Our Rating | |
| --- | --- | --- | --- |
Our Picks for the Best Smelling Dog Shampoos of 2023
Based on our own testing, the following are the top dog shampoos you can use to freshen up your pet. These include products with different price points, capacities and purposes. Some are made for dogs exclusively, while others can be used with other pets (like cats).
Some combine shampoo and conditioner to keep your dog's coat smelling and feeling good. There are also products made specifically for pets with sensitive skin; so whatever the needs of your pets, you can find a shampoo for your beloved pet.
Buddy Wash Original Lavender & Mint Dog Shampoo & Conditioner & Spritzer
Our top overall pick is Buddy Wash's shampoo and conditioner; this grooming bundle lives up to its claims of being a top calming and conditioning shampoo and spray for dogs.
The lavender mint scent is fresh and pleasant without being overpowering. We found the shampoo lathers extremely well, allowing it to penetrate deeply into the thickest of coats (even my golden retriever's thick coat that I tested the product on). It rinses out easily, leaving fur clean, soft, and shiny.
The conditioner is lightweight yet imparts noticeable softness and manageability. Between baths, a quick spritz of the cologne eliminates any "doggy" odor and leaves a subtle lavender mint fragrance.
Pros
Soothes and calms dogs during bath
Leaves coat soft, silky, shiny
Light lavender mint scent
Easy rinsing formula
Freshens coat between washes
Lightweight conditioner
Cons
Cologne scent fades quickly
If you're looking for a high-quality shampoo and conditioner bundle with a calming aroma, the Buddy Wash Lavender Mint duo will pamper your pup's coat while providing a soothing bath time experience. The cologne adds a nice touch for freshening in between full washes. For dogs with extremely thick or long coats, you may need additional conditioner. Overall, this is one of the best-smelling natural dog shampoo and conditioner sets I've tried.
Honest Paws Dog Shampoo and Conditioner - 5-in-1
This 5-in-1 formula from Honest Paws impresses on all fronts. It is a high-quality shampoo that cleanses thoroughly while nourishing your pets' skin and coats.
Right away I noticed the fresh, pleasant scent. It's not overpowering, just a light oatmeal aroma that lingers pleasantly after rinsing. The formula creates a decent lather that distributes easily without stripping away natural oils. It requires only one wash to thoroughly cleanse away dirt, grease, and odors.
My dogs have sensitive skin but this shampoo did not cause any irritation. Their coats emerged clean, detangled, and incredibly soft. The oatmeal and aloe ingredients are gentle while providing much-needed moisture to their skin. Even my oldest dog's dry patches looked soothed and hydrated after just one use.
Pros
Cleanses thoroughly without irritation
Leaves coats soft and manageable
Light pleasant scent
Available in different sizes and bundles
Cons
Requires a bit more product to work into a good lather compared to some shampoos
The effects didn't seem to last as long as some conditioners I've used
Overall, this is an outstanding shampoo that outperforms most on the market. The plant-based formula is gentle enough for regular use but still gets the job done. If you seek an effective, non-irritating shampoo that leaves coats clean and touchably soft, I highly recommend giving Honest Paws a try. It's become my new go-to for keeping dogs looking and feeling their best.
Vets Preferred Oatmeal Dog Shampoo & Conditioner
If you're looking for a great-smelling dog shampoo to keep your pup clean and fresh, Vets Preferred Oatmeal Dog Shampoo is an excellent option. This 5-in-1 shampoo gently cleanses your dog's skin and coat while providing moisturizing, deodorizing, detangling, and conditioning benefits.
Formulated with natural ingredients like oatmeal, coconut, palm, and aloe, this shampoo is suitable for dogs with sensitive skin. The oatmeal soothes dry, itchy skin while the coconut-based cleansers provide a thorough yet gentle clean. Your dog's coat will be left feeling silky smooth, clean, and fresh-smelling after each bath.
Unlike other dog shampoos, Vets Preferred is free of harsh chemicals like sulfates, phosphates, parabens, and DEA that can irritate your dog's skin. It's safe for regular use on all dog breeds and puppies over 12 weeks old. This shampoo for dogs stands out from competitors as the best for optimal skin and coat health.
Pros
Soothes dry, itchy skin
Natural coconut cleansers
Detangles and conditions
Hypoallergenic formula
Safe for puppies, with no harsh chemicals
Cons
The scent could be stronger
You can't go wrong with the Vets Preferred Oatmeal Dog Shampoo. The coconut and oatmeal blend leaves behind a light, pleasant fragrance while thoroughly cleansing even sensitive skin. Your dog's coat will look and feel its best after a bath with this quality shampoo.
Hydra Professional Odor Neutralizing Shampoo for Dogs and Cats
When it comes to keeping your dog clean, fresh, and odor-free, this professional dog shampoo is an excellent choice. Formulated for professional groomers, it contains a salon-grade formula designed to deeply cleanse fur and skin. The signature fragrance leaves your dog with a pleasant, long-lasting scent.
Unlike harsh shampoos that dry out skin, this pet wash contains oatmeal extract to relieve itchy and sensitive skin. Oatmeal promotes hydration and moisture while opening up hair cuticles to allow for a deeper clean. Other natural ingredients work to neutralize odors and remove dirt while being gentle on your dog's pH balanced skin and coat.
You'll love that this shampoo helps reduce bathing stress. The formula rinses out easily and promotes fast drying so you spend less time washing and drying your pup. It's designed to be diluted 10:1 with water so one bottle goes a long way, making it cost-effective.
Pros
The salon-grade formula deeply cleanses fur and skin
Long-lasting pleasant fragrance
Oatmeal extract relieves itchy, sensitive skin
Natural ingredients gently neutralize odors
Rinses easily and promotes fast drying
Cons
Fragrance may be too strong for some
Not specified as organic or natural
With its skin-soothing oatmeal extract, odor-eliminating properties, and ability to reduce bath time stress, this professional dog shampoo is a great choice for keeping your dog clean, fresh, and scented. The salon-grade formula rivals even human shampoos, making bath time a breeze. If you're looking for one of the best smelling dog shampoos, this one will check all the boxes.
CHI for Dogs Oatmeal Shampoo for Dry and Irritated Skin
CHI for Dogs Oatmeal Shampoo is an excellent option for pet owners looking for the best smelling dog shampoo to soothe irritated skin. Formulated with oatmeal, this pH balanced shampoo gently cleanses while providing moisturizing ingredients to rehydrate dry, itchy skin.
You'll notice the fresh scent immediately upon lathering it into your dog's coat. The shampoo creates a rich, creamy foam that penetrates deeply to nourish hair follicles. As you rinse, the luxurious formula seals the cuticle leaving fur exceptionally soft, smooth, and shiny.
What makes CHI for Dogs a top choice for irritated skin and promoting a great smell is its blend of moisturizing and soothing ingredients. Sweet almond oil, vitamin E, and panthenol infuse moisture into the skin and coat. Natural oatmeal calms and relieves flaking and itchiness. All the while, the shampoo maintains a neutral pH level safe for regular use.
Pros
Soothes dry, irritated skin while cleansing
Leaves fur soft, smooth, and shiny
Fresh, pleasant aroma
Rich, creamy lather
Moisturizing ingredients hydrate skin and coat
Cons
Expensive, compared to regular pet shampoos
For a high-quality shampoo that cleans, moisturizes, and leaves your dog smelling fresh, CHI for Dogs Oatmeal Shampoo is a top choice. The luxurious formula and soothing oatmeal provide relief for irritated skin while leaving fur touchably soft with a light, clean scent. If you don't mind paying a little more for a gentle, effective shampoo, this pH-balanced formula will keep your dog's coat, skin, and smell in great condition.
PPP AromaCare Brightening Juniper Berry Dog Shampoo - Best Value
The PPP AromaCare Brightening Juniper Berry Dog Shampoo is an excellent choice to keep your pup clean, fresh, and odor-free. Formulated with natural juniper berry extract, this shampoo produces a lovely cleansing aroma while brightening light coats and intensifying dark coats. The juniper berry extract works to cleanse the coat and skin, removing dirt, oils, and odors.
You'll appreciate how this shampoo foams gently yet effectively to lift dirt, debris, and odors from the fur and skin. The inclusion of aloe vera, safflower oil, and vitamins A and E nourishes the skin and leaves the coat shiny, smooth, and healthy-looking. This spa-quality shampoo provides an aromatherapy experience for your dog with its refreshing juniper scent. It's safe for use on both dogs and puppies.
With its gallon size bottle, this shampoo is easy to dilute 32:1 to make it last. The Directions are straightforward - simply wet, lather, rinse and repeat if needed. The shampoo produces a rich, cleansing lather that rinses out easily. Your dog will be left clean, fresh, and smelling wonderful.
Pros
Brightens and whitens light fur coats
Intensifies dark and mixed color coats
Uses natural juniper berry extract
Contains aloe, safflower oil, vitamins A and E
Foams gently yet effectively
Leaves a light juniper berry aroma
Gallon size offers good value
Cons
For those looking for an aromatherapeutic shampoo that also cleans and brightens, PPP AromaCare Juniper Berry Dog Shampoo is a top choice. Your dog will smell fresh and clean while their coat and skin are nourished. This natural juniper berry formula brings the spa experience home.
Alpha Dog Puppy Shampoo and Conditioner For Puppies
The Alpha Dog Puppy Shampoo and Conditioner is another excellent option for keeping your puppy clean, fresh, and smelling great. This 2-in-1 formula combines a gentle cleansing shampoo and softening conditioner, making bath time easy and effective.
Designed specifically for puppies, this pH-balanced shampoo and conditioner is mild enough for sensitive skin. Key ingredients like aloe vera provide moisturizing properties to prevent dryness. The tearless formula also helps avoid irritation if it gets in your puppy's eyes.
Thorough cleaning power removes dirt, odors, and other unwanted elements from your puppy's coat. The baby powder scent leaves behind a pleasant, long-lasting fragrance that adheres to the fur for up to two weeks. This light, sweet scent is much better than the typical "wet dog" odor.
With natural fruit and plant extracts, this shampoo and conditioner nourishes skin and fur. The formula helps relieve common puppy conditions like dry skin, dandruff, rashes, and itchiness. Regular bathing promotes healthy skin and a soft, shiny coat.
Pros
Gentle cleansing for puppy's sensitive skin
Moisturizing ingredients prevent dryness
Tearless formula avoids eye irritation
Thoroughly removes dirt and odors
Leaves long-lasting baby powder scent
Soothes skin issues like dryness and rashes
Cons
Needs to lather well for effective cleansing
For puppy owners looking for an effective cleanser that also smells great, the Alpha Dog Puppy Shampoo and Conditioner is a top choice. The 2-in-1 formula cleanses thoroughly while soothing and nourishing delicate puppy skin and coat. This shampoo makes bath time easier and keeps your puppy smelling wonderful.
Bobbi Panter Natural Moisturizing Dog Shampoo
Bobbi Panter's Natural Moisturizing Dog Shampoo lives up to its name, providing superb moisturizing properties that leave your dog's hair silky smooth long after bath time. The soft sea air fragrance is pleasant without being overpowering. The scent lingers for days, keeping that just-bathed smell around. The shampoo produces a rich lather that rinses out easily, getting every last bit of dirt and odor out in one wash.
I appreciate that the formula is pH-balanced for dogs' sensitive eyes. Unlike some shampoos that make my pup squint and try to shake the suds off his face, this one does not irritate the eyes at all. It also concentrates into a thick, creamy lather with only a small amount, so a little goes a long way. This value stretches the bottle for numerous baths.
In addition, the shampoo is available in a single bottle of 14 oz. or in two packs; you can even get the 1-gallon bottle for extended peace of mind and greater value.
Pros
Leaves coat silky, moisturized
Pleasant, lingering fragrance
Rinses easily, removes odors
Available in different sizes for better value
No eye irritation
Concentrated formula
Cons
Not as effective on wiry coats
I can't recommend Bobbi Panter's Natural Moisturizing Dog Shampoo enough to keep your dog clean, fresh, and moisturized between grooming appointments. It's gentle yet highly effective at cleansing and conditioning. This is one of the best smelling dog shampoos for any breed.
Chris Christensen Spectrum 10 Ultra Concentrated Shampoo
Next on our list of handpicked products, Chris Christensen's Spectrum 10 is as a top choice. This concentrated, ultra-emollient formula is designed to deliver silky smooth, luxuriously scented results in just one wash.
Infused with a fresh, clean fragrance, Spectrum 10 gently cleanses your dog's coat from head to tail without stripping natural oils. Customized complexes smooth the cuticle for unbeatable shine and silkiness. As you lather and rinse, Spectrum 10 eliminates frizz and static for a calm, manageable coat with plenty of flow and movement.
The concentrated formula means a little goes a long way. One 16 oz bottle can dilute up to 2 gallons, so you get excellent value for your money, and it gets even better with the 1-gallon bottle. Simply dilute with warm water to your desired consistency before applying. Spectrum 10 adds the perfect amount of lubricity for painless combing and brushing post-wash.
Pros
Leaves coats noticeably smoother, shinier and more manageable
Fresh, clean fragrance lasts for days
Concentrated value - dilutes up to 2 gallons
Eliminates frizz and static
Makes combing and brushing easier
Suitable for all coat types
Gently cleanses without stripping oils
Cons
A tad more expensive than the competition
For dog owners seeking one of the best-smelling shampoos that transforms coats into a silken work of art, Chris Christensen's Spectrum 10 is a top choice. The sheer smoothness, shine and fresh scent it delivers make bath time a true delight.
Nature's Specialties Hypo "Aloe" Genic Shampoo Concentrate
Nature's Specialties Hypo "Aloe" Genic Shampoo is an ultra-concentrated formula designed for dogs with sensitive skin. Diluting at 32:1, this 32 oz bottle provides up to 8 gallons of rich, cleansing shampoo. The aloe-infused formula is gentle enough for regular use on puppies and kittens over 6 weeks old. It is also available in bottles of 16oz and 1 gallon.
This shampoo's incredibly versatile concentration ratio allows you to customize it to your dog's needs. Apply it diluted for a soothing wash or use it full strength as a medicated shampoo alternative. The concentrated formula also saves groomers money compared to ready-to-use shampoos.
Made with a non-toxic, biodegradable blend, this shampoo is pH-balanced and enriched with herbal oils, vitamins, and essential oils. It cleanses thoroughly without stripping natural oils or causing irritation. Users consistently praise its fresh, green apple scent and ability to leave coats looking healthy, soft, and shiny.
As an industry leader, Nature's Specialties is trusted by professional groomers and pet owners alike for premium formulated shampoos. This aloe-infused concentrate exemplifies their commitment to quality, versatility, and skin-nourishing ingredients.
Pros
Ultra-concentrated to customize dilution strength
Aloe-enriched for sensitive skin
pH balanced, non-toxic formula
Saves groomers money over ready-to-use
Leaves coats soft, shiny, and healthy
Cons
Dilution takes time compared to ready-to-use
An accessory like the Nature's Specialties 32 oz mixing bottle takes the guesswork out of diluting. With clearly marked ratios, you simply fill to the line for controlled, consistent dilutions batch after batch. The leak-proof lid and measurement markings make this bottle a grooming kit essential.
For best-in-class cleansing tailored to your dog's needs, Nature's Specialties Hypo "Aloe" Genic Shampoo Concentrate is a groomer and pet owner favorite. From sensitive puppies to clients needing a deep yet gentle clean, this aloe-enriched formula outperforms.
Bio-Groom Fluffy Puppy Tear-Free Dog Shampoo
Bio-Groom's Fluffy Puppy Tear-Free Dog Shampoo is the best smelling and most gentle shampoo for puppies. With its incredibly mild soy protein formula, this shampoo strengthens coats and conditions sensitive skin without stripping oils. The tear-free formula ensures no stinging irritation, leaving pups fresh and fluffy.
As a cruelty-free and natural shampoo free of parabens and harsh chemicals, Fluffy Puppy is ideal for the health-conscious pet owner. Its corn, coconut, and palm kernel oil cleansers create a light tropical coconut scent that pampers pups and owners alike. The shampoo also rinses out quickly, perfect for squirming puppies and their impatient owners. With over 50 years of experience crafting natural pet grooming products, Bio-Groom is a leader in safe, effective formulas.
Fluffy Puppy's Shampoo delivers a gentle clean with a fresh coconut scent. Its tear-free mildness makes bath time relaxing for pups while strengthening their coat and conditioning their skin.
Pros
Light tropical coconut scent
Tear-free and gentle for puppies
Strengthens coat and conditions skin
Rinses out quickly
Trusted brand with 50 years of experience
Cons
May not fully remove strong odors
With its incredibly mild formula and light tropical fragrance, Bio-Groom's Fluffy Puppy Tear-Free Dog Shampoo is one of the best smelling and safest choices for keeping your puppy clean and relaxed during bath time.
PetAg Fresh 'n Clean Scented Dog Shampoo
PetAg Fresh 'n Clean Scented Dog Shampoo is an excellent care solution to keep your pet fresh between baths. Formulated with soothing aloe vera and vitamin E, this liquid shampoo gently cleanses your dog's coat while locking in moisture. The result is a soft, shiny coat and hydrated skin.
What really sets PetAg's shampoo apart is its long-lasting classic fresh scent. Thanks to the floral and fresh fragrance, it clings to your dog's hair for up to two weeks, effectively controlling odors. You'll notice the difference in your home and car as your pup keeps smelling fresh.
The floral scent is pleasant without being overpowering, and the odor control power outlasts many competing products. When considering options for keeping your dog clean and sweet smelling, this ready-to-use formula is hard to beat.
Pros
Long-lasting fresh scent
Gently cleanses and hydrates skin
Leaves coat soft, shiny, and odor-free
Soothes skin with aloe and vitamin E
Ready-to-use liquid formula
Cons
Multiple applications might be needed for lasting odor control
When shopping for the best smelling shampoo to keep your dog fresh between baths, PetAg Fresh 'n Clean is worth considering. With its cleansing formula and lingering floral scent, this shampoo offers an easy way to control odor while caring for your dog's coat and skin.
Earthbath All Natural Oatmeal & Aloe Dog Shampoo
Our next product, Earthbath's Oatmeal & Aloe formula is a top choice to keep your dog happy. This natural shampoo is specially formulated with oatmeal and aloe vera to combat dry, itchy skin while leaving your dog smelling fresh.
The oatmeal and aloe ingredients are recommended by veterinarians to effectively relieve skin irritation and re-moisturize sensitive skin. At 3% oatmeal concentration, this shampoo can penetrate your dog's coat down to the skin to promote the healing of dry, flaky areas. The aloe vera further aids in rehydrating the skin to prevent itchiness.
In addition to its skin care benefits, this shampoo is completely natural, soap free, and pH balanced. It will thoroughly clean dirt and deodorize your dog without stripping oils. The vanilla and oatmeal fragrance will leave your dog's coat freshly scented.
Importantly, this formula is safe for dogs over 6 weeks and won't wash off topical flea treatments. It's biodegradable and cruelty-free.
Pros
Relieves dry, itchy skin with oatmeal and aloe
Naturally moisturizes and deodorizes
Fresh vanilla and oatmeal scent
pH balanced, soap free, non-irritating
Safe for young puppies and with flea treatments
Cons
Multiple washes needed for thick coats
For dogs prone to dry, flaky skin or allergies causing irritation and itchiness, Earthbath's Oatmeal & Aloe Shampoo can gently cleanse while soothing sensitive areas. The natural formulation ensures safe and effective results. If your dog suffers from severely dry skin, using a conditioner after may provide additional hydration benefits. Overall, this shampoo is a good option to your dog clean and free of skin discomfort.
BioSilk for Dogs Silk Therapy Puppy Tearless Shampoo for Dogs
BioSilk for Dogs Silk Therapy Whitening Shampoo is an excellent shampoo for owners looking to keep their pups clean and odor-free. This grooming product contains many of the same high-quality ingredients found in the original BioSilk line for humans, including proprietary silk proteins that strengthen, protect, and add shine to dog coats.
You'll notice lovely floral notes of jasmine and lavender when washing your dog with this pH-balanced, sulfate- and paraben-free formula. The tearless shampoo is gentle enough for regular use on both puppies and adult dogs, and won't interfere with topical flea and tick treatments.
Pros
Lovely jasmine and lavender fragrance
Strengthens and protects dog hair
Sulfate- and paraben-free
Tearless formula for sensitive eyes
Safe for regular use
Soothes dry, itchy skin
Cons
Small 12 oz bottle (but available in 6 packs)
Pricey for frequent bathing
With its signature scent, safe ingredients, and ability to clean while conditioning your dog's coat, BioSilk for Dogs Silk Therapy Whitening Shampoo is one of our top recommendations. The floral notes leave pups smelling wonderful for days after bathing. This grooming product also strengthens hair, adds shine, and soothes skin without irritation. The exceptional quality is reflected in the price, but pet owners report the bottle goes a long way making it worth the investment for keeping dogs' coats in optimal condition.
Isle of Dogs Smelling dog shampoo
The Isle of Dogs Lush Coating Shampoo is designed to give your dog's coat a fuller, fluffier look while providing a refreshing clean. This volumizing formula removes dirt and grime while depositing beneficial ingredients that add texture and shine. The result is a freshly bathed dog with a lush, plush coat.
This shampoo is especially useful for breeds with fine or thin hair like poodles, shepherds and retrievers. The violet and sea mist fragrance leaves your dog smelling wonderful while the natural odor-neutralizing complex helps prolong the freshly bathed scent. Your pup will smell clean and floral for days after washing.
As a professional quality grooming product, Lush Coating Shampoo achieves salon-worthy results from the comfort of your own home. The performance-driven formula promotes healthy skin and coat so your dog looks and feels their best. You'll love running your hands through the soft, full coat after washing with this shampoo.
Pros
Makes fine hair look thicker and fuller
Provides long-lasting floral scent
Leaves coat soft, shiny and clean
Suitable for sensitive skin
Cruelty-free formula
Cons
If you're looking to give your pup's coat a volumizing boost while enjoying the light floral scent, Isle of Dogs Lush Coating Shampoo is a great option. The salon-quality formula lives up to its claims of adding texture and shine to create a fuller, fluffier coat you and your dog will love.
Buying Guide- Things To Look For When Choosing A Shampoo For Your Dog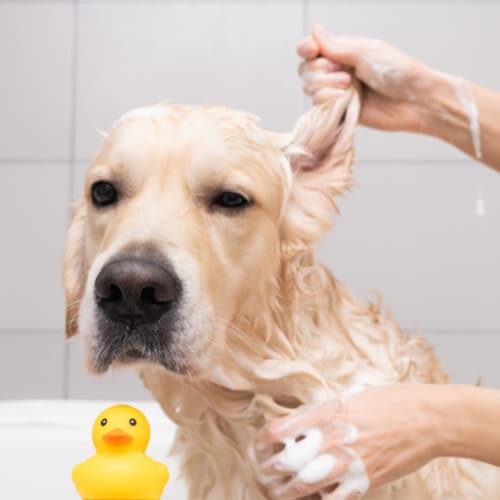 Here is a comprehensive buying guide for choosing the best shampoo for your dog:
Where the Shampoo is Manufactured
When choosing a dog shampoo, consider where it was manufactured. Shampoos made in countries like the USA, Canada, and some European nations often have stricter regulations on ingredients and quality control.
This helps ensure the shampoo is safe and effective. Shampoos made in countries with looser regulations may contain questionable ingredients or harsh chemicals you want to avoid using on your dog. Checking the label for the country of origin is an easy first step.
Reviewing the Ingredients List
Always check the ingredients list before purchasing a new dog shampoo. Look for natural, gentle cleansers like oatmeal, aloe vera, coconut-based cleansers, and glycerin. Avoid shampoos with a long list of complicated chemicals. Harsh detergents like sodium laureth sulfate can irritate skin. Parabens and artificial fragrances are also best avoided. A short, understandable list with plant-based ingredients is ideal.
Oatmeal - Soothes, cleans, moisturizes
Aloe Vera - Soothes, hydrates the skin
Coconut-based cleansers - Gentle, effective cleaning
Glycerin - Moisturizes skin
Considering Your Dog's Coat Type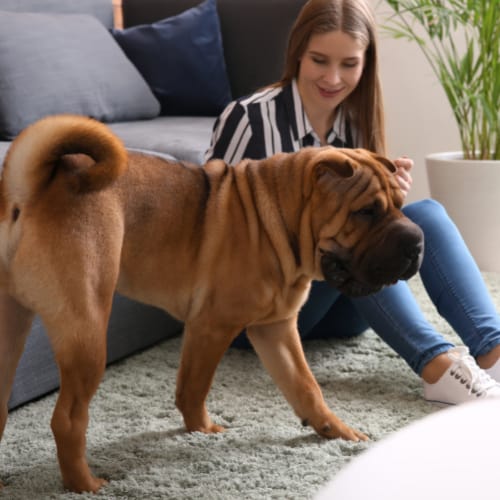 Your dog's coat type also determines what shampoo is best. For example:
Short, smooth coats: Look for moisturizing shampoos to avoid drying out the skin.
Long, thick coats: Opt for a shampoo that penetrates deeply to thoroughly clean.
Curly coats: Choose a shampoo with conditioners to prevent matting and tangling.
Sensitive skin: Use an ultra-mild oatmeal or aloe shampoo formulated for dry, itchy skin.
Picking a shampoo tailored to your dog's coat ensures effective cleaning down to the skin.
Addressing Skin Concerns
If your dog suffers from skin issues like dryness, allergies, or irritation, specialized therapeutic shampoos can help. For example:
Dry, flaky skin: Try a moisturizing, vitamin-enriched oatmeal shampoo.
Allergies, hot spots: Look for an oatmeal and aloe shampoo to soothe and heal skin.
Dandruff, scaling: Use a shampoo with salicylic acid to eliminate flaking.
Itching, irritation: Opt for a shampoo with oatmeal, aloe, and antioxidants to calm the skin.
Consult your veterinarian if your dog has chronic skin problems before trying a medicated shampoo. This ensures the shampoo is appropriate for the condition.
Checking if It's Formulated for Dogs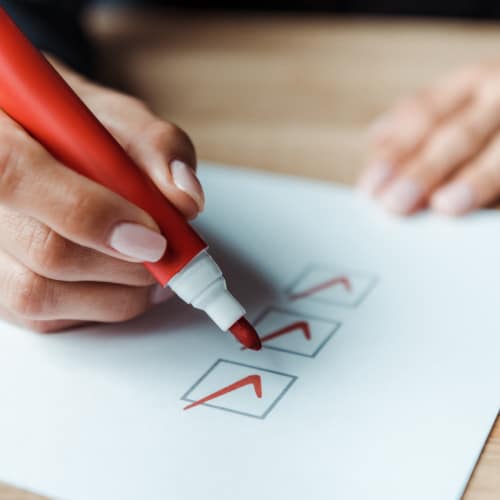 It may seem obvious, but always verify the shampoo is formulated specifically for dogs. Human shampoo, even baby shampoo, has the wrong pH balance for a dog's skin. Using the wrong products can lead to irritation, dryness, and other issues.
Look for the words "dog shampoo" clearly stated on the label. This guarantees the pH is optimized for canine skin and the ingredients are safe if licked or swallowed.
Evaluating Rinsability
Rinsability refers to how easily the shampoo can be completely rinsed out of your dog's coat. A shampoo that rinses out easily reduces residue that can lead to matting, clumping, skin irritation, and dull coat appearance.
Check reviews to see what other pet owners say about the shampoo's rinsability before purchasing.
Understanding the Dilution Ratio
Some dog shampoos must be diluted with water before use for proper cleansing and to avoid irritation. The dilution ratio is usually printed on the bottle.
Follow this precisely to make sure you get the right concentration. Using a shampoo undiluted when it requires dilution can harm your dog's skin and coat.
Considering Fragrance and Scent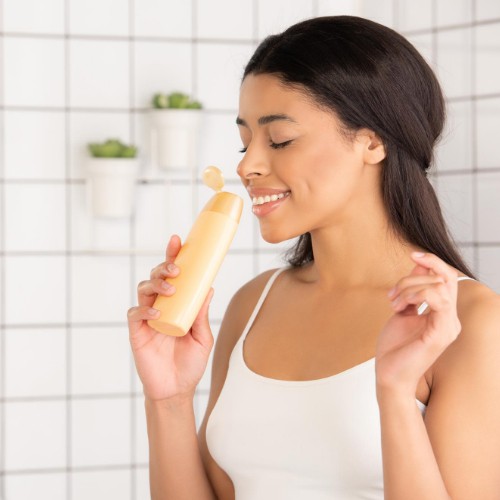 While some owners like scented shampoo to make their dogs smell fresh, others prefer fragrance-free options. Heavily scented shampoos can aggravate allergies in sensitive dogs.
Try scent-free shampoos if your dog has reactions to fragrances. For other dogs, a light, pleasing scent can help keep them smelling clean between baths.
Evaluate your own preferences and your dog's tolerance when deciding on fragrance.
Ensuring Safety
Always read the entire label to ensure the shampoo is safe for regular use on dogs. Look for "tear-free" formulas designed not to irritate eyes. Shampoos labeled "non-toxic" and "veterinarian recommended" are ideal for safe, effective cleansing.
Also, check labels to avoid harsh chemicals like parabens, phthalates, silicones, dyes, alcohols and synthetic scents, which can irritate the skin. Also look for "No DEA" to avoid diethanolamine, an ingredient potentially linked to cancer (As announced by the FDA).
Instead, select natural, vegan and biodegradable options, many of which are cruelty-free too. Despite marketing claims though, be sure to patch-test any new shampoo first before full use, as all dogs have unique skin.
Also, while some formulas aim to soothe irritation, they could still provoke reactions in some pups. Taking the time to properly evaluate and introduce new shampoo gradually ensures your dog's skin stays happy and healthy over the long term.
Frequently Asked Questions
The following are some of the most widely asked questions related to dog bathing and shampoos; we answered them to help you make the best decisions to keep your dog smelling wonderful.
How often should I bathe my dog?
The general recommended frequency for bathing an adult dog is every 4-6 weeks. However, bathing needs vary based on the dog's age, coat type, skin sensitivity and activity level.

Puppies under 6 months may require more frequent baths, like every 2-3 weeks, as they tend to get dirty and smelly faster. Dogs with short hair coats need less bathing than those with long, thick coats that require professional grooming every 4-8 weeks.

Some dogs are prone to skin irritation from shampoos, so they should only be bathed when necessary, around every 8-12 weeks. Active outdoor dogs that swim or get very dirty will need more regular baths to stay clean.

Use your best judgment based on your dog's coat, skin, odor, and activities. While you want to avoid over-bathing, don't wait too long if they need freshening up. Monitor their unique needs to determine the optimal yet minimal bathing frequency.


Is it OK to put perfume on a dog?


I understand the temptation to make your dog smell nice, but it's best to avoid using perfumes or colognes.

Perfumes contain chemicals that could irritate their respiratory system or skin. Their sense of smell is also much more sensitive than ours. Artificial scents from fragrances would be overpowering for them. I recommend sticking to gentle dog shampoos when bathing. Keeping your dog clean is safer than masking their natural scent.
Can I use human shampoo on dogs?
Using human shampoo on dogs can disrupt the natural balance of their skin and lead to issues such as dryness, itchiness, and irritation. Human shampoos are formulated for human skin, which has a different pH level compared to a dog's skin.

That's why it's not recommended to use human shampoo on dogs (unless it's a real emergency).

Can I put oils on my dog?
Yes, you can use certain oils on your dog to promote healthy skin and coat, but it's essential to exercise caution.

Safe options include coconut oil for soothing dry skin, olive oil for moisturizing and reducing dandruff, and fish oil for a healthier coat.

Be cautious about toxic oils like essential oils, such as tea tree or peppermint oil, and monitor your dog for any allergic reactions or adverse effects.
Is baby shampoo okay for dogs?
Baby shampoo can be used on dogs as an occasional alternative, but it's best to use a dog-specific shampoo. Baby shampoo has a pH level of around 7, which makes it safe for dogs; still, try to keep your furry friend happy by using his/her favorite dog shampoo.
Final Thoughts
When choosing the best smelling dog shampoo for your furry friend, it's important to keep their unique needs and your scent preferences in mind. As outlined above, focus on finding a gentle formula if your pup has sensitive skin, and browse the many available scents to find one you both love. Checking reviews can help ensure you select a high-quality shampoo that will leave your dog clean, fresh, and happy.
With so many options on the market, the shampoos highlighted above are a great place to start your search.
We hope this overview has provided helpful guidance as you look for the perfect shampoo for your pup.
Please share your experiences, questions and/or recommendations in the comments below. What scents does your dog love? Which shampoos have worked well for their skin and coat?
You May Also Like