The 10 Best Cleaners for Dog Urine on Hardwood Floors
First published:
May 20, 2023
Last updated:
August 4, 2023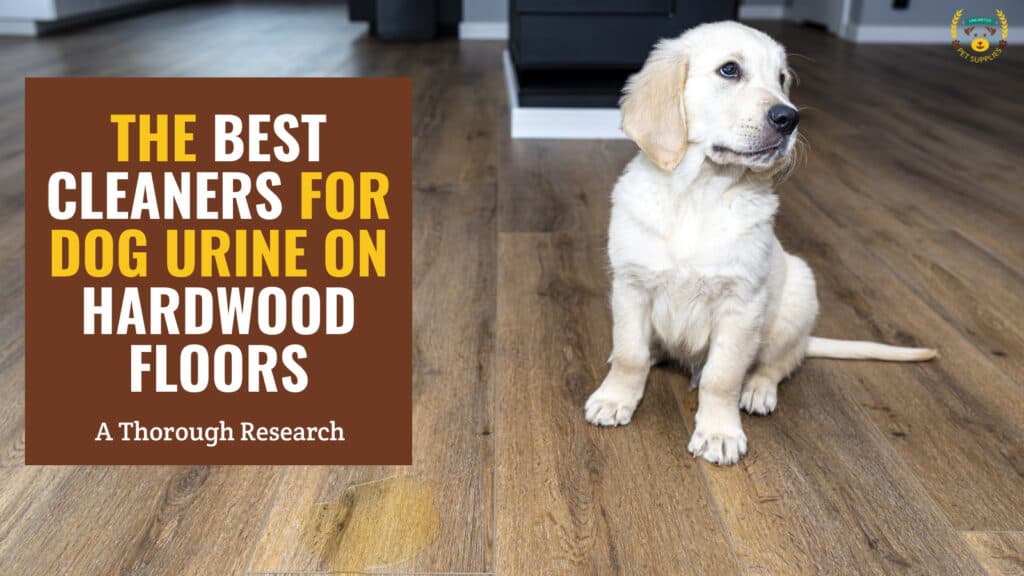 We are supported by our readers and we may earn a small commission when you click on some of the links at no additional cost to you. Our full disclaimer can be found
here
. Thank you.
If you have hardwood flooring, you are probably worried about the potential damage your beloved dog's urine could cause. However, modern technology has brought some manageable and scientific solutions to this problem, like other pet industry innovations.
Dog urine is among the most damaging liquids that can accidentally be spilled on a hardwood floor and damage it quickly. As a dog parent, you must take precautions to guarantee that the hazards and harm posed by the dog's urine are not experienced or cause permanent damage.
Your pet's urine can contain various pathogens, including bacteria and viruses, that can cause body rashes and respiratory infections.
That's why, as a solution, we have found the ten best cleaners for dog urine on hardwood flooring that will help you maintain hardwood floors with the excellent care of your lovely furry friends.
No Time To Read The Whole Article? No Worries. We've Done The Work For You And Compiled A List Of The Top Performers.
| Product | Features | Our Rating | |
| --- | --- | --- | --- |
Effects of Dog Urine on Hardwood Floors
Dog urine has some destructive effects on the hardwood floor. A small breed like a Chihuahua might not produce a lot of urine, but larger dogs like Retrievers can make a lot.
Your pet's urine and feces have the potential to harbor the same kinds of bacteria and viruses that may grow in human feces if they are not disposed of properly.
The few times your dog urinates on your hardwood floors could be enough to cause puddles, rot, odor, stains, and warping.
Although you can take measures to safeguard your hardwood flooring from the damaging effects of dog urine, the most effective solution is to potty-train your dog.
The 10 Best Cleaners For Dog Urine on Hardwood Floors
Cleaning dog urine on hardwood floors is not frustrating anymore. We now have some excellent, trustworthy, and recently popular products helping in this regard. The following collection of the ten best cleaners for dog urine has the solution to your pet's naughty activity.
Based on our research, testing, and experience, below is our final list:
OdoBan Fresh Linen
The OdoBan No-Rinse Neutral pH Floor Cleaner eliminates tough stains with the help of a solution that does not require rinsing.
This practical solution can be used in machines that are used for hard floor cleaning, and it is safe to use on hard surfaces as well as sealed wood.
It is effective on a wide variety of pet stains and will not damage the finish of any of the surfaces you use it on. In addition to that, you can use it for countertops, sinks, and even toilets.
Although this formula does not require rinsing, it may still leave behind a sticky residue; therefore, it is recommended that the solution be diluted.
Carpets should not be cleaned with it either. This item features a fresh citrus aroma, and it can be purchased in either a 32-ounce bottle or a gallon jug depending on your preferences.
Pros
It uses a neutral pH solution
Compatible with machines used to clean hard floors
Citrus scent
Useful in various settings, including bathrooms, sinks, and worktops.
No-rinse formula
Cons
It may leave behind a sticky residue
Research led us to conclude that OdoBan No-Rinse Neutral pH Floor Cleaner is the best cleaner with the best value for money when removing dog urine from hardwood floors.
The oxidation properties of hydrogen peroxide eliminate odors and stains, unlike other cleaners with enzymatic composition. Be cautious and only apply it on floors that have been finished or sealed.
Swiffer Sweeper Wet Mopping Cloth
The Swiffer Sweeper wet mopping cloth is an excellent choice for convenient use with Febreze Fresh Scent.
It has an outstanding 2-in-1 hard surface sweeping and mopping tool. With deep ridges and grooves, it cleans dirt, dust, and hair with dog urine.
Just wipe the floor with a wet cloth and leave it to dry. That's it. These wet scrubbing cloths do their work correctly.
Swiffer Sweeper refills are recyclable and eco-friendly. The mopping strip removes tough spots on the hardwood floor without any stains.
This product is safe on all finished floors but unsuitable for unfinished and waxed wooden boards or hardwood floors because they may be water-sensitive, and the Swiffer Sweeper wet cloths can cause damage to the surface.
The company claims its product decomposes dirt and grime better than any other mop. You can use it with Swiffer Sweeper dry sweeping cloth to absorb the urine efficiently before using wet mopping cloths. In addition, it has a unique formula that ambushes and deepens dirt or urine in fabric.
Pros
Easy to apply & quickly dry
2-in-1 hard surface sweeping
With Febreze Fresh Scent
Recyclable
Cons
Not safe on unfinished or waxed wooden floors
Swiffer Sweeper wet mopping cloth is an excellent choice for conveniently cleaning dog's urine on your wooden floors with no stains left on the floor.
Moreover, It has a lovely fragrance that makes urine cleaning less unpleasant. So give it a shot and let us know in the comments.
BISSELL MultiSurface Floor Cleaning Formula
The Bissell multi-surface floor cleaning formula cleans up all the dirt and foul odor from the hardwood floor in an easy way.
It does an excellent job of removing dirt, filth, stickiness, and messes caused by dog urine on sealed wooden surfaces.
In addition, it frees the floor from scuff marks. The innovative cleaning formula makes the flooring look new and gives a sense of cleanliness and revitalization. In addition, it cleanses while leaving behind an aroma reminiscent of the crisp morning air.
This product is manufactured to work together with other products. The company emphasizes that BISSELL products are designed with their customers' cleaning needs in mind.
Its Multi-Surface Formula functions correctly in both the CrossWave and the SpinWave machines. It's also entirely safe for use with JetScrub Pet. The Ideal Combination to remove dry and sticky debris from sealed hard floors you can use their Multi-Surface Brush Roll with Multi-Surface Formula.
Pros
Safe on finished hardwood floors
Spring breeze scent after cleaning
Dissolves dirt easily
Cons
Bissell's multi-surface floor cleaning formula is safe for All Sealed Hard Floors. This product can be utilized on a variety of surfaces.
Bissell Multi-surface floor cleaning formula helps you with their manufactured BISSELL CrossWave and SpinWave machines. So, you can use them together for the best results.
Clorox Disinfecting Wipes
Clorox Disinfecting Wipes claims to eliminate 99.9% of the bacteria in your home, besides being the best option for cleaning dogs' urine on hardwood floors. It's also a multipurpose disinfecting cleaner with a new fresh fragrance.
To clean and eliminate allergens, you can use this product to clean the surface and let it air dry. Then, you can use it to disinfect and deodorize nonporous, hard surfaces. When cleaning very soiled areas, it's preferable to start by removing any additional dirt.
Disinfectant Clorox Wipes are safe on almost all surfaces, including acrylic, treated fiberglass, sealed granite, and finished hardwood.
Using this product on unpainted wood or surfaces that are worn, unsealed, waxed, oiled, or unfurnished is not recommended.
Perform the test in a contained area first. These wipes have a pleasant fragrance, and it is effortless to grab any dirt. It also swiftly cleans and disinfects any surface or object.
Pros
Spotless & immediate cleaning
Multipurpose functions
Low cost
Pleasant odor
Cons
Cannot be used on undyed or unfinished wood
Clorox Disinfecting Wipes are a multipurpose cleaning option. You can keep them in various locations throughout your home to use them quickly.
In addition to that, the pricing of Clorox disinfecting wipes is unbeatable. They are indeed a must-have for every dog owner. These wipes are safe to use on any surface and have a pleasant odor. Plus, they provide spotless and immediate dog urine cleaning on your hardwood floor.
Turbo Mops Reusable Floor Mop Pads
Turbo Mops Reusable Floor mop pads are simple to use and easy to clean because there is no need to wring out mop heads or leave behind forgotten trash trails.
Cleaning up messes like dirt, dust, and even pet hair is a breeze with the help of these wet and dry mop pads.
Mop pads are reusable and washable, allowing numerous uses before needing to be replaced. After using them to mop, place them in the washing machine, and they will look like new.
You can do dual cleaning. These dry/wet pads can grip and trap stubborn dirt when sweeping and absorb moisture when mopping. They feature extra-thick microfibers with a looped design for added durability. The Swiffer Wetjet mop and other 10" to 12" microfiber mops for floor cleaning are compatible with this microfiber mop pad.
Pros
Reusable & washable
Don't leave stains
Simple use
Cons
Turbo reusable floor mops can be a game changer for cleaning your hardwood floors. They perform exceptionally well on various flooring materials, including wood, tile, laminate, vinyl, and more. These mop pads are ideal for dormitories, apartments, and offices.
Nature's Miracle Dog Stain and Odor Remover
Another excellent product for removing dog pee from hardwood floors is Nature's Miracle Hard Floor Cleaner. It is effective on deeply ingrained stains on various flooring types, including concrete, linoleum, tile, vinyl, and sealed hardwood.
The enzymatic solution effectively breaks up and lifts oils and fats that conventional cleansers may be unable to clean. When used per the instructions, the product is entirely safe for pets. First, spray the area, wipe it dry, and then repeat as many times as required.
The only drawback is the product's relatively high cost compared to other goods like common household cleaning agents such as hydrogen peroxide, white vinegar, bleach, and baking soda.
It contains several types of biological enzymes which eliminate odors and stains, and it doesn't even need to be rinsed off. This cleanser is suitable for all hard surfaces, including hardwood floors, and its bio-enzymatic ingredients work hard to remove even the most stubborn stains. Not only does it remove dog urine stains, but it also eliminates the stink.
Pros:
Removes stains and bad smell
Starts working immediately upon contact
Biological enzymes
Works well on other types of messes like vomit and drool.
Cons:
Some people may dislike its fragrance
Relatively expensive
Nature's Miracle does not require rinsing, making the job much easier. It also gets rid of vomit, excrement, and grease. In addition, it is not harmful to vinyl, linoleum, ceramic tiles, sealed wood, brick, concrete, or grout. It comes in a 24-ounce spray bottle.
Pine-Sol All-Purpose Cleaner
The Pine-Sol All-Purpose Cleaner with a Lavender smell cleans and deodorizes a wide variety of surfaces, including industrial kitchens, toilet facilities, and more.
It also cleans stubborn messes from indoor and outdoor surfaces, such as appliances, outdoor furniture, garbage cans, showers, toilets, sinks, and countertops, with its Pine-Sol 4X concentration cleansing solution.
In contrast to cleaners that come pre-mixed, this product with a concentrated formula is up to any task. All you have to do is combine Pine-Sol with water in varying proportions to achieve the desired level of effectiveness.
Pros:
Non-sticky cleaner
Long-lasting aroma
Suitable for heavy cleaning
Cons:
The Pine-Sol All-Purpose Cleaner is non-sticky, so it may be used on any hard, nonporous surface, including hardwood floors that have been finished, ceramic tile, linoleum, and plastic, and it does not leave behind any residue.
When Pine-Sol works for you, cleaning needs to be done only once to achieve the desired level of cleanliness.
Resolve Ultra Pet Stain & Odor Remover Spray
Odor Stop Technology helps to eliminate pet odors. It has a pleasant aroma that is uncluttered and fresh. Carpets and rugs can have stubborn stains like urine, vomit, and excrement from dogs which can be removed using this product.
It also does an excellent job of removing common stains from food and liquids, such as wine, grape juice, and grease.
You can eliminate these incidents using Resolve Ultra Urine Stain and Odor Eliminator for Pet Messes.
The urine stains disappear in front of this powerful formula, which penetrates deeply to break them down, lifts them, and eliminates them for good. In addition, innovative technology that Neutralizes Strong Odors obliterates urine smells and discourages your pet from re-soiling the area.
Pros:
Light and fresh scent
Multi-functional formula
Have odor-stop technology
Cons:
It does not stop the dogs from re-soiling the floor.
Resolve Ultra spray not only effectively cleans your hardwood floors but also eradicates the bad odor of dog urine. For easy and cost-effective cleaning, you can add it to your monthly cleaning aids.
Bona Microfiber Pads
The Bona microfiber pad is one of the most popular options for cleaning hardwood and other types of floors. It is an excellent option for general cleaning and application of floor polish.
Its electrostatic surface attracts, traps, and locks pet hair, dirt, grime, and common allergens. Moreover, it is a popular choice for picking up the hard and heavy dirt build-up through its Powerloop technology.
It also increases its scrubbing quality to remove the stuck-on messes.
This set includes all three Bona Microfiber Pads that can be changed and fixed on the given mop per your needs.
The pads are sustainable and can be washed up to 500 times without losing their cleaning ability.
Pros:
Best for polishing and cleaning hardwood floors.
Low toxicity levels
Safe to be used around children and animals.
Scented and unscented variants are available.
Cons:
Not specifically designed to remove pet stains or odors
It can be a practical choice for effectively cleaning dog urine. To remove unpleasant smells, use them frequently after every cleaning. You might find them a perfect fit for your needs.
Method All-Purpose Cleaner
Method All-Purpose Cleaner Spray French Lavender is an all-in-one surface cleaner perfect for any home. With a pleasant French Lavender scent and plant-based, biodegradable formula, this cleaner will surely be a favorite for those looking for a reliable and effective cleanser.
It cuts through grease and grime on most nonporous surfaces, making it suitable for counters, tiles, stone, wood, and glass. Plus, it's cruelty-free and the bottle (minus nozzle) is made with 100% recycled plastic (PCR), so you can feel good about using it.
I recently tried Method All-Purpose Cleaner Spray French Lavender and was really impressed. It has a great scent and works really well on all the surfaces I've tried it on. It's also very easy to use, just spray it on the surface and wipe it away. The French Lavender scent is really pleasant, not too strong or too mild, and it leaves surfaces smelling really nice. I've also noticed that it's really effective at removing grease and grime and it doesn't leave any residue or streaks behind.
I compared this product to other all-purpose cleaners and found that it's a great value for the price. It's a good size, 28 fl oz, and comes in a pack of four, so you can stock up and save money in the long run. The bottle is also made with 100% recycled plastic, which is great for the environment. It's also cruelty-free, so you can feel good about using it.
Pros:
Effective against a wide variety of grime types
The unique fragrance of French Lavender
Plant-based ingredients
Cons:
Doesn't have disinfectant properties
Not tested on animals
Overall, I'm really pleased with this product and would definitely recommend it to others. It's an effective and economical all-purpose cleaner that cuts through grease and grime, leaves surfaces smelling fresh, and is cruelty-free and made with recycled plastic. Plus, it's easy to use and the French Lavender scent is delightful.
Buyer's Guide: Factors to Consider Before Buying A Cleaner for Dog's Urine on Hardwood Surface
You don't need to find all of these at once. But what will you do if your preferred dog urine cleaner is unavailable? How will you judge which one is the best among the available cleaners? This buying guide will assist you in selecting the best cleaner for dog urine on hardwood surfaces.
Color-Safe Test
Most cleaners make the promise that they can remove both new and old stains, and as much as we like to believe that this is the case, the reality is that removing a stain is significantly more challenging once it has had time to set in.
If you use a UV blacklight, you can check for stains daily and detect new colors as soon as they appear. This increases the likelihood that the colors can be eradicated.
Surface Test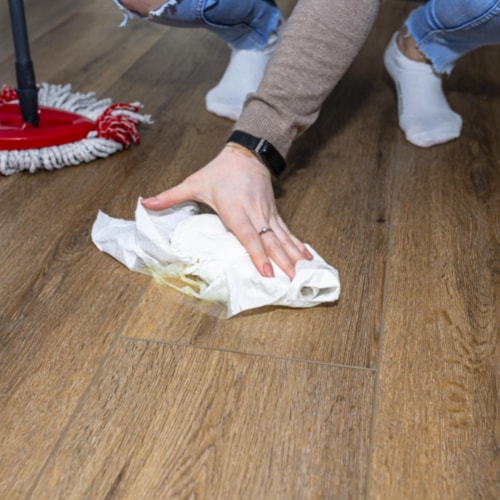 Before using any product, you should conduct a surface test to ensure there won't be any adverse reactions.
While most goods claim their formulations are suitable for any surface, some formulations may leave residues behind. So if you want to ensure the solution won't destroy your floor, look for a spot that no one will see and try it there.
Bio-Enzymes as Active Ingredients
It isn't easy to effectively clean dog pee without using enzymes. This protein degrades the uric acid crystals found in canine urine, which eliminates the bacteria that surround them and is the source of the offensive odor.
Scent Concentration
Some formulations have a perfume that some individuals could consider overpoweringly strong. You can always go to your neighborhood pet store and sniff some of their cleaners if you want a specific scent in your house. You can then decide about a formula and its odor strength.
Frequently Asked Questions
To dispel doubts, we've compiled a list of the most frequently asked questions about these products.
How Can I Protect My Hardwood Floor from Dog Urine?
Urine can permanently harm the polyurethane coating on your hardwood floors, resulting in costly repairs for homeowners and the loss of pet deposits for renters. It would help if you took precautions to keep pet urine from causing damage to your wood flooring and area rugs. Some canine accidents may end up leaking down onto your hardwood floors. To fix that up, you should consider installing a waterproof rug pad below your area rugs.
Can Hydrogen Peroxide Damage My Hardwood Floors?
Unless you use an overly powerful hydrogen-peroxide formula or have a very dark hardwood floor, hydrogen peroxide will not affect the color of your floor and also will not whiten it. If you are concerned that it will bleach your floor, you can test it in a hidden location.
Should it be a Disinfectant?
Cleaners that use oxidation are typically used as disinfectants to eliminate microorganisms. There is a possibility that enzymatic cleaners do not possess the same antibacterial characteristics. If it is essential to eradicate all germs from a particular location, you should double-check that the cleaner you choose is advertised as having antiseptic qualities.
How much do you need?
It makes sense to purchase a product in quantity if you have multiple dogs and cats that spend time indoors and generate frequent messes due to their presence. The enzymes are safe for your pets to ingest and will, with consistent use, be of great assistance to you in the upkeep of your hardwood floors, carpets, the upholstery on your furniture, and any other surfaces in your home. 
Conclusion
Your dog's pee could damage the floors in your home. So, it's essential to know how to minimize the damage. Many people have irreversible damage to their hardwood floors because they made a few small mistakes or assumed everything was alright.
Pet urine is dangerous and can cause health problems, especially for those who already have a moderately compromised immune system, even though this fact is typically made light of and laughed off. Removing the urine by blotting it with a few paper towels instead is not sufficient.
When your favorite dog relieves itself on your hardwood floors, you'll need special cleaners for urine on hardwood floors to fix the problem. You should try out the products that we have chosen for you after thorough research and see the difference.
You May Also Like