10 Best Vet-Approved Foods to Hide Cat Pills in
First published:
October 19, 2023
Last updated:
October 19, 2023
We are supported by our readers and we may earn a small commission when you click on some of the links at no additional cost to you. Our full disclaimer can be found
here
. Thank you.
Summary
The FELINE GREENIES PILL POCKETS is our top pick for the Best Vet-Approved Food to Hide Cat Pills in. These salmon-flavored treats have a pocket perfect for concealing medication in an appetizing way. The soft texture and tight seal help cats readily devour the pill pocket in one tasty, nutritious bite.
Has your favorite feline turned their nose up at medication time? You're not alone. Getting cats to take pills is notoriously difficult, leaving many pet owners stressed and frustrated. But what if there was an easier way? Hiding pills in food may be the perfect solution. With the right ingredients, you can seamlessly conceal those unpleasant pills, making medication time a breeze for both you and your cat.
In this article, we'll explore the best foods for disguising pills, from irresistible creamy treats to aromatic fish, providing actionable tips to reduce the struggle. You'll discover which textures adeptly hide pills and which flavors effectively mask any unpleasant medication taste. We'll also discuss which foods to avoid and why proper pill delivery is vital for your cat's health.
Whether your cat is on a new medication or you're struggling with a lifelong prescription, this guide will give you the knowledge to confidently provide your feline with the necessary medication. With the tips here, you can feel empowered, not stressed, at medication time. So read on to learn the secret weapons for delivering pills, and take the hassle and guesswork out of this important task.
No Time To Read The Whole Article? No Worries. We've Done The Work For You And Compiled A List Of The Top Performers.
| Product | Features | Our Rating | |
| --- | --- | --- | --- |
The Best Cat Food to Hide Your Cat's Pills In
Let's now go through our list of top cat foods you can use to administer medication to your loved feline. The list contains different forms of food - from purees to meat and pill pockets, you will surely find one or more efficient ways to ensure your cat has its needed medicine without issues.
Types of Food You Can Use to Hide Cat Pills In
There are several clever methods to seamlessly incorporate medications into your cat's meals. Most of these are usually available in your kitchen. By finding the right food vehicles, you can help your feline take their medicine without a fuss.
Cooked Meat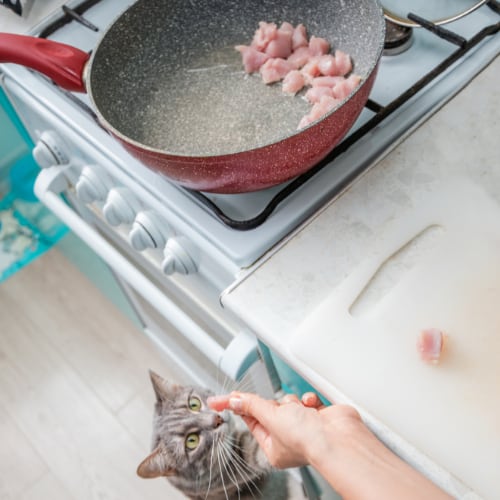 For protein-loving cats, cooked chicken can encourage eating medicated meals. Dice chicken into bite-sized pieces. Then discreetly place pills within some of the morsels. Avoid using spices that may cause stomach upset.
While nutritious in moderation, don't serve cooked meat frequently, as cats require balanced nutrition.
Pill Pockets
Specifically designed for hiding feline meds, pill pockets are a handy option. Simply place the pill inside and pinch the treat closed. Made to mask medication in a pocket of flavor, your cat will readily accept it.
Pill pockets come in various flavors to entice picky palates. While convenient, they carry a higher cost than alternatives, so reserve them for when other methods fail. Always follow dosing guidelines.
Canned Fish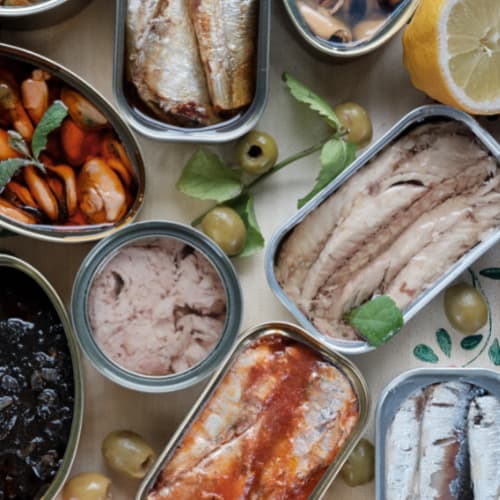 Cats go crazy for the scent of fish. Take advantage of your cat's fish fascination by blending pills into canned tuna or salmon. Simply drain the liquid, then mash the fish into a mixture. Next, stir in the medication thoroughly to mask it. You can add a touch of water to help dissolve the pills.
Present the fish puree on a plate, spoon or even inside a piece of bread. The fishy aroma will entice your cat to gobble it up. For picky eaters, briefly microwave the mixture to amplify the scent. Just be sure to limit portions, as too much tuna carries health risks from mercury content.
Wet Cat Food
Wet food's soft texture lets you seamlessly mix pills into your cat's normal meals. Stir medication into a small portion, masking it completely so your cat can't detect anything unusual. Appeal to your cat's preferences with favorite flavors and brands.
Cream Cheese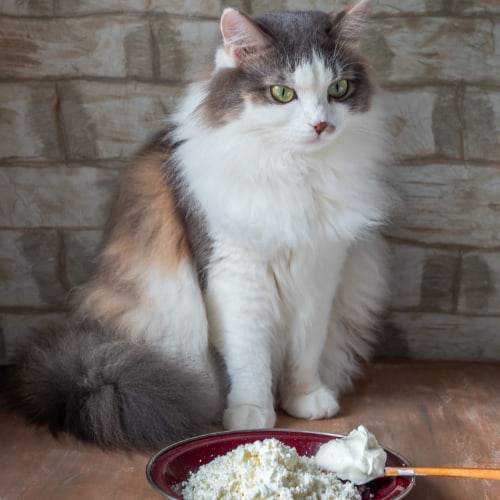 Cream cheese makes an adaptable pill disguise. Mold a small amount around your cat's medication to completely enclose it. The creamy texture helps the pill slide down easily. You can adjust serving sizes based on pill shape and your cat's appetite.
Serve the cheese ball as a special treat. However, monitor intake, as the high fat content can cause weight gain if given too often. Use this technique in moderation.
Final Thoughts
This guide offers cat owners several effective methods for easily administering medication to their feline companions. By being patient, strategic, and utilizing tasty foods that naturally appeal to cats, you can make pill time less stressful for both you and your furry friend. The key is finding the right technique and treats that work for your particular cat. We hope the tips provided here give you new ideas to try the next time medication calls.
Please let us know in the comments which methods worked best for you and your cat! Sharing your experiences gives valuable insights to others facing this common challenge of cat ownership.
Thanks for reading!
You May Also Like