The 10 Best Cat Window Perches for Your Bored Feline
First published:
May 9, 2023
Last updated:
August 4, 2023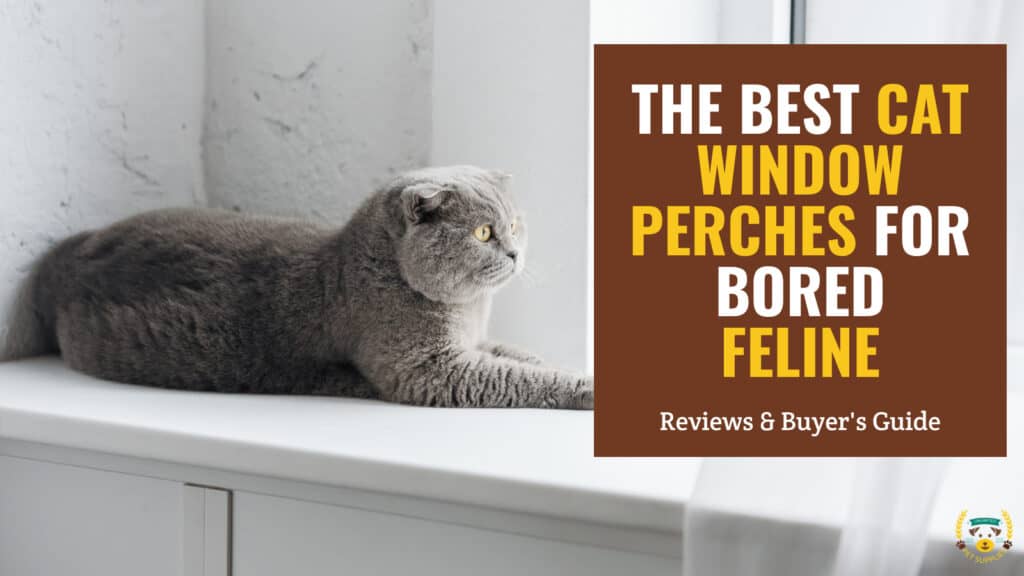 We are supported by our readers and we may earn a small commission when you click on some of the links at no additional cost to you. Our full disclaimer can be found
here
. Thank you.
Like us, our cats get bored too, but the most they can enjoy is bird watching, lounging, and sunbathing by sitting on their perches. Numerous cat perches are available on the market, varying in size, design, cost, and installation methods.
Among multiple window perches options, picking the best one for your cat and your home style may be stressful. To help you out, we have rounded up ten cat window perches to entertain both the pet and its owners.
You can go through our list of window perches and pick the one close to your feline's size, mood, and home style.
No Time To Read The Whole Article? No Worries. We've Done The Work For You And Compiled A List Of The Top Performers.
| Product | Features | Our Rating | |
| --- | --- | --- | --- |
Why Are Cat Window Perches So Important?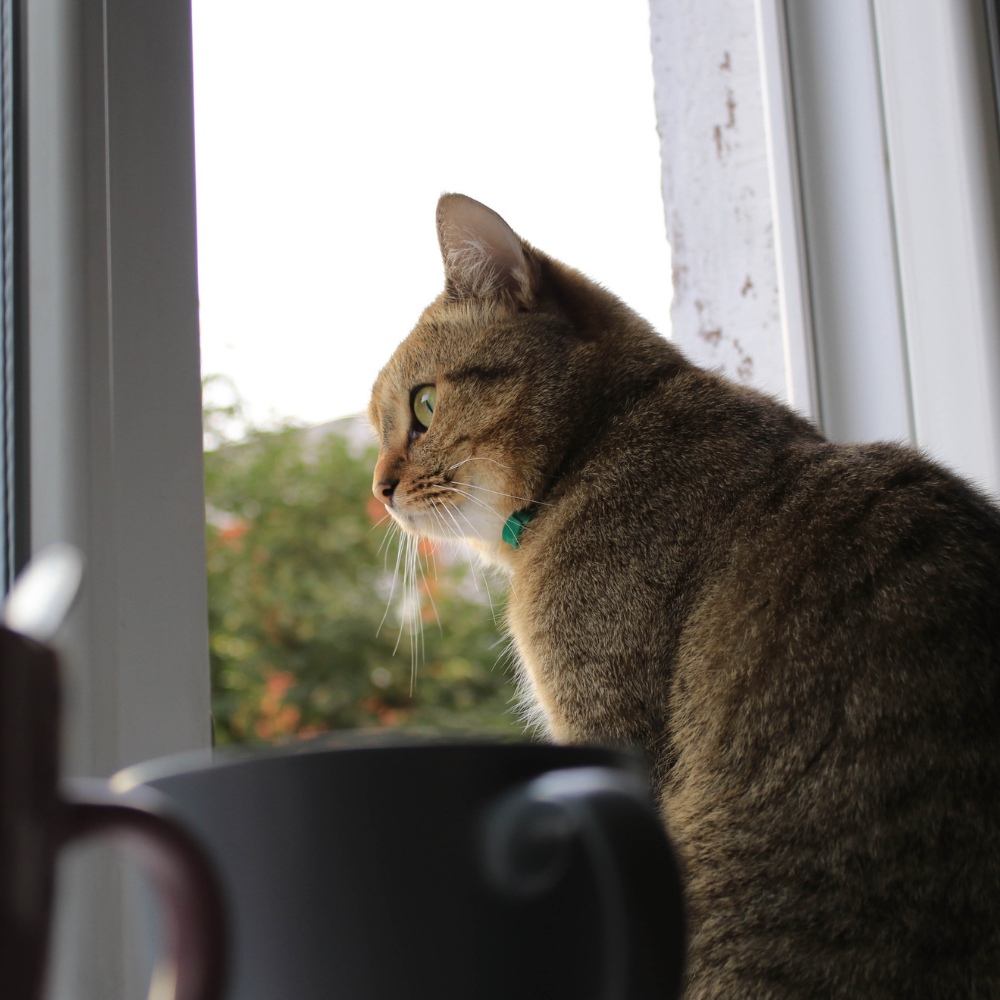 People wonder why a window perch matters a lot for cats. Your beloved feline needs a window perch to sunbathe, view the beautiful outside sceneries, enjoy rainy weather, and keep an eye on the birds. There are a few benefits that make the window perch important for kitties.
Let's find out about some of them!
A space for Snoozing
Cats roam around to find a new place to sleep every day because they usually get bored quickly by repeatedly napping in the same place. So, a cat window perch is a good idea to provide them with a new sweet spot. By sitting on this perch, they will enjoy the outside views and receive the necessary vitamin D.
Great Outside Views
Cats mostly love to look outside the windows; they love to climb and scratch them, which sometimes leaves lines on the glass; this is why trying the window perches is a safe deal. Window perches provide a clear view of the lawns, chirping birds, trees, and bright sun for your feline buddy.
A Place To Calm And Relaxed
Like humans, cats also suffer from anxiety, which happens due to various reasons, such as the presence of strangers nearby, loud horn or bell sounds, and other factors. A comfy window perch will give them a beautiful aerial view that helps overcome stress.
The 10 Best Cat Window Perches For Your Bored Feline
There are numerous options of window perches in the pet accessories world, but whatever you buy should be safe and secure. We have examined multiple window perches on the market and sorted the list of only those which are safe for your felines and light on your pocket.
So dive into the list and pick the one that meets your furry friend's needs!
Based on our research, testing, and experience, below is our final list:
K&H Pet Products EZ Mount Window
All those having beautiful furry friends at home must try our first pick, Window Kitty Sill hammock by renowned brand K&H. Its 12-inch length and 23-inch width allow your felines to curl up, lay sideways, or sit straight to take a sunbath and view outside happenings with ease.
It is a single-level perch that can attach comfortably through well-made suction cups to any glass window. Cats can sit and enjoy the mesmerizing view of the lawn, plants, and birds for hours.
This hammock's durability is incredible as its industrial-grade steel frame can hold up to 50 lbs. The sturdy frame of the window perch neither bends nor rusts and provides better support to the perch base.
This enchanting window seat for cats has an easy-to-remove machine washable cover, which offers a soothing effect to the pets' bodies during napping or cuddling. Also, you can add extra padding to make this bed even more comfortable.
Pros
Hammock-style elegant perch
Foldable Design
Thick straps
Suction cups covered with plastic caps
Cons
You cannot imagine how user-friendly this kitty hammock is - the compact design allows pet owners to fold it when it is not in use and keep the curtains and blinders fully functional. I think it is hard to say no to this space-saving and attractive window perch!
PetFusion Ultimate Cat Window Climbing Perch
Provide your furry kitty with the best window seat with Pet Fusion's stylish and durable climbing perch, whose subtle design makes it the best cuddling place for felines.
This stunning climbing perch has a 12-inch wide and one-inch thick, durable base, which helps to keep it securely in place. Furthermore, the three large heavy-duty suction cups make it the safest playing spot for all felines.
The kitties can climb, scratch, play, or sleep on this two-in-one perch. The 44-inch tall sisal post allows pet keepers to adjust the window perch level as per the cat's age and size. The post helps to join the base to the top. The sisal post is the best place for cats to stretch their legs and paws easily.
Its top is not a typical square shaped perch; instead, this artistic window perch has one side opened so the cat can climb freely without extra effort.
The Pet Fusion perch's 20.5-inch wide sleeping area is covered with a squishy fabric so the cats will enjoy peace of mind while watching the outside environment or sleeping.
Pros
Adjustable sisal post
Sturdy and attractive
Aesthetically appealing
Best combo of perch and climbing tree
Cons
The PetFusion window perch and climbing tree combo is worth every penny. It is undoubtedly an ideal pick for homes with more than one cat. We are sure this window perch will become your kitty's favorite spot in the house!
Pupagree Cat Window Perch Cat Hammock for Window
If you wish to provide your pet cats with an unforgettable bird's eye view of the outside world, then bring them Pupagree's Window Mounted Cat Perch, whose rugged fabric keeps the curious felines extra relaxed by increasing breathability.
The assembling takes a few minutes; add the ABS plastic pipes into the mat, attach the heavy-duty suction cups and stick this hammock to the window. The brand ensures that the plastic frame's durable pipes will never lose their shape, nor will the 2mm thick wires that won't split into pieces due to the chewing habits of cats. The flannel mat makes it the best snuggling space for furry friends.
It is recommended for pet owners with one large or two small kitties because its 26.4 x 14.6 x 24-inches dimensions allow 40 lbs kitties to cradle safely.
Pros
An absolute stunner
Enough space for kitties
Heavy-duty window perch
Solid frame that has rope clip slots
Cons
The manufacturer of this window perch promises that the fabric will be loved by cats and their owners as it is waterproof, pet-friendly, easy to wash, odor-free, and durable. The material and other superb features make it an all-inclusive option. So feel free to grab this beautiful hammock!
Marunaru Cat Window Hammock for Indoors
If you are looking for a versatile, stylish, and easy-to-mount window sleeper, then the Marunaru cat window hammock can be an excellent option. It is an adorable combination of a wooden frame, handmade rope macrame, and durable suction cups.
The suction cups instantly and safely attach this stylish hammock to the window - all you need to do is twist the screw caps to tighten them. Cats will love to cuddle and gaze at the birds, rainy weather, or green plants and sit or sprawl out on their hammock-like, handmade macrame perch made of sturdy rope. It is not only beautiful but also odor-free and breathable. So no more worries about overheated bodies for our beloved felines.
This 18-inches long and 15-inches wide window hammock is excellent for cats of all sizes and shapes. Its artistic wooden frame and durable wires fix it tightly to the window. It remains tightly bound to the window even if your kitties play, jump, sit, or roll on it.
Pros
Plenty of room for felines
Easy to assemble
Odor-free and non-toxic
Stunning and unique design
Cons
Suction cups do not stick easily
Macrame ropes loosen with time
Relaxation is all that curious felines need, and there is no better option than the Marunaru cat window hammock which is great to attach indoors. Its durability and large cozy space are what placed it in our list of the ten best cat window perches.
K&H Pet Products EZ Mount Window
K&H EZ Mount Window differs from other window perches as it has a top opening and looks like a deep bowl at first glance. Your beautiful feline will love to cuddle on this 27-inches wide and 11-inches deep window perch.This stylish feline pod can easily be attached to any clean window using industrial-grade, strong and large suction cups. These are easy to mount and they stick to the window even when the cat is jumping or sprawling out. K&H is an impressive and innovative window perch that can hold a 50lb kitty; all they need to do is jump a bit to sit in and relax.
No more worries about furry-filled furniture because this adorable perch has an Amazing kitty pad that plays the role of insulator, keeps the cats warm, and collects dirt and dander from your furry babies.
Pros
Stylish pod
Plenty of space for stretching
Top-quality suction cups hold it in place
Cats can enjoy their privacy
Cons:
Suction cups may slide down
It is all made of comfortable and long-lasting polyester, making the perch a worthier pick for your cats. So, if your felines love to sit alone, do not look for other perches than the K&H EZ Mount Window perch.
Pefuny Cat Bed Window, Cat Window Hammock
With a PEFUNY Window Perch, your beloved feline will not miss bright sunshine or beautiful snowy weather. It is the best hammock that can easily hold 40 lbs kitties due to the sturdy plastic frame and 2mm-thick stainless steel cables.
The 26.4-inch length, 14.6-inch width, and 24-inch height make it 20% more spacious than other traditional perches. The beautiful hammock has four suction cups to hold the bed and keep it attached to the window. Unlike others, the steel wires of this hammock contain acrylic buckles that are stronger than plastic ones.
The durability is unquestionable as the pipes have rope clip slots that make the perch even safer for cats once they jump on it. The rugged fabric is quick to clean, wash, and dry, besides keeping the felines' bodies warm so that they will sleep for hours without any issues.
Pros
Strong plastic frame
Excellent outdoor fabric mat
More spacious than the competition
Flannel pad included
Cons
Suction cups quality issues
PEFUNY's window perch is the first choice of multiple cat owners as this brand offers a replacement for accessories if any defect occurs. Happily, it comes with a flannel pad to provide next-level comfort to your kitties.
Top Mart Pet Cat Window Seat Wall Mount Perch
Cats love to view the outside environment, and the best option to give your cat those great views is by installing Topmart Pet Cat Window Seat, which is easy to place on any 3-inch window sill.
This amazing cat window bed offers two wonderful installation ways: use velcro to attach it somewhere or attach it to the window using metal screws. The velcro option is recommended for felines weighing 20 lbs or less, but metal screws are suggested for cats around 35 lbs.
Don't think it will take off the space of blinders; this perch has a folded design, so wrap this up when not in use. With velcro straps, cat owners can comfortably attach the super comfy polyurethane foam bed to the board. They keep the foam in its place even when the feline scratches or jumps while playing.
The advantage of this 1-inch foam is that it does not lose its shape, is fluffy and breathable, provides exceptional elasticity, and keeps the pet's body warm during long snoozing hours. It is easy to clean the cover from furs and spots; take it off, give it a gentle cycle in the machine and make the seat new again. That's all it takes!
Pros
Breathable foam
Foldable design
Two installation methods
Space-saving window seat
Cons
I found the seat a bit flimsy
The industrial-grade MDF folding board (Medium Density Fibreboard) and metal brackets make this window perch durable. Its comfortable size and material offer convenience to your furry friend to enjoy sunbathing and nature until dusk.
K&H Pet Products Kitty Sill Fleece Heated
Kitty sill fleece by K & H is another premium option that is different and unique in style from traditional window perches, as it doesn't need suction cups or specialized tools for installation.
It is an elegant oval-shaped hanging bed that needs at least a 2-inch window sill to install; cat owners can also use the provided velcro or screws to secure it. The sturdy legs of this bed are ¾-inch wide and 8-inches long, helping to keep the body safe and attach the bed securely to the window.
To offer all-day comfort to your cat, this window bed is made of comfy orthopedic foam covered with luxurious faux lambskin fabric. The orthopedic foam provides a soothing effect on the joints and back of the cats.
Furthermore, this trustworthy bed has a heated pad that can become warmer via its 6-watt heater, making the cat's body warm in chilly weather conditions. It is the best pick for cat owners living in the world's coldest areas. The great news is that kitty owners can easily take off the heated pad in the summer so the cat can enjoy nap time to the fullest.
Pros
Removable heated pad
Comfy faux lambskin cover
Stylish window bed
Easy to mount on the window sill
Cons
May block the blinds or curtains
You'll be impressed by this unique orthopedic bed with an easy-to-remove washable cover. No worries if the kitty is a little chubby, this durable bed can comfortably hold up to 40 lbs of weight.
Oster Sunny Seat Window
If your felines love to lay in the bright sun, bring an Oster Sunny Seat window and give them the best outside view.
Thankfully, you don't need to bring heavy tools for installation, as it takes seconds to attach to any window. The suction cups are durable, holding this elegant perch in place even when the cat is sprawled out or cuddling with a fellow kitty.
At first glance, this mounted bed gives a swing look but stays happy as it can bear a 50-pound heavy kitty. It is a sophisticated 12x 22 inch cat perch that is convenient to use by pet owners as it comes completely assembled.
This heavy-duty and comfy window perch has a durable oxford style polyester cover which can be easily cleaned with just a spin of the washing machine.
Pros
Comes with a 1-year warranty
Quick installation
Removable cover
Perfect for heavy cats
Cons
Slippery cover
Slightly weak grip of suction cups
The reinforced long lasting frame is made of plastic, making it the top choice for cat lovers. But before installing the Oster Sunny Seat, don't forget to clean the window thoroughly so it will remain in its place and become your feline's most loved resting spot.
Raytops Cat Window Perch
This cat perch is designed to provide cats with a comfortable, cozy spot to relax, sunbathe, and enjoy the view outside. It offers plenty of room for your cats to stretch and lounge and is strong enough to hold up to 60 pounds.
The Raytops Cat Window Perch is designed to fit any cat, from small to large. It has a 28.5" length and 15" width, with a 23" stainless steel cords and 3.5" suction cups that provide extra strength and stability.
The mesh cover is made from breathable placemat materials that are waterproof and durable. It's also easy to clean, so you won't have to worry about any messes.
One of the great features of the Raytops Cat Window Perch is that it doesn't require any tools for installation. The strong suction cups hold up to 60 pounds, making it easy to mount the perch or move it to a different spot. Plus, it has free cat toys to help keep your cats entertained.
Pros
Fits small to large cats
23" stainless steel cord and 3.5" suction cups for extra strength and stability
Easy to clean
No tools required for installation
Comes with free cat toys
Cons
Suction cups may require frequent re-positioning
If you're looking for a cozy, comfortable spot for your cats to relax, the Raytops Cat Window Perch is the perfect choice. It is competitively priced and provides many features that will surely entertain your furry friend.
What To Look For When Buying A Cat Window Perch: A Thorough Buying Guide
If you are in the market to buy cat window perches, don't trust any product blindly. There are certain factors that you must focus on to get a dependable window perch, such as:
Style
Plenty of cat window perches are available on the market; some are hammock styles, others look like comfy beds. Most are hung to the window via sturdy suction cups and steel wires; others need window sills for attachment.
So before picking one, you need to measure the window and ensure the perch is compatible with the sill and window material. Not all perches can attach to all windows, so make sure the window supports your chosen perch.
Size
It is the most crucial factor cat owners need to consider. They have to pick an accurate size perch that can comfortably bear the weight of your beloved kitty.
It is advised to check the cat's weight first, then look for the best accurate sized window perch to avoid inconvenience and to avoid wasting money. It is also suggested to check the length and width of the perch as not all perches can hold large cats easily.
Comfort
Don't forget the purpose of buying the perches; they are recommended for your cat's ultimate comfort. So comfort should be the priority before investing your money.
Window perches are comfortable with soft sleeping fabric pads. The softer yet stronger the fabric, the better a perch would be.
Try to find a perch that strikes a good balance between comfort and durability.
Weight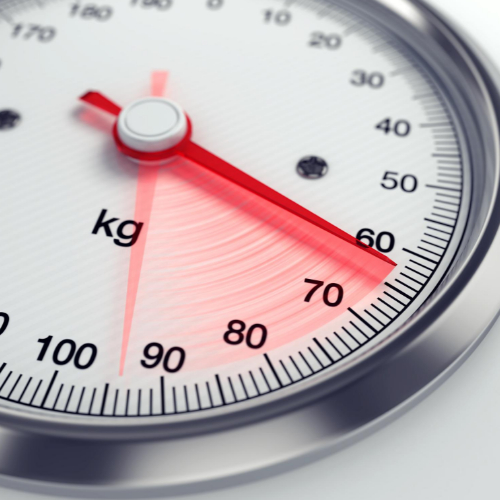 Before buying a Cat Window Perch, check how much weight it can hold. It is easy to know as almost all brands mention it on the box. So if you have two small cats or a chubby one, pick one that can comfortably hold the weight.
If you buy the wrong one, the chances are higher that the perch may fall and hurt the cat.
Material Quality
The covers of different cat window perches are easy to remove and machine washable. An oxford grade fabric is easier to clean than fleece. So, people living in warm areas of the world should pick a window perch that has breathable fabric.
A great alternative for the cover is a soft and cozy nap pad. So, pick the best pad if you don't want to wash the cover after every few weeks.
Frequently Asked Questions
We have gathered some of the frequently asked questions that bother cat owners about their felines' perches. These are meant to help you find the solution to any problems you may be facing.
What Should be the Price of the Best Cat Window Perch?
The price of window perches varies based on style, material quality and size. However, pet owners can get the best window perch for their cats by paying around $20 to $70.
What are the Easiest Ways to Clean the Cat Perch?
There are no hard and fast rules to clean the window perch as most have removable and machine washable covers. Cat keepers can also use a lint roller to remove excess hair without needing to remove the cover.

How Much Weight Does One Window Perch Hold?
It depends on the window perch size and material, but the good news is that most of the perches can comfortably bear 20 to 60 lbs of heavy felines.

Perches attached to the windows with screws can bear the heavier kitties, and those attached via suction cups cannot hold heavier cats. We don't recommend exceeding the weight of 20 to 30 lbs just to be on the safe side.

Final Thoughts
Our four-pawed animals look so adorable with their cute and exciting activities. Cats' habits of looking outside the windows, staring at birds, sunbathing for a long time, and scratching posts are also cute. Window perches are necessary for our felines to provide them with a peaceful place to perform their favorite activities.
This article has reviewed window perches of different brands, designs and sizes, so you can get ample options to choose one for your pet. In addition, we also have mentioned essential factors that you should consider while selecting a window perch.
Hopefully, the list has served the purpose of helping you find the best perch for your feline buddy. Now you will not have a problem filtering the one window perch for your cat from the best ten!
You May Also Like