The 10 Best Cat Shampoos of 2023 | Reviews & Buyer Guide
First published:
October 14, 2022
Last updated:
August 4, 2023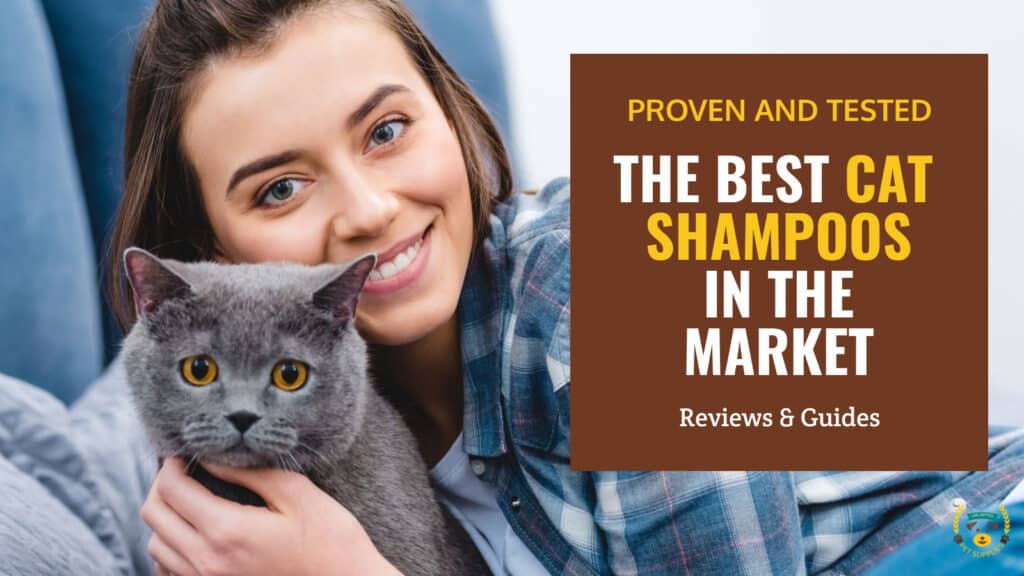 We are supported by our readers and we may earn a small commission when you click on some of the links at no additional cost to you. Our full disclaimer can be found
here
. Thank you.
Shampoo is one of the crucial products to make your cat's fur clean, shiny, and healthy. A wrong shampoo can cause massive damage to your feline friend, even beyond your expectations. Your cat can develop allergies, and be prone to irritation, inflammation, and many more potential bacterial skin infections. Therefore, the selection of the right cat shampoo formula is vital.
We understand choosing a relevant shampoo can be strenuous for you, so we have filtered The 10 Best Cat Shampoos of 2022 for you. You can easily select a shampoo from our clinically approved and vet-recommended list. So go ahead, plunge into our narrowed list, and pick a deal to make bath time fun for your cat!
In a Nutshell:
We have critically tested and verified every shampoo because we acknowledge it is your favorite pet we are talking about. However, among our ten shampoos, we have found Douxo S3 SEB Shampoo to be the best one due to the active and skin-soothing ingredients list that moisturizes the cat's skin and makes it fresh, glowy, and free from parasites.
So ready to pick it up? If yes, get it from Amazon; otherwise, nine excellent cat shampoos on the list below are waiting for you!
Importance of Shampooing For Cats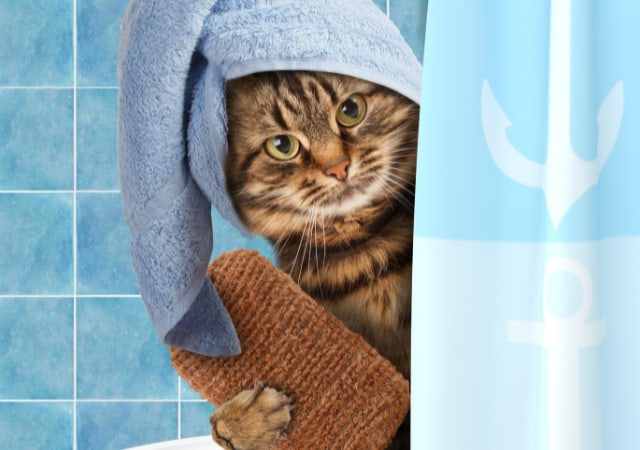 Cat coats and skin are the paramount factors that help us identify how healthy and happy our cats are. The most significant steps are to keep the cat coat soft, untangled, and free from adult fleas and fur matting through brushing and shampooing. Any brush with curved bristles and flexibility is recommended for your kitten as these brushes can go beneath your cat's coat but don't scratch the skin.
Similarly, A gentle formula shampoo is essential for keeping the cats' coats healthy and free from pests. But remember, a healthy adult cat doesn't need frequent baths. Cat bathing depends on your cat's age, lifestyle, and health status because many cats clean themselves and don't require frequent baths. Conversely, overweight and arthritis-suffering cats need occasional baths for odor control and hair loss prevention.
Cats with allergies need a veterinarian's prescription as part of the treatment regime. If your feline friend requires frequent bathing, you should also discuss this issue with your vet and use a sensitive skin shampoo and conditioning rinse to protect them from skin infections.
If your cat likes to play out in the ground or garden, it needs shampoo to get rid of dust clung to its coat. So, the ultimate way to clean your fur baby is to use a cat shampoo specifically formulated for cats.
Cutting the story short - different types of cat shampoo play a massive role in cat grooming, but you cannot over-shampoo your cat as it is risky. However, you can consult a vet in exceptional cases.
The 10 Best Cat Shampoos
Our pets are no less than our kids- they sleep with us, eat with us, go on walks, and play with us. So how can we compromise when buying their accessories and necessities? We cannot try anything random or unverified on our innocent pets, especially if it is about the shampoo for our cute feline friend.
We have tested and verified an exhaustive list of cat shampoos and narrowed down the most natural and medically proven ones. So, let's go ahead with the list of shampoos and pick the one for your beloved cat.
Douxo S3 SEB Shampoo
Our list of the best cat shampoos begins with Douxo S3 because this organic and skin-friendly shampoo makes the cat's coat shiny and soft. It hydrates the skin of your furry friend and detangles the furs.
Tangled fur is bad for your cat's skin as it stops the moisture and oxygen from reaching the skin; eventually, skin becomes dry and irritated, but Douxo S3 is formulated to hydrate cats' skin and protect it from flea bites and infections.
Pet parents can use this shampoo with organic ingredients on cats and canines as it includes Seboliance. This organic pomegranate extract controls sebum and dandruff production and protects your cat from stinking. In addition to Sebliance, OPHYTRIUM is an ingredient that supports your pets' skin by soothing itchy, red and irritated spots and other common skin conditions. In addition, OPHYTRIUM protects the cats' skin from microbes so your pet can have healthy skin.
The skin-friendly formula of this shampoo doesn't include any chemicals, soap, or product harmful to your furry friends. The use of the shampoo is simple; lather it, massage it into your cat's coat and fur, rinse it out, and enjoy your cat's fresh and neat skin.
Pros
Excellent for cats and canines
Easy to apply and quick to rinse
Best for flaky and oily skins
Suitable for seborrheic sufferers
Cons
A little heavy on the budget
Douxo S3 SEB is a clinically proven shampoo highly recommended by the vet for the cat's skincare and coat grooming. So, show some love to your cat by adding this shampoo to its monthly accessories list.
TropiClean Luxury 2 in 1
TropiClean shampoo is a cost-effective shampoo that offers the features of both shampoo and conditioner. Unlike non-organic shampoos, it is formulated with natural ingredients, so it doesn't harm your pet's skin. The components of this shampoo offer lasting freshness and reduce your cat's stinking odor.
The natural extracts, such as papaya and kiwi, nourish and soften your pet's dry skin. This planet-friendly shampoo bottle is made of 50% recycled material, which is safe for the environment. You can apply this shampoo to cats and canines of all ages. Moreover, it is also safe for human beings.
Pros
Gentle on every skin type
Smells so relaxing
Excellent Moisturizer
Best for skin sensitivity
Cons
Doesn't fit a very thick coat like a pomeranian
TopiClean is a fantastic shampoo that can mildly remove heavy mud from your pooch and cat. Eventually, your pet starts smelling so good for a long time. In addition, you will feel a huge difference in before and after coats, so if you want your pets' coats clean in one go, give this pet-friendly shampoo a shot.
Breezytail Pet O'cera Cat Shampoo
PetO'Cera shampoo is crafted with safe ingredients that deliver advanced moisture and smoothness to pets. It is a chemical-free and tear-free shampoo that makes showers fun for cats.
Its ingredients tackle unpleasant odors and deliver clean, fresh, and fluffy coats. The allantoin and ceramide of this shampoo boost fur growth and health. In addition, this shampoo soothes cats' sensitive bodies and calms their skin irritation, protecting the fur from shedding and scratching.
PetO'Cera is an animal-friendly brand that critically tests its products before launching into the market. If, in any case, your cat licks or swallows this shampoo, don't worry; it won't harm it.
You don't have to follow strict directions while using it; apply it to your cat's wet coat and lightly rub it from head to tail. Once the bathing is done, rinse and dry your pet - that's all!
Pros
Natural ingredients
Refreshing scent
Effective for animals' sensitive skin
PetO'Cera is a blend of eleven botanical extracts that are healthy for your pet's coat. So, if you want your cat to have scented and soft fur, say yes to this cat-friendly shampoo.
Petway Petcare Cat Shampoo
Petway Petcare Cat Shampoo removes excess dirt, grime, oil, dandruff, dead skin, and extra residue from the pet's skin and coat. If your cat has a thick but lifeless and weak coat, try this shampoo; its ingredients (natural oil, vegetables, and fruit extract) will revive the strength of your cat's coat. Petway Petcare Cat Shampoo deep conditions the skin and reduces hair frizz; it offers shiny and supple fur.
Chemicals are harmful to pets; therefore, Petway Petcare Cat is free from soap, sulfates, parabens, phosphate, and other toxic substances. This multi-beneficial shampoo moisturizes, cleans, deodorizes, and conditions your cats' coats.
Pros
Deep cleansing
No harsh chemicals
Best for thick coats
Long-lasting effects
If you, being a pet parent, are looking for sensitive, arthritis-suffering, or allergenic pet shampoo, don't miss this jackpot! It is a cat's skin-friendly shampoo with a unique formulation and a cost-effective price.
Coat Defense Cd Clean Pet Shampoo
Coat Defense Shampoo defends your pet's coat from harmful pests and delivers shiny, smooth skin. It feels, smells, and looks great when applied to the cat's fur!
This shampoo is highly recommended if your cat has dry, flaky, and itchy skin. Organic Aloe vera is its primary ingredient that heals cats' inflamed and irritated skin, making coats smoother and fluffier.
This shampoo formula retains your pet's skin's protective microbiome and crude oil. These microbiomes offer multiple benefits to the pets, such as improving the immune system against disease-causing bacteria.
The most inspiring factor about this cat shampoo is it is best for all animal families, from your little kitty to your Irish wolfhound - you can use it for all of your pets.
Pros
Effective for dandruff
It helps to heal itchy skin
Antifungal shampoo
Skin looks soft and smooth
Cons
Some pets don't like its citrus smell
If your cat has sensitive, irritated and itchy skin, don't try random shampoos on it. Trust in this COAT DEFENSE CD Clean Pet Shampoo because you will see a massive difference in your cat's fur after every use.
Advantage Flea and Tick Treatment Shampoo
If your cats have fleas and ticks, replace your shampoo with Advantage Flea and Tick. Unlike other shampoos, its ultimate aim is to treat fleas and mites.
While applying it, you need to follow the mentioned directions and instructions carefully. The Advantage shampoo is only suitable for cats and kittens over 12 weeks. It is also not recommended for pregnant, debilitated, aged, or nursing animals. If you want to try it on your kittens before 12 weeks, you must consult the vet first.
One more tip - don't use this shampoo for more than seven days on your pet. This flea removal shampoo quickly shows its result and protects your pet from unhygienic situations. You don't need to put a massive effort into removing the fleas because all the dead ticks and lice flow away with the water.
Pros
Light on the pocket
Shows quick results
Efficiently removes all ticks and fleas
Cons
Smells foul
Strict instructions to follow
Your cat is innocent, but parasites are cruel, so don't delay using this shampoo to remove those harmful insects. This shampoo will work wonders but don't skip observing the recommended suggestions.
Earthbath Oatmeal and Aloe Concentrated Shampoo
Pet owners should prefer Earthbath Oatmeal for all cats suffering from itchy skin. The balanced PH and soap-free nature don't let the cat's skin remain dry anymore; this refreshing shampoo has aloe vera that reduces hair fall and controls hair grease.
The formula of this super-fantastic shampoo comprises 3% colloidal oatmeal, purified water, coconut, plant-derived cleansers, vanilla, almond extracts, and 100% natural preservatives. These ingredients collectively make this shampoo ultra-effective for both dogs and cats.
Earthbath Oatmeal shampoo is great for six week old cats as its purely natural ingredients provide a soft and plush skin. Moreover, this shampoo smells excellent, soothes, and cleanses the cat's skin due to oatmeal protein.
Pros
Best for dandruff
An ideal pick for itchy skin
Made of natural ingredients
Suitable for both cats and dogs' skin
Cons
Not best for pets having severe allergies
Earthbath Oatmeal is a top-quality product that offers exceptional results for both cat and dog fur. If you want the all-in-one shampoo to soothe the itching skin of your pets, go for this Oatmeal and Aloe combo.
TropiClean Gentle Coconut Hypoallergenic
All pet parents whose kittens have an excessive habit of scratching the skin due to dandruff must try Tropiclean Gentle coconut shampoo. The best product for cats and dogs is safe due to its healthy, skin-friendly ingredients and hypoallergenic properties.
Tropiclean has perfect pH balance and is dye and paraben free, which makes it comfortable to use on the furs of your lovely pets. All kittens and puppies 12 weeks and older will surely enjoy the bath time as it is made of natural ingredients that are superb for sensitive skin. The accurate combination of oats, coconut, and aloe vera gives a long-lasting amazing smell.
There are no complex rules for applying this shampoo; put water on your pet's fur, apply a small quantity, and rinse with soft hands. Repeat the steps if the pet's skin is too dirty or has thick hair. The ideally-sized 20-ounce bottle is enough for many baths; it will never show any sign of leakage because of the durable packaging induction seal and reinforced cap.
Pros
Best shampoo with a hypoallergenic formula
Easy to apply
Effective for itching too
Great value for the money
If you have both dogs and cats at home, add Tropiclean Gentle shampoo to the cart and save your precious money. This soap and paraben-free shampoo are gentle for the skin of our furry babies, so rush towards it, bathe them and enjoy cuddling time.
Strawfield Pets Chlorhexidine Shampoo
If your feline has itchy skin due to some skin infections, then a medicated shampoo like Strawfield Pets Chlorhexidine Shampoo is necessary to cleanse and treat the whole pet body which had been a victim of skin infections. Without any doubt, the highly recommended option for treating dermatological problems.
Strawfield Pets Chlorhexidine, with its Lavender rain scent, amazingly produces a foaming lather to address the root cause of the pet's scratching, licking, and chewing.
There can be multiple reasons for skin infections in your pets, such as yeast, ringworm, acne, hotspots, pyoderma, and some fungal and bacterial infections. The active ingredient present in this Shampoo is Chlorhexidine Gluconate makes this shampoo the best as it has firm bacteriostatic and bactericidal properties to remove all harmful bacteria.
This shampoo is made from 4% chlorhexidine, which is excellent for antiseptic activity and prevents microorganisms' growth. The chemicals in this shampoo are exceptional in providing instant itch relief to the skin. One of its ingredients, cocamidol propyl betaine, acts as a dirt-lifting agent.
To top them all, this shampoo benefits cats, dogs, and your horses equally. Moreover, it is easy to use; just wet the furry friend's coat and massage gently for some time, then leave for 5 minutes before rinsing it off.
Pros
Has the best antiseptic formula
Great for cats having thick hair
Relief from itching and scratching
Has the best formula for treating skin infections
You can also call the Strawfield Pets Chlorhexidine a pre-medicated shampoo due to its numerous valuable ingredients that prevent harmful effects on your cute kitty's skin. So, apply it and keep the feline body refreshing, itch and dirt free
Burt's Bees for Cats Natural Waterless Shampoo
Burt's Bees for Cats is an absolute option for nourishing, disinfecting, and cleansing cats' skin. This cruelty-free shampoo has no chemicals; hence, it is considered the safest and purest waterless shampoo for cats.
Its 99.7% natural ingredients nourish the cat's skin and boost the fur's shine. Since it is free from excessive fragrance and harmful chemicals, it reduces scalp irritation. Moreover, the PH value of this shampoo makes it gentle to the kitten's back, neck, and hairline.
The combination of apple and honey brings an incredible glow to cats' fur, making it a great grooming option. It is a waterless dry shampoo that can be applied to the cat's skin by spraying softly.
Pros
The best waterless shampoo
Extract of natural plants
Maintain the body shine and softness
Free from harmful chemicals
Cons
Doesn't offer any fragrance
Bathing the cat with any random shampoo is not a great idea, but Burt's Bees is a reliable and safe option made of quality ingredients. It performs multiple actions - cleaning, conditioning, and wiping the cat fur.
Factors to Consider Before Buying Cat Shampoo - Buying Guide
Never pick a random shampoo according to a shopkeeper's instructions or your personal choice. Consider the following proven factors and buy the most effective product.
Type of Shampoo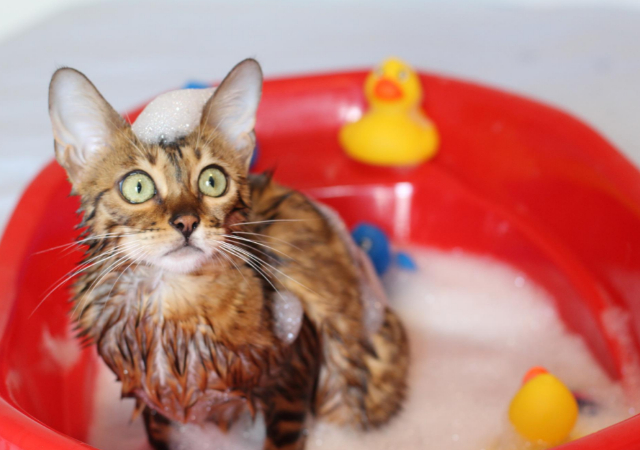 Pet shampoos are available in different types that a pet parent can buy according to the cat's fur and lifestyle. Below are typical shampoo types - check them out and buy them accordingly.
Traditional Shampoo
This regular type of shampoo works gently on your cat's skin and makes your cat clean and it's fur shiny. This shampoo type is perfect for cats with sensitive skin.
Shampoo-Conditioner
Many shampoos are crafted in a way that they act as both a shampoo and conditioner. Shampoo-conditioner option is best for cats that have thick hair or tricky fur. This 2-in-1 shampoo makes cats' skin soft, smooth, and manageable, so the fur doesn't tangle.
Waterless Shampoo
If your cats hate to take baths or are terrified of water - don't panic - waterless shampoos are here to help your pets. These waterless or dry shampoos are a perfect substitute for wet products.
These shampoos come in the form of powder, spray, or wipes. Instead of a traditional bath, these waterless baths are helpful for pets and their owners. Waterless shampoos also help when vets recommend the pet owner avoid essential oils, as they can damage your cat's coat.
Ingredients
Buy a shampoo that makes its ingredients transparent and adequately mentions the list on the bottle cover. We prefer buttermilk, aloe vera, coconut oil, and shea butter as they are friendly ingredients for cat skin.
Phenol, Pyrethroids, Parabens, Sulfates, Formaldehyde, Mineral oil, and artificial fragrances are harmful to your pet. If you find these ingredients in a shampoo, don't buy it for your cat.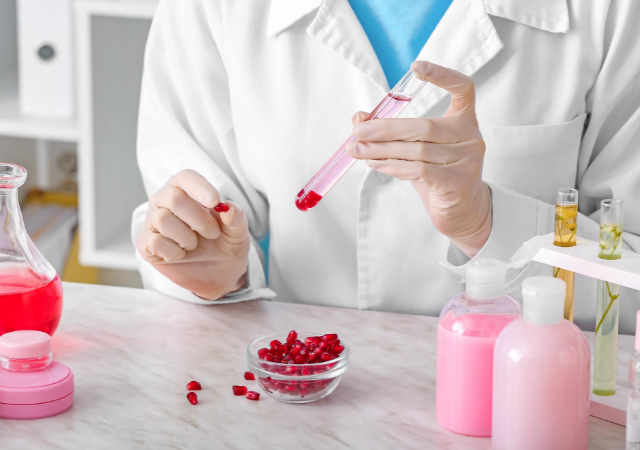 Scent/fragrance
Don't use a shampoo with too much fragrance; use a mild scent, as it helps your cat feel relaxed, light, and happy.
An intense fragrance can be upsetting and off-putting for your pet. If your cat is sensitive or dislikes too much scent, don't use heavily scented shampoos.
Tear-Free Formula
Chemicals are harmful not only to cats' skin but also to their eyes. First, the chemicals irritate the cat, and next time they feel annoyed while taking a bath. Hence, buy a shampoo free from chemicals and artificial additives - fragrances and dyes.
Cost
Staying on budget is a good option, but keep in mind that when you buy something for your little pet, you don't compromise on quality. So going a little away from the budget is okay.
However, many shampoos (as we have reviewed in this article) are available at a fair price and offer quality, such as Douxo Chlorhexidine PS Shampoo and Burt's Bees for Cats Natural Waterless Shampoo.
Frequently Asked Questions
This section contains the answers to the most commonly asked questions. So dive into them to free your mind from cats' shampoo-related queries.
Can Shampoo For Dogs Be Used for Cats?
No, you must avoid dog shampoo for your pet cat. Using dog shampoo for a cat can create wounds, sores, and other allergies because canine shampoo includes Permethrin which is poisonous to cats, particularly to cats who already suffer from wounds or injuries. In addition, the use of Permethrin shampoo can increase the reaction.

If your beloved feline inhales a small amount of this substance, it can lead to muscle contraction and respiratory paralysis; death can also occur in severe conditions. Unfortunately, if Permethrin is swallowed in large quantities, the symptoms of vomiting, hypersalivation, diarrhea, ataxia (incoordination), tremors, or respiratory stress can be vivid. Take your pet to the vet for urgent consultation in such medical conditions. 
Which Is The Best Shampoo to Wash Cats With?
 Douxo S3 SEB Shampoo is an incredible option to bathe your cats because its organic and skin-friendly ingredients make your pet's body soft and shiny and make the fur smooth. Its clinically approved features make it most suitable for cats.
How Do You Dry a Cat After a Bath?
In the process of cat bathing, one of the critical steps is drying it out. Use a dry and soft towel to dry your little cat, and keep it in a cozy room until thoroughly dried. If your cat isn't scared of the hair dryer, you can also try it to speed up the drying process.
Is Baby Shampoo Okay for Cats?
No, baby shampoo is not suitable for your cat. No doubt baby shampoos are gentle and chemical-free, but they are human shampoos. You cannot use them for bathing your cats as these shampoos are made for human skin and can disrupt the PH balance of your cats. They can harm the sensitive skin of your fragile pet, so being over-concerned in this case is acceptable.
Why Would My Cat Need a Bath?
Cats need a bath in extreme conditions; for instance, if your cat is stuck in a messy place, is covered in soot, is unwell with diarrhea, and other such reasons. Typically, less hairy breeds clean themselves up but overaged, and fat cats cannot do it; so the size, age, lifestyle, and other factors matter in cats' bathing ratio. Read more about cat's bathing in our beginner's guide to get a cat.
Final Thoughts
Shampoos are one of the must-have products for every pet owner, as they help to eliminate stubborn dirt and external parasites. Cats that are overweight or old need frequent shampooing because they lose their ability to self-clean. However, every pet owner doesn't have insight into the cat's shampoo, particularly those owners getting their first pets. Our 10 Best Cat Shampoos of 2022 are reliable and clinically proven, so you can confidently pick any shampoo. If you want to proceed some steps further, you can read our buying guide and unfold our FAQs—hopefully, all your questions will be answered. Due to the remarkable features and superb formulation, TropiClean Luxury 2 in 1 and our Douxo S3 SEB Shampoo are top products. Nevertheless, you can pick the one that best suits your pet's lifestyle, and keep it happy and healthy.
You May Also Like